The island of Santorini (also known as Thira or Thera) came into being when an active volcano spewed its contents into the Aegean Sea. Its crater still lies submerged under the ocean; 12 eruptions occurred spaced out by 20,000 years each and the result was the caldera (crater) that's 400 meters below sea level. Its past filled with geographical peculiarities and unique geological features has endowed it with strange natural beauty and a decidedly lunar terrain.
Tourists are drawn to Santorini because of its exotic appeal, the therapeutic volcanic ash soil that sprouts unusually tasting grapes and the brilliant photographic and nature watching value. Some of the best looking beaches of the world, the best tasting produce, the best wine and even the best ancient ruins are found here.
Santorini, an island of the Cyclades group in the Aegean Sea, suffers from heavy tourist population flows that poses an ecological threat to its fragile natural systems.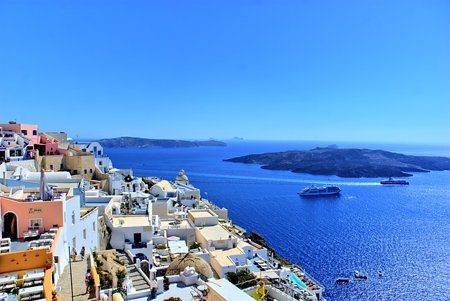 The capital of the island is the centrally lying Fira that stands high on the edge of Caldera (1200 feet above sea level) and it's 10 km away from the main port (Athinios). With the accompanying Firostefani, Imerovigli and Oia, the quadruplet of towns with an elevated height makes a balcony that offers a lovely view of Santorini.
The caldera is technically a basin with a diameter of 4 miles and is 1000 feet above and below sea level creating a fantastic harbour. At one end of Caldera is Cape Exomitis and the other end is Cape Mavropetra and the distance in between is 18 km.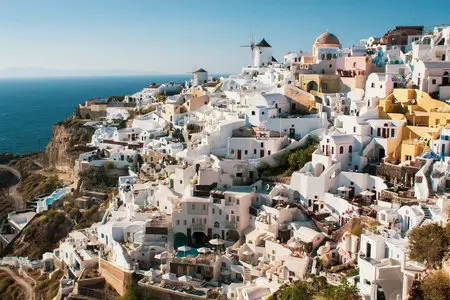 The north tip of the island of Santorini has the township of Oia and one of the best nature walks here meanders along the picturesque cliffs that lead to the town.
A Short Video
Attractions
From Fira, you can take a donkey ride to the caldera top where there are amazing vistas. In fact, donkey rides are a major activity in Santorini and some popular routes involve Oia to Ammoudi, town exploration and coast exploration etc.
Fira is known for its Museum of  Prehistoric Thera that contains valuable artefacts sourced from the Akrotiri ruins including neolithic potteries, plaster casts, murals, and many household items that were once part of a civilisation that's over 3,700 years old… it's quite impressive-looking even from the outside. Geological exhibits and old volcano photos are also kept here. There is a profusion of Venetian churches, monasteries and sun-soaked verandas in pure white homes that offer lovely volcanic views.
Firostefani has amazing architecture, similar natural advantages like Fira and lots of cafes and restaurants along with colourful hotels. Nearby is the well-known Agios Nikolas monastery. Imerovigli is 3 km away from Fira and it's distinguished by its superlative views of Caldera (vigil means to view in Greek).
Look out for the huge rock promontory called Skaros Rock and the abandoned castle on it. The rock formation was created by volcanic activities at the nearby caldera. The first fortress came up here during the Byzantine Empire in the 13th century. There are many churches and chapels here and the atmosphere is quite romantic.
8 km away is Pyrgos… another famous village settlement with a nice Venetian castle, Theotokos church, Michael Archangel etc. 4 km away from Pyrgos there is the well-known Prophet Elias Monastery. As a rule, all these places at the volcanic core are expensive in terms of accommodation and food.
The geographical distinctiveness of the Caldera deserves a book dedicated to it and right now archaeologists and geologists consider this as their favourite place. Oia, in particular, is known for its romantic beauty….many couples come here to get married and the best sunset views are from here. The caldera zone is expensive to stay in as it's the most popular.
Santorini has exceptional beaches. Kamari and Perissa are some of the liveliest towns here and the Beach at Kamari and Black Sand Beach at Perissa along with the  Beach at Perivolos are some of the best beaches in Santorini. A big rocky mountain Mesa Veuno cuts the two very similar towns Kamari and Perissa from the middle. Some of the beaches have black sand. While they are unusually beautiful, you can't walk barefoot on them in summers for obvious reasons.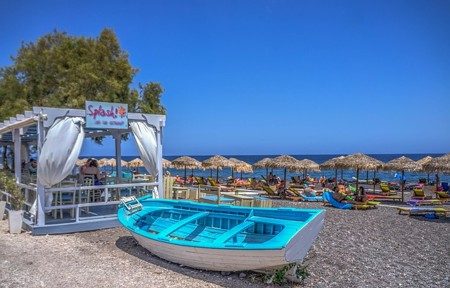 Both these towns (Kamari, Perissa ) have beaches that have a profusion of umbrellas and beach beds and lots of disco pop that's blared from speakers while locals with impossibly perfect bodies sway in abandon. If you are coming with family then the mini-golf and water parks and supermarkets in Kamari-Perissa will make them ideal destinations for you.
Then there are towns like Emborio and Megalochori in Santorini and these have agricultural practices that are interesting to observe… if you want a less tourist-invaded place in Santorini then these are the places to go. The prominent mention of these two towns (though the most spectacular beaches aren't here) is due to two reasons. You can actually swim in the ocean and get decent accommodation at a decent price with access to lots of bars, restaurants and nightclubs.
Hire a car and you can easily go to the more expensive Firostefani and Fira and Oia for romantic dinners and exploration. The major villages on the caldera are more expensive. The beaches around Oia are very popular and Amoudi Bay with its bevy of restaurants and cafes near the Oia harbour is one of the best ones.
Another good one is the Armeni beach with a view of Tirassia island …it is connected to Ammoudi by a pathway that's navigable by foot. Armeni is also connected with Oia by foot but you would have to climb up and down 250 steps for that. Kolumbo is a well-known nudist beach and Baxedes is a quiet place with lots of black sand and rocky formations… volcano researchers opine that a huge underwater crater lurks beneath the sands here. Katharos has stunning raw beauty while Pori is a good family beach.
Eastern Santorini has reclusive sun-kissed beaches (Exo Gialos, Xiropigado and Vourvoulos) are good for those looking for seclusion. Lie back and watch the colourful boats catching their loot of the day and mull over the strange rocky formations and unusually coloured pebbles here.
South Santorini has Almyra (sunbathing hot spot) and the Akrotiri area with its ancient ruins and good beaches. The French archaeological institute started excavating here since 1870 and they discovered a prosperous ancient settlement that was once a commercial town with squares, paved streets and many shops and houses. It's estimated that around 1650 B.C a huge eruption occurred and the Akrotiri settlement was completely destroyed enveloping the town with lava and ash that allowed the remains to be carefully preserved.
Another ancient city of the 9th century is Ancient Thera which was founded by the Spartan colonists and later taken over by Byzantines and Romans… a hugely popular tourist spot on top of Messa Vouno mountain. This city too was excavated and now unfolds the superlative architecture and constructions of the period.
Caldera has the best view of the volcano and pure deep blue water and black sand. Aesthetics wise the White beach and Red beach (near Akrotiri) are superlative but there are virtually no accommodation options around and even if a few sprouted up the facilities will be dismal. The Red Beach in particular with its red rock and volcanic beauty is much photographed. The White Beach has paradoxical white pebbles and huge rocks while the sands are black.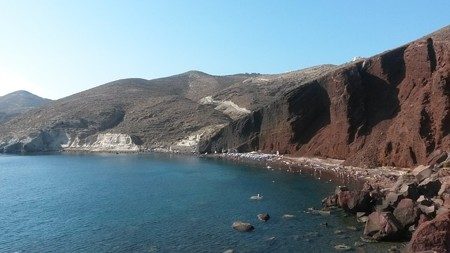 Vilchada beach with its ravishing imagery, grey sand has many excellent tavernas along with an intriguing tomato factory and a modernistic marina. The Notos Spa, in particular, is very good around here and you can have long relaxing beauty treatments which rely heavily on the volcanic ash therapeutic properties. You can go on cruises from here… the well-known catamaran caldera cruises leave from here. These are beautiful places to click photos, swim and maybe have a beach picnic and come back.
Read: The stunning beaches of Santorini that you must visit.
Exogialos and Monolithos are on the south-east side of Santorini and a huge gush of strong wind flows from the north which makes them inconvenient places to stay in though on a non-windy day, it's fun to be there!! If you are on a strict budget then the Katerodos area is beautiful and has affordable accommodation.
Activity wise going on a sea excursion is a must-do activity in Santorini… interesting excursions originate from Fira old port and Athinios port. You can visit the Palea and Nea Kameni and the actual volcano (as the locals believe) and watch the sunset with a glass of bubbly in your hand. Nea Kameni, in particular, is known for a profusion of healing hot sulphur springs that have therapeutic properties.
Many seekers of wellness head off to Agios Nikolaos for experiencing naturopathic volcanic mineral treatments. Also, Nea Kamini has the volcano walk i.e. a half an hour saunter on its shores lets visitors explore the crater of the volcano bursting with sulphurous steam and its black lava shores surrounded by the eerie lunar beauty.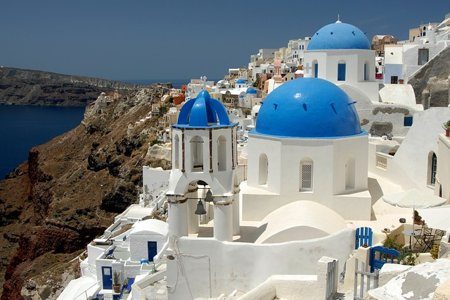 Palea Kameni has the oldest volcano and a bevy of hot springs too. Locals will regale you with biblical prophecies of eruptions of Santorini volcanoes… most people here are practising orthodox Christianity. Interestingly volcanic soil was excavated from here for insulation of the Suez Canal.
If you are interested in scuba diving then the best places are Tripiti cape at Thirassia and Ammoudi along with the Palea Kameni (submerged shipwreck is here). Other notable names are mesa Pigadia and the wall dive at Armenis along with Aspronissi. Perissa, Oia and Kamari have the best diving centres while Avis and Perissa have lots of windsurfing equipment on offer.
Wine tours in Santorini are a new rage and seeing the distinct process of hand-harvesting the grapes that are coiled tightly at ground level is an enthralling experience. Aspa (volcanic ash and pumice rich soil) and the extra-long roots of the grapes here give the wines a flavourful and healthy mineralised taste….the winery guides will tell you all about these fascinating aspects. A standard wine tour will take you to the Argyros Estate in Thira, Gavalas winery in Megalochori, Santo Wines in Pyrgos and Venetsanos winery in Caldera.
Read: The best things to do in Santorini.
Food and Drinks
The islands have a unique culinary style of their own and in Santorini people generally eat a lot of traditional fresh produce. So expect your dishes to be liberally sprinkled with cherry tomatoes and a specific kind of goat cheese called Chloro tyri along with fava and eggplants. Ntomatokeftedes or cherry tomato fritters tied in boiling olive oil are exceptionally tasty and so are the white eggplant puree and capers (sun-dried flower buds).
Sweets indigenous to this region are Kopania (powdered rusk mixed with sesame and raisin) and Melitinia (cheese pie with sugar, mastiha and mizithra cheese). Apochti is salty pork loin that's vinegar soaked and then rubbed with cinnamon and pepper…this can be found in Santorini foods as part of many dishes.
Metaxi mas on Exo Gonia is a very popular restaurant with nice views of the airport and Kamari beach and so is the Yalos beach restaurant. Just a 15-minute drive from Fira is Good Heart that has traditional food sourced from a local farm and a romantic vibe. Cava Alta is tucked inside the lanes below Pyrgos castle and it serves excellent food in a medieval atmosphere.
Lucky's Souvlaki in Oia serves excellent Gyros. Other good places here are Candouni, ambrosia, Karma and Roka and Elinikon. If you want to feel special then there is Panorama dining with another worldly view and one table only for which you have to reserve long in advance. On Anmoudi Bay there is Anmoudi Fish Taverna and in Megalochori there is Taverna Germanolis.
In proper Fira is Agro with its modernistic décor and trendy Greek food. Cacio e Pepe serves great Italian food and Italian wine and Ouzeri serves excellent wine and world food. Naoussa and Nikolas Taverna are also good places to go and eat in Fira. In Firostefani there is Aktaion and Remvi and Da Vinci (Italian food). In Imerovigli, there is La Maison that serves French Greek fusion food and Mezzo that serves fantastic views with its food. Avocado, Anogi and Athenan House are good places for meals too.
Some exceptional variants of grapes like Mavrotragano, Athyri, Aidani and Assyrtiko are homegrown in the rich volcanic soil here and the wines produced have a distinctive taste. Santorini wines now sell off very quickly and the government has plunged into winemaking as an economic backbone and stepped down a little on tourism as plummeting tourist numbers have been threatening the ecology of the islands.
Read: Great budget, mid-priced and fine dining restaurants in Oia, Santorini
Nightlife
Nobody really goes to Santorini seeking wild parties but there are places like Fira, Kamari and Perissa that offer lots of action. Most of the best bars and clubs are in Fira and you can choose between romantic atmospheres like Casablanca soul and view oriented clubs like PK Cocktail and Tango Bar (both of which have great Caldera views). Some places where the party starts in full swing post-midnight are the Enigma Club and Koo Club.
There are great bars like 2 Brothers, Murphy's and Highlanders which are geared towards tourists…international performers often come here with their offerings. Mamounia Club has a live orchestra and lots of dancing with traditional Greek music. On Perissa beach there is the Tranquilo beach bar with its veggie food and relaxing music. On Perivolos beach you will find Jojo that's geared towards parties but you also have the option of chilling by the pool.
Wet Story in Perivolos beach has awesome DJ and live shows at night and Chili Beach Bar on Perivolos beach has splendid hot chilli cocktails. On Vlychada Beach there is Theros Wave Bar that's set inside superb volcanic cliffs. On Kamari Beach, there is the Night Flight Beach Cocktail Bar that's pretty near the airport with an amazing cocktail list and an open-air venue.
If you are not really fond of bar and pub hopping then take a sunset sailing tour to the volcano and enjoy a sumptuous dinner on board with champagne. Caldera's Boats and Aphrodite luxury sunset tours are two major operators who offer these experiences. Departure and arrival are usually from Fira.
Always take lots of cash along while partying in Santorini…most places do not take cards. Bars will usually remain open till 3 a.m. and clubs till 6 a.m. though some remain open till 8 a.m. there are plenty of places like Cvornos bakery in Fira that serves healthy food from the morning so after a wild night out have something healthy for breakfast.
Shopping
Shopping in Santorini is a lovely experience but then the immense natural beauty of Santorini makes everything a lovely experience. Ideally, all the tourist-centric items that are available in Santorini are available at more affordable prices in Athens and probably are more authentic too. So don't shop for street art paintings, curios, postcards etc. from here and you will be under huge pressure to do so if you are visiting Santorini before Athens.
This being said there are a few unique items you should shop here. The main street in Fira is called Gold Street and it has about 40 jewellery stores. Shun the bigger ones ….they mostly have factory produced designs. The individual shops and smaller stores have some really cool original Byzantine and ancient Greek designs which you can buy.
Oia as well as Fira have many boutiques with independent designers that you can explore. Check out Bazaar, Ilias Lalaounis, Drakkar and the White Santorini in Fira. Ammos is a chain store that has nice stuff and so is Wanderlista…you can find these at multiple locations in Santorini.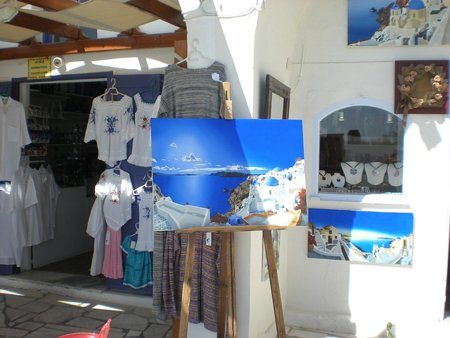 The Art of the Loom shop in Firostefani has authentic wood artefacts sourced from 1950 textile factory. Art brought from 4 galleries in Oia is a good investment if you are knowledgeable about the subject.  Ecru is a store here that sells unique clothes and accessories and Silk Shop sells fabulous all things silk. The Atlantis Books shop here has an amazing collection of books about Santorini and Greece. You can invest in buying the complete work of Nikos Kazantzakis, the famous Greek author.
In Pyrgos, there is the honestly named "Santorini products" store where you can get everything from local handicrafts to wines to indigenous tomato seed. Buy local pickled vegetables, spiced ouzo, Raki bottles and seeds of vegetables (they have a different flavour on the volcanic soil). Exo Gonia has the eclectic Artspace winery that sells wines and art….explore the vineyards and see the winemaking process and taste unique volcanic wine flavours and carry back bottles plus artwork by Greek painters.
How to reach and get around
The Santorini International Airport (also known as Thira Airport) is to the north Kamari village and about 6kms south-east of Thira city centre. Flights operate from Milan Linate, Rome Fiumicino, Belgrade, Vienna, London, Manchester, Brussels, Frankfurt, Dusseldorf, Munich, Geneva, Zurich etc. There are many daily flights from Athens to Santorini international airport and also from Heraklion and Thessaloniki.
You will get buses and taxis to take you from the airport to the principal towns and villages of Santorini. You will find an abundance of taxis in Santorini. The busiest zones are outside the airport and in Fira, Oia and near the popular beach resorts.
Rent a motorbike or a quad bike to get around the island in a jiffy and also explore the rough terrain with ease.
Boats run daily from Fira old port to the volcano, sulphur springs and the little Thirassia Island. The Fira port (Gialos port) sees large cruise ships and excursion boats daily. Ferries can also be found from Athinios port that's about 8 km away from Fira. The main ferry connections are to mainland Athens, Patras, Piraeus, Kalamata, Lavrio, Gythion etc.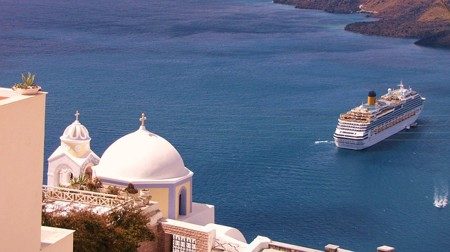 Buses are the most cost-effective and convenient way to explore Santorini. All the tourist popular spots Oia, Fira, Perissa, Kamari, and Akrotiri are connected by buses that have decent frequency and excellent facilities. There are round trip buses too like the Fira-Imerovigli-Firostefani route.
As already mentioned Donkeys are a popular way of getting around the island. The Santorini terrain is uneven with lunar craters and donkeys are especially adept at manoeuvring routes. Two extremely popular donkey back routes are Fira port to Fira town and Ammoudi port to Oia.
You also have the option of taking a picturesque cable car ride from Fira old port to the town.
Read: How to get around Santorini easily
When to Go
April to the early weeks of November are the best time to visit Santorini…the weather is usually warm and there is very little rain. For indulging in swimming and hanging out in bars and pubs it's recommended to visit in June to September.
Some types of tours like sunset sails to Caldera and the luxury day cruises are best taken between late May to October while wine tours and photo tours happen all through April to November. Hotels in the low season will be cheaper…so if you are on a budget go between November to March. There is a lot to see in Santorini besides beaches so winter is not a bad option.
To conclude…
Santorini offers such a profusion of natural beauty that even hardened shopaholics might feel tempted to spend their precious quota of time lost in its volcanic wonders.
Also Read