Greece is at the juxtaposition of many different continents i.e. Asia, Africa and Europe and perhaps this is why there are far reaching Greek influences across all continents. Its position at the sharp tip of the Balkan Peninsula gives it many neighbours; Alabania sits to the Northwest and Bulgaria and republic of Macedonia sits to the North while the northeast side is hugged by Turkey.
The brilliant blue waters of the Aegean Sea lies to the eastern part of the mainland while the western portion has the Lonian Sea and the southern portion has the Mediterranean and Cretan sea. So now you know how extensive the coastline of Greece is…. the largest coastline in the Mediterranean basin and the 11th most extensive coastline on the planet is a staggering 13,676 km long.
A bevy of mountainous islands constitute Greece but only 227 of these islands are occupied. If you look at Greece in terms of terrain and geography then you can easily identify 9 zones i.e. Central Greece, Aegean Islands, Ionian Islands, Thrace, Thessaly, Peloponnese, Macedonia, Epirus and Crete.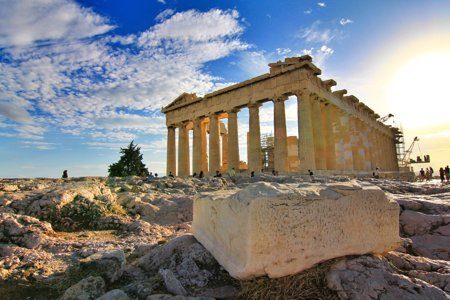 A fully democratic government, high living standards and advanced economy mark Greece today. Greece holds a good position in the global social and political landscape; it's a member of council of Europe, OECD (Organization for economic cooperation & Development), NATO (North Atlantic Treaty Organisation), WTO etc.
Greece remains as one of the most preferred tourist destinations of Europe.
Culture
The western world owes its cultural inception to Greece. Here are the lands in which the concepts of democracy, drama, mathematical principles, western literature, western philosophy, historiography and political science were born. If you are a fan of theatre then you will love Greece; the tragedy, comedy and satire were all born here.
Many Greek towns have an amphitheatre at their center and each such place has hundreds of stories to tell. The crème de la crème of sports events the Olympic Games first started in Greece. It's in 8th century that Homer in Greece composed his Odyssey and Illiad. The cultural history of Greece spans over infinite time…. it began in Mycenaean era and then into Classical era before enjoying prosperous Roman and Byzantine rules.
For Greeks Easter is the biggest event of the year as they are strongly connected to the Orthodox faith from the pre Christian era.  Rebirth after death is celebrated in form of arrival of spring after cold winter. To experience Easter celebrations in their full glory target the Megali Evdomada (big week) i.e. from Palm Sunday to Easter Sunday.
Different places in Greece offer different Easter experiences. For example Patmos has the sacred flame that's brought in from Jerusalem and Santorini has the spectacular tin lantern show at the Pyrgos castle and Chios has dramatic rocket fireworks that flame up the sky.
The smaller islands like Leonidio, Tripoli, Arahovva, Messolongi etc have the biggest capacity of demonstrating a true Greek Easter…the Ionian bands will march past and there will be silent Good Friday processions while the Easter Eve will have a beautiful ascension ceremony with a traditional paschal lamb offering and thousands of churches with their spiritual sermons and songs.
Lent (40 days period before Easter) is rigorously observed in most parts of Greece and no milk, fish, meat or cheese is eaten. Restaurants have special Lent menus and you may miss out on popular gastronomic experiences during this time… however lobster and Ouzo and caviar are all lent friendly dishes!!!
And when you are in the cradle of western civilisation there is no sense in rushing through it. Even if you are in a hurry the atmosphere in most places in Greece will tempt you to have a romantic taverna meal only lit by the starlight.
Nature & Landscapes
For nature lovers Greece is a paradise… it has lovely Alpine lakes, breath-taking gorges, steamy volcanoes, numerous wetlands and amazing mountains. There are 419 Natura 2000 sites including a fossilised forest at Lesvos and volcanis spas at Milos and Nisyros islands.
There are 4 amazing Geoparks and 400 wetlands and 446 endangered and rare bird species. In spring, it's a treat to admire the abundance of daisies, poppies and wildflowers that cover Greece.
Places & Attractions
Athens, the capital city of Greece is one of the most culturally important cities in the world as this is where Western civilization was born. The walls are filled with graffiti and the cafes are filled with Greek fusion food… this is a city that can entice you for days and weeks.
Be it shopping in the sophisticated Kolonaki boutiques or revelling in the arts of Psyrri or picking up spice packets in Monastiraki or losing yourself to the musical celebrations in Gazi….Athens is full of experiences.
You must have associated Athens with primarily the Acropolis, Acropolis Museum and the Parthenon… a visit here will expose you to so many other facets. The Riveria nearby can rival the French version with its entertainment opportunities and plethora of beaches and clubs.
Read: Explore the secrets of Athens and its tourism
If North Greece is your destination then your activities can center on Macedonia which has Greece's second largest city…. Thessaloniki (called the bride of Thermaic Gulf). The second most popular airport of Greece is also here and the Kalohori with its hordes of flamingos and pelicans, and the Axios Loudias river delta zone with its incredible fauna and exotic bird population are some areas that you should definitely enjoy if you fly to Greece via Thessaloniki.
This port town and cultural mash up is full of interesting attractions like Nikis Avenue, Thermaic Gulf, Ladadika, Bit Bazar, Aristotelus Square etc. if you don't have much time to spare then a quick boat ride to the nearby island Hydra will expose you to a completely different facet of Greece.
Here time stands still, no cars are allowed and hundreds of restaurants and cafes line the narrow streets of the port town. Best alternative to car rides….. explore Hydra on horseback!! The mystical ruins of Sunio and the cavernous lake of Vouliagmeni are other attractions near Athens.
Obviously Island hopping is something that you will definitely do in Greece but one of the best areas to do it in is Cyclades. Here you will find the playground of the rich… Santorini (myths say that it was originally the land of Atlantis) with its sensuous volcanic sculptors and drastic black earth that supports pure white homes.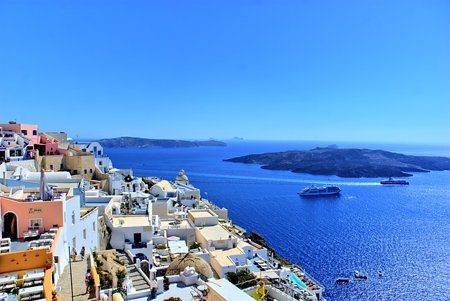 The island has been referred in many poetries and its magical light has inspired many paintings. Adventure lovers can indulge in experiences like volcanic spa in the Aegean Sea and the spiritual seeker can go off on the path to Oia passing the Chapel of the Cross and the Black mountain.
Read: Explore Santorini and its tourism.
Or if simple pleasure and its pursuit is your goal then the Kokkini Paralia, Perivolos, Kamari and Aspri Paralia beaches with their luxury resorts and infinity pools would beckon you.
Crete on the southern side of the Aegean; the largest island in Greece is another wildly popular destination. The ravishing Lagoon of Balos in Chania and exotic beaches like Rethymno, Falarsana along with huge sand dunes in Agios Pavlos, Ligres and Preveli are just some of the attractions here. You can find historic archeological sites like Knossos palace, ancient monasteries, luscious palm forests (In Vai) and amazing fortresses and castles built in the Byzantine and Roman times…what else could your eyes ask for??
Read: Secrets of Chania Tourism: The second largest & most popular city of Crete.
Mykonos… a member of the Cyclades group of islands in Greece is extremely popular as a summer party destination. The capital town Hora, amazing waterfront and the intriguing Little Venice section of the island (true blue Venetian in atmosphere and architecture) along with the Ano Era traditional monastic settlement and the Ftelia Neolithic settlement are other facets of the island if you seek other things besides glamorous parties.
Paradise and Super paradise are best beaches for singles while Psarou and Ornos are meant for family parties. Mykonos is also known as the Island of winds and it attracts many sailors from across the world.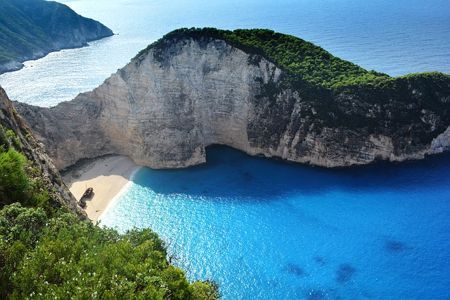 The South eastern side of the Aegean Sea has a group of 12 islands that can be collectively referred to as the Dodecanese (the bridge between Europe and Asia). Some islands like the Kos (numerous organised beach resorts and pristine shores) and the Rhodes (Rhodes acropolis and the Doric temple) are big tourist magnets while some like Symi, Karpathos, Kalymnos etc have virgin charm. There are spiritual gems like Patmos (Jerusalem of the Aegean) where St John wrote the "book of revelation".
Another island that's sort of un-missable is Corfu in the Ionian group. There are umpteen luxury resorts dotting its shoreline and its cultural history reflects the influence of the French, Venetians and the British. Formidable fortresses and palaces dot the town and every second restaurant sells the Corfu indigenous dish… Sofrito (beef stewed in local wine and sprinkled with parsley and garlic).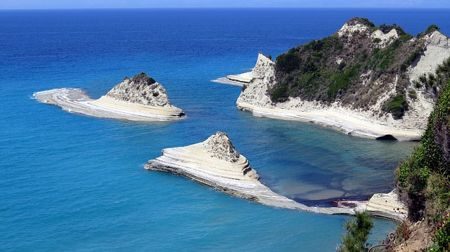 On the northern slope of the breath-taking Mt Pandokrator you will discover a Venetian village frozen in time…. Palea Perithla. Incidentally the Ionian islands i.e. the Zante, Ithaca, Pax, Lefkada etc are all famous for their hiking trails and water sport opportunities.
If you visit South Greece then you don't really have to choose the travel month… the Peloponnese zone is an all season destination. The land of the ancient Spartans and the sacred grove of olives and the Olympic Games is the loveliest part of the mainland. Take a look at the age old Epidaurus Theatre and the Asclepius before losing yourself in the dazzling contrast created by mountains and their shorelines.
Venetian castles, stone etched hamlets and ultra-luxurious resorts dot the area and sometimes you will lose all sense of time as you stare at the superb examples of Byzantine and Medieval architecture here (this is one of the top holiday destinations of any architect).
Activities
Hiking, bird watching, water sports, hot spring touring, kayaking, rock climbing and canyon hopping have huge potential in Greece.  Rivers sports is especially popular in Arcadia (Peloponnese) and Zagoria (Eprirus) while hikes and nature walks are best experienced in Pelion.
Greek Cuisine
Greek food with its herbs, olive oil and overall theme of slow cooking and simplicity will prove to be a healthy love affair for you. Gorge on grilled meats, calamari, dolmades and moussaka while locals sell you salted and freshly cured olives.
A Greek Odyssey is always incomplete without Ouzo and Greek wine and for dessert you can always call it a day with Baklava…a delicate layered pastry that has now charmed the whole world. The Greek focus on bringing out the true flavours of food by simple cooking so whatever number of dishes you might try…your palette won't be jaded.
Read: Greek cuisine and traditional food to know more…
Types of Accommodations
The country has ultra luxe resorts but its charms are best sampled in the Agrotourism ventures. The locals have opened up traditional guest houses where Greek traditions and culture are showcased with local wine, raki and the food is prepared fresh from home gardens.
Weather
Greece enjoys predominantly Mediterranean climate but mountainous regions like Pindus and Rhodope have alpine climate. Some areas of Macedonia and Thessaly have rather cold and Semi-arid climate while the Athens Riveria zone have hot and arid climate.
However if you are targeting the popular regions of Cyclades, Dodecanese, Crete and basically anywhere in the Aegean islands you will enjoy amazing springs and Mediterranean summers.
Any standard tourist guide will tell you that summers in Greece (May, June, and July) are the most exciting as this is when lavish parties happen on islands like Santorini and Mykonos. There are party places like these in Greece which suddenly become deserted a couple of months later. However be prepared to empty your pockets… a Greek party is not economical.
Spring is actually the best season to explore Greece if budget is a consideration… in fact it's a season for celebrating rebirth and rejuvenation of life. You will notice that popular areas like the Crete, Cycladic and the Aegean islands will be less crowded and the most popular beaches will be at their serene best. Tickets and hotel rooms are cheaper in spring and the all the Grecian land is dotted with fragrant wildflowers.
Early summers are also nice (mid April to mid may) post which all flights hotels etc. get overbooked and prices are inflated all over. In autumn i.e. September-October the waters are still warm and the landscape lovely.
Winters are beautiful in Greece but there are sharp bouts of rainfall and this may hamper your holiday. Besides many famous restaurants and shops will close post October and the owners take off for holidays in other parts of the world.
If you do want to travel to Greece in winters target some specific areas like Arahova Parnassos that has one of the biggest Ski resorts in the country or to the fairy tale like restored village in Macedonia named Nymfaio. Macedonia also has the Agios-Athanasios and Kaimaktsalan zone that's full of alpine charm. Seli and Pigadia in North Greece along with Velouhi in Karpensi provide excellent skiing opportunities.
Read: Important weather conditions in Athens, Thessaloniki, Heraklion, Corfu etc of Greece
How to reach
Most tourists from Asia and Europe and Middle East arrive in Greece via flight. The principal airports of Greece i.e. Athens and Thessaloniki (north Greece) receive flights from different countries via airlines operators like British Airlines, Air France, Air Berlin, Swiss Air, Emirates and Lufthansa.
From May to October charter flights come in to Greece from abroad and many European countries offer direct flights to Greek islands only in summers (Easy Jet and Ryan air). As is easy to deduce, Greece is a very popular cruise destination… usually Greece, Italy and Spain are offered as an exciting package deal by most popular cruise lines.
Inter-island flight connections in Greece are sketchy. There are some small carriers like Sky express who provide to and fro from flights in Dodecanese, Crete, North eastern Aegean islands and Cyclades islands.
Two popular domestic carriers; Olympic Air and Aegean run from Athens and Thessaloniki airports to some places like Santorini, Rhodes, Crete, and Naxos, Kos and Skiathos but these schedules are more prominent in summers.
Getting around
Keeping in mind that Athens is probably the focal or commencing point of your holiday there are two ways to target the more popular islands of Greece; flights and ferries.
Greek ferries are lovely… they resemble micro cruise ships and have cafes/ restaurants, Wi Fi and private cabins and you can even take your vehicle along. There are two kinds of ferries; slow and fast. The slow ones have huge decks where you can savour the fresh air and the fast ones have giant glass windows but no decks.
There are so many islands in Greece that there can be no average travel time but just for better understanding a slow ferry will take 7 hours to reach Santorini from Athens while a fast ferry will take 5. Blue Star Ferries are the major operator and their services run through the eastern and central Cyclades, Dodecanese, Lesvos and Chios islands from Athens.
Hellenic seaways is another company you can consider… they run a fleet of catamarans o the Saronic Gulf, Cyclades and Sporades islands. You can book tickets online for most major ferry companies.
Read: Transports in Athens and how to get around easily.
Parting note…
A visit to Greece will open up your soul and intellect…. such is its array of offerings spanning antiquity to neo-modern. Here is a country that revels in its use of science and technology and yet incessantly names babies after religious saints. Unlike most countries of the western worlds the Greeks are courteous and old world and still breathe in the thoughts of Socrates …."It is not living that matters but living rightly".
Also Read