About Kamari Beach
Like most sights on Santorini, the volcanic eruptions have left their mark on the 3 km long Kamari beach and have covered the beach with black pebbles and jagged lava rocks in interesting formations. The Aegean blue waters lapping up gently to the blackish austerely beautiful shoreline makes for rather great photography opportunities but that's not what this beach is famous for.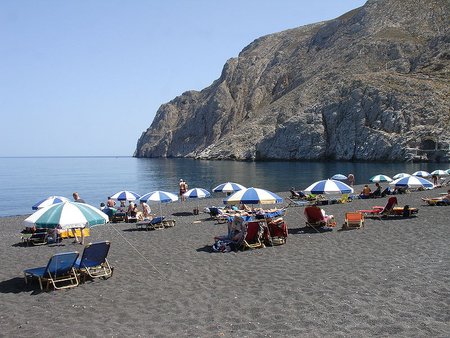 The Kamari beach is characterised by the same black volcanic sand that characterises Perissa but it doesn't have the wild uninhibited character of Perissa or the Red Akrotiri beach. Kamari is one of the most well-facilitated functional beaches of Santorini that's easy to reach, well maintained and offers almost every activity that a tourist could potentially want to engage in on a beach.
The maintenance standards and cleanliness of the beach are so exemplarily high that it has been awarded the Blue Flag. Unlike other beaches, there is zero litter and no unpleasant smell of seaweed… everything looks so neat that you would want to sit on the beach despite the black pebbles that dot it. Families, couples and groups with kids prefer coming to Kamari because of its accessibility, presence of umpteen restaurants and the lifeguards who monitor the beach at all times.
Amenities & Activities
There is a fully equipped diving/ water sports centre called Navy's on the beach and you can take lessons in snorkelling and diving from there. A wide variety of water sports like water skiing, paddle boating, windsurfing etc. can be experienced here. For those who are looking for high dives, the north part of the beach has an area that's perfect.
If you want to go for a ride around the island on a jet ski or enjoy the sea with a water tube… the team at the water sports centre headed by a guy called Nemo will be super helpful. Navy's also supplies diving gear from Mares and is a certified Mares service centre. Dives at Navy's are done with Nitrox (gas with higher oxygen level) and so dive times are extended. Tourists are often taken to different dive sites like the Viychada port by Land rovers and boats. Free pick up is offered to divers around the island!!
Another popular dive centre is located at the Dolphin hotel in the middle of Kamari beach. This centre has a team of PADI and a well-equipped dive shop that's open from April to October each year. If you are in Kamari for a week then you can even sign up for their certification courses. Their programs offer reef dives, cave dives, wreck dives, wall dives, volcano dives and even night dives besides underwater navigation and multi-level diving. The picturesque locations add to the charm of the dives… participants are taken on boats to spots near the calderas and volcano.
Kamari beach looks relatively pebble free as compared to the Red Beach and White Beach but it's still not a sandy beach. The colour of the beach terrain is blackish and it's estimated that the materials from volcanic eruption created this colour. The presence of pebbles means that it's less comfortable to walk on than a sandy beach but again there is no bother of sand sticking to your shoes and clothes.
If you fancy a beachside walk then take advantage of the longish parallel beach promenade that goes along almost the entire beach. Many shops and cafes and bars flank the promenade making it a great place to enjoy a stroll. The beautiful volcanic cliff shoreline of the beach is perfect for photography. Kamari is not the most famous place in Santorini to watch the sunset from, but the sunset colours never disappoint!!
Outdoor sports lovers will like the nearby football field and the beach volleyball area that add to the fun quotient.
The seabed near Kamari beach is hard and filled with pebbles. It's fun to wade inside the sea but do rent water shoes from one of the umpteen shops renting these out on the beach. The Kamari beach is really not a suitable place for barefoot walks, so wearing these rented shoes on the beach will be a good idea. The water is clean but cold and in the summers it's refreshing to take a dip.
The sea here at the Kamari beach is very calm which is why it's such a great place for a swim. It's actually therapeutic to sit and listen to the sound of the lapping waves on the shore. Most restaurants on the beach rent out umbrellas and sunbeds (these get filled pretty quickly) and tourists are seen relaxing and sipping on drinks while a steady stream of snacks is supplied to them. Sunbed rental prices start from 7 euros for a couple of hours. The Kamari beach is supposedly one of the best beaches in Santorini for sunbath and the Greek sun never disappoints!!
There are many shops on the Kamari beach and it's a fully-equipped beach. There are umpteen beachfront restaurants and tiny gift shops selling Greek island art, souvenirs and local craft and these are mostly reasonably priced.
The Kamari beach can never be boring… there are always so many activities happening here. You can get a relaxing body massage by the beach with the lapping waves serving as music. There are locals offering hair braiding service and teenagers especially love braiding up their hair with colourful ribbons and beds. There are some tattoo shops with tattoo artists drawing customised designs.
There is a bathhouse at one end of the beach where you can use the free changing room and take a shower. The beach has limited parking but it's free.
Beach Bars & Restaurants
There are lots of restaurants on the Kamari beach offering a wide range of cuisines and dishes. Following are some of the best eateries you should look out for. Remember that most restaurants here are smallish, jolly places with lots of locals as well as tourists. They mostly accept only cash.
Almira restaurant serves seafood, Mediterranean cuisine and Greek food with plenty of vegan/ vegetarian options. Great things to try here are the mezze platter, mixed souvlaki, garlic prawns etc. Every meal has a free pita and dip platter as an appetizer. The guy (Christos) who runs the place with his team is quite friendly. There is outdoor seating, many TV screens broadcasting the latest games and free Wi-Fi…the place is wheelchair accessible too.
If you are a pizza lover then il Forno family pizzeria is the answer to your quest. The pizzeria first started 25 years ago in Thessaloniki and the Kamari beach outlet started around 2017. There are many vegetarian options like the Spinach Lasagne, Caesar salad and BBQ eggplant Calzone. Then there are the Italian style pizzas which start at around 10 euros and Greek salad and wine. Staff behaviour is quite warm and friendly and you can also takeaway food from this joint and eat sitting on the beach.
Elias Grill serves great BBQ food and specialises in gyro. There are variants like chicken gyro pizza, pita gyro and everything is served in huge portions. You will also get Greek kebabs, T Bone steaks, mixed grill platters and free ice cream. There is a separate children's menu too…if you are lucky you might even get free pannacotta from the friendly staff.
Nichteri makes it to the best tavernas of Santorini list and with good reason!! Vasilis Zaharakis (local chef) who has won multiple global cooking competitions runs the show here and he aims to showcase the 'Santorini cuisine' in front of the world. Expect sinful honey and nut-filled desserts, sun-dried tomato salads, and lemon marmalade doused Kefalotyri cheese and braised mussels…. The menu is decidedly not the usual stuff!!
Liver Bird Café is a little off route… it stands on the small side road between Napoli and El Greco. If you are bored of Greek food, rejoice in this little gem that serves hearty English breakfasts between 9 a.m. to 2 p.m. There are multiple screens that broadcast your favourite games and a plentiful supply of cold beer that will make you want to sit inside though the outdoor seating is pleasant too.
Kamari beach cannot be termed 'cheap' but it is definitely more affordable than Fira/ Oia or even Perivolos. 2 beers and 3 soft drinks at a typical beachfront restaurant here will cost around 16 euros instead of the average 40 euros you will pay in the more upscale sunset hotspots of Fira and Oia.
Kamari has slowly secured a spot in the exciting nightlife scene at Santorini. Night Flight Beach Bar is located at the airport side of the beach and has become extremely popular due to its unique concept. At every landing, the lights go off and music is lowered so that all night flights are honoured. It's fun to see the planes passing right over your heads.
There are other options like the Love boat bar, Albatross beach bar, Erotokritos and Beach Groove bar. PK Cocktail bar is where you should go for keyed down comfy nights… they have non-alcoholic drinks and even blankets and heaters for guests who want to snuggle in.
How to Reach
Kamari beach is located in the sea hamlet of Kamari that's roughly 10 km south-east of Fira and only 6 km from the airport. Kamari is near the foot of the mighty Mesa Vuono Mountain where visitors hike up to see the ancient Thira. It's fun driving up to the beach from Fira or the airport and there is also a free parking lot.
From Fira, there is a bus connection to Kamari every hour. From Santorini airport too, there is an hourly bus service to Kamari but you will have to transfer through Fira. If you are coming from Athhinios port then take a bus to central bus station in Fira and then another bus to Kamari.
Many tourists and seasoned hikers prefer to ascend the road to Ancient Thira after visiting the Kamari beach. A great way to relax after a beach day is to catch a show at the Open-air cinema Kamari (there are only 50 seats and they get filled pretty fast). If you are travelling as a couple then rent a boat from Kamari and visit the white volcanic cliffs of Viychada beach/ white beach… it's super secluded and romantic. Or you could go off people-watching in the quiet hamlet of Kamari.
Also Read