About The Beach
A great location for destination weddings and undoubtedly one of the best nightlife hubs in Santorini, Perivolos is a gleaming volcanic black beach. Its exact location is between Perissa beach and Agios Georgios beach. Perissa beach and Perivolos are almost interconnected but the atmosphere is very different on them. While Perissa is an affordable, crowded beach, Perivolos is classier and more reclusive.
Perivolos also caters to the party crowd who can afford to spend as well as the romantic couples segment who would like a quiet place to chill and sea-watch. As you move from Perissa in the southern direction the same black lava stretch changes to Perivolos. Incidentally, Perivolos stretches on in the southern direction to become Agios Georgios.
Collectively this is the longest beach stretch in Santorini and one of the longest beaches in Greece. The softer and finer black sand here makes walking around possible even without the help of a boardwalk though you will still need to wear trainers.
Beach Amenities
Perivolos is a well-facilitated beach with lots of tourist-oriented amenities like sun loungers with umbrellas, sunbeds, deck chairs and other relaxation options. Like Kamari and Perissa, Perivolos is also kept very clean. Lifeguards patrol every inch of the beach and keep the zone safe for all swimmers and beach loungers.
There are separate and well-facilitated beach volleyball courts and often you will see beach volleyball tournaments happening. Families also play softball and other sports here as the beach is relatively uncrowded. Perivolos is the most preferred destination in Santorini for beach volleyball.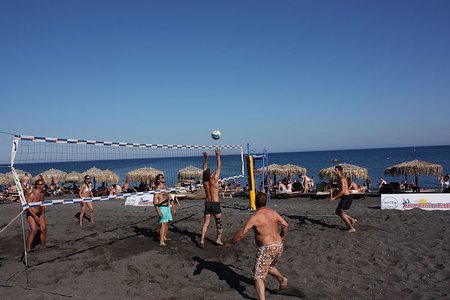 Perivolos is often referred to as the 'Black Beach' and the sand is coloured a deep rich shimmering black. The powdered lava rocks that form the sand in Perivolos is much finer than in other beaches and so it is possible to walk on the beach barefoot except when the sun is overhead. Because most of Santorini's beaches are too rocky (even to sit on), Perivolos comes across as a place where you can comfortably spend a few hours.
The contrast of the black sand and the exuberantly blue waters of the Aegean make up a wonderful contrast as always. The water is cold though and even in hot June, not many people will brave a dip.
The entrance to the water isn't very rocky in Perivolos and there aren't many jagged sharp stones, so swimmers prefer this beach a lot. If you find the water temperature bearable then don't miss the chance of going for a swim… this is one of the best places to do so.
Perivolos isn't as run over with tourists as Perissa and for people who want to engage in water sports, this is an ideal location. WaveSports is the leading watersport agency here (though there are other operators too) and it offers jet skiing and parasailing. They also offer Volcano tours and you can jet off to the volcanic islands of Nea Kameni and Palea Kameni from there.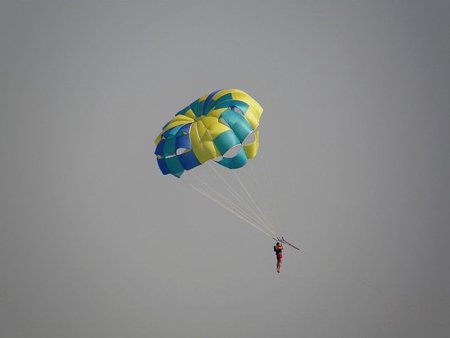 Jet skiing around the island is a great way to see the sea as well as terrain that cannot be otherwise accessed. Typically each jet ski has two people on it and about 6 jet skis are moving together along with a support boat so there aren't any safety issues. Wave sports is open from 10.30 a.m to 7.00 p.m. daily.
There are so many people playing minigolf on the Perivolos beach and it is interesting to just watch even if you don't actually play. If you are coming with kids then consider going to Perissa water park that's Santorini's most popular water playground. With multiple pools, rain showers, slides, restaurants and fun zones… this is the perfect fun destination. You can easily walk to this water park from Perivolos beach (shouldn't take more than half an hour).
Most beach bars in Perivolos keep playing loud music all day long so there is a party vibe all day. You will see frequent guest DJ appearances in the nightclubs and local youngsters also prefer Perivolos for its cool, party-friendly atmosphere.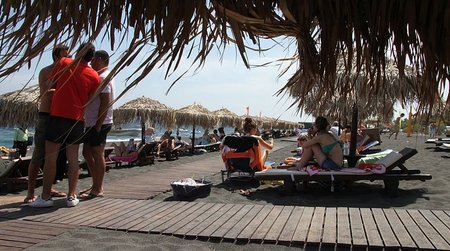 Many special events like local dance and culture shows, freestyle singing competitions keep happening on Perivolos and since these are all mostly open-air events; its free entertainment for anyone who visits.
Jojo on Perivolos is counted as one of the best beach bars in Santorini and they host sensational parties. The setting is relaxed and though they offer sunbeds too, the pool area is where the parties happen. If you are looking to party all evening then Jojo's is the place to go… events roll on till midnight here. For couples and people who want a quieter time; Jojo's also own a string of cabanas by the beach and they have complimentary drinks service.
Another party star on Perivolos is a beach bar called Wet Stories. They have a huge collection of bean bags, lounge chairs and sunbeds which you can use to relax. They also organise fantastic beach volleyball tournaments that are basically open for all. The umbrellas owned by them have charging points and the cocktails there are fantastic. Guest DJ's are often invited in the evenings and that's when loud music is played and crowds gather.
If a Greek BBQ is what you are after then head straight off to Chilli Beach Bar that is right next to Wave Sports. They have the best cocktail list on the island and their 'hot chilli' cocktail is surely intriguing. Their Greek BBQ is often a 12 dish spread and is a not to be missed opportunity to hog.
If you are coming to Perivolos as a couple then Seaside by Notos will appeal to you. This has a romantic environment and is definitely not a party place. They own huge lounge chairs by the sea and serve a curated legion of cocktails right there.
Terra Nerra is another nice place to eat and it has a classy world food menu and a nice sophisticated ambience. This restaurant lets diners use their umbrellas for free and it is quite close to the water. Typically, you would have to pay anything between 3 to 10 euros to rent an umbrella otherwise at most of the other restaurants. Other good restaurants on Perivolos are Margarita, Mezedaki, Café Charlina etc.
The good thing about Perivolos is that there is a good mix of party places, affordable eating joints as well as fine sophisticated restaurants. So whether you are a party hopper, backpacker or a family guy with kids… Perivolos will have something good to offer to you.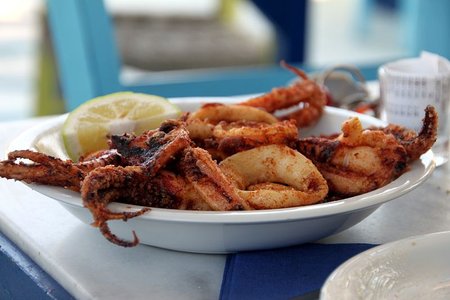 Perivolos isn't a budget beach, but it isn't wildly expensive either. You can get a beer for around 3 euros and a cocktail for 9 euros.
If you are looking for nice yet affordable places to stay around Perivolos then you could choose the Smaragdi Hotel, Hotel Sea View and Sea Sound White Katikies.
The huge black sand expanse starting from the base of Perissa goes all the way to Perivolos and Agios Georgios. This is why Perivolos is referred to as the longest beach in Santorini… the black sand just keeps stretching on in both directions. The same volcanic rocks that make up Mesa Vuono make up the terrain of Perissa and Perivolos.
By the time the rocky grains reach the Perivolos beach they have been ground finer which is why this is one of Santorini's most comfortable beaches. Wear your trainers and beach hop to Perissa (walk north) and Agios Georgios beach (walk south).
This is the most beautiful black sand stretch that Santorini possesses and looking at these you will be tempted to take a Santorini volcano tour and understand the eruptions that shaped the terrain of this unique island. The northern end of the beach has some awesome volcano cliffs. The whole area is a photographer paradise so keep clicking away.
As with most of Santorini's beaches, Perivolos should also be appreciated more for its geological distinctiveness than its attributes as a 'sandy beach'. This is more of photography, party and nature watching destination than a typical idyllic beach that kids can build sandcastles on.
How to reach
The Perivolos beach is 12 km away from the capital Fira and is on the southern side of Santorini island. The airport is 14 km away while the Athinios Port is 11 km away. The Perissa beach is just 2 km away… most people prefer to walk to and fro between these beaches.
If you arrived in Santorini via ferry then take a bus to Fira central bus station and then take a connecting bus to Perivolos. Get down on the 16th stop of this route… this is the Perissa village stop and Perivolos is a 15-minute walk away. Similarly, if you have flown into Santorini then you need to catch the bus to Fira and then connect to Perivolos. The only way of accessing Perivolos directly is by rented car/ taxi or ATV.
Attractions Nearby
The village settlement of Perivolos is very pretty and has cute cobblestoned streets that are perfect for taking long summer night walks. There are many interesting cafes and boutiques in Perivolos which are perfect for impromptu shopping sprees.
You can easily spend your day at the beach and then have a leisurely drink at one of the village bars. Perivolos is counted amongst the best resort towns of Santorini and you will be able to see many luxurious villas as well as charming boutique hotels here.
Perivolos beach is full of interesting restaurants and beach bars and you should definitely have a traditional Greek meal there. Otherwise, there is a Cyclades restaurant at the Perissa shopping centre or the other beach eateries on Perissa serving fresh Mediterranean food.
Once you are done beach hopping, you could also check out the pretty white church of Timios Stravos that's about 15 minutes of walk away from the Perivolos beach. Most people who come to Perivolos see Perissa beach on the same day and some even decide to embark on the hike to Ancient Thera atop the Mesa Vuono mountain.
Also Read