What to expect
Greek Wines are now well perched on any Oenologist's list along with French and Italian wines. Santorini wine varietals have a special place in the world of Greek wines because of that distinctive volcano flavour. This is a gift of the Santorini Volcano eruptions that gave the island that special volcanic ash tinged soil that infuses the grapes with a different acidic taste.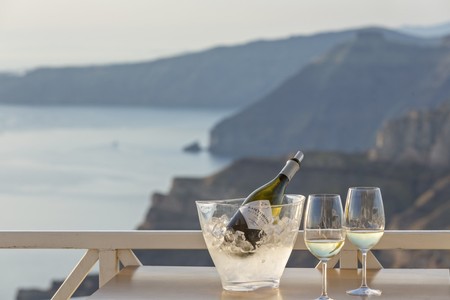 There are a decent number of wineries here, which is why wine tours in Santorini are so incredibly popular. However, if you are short on time and can just take in one winery then Santo winery definitely tops the list as it offers the perfect package. Some say that Santo is the best place in Santorini to enjoy the sunset… it beats Oia in terms of the cliff and setting sun views. Others love the combination of a huge wine shop, gourmet restaurant, curated wine tours and an incredible setting to sip wine in.
A huge sprawling winery that provides exceptional views of the cliffs and caldera, Santo has become one of the most sought after tourist destinations of Santorini. The exceptional views of the red-black cliffs and the volcanic caldera makes this one of the most picturesque spots on the island. They have wine tours that demonstrate the unique vine tending and growing practices on the island.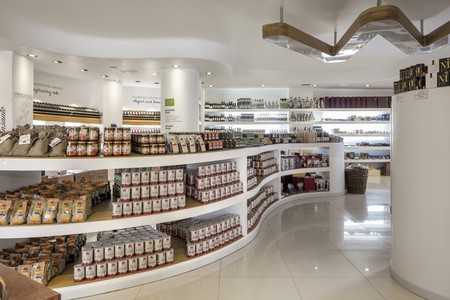 Wine tastings are offered that take in everything from the dry whites to sweet red to oak-aged to sparkling and dessert wine. There is a huge on-site restaurant offering a separate breakfast menu, kids menu and special gastronomy menus. Their wine shop is the largest in Santorini and it stocks local gourmet food items besides a huge range of wine.
History
The Santorini Protected Designation of Origin (PDO) wines are dry, white wines with high acidic content, strong mineralisation and good ageing potential. Santorini vineyards thrive upon the volcanic soil that's constituted of lava, light stone and volcanic ash and this gives the grapes a different flavour.
The Union of Santorini Cooperatives, Santo Wines established itself in 1947 and now has 1200 active members. They are dedicated to upholding local wine production traditions and they produce superior quality Protected Designation of Origin (PDO) wines. As of now, they are the largest wine producer on the island.
Since 2000 Santo Winery has been working on a strategy that synergises tourism and the development of the local farming community. Since 2016 they are offering a guided tour of their completely modernised production units and that includes the winemaking units, tomato process factory and beans processing factory. They, however, remain faithful to the traditional production processes like manual handling (right from pruning to harvesting), dry farming and the use of pezoules… These are basically stone terraces that protect vines against excessive winds in Santorini. Note that the vineyards here on the island have a 3500-year-old history that is fascinating to learn.
Top Attractions
Most tourists who visit Santo dedicate at least a couple of hours to savouring its aesthetics that's a perfect foil for its award-winning blends. Santo is one of the best wineries in Santorini for tastings and the primary reason is that their wine tasting area is so beautiful. Low lying comfy cushioned chairs and polished wood tables are prettily placed on patios, alfresco spaces and semi uncovered terraces that overlook the cliff and caldera.
Naturalistic neo-modern centrepieces and pastel hues in décor keep everything elegant and minimalistic. Who could resist wine tasting in a setting like this!!
Terraced seating is also available along the cliffside and burnt orange tables set off the black volcanic scenery around perfectly. At Santo, there is ample room for visitors. You could choose to sit in the sun, shade, along the cliffs, indoors etc. and everything comes with a grand view.
If you do the wine tasting sessions then choose from 6/10/12/16 pours and there will be complimentary croutons, cheese and Greek olive platters. The best thing about the tastings is that there is no rush and you can taste at your own pace… spacing out the wines. The staff are very friendly and attentive; they will even give you a snuggly blanket to cuddle in if the weather is chilly. Diet restrictions are listened to and adhered to meticulously.
So you can go to Santos and dine if you are a vegetarian/ vegan/ gluten-free/ dairy-free diet person. You can even go if you are a teetotaller… they serve awesome cappuccino. There are special menus for kids. Gourmet prix fixe gastronomy menus are available for 110 euros/ 125 euros.
If you are not a big wine aficionado then just ask for wine pairing recommendations with your food instead of doing the wine tasting. However good the Santo wines may be, the fact is that they are all made from 3 principal grape strains which is why there is not much variation. However, there is endless menu variation and most dishes are cooked to perfection. Considering the fact that Santo stresses heavily on organic produce and ethical cooking processes, you can indulge yourself guilt-free!!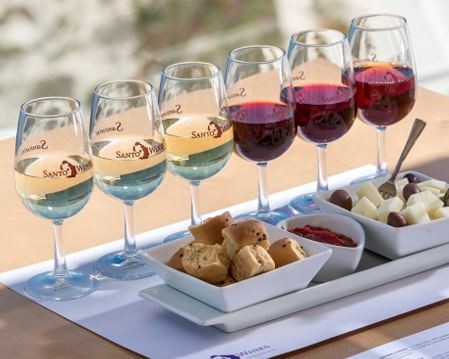 If you don't want to do a wine tasting then just order Santorini Assyrtiko (that's the island's most famous dry wine). It's nice and light and its crisp acidity lends itself well to light meals. Santorini Assyrtiko is good if you plan on having just a couple of glasses while the sun dips below the horizon.
In case you aren't fond of acidic dry wines (this is what the entire Island specialises in) try the Vinsanto… a sweet wine made from sundried grapes and 3 years of oaking. The dark red 'vin Santo' wine was actually produced for churches. There is a rich sweetness in it that makes it ideal for cooking some kinds of dishes and also as a dessert wine.
The restaurant serves great platters; meat platters, cheese platters, pitta and hummus platters and even salad platters; all good alternatives if you don't want a full-sized meal. A glass of wine will be priced around 6 to 8 euros while a cheese platter will be priced around 25 euros.
Don't miss a visit at the Oneotourism Center (open from 1992) that's an amazing resource related to everything about winemaking. The Oneotourism centre is open from 10 a.m. to sunset from April to November. You can watch a short film about Santo winemaking process here before the wine tasting to make your experience more comprehensive.
At the Oneotourism centre, you will learn as to why the volcanic terrier of the island makes the Assyrtiko and other PDO wines so special. You will also learn about the dry farming technique and the way vines are protected against the raging winds that blow in Santorini.
You would, however, have to book a wine tour in advance to know some of the more intimate details like the Kouloura pruning technique that ensures that the vines stay close to the ground encased in a spiral basket. You can then look at the pezoules or the stone terraces that maximise the absorption of rainwater in the dry Santorini climate.
The gorgeous open terrace area is frequently used to host wine and food events and you will be lucky to catch one during your visit… the annual 'Cities by the Sea' wine and Gastronomy festival is now a phenomenon in itself. You might also see a wedding or a celebrity event happening here; Santo's lovely setting makes it a top choice for photoshoots as well. Remember that wine tours are not usually available the day an event is on so you should check beforehand about that.
You will find that you are spending a sizeable amount of time clicking pictures inside the winery. There is the caldera and the volcano view with the Aegean blue surrounding it and the Santo winery structure and furnishings are incredibly pretty too.
Some of Santo winery specialities include organic yellow fava bean and the anhydrous tomato paste (both protected designation of Origin products) that's prepared from tomatoes that have been watered by dew that has streamed down into the volcanic soil. The difficult and exotic production process of this tomato paste gives this a kind of 'vegetable caviar' kind of status. They also have organic volcanic olive oil bottles (at about 250 euros each) but they seem pretty steeply priced. You will find all this and more and the huge wine and organic food store at Santo.
The best part is that you won't have to carry anything in your luggage as Santo wines will ship the products via UPS using standard shipping rates. A 6 bottle case will ship for 80 euros to any destination in the USA and for 45 euros to any destination in the UK.
Open Hours
The Santo winery tours are open from December to February from 10.00 a.m. to 6.00 p.m. Monday to Sunday. Guided tours are available at 11 a.m. and 2 p.m. except for Mondays.
Wine tasting sessions are available from 10.00 a.m. to 4.30 p.m. Monday to Sunday.
Wine Tours
There is a flight of 12 wines that comprise of dry whites, dry reds, desserts and some winning blends. There are 5 dry whites usually: Athiri, Aidani, and Assyrtiko varieties in different proportionate blends and degrees of oak. There is a Grande Reserve Assyrtiko that's a hugely oaked sherry-like wine and a Rose Assyrtiko (blended with cherry and strawberry). Usually, the 100% Mavrotragano and the 100% Mandilaria are also a part of the tasting.
All this is served with a cappuccino and a huge tapas platter that has cheese, olives, croutons and that famous Island tomato paste. This wine tasting session is priced at around 36 euros and can be shared. However, if you order a smaller tasting i.e. a flight of 6 then you won't be able to share the wines with your partner. There are also 10 and 16 wine pours.
The wine tours have to be pre-booked. Usually, a 20-minute tour costs around 12 euros per person and includes 2 wine tastings (Assyrtiko and Kameni). A short film about Santo winery is shown and the indigenous winemaking process is explained in some detail. You can book tours online by filling in a form on their website.
You can call/ email to know more about tour and tastings details.
Phone: +30 22860 22 233; Email: [email protected]
Santo Winery is so well known that most one-day Santorini tours have a wine tasting session here along with the city sightseeing stops. A popular 9-hour tour by Viator offers a stop at Akrotiri archaeological site, Red beach, Perissa, Prophet Elias Monastery etc. along with a tasting of the volcanic varietals of Santo winery.
You can book this tour through this Viator website.
Viator also offers a 4.5-hour small group wine tasting and vineyard tour on Santorini that focuses on 3 wineries with maximum time spent on the Santo wine estate. This tour includes a 12 wine tasting session at Santo along with a cheese and olive platter. The tour also includes a sunset-watching opportunity
Book this tour from this Viator website.
How to Reach
Santo Winery is located right outside the Pyrgos village in Santorini and it's pretty near Fira (4 km south). If you're driving in from Fira then follow the signs to Perissa and about 4 km down the road there will be a flag decked winery on the right side of the road. You can quad bike to Santo winery from Fira too.
Santo Wines is located 6 km away from the Kamari airport and 6 km away from the Athinios port. The gorgeous black sand Perissa beach is 8 km away.
Lots of free onsite parking is available for guests. Direct buses run to Santo winery from Fira, Akrotiri and Perissa. You just need to inform the bus driver that you want to visit Santo winery and he will drop you off right outside the winery gate.

Address: Pyrgos Santorini, ZIP Code 84701
Phone: +30 22860 22596; +30 22860 23137
Email: [email protected]
Staff at the Santo Winery are very helpful and they will willingly let you know the current bus timetable. Remember that you will have to get the return bus from a different location than the spot you got dropped off at. The bus station is just 5 minutes of walk away from the main gate.
It's so much fun to explore Pyrogos afterwards; it's a traditional Greek city that comes without the tourist trappings of Fira, Oia or even Megalochori. Incidentally, Pyrgos is the biggest preserved village on Santorini and the former capital of the island. The town square with its tall trees and quaint cafes as well as the Church of the Presentation of the Virgin Mary (1660) and Church of Agios Nikolaus are all worth a visit.
Pyrgos has nice restaurants too; the Selene. Franco's Bar, Kasteli 1663 etc. Then there is Pyrogos Kasteli… the best-preserved Venetian castle in Santorini (you will have to hike up a bit to see this).
Pyrgos is at the foot of Mt Profitis Ilias which holds the beautiful Profitis Ilias monastery; another well-deserved hike.
Also Read