Oia… the city of famed sunsets and marvellous views is known for its restaurants and cafes that dot every road and alley. Though when tourists consider having a meal at Oia, they generally have a sunset meal with a view in mind but there are umpteen restaurants offering beautiful brunch spreads and traditional lunches that showcase the island's incredibly unique produce.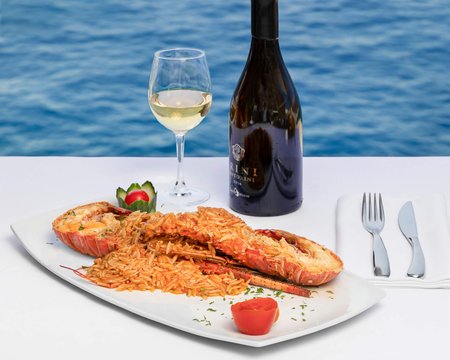 If you have a packed schedule that's filled with attraction hopping then maybe a casual takeaway joint selling the Greek favourite 'gyros' is what you should be looking for. On the other hand, if you are bored of the overdose of Greek food and the unique but acidic Santorini wines, you are better off going to a pizza and burger place that sells ice-cold donkey beer too.
Or else, if you are in Oia for a special occasion then a fine dining restaurant set off into the edge of a cliff with five-star quality spreads… is what you should look for. Either way, the curated list below offers a good mix of the best restaurants of Oia; budget, mid-range as well as fine dining.
Budget Restaurants
Oia, in general, is not an inexpensive place but there are some restaurants that don't let you compromise on taste while offering extremely affordable price points. These restaurants do not offer views or a sensational ambience but what they do offer is great quality food that's non-fussy and takeaway friendly. You will get pizzas, pasta, salads, gyros, pita rolls, souvlaki, kebab and fry platters etc. and you can either pack these up or sit in the limited space offered.
Most of these restaurants do not accept cards so you need to carry cash. You can save money further by sharing dishes at these restaurants; some of them like the huge pizzas at Edwin's and the gigantic meat platters at Pitogyros almost demand to be shared. A standard meal for two at a budget restaurant in Oia will cost less than 50 euros.
Pitogyros Traditional Grill House
Greek food, Gyros
Pitogyros comes minus the frills of a fancy view and luxurious seats but the prices on the menu card will compensate for these. This is a fast and great place to get stuffed when you are hungry. Prices range from 9 to 13 euros for a main dish and about 4 euros for a gyro.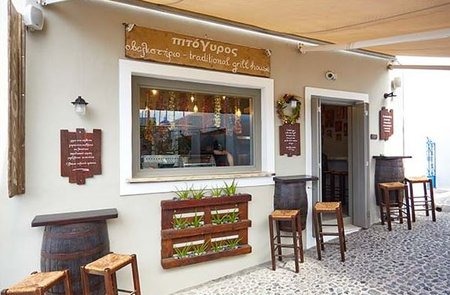 The serving lead time is less than 10 minutes so this is a good place to come to if you ave a packed schedule. They serve a wide variety of Greek specialities like souvlaki, pita wraps, kebabs, grilled seafood, Greek salads etc. though the main offering is gyros. The gyros come in huge portions and they add a generous portion of fries on top.
Pair the dishes with some ice-cold donkey beer or some island speciality wine and you have the definition of a perfect casual meal. Many people use Pitogyros as a takeaway joint and take their gyros and beer to any rooftop in Oia if they are in the mood of enjoying the sunset.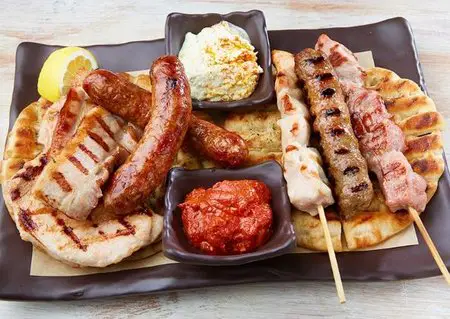 On the downside, the cats and dogs skulking around nearby are a definite mood spoiler for some tourists. There is a tiny supermarket next to the restaurant and the restaurant is about 5 minutes away from the Panagia church.
Address
Near Nik Nomikou, Oia
Phone: +30 2286 071119; Website
Karma
Greek Inspired Cuisine
Set off a little from the main road and offering an eclectic elegant atmosphere, Karma surprises everyone by its curated menu and affordable price list. You will almost feel that you are sitting in a gorgeous open-air cave set off with artistic lights.
Karma offers brunch (probably Santorin's best brunch) from 9.00 a.m. and it's a grand affair with Granola, fresh fruits, Greek yoghurt and honey along with gargantuan open sandwiches that have thick cheese slices, caramelised walnuts, bee pollen. Complimentary port wine and copious quantities of green salad and honey mustard dressing are served and there is also pita with Santorin tomato sauce, avocados, berries and poached eggs.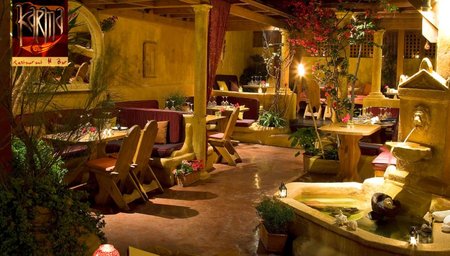 The rest of the menu is also well-chosen with equal focus on taste, sustainable and ethical sourcing and traditional food. The soutzoukakia with its goblets of minced beef and herbs resting on a bed of pasta is a treat to see. The marinated pear and walnut salad are exceptionally tasty while the aromatic salad has loads of greens in it (arugula, Loka, Swiss chard, coriander, lettuce etc.).
Vegetarians will love the fried feta with sesame seeds and honey while meat lovers will like the homemade mini pies that are stuffed with minced beef and spiced apple. A meal for two will cost around 40 euros if you are ordering a salad, a main and a dessert (try the baklava or the apple pie with ice cream)…. not exactly the cheapest but excellent value for money.
Address:
Located behind the Tower Clock.
Thiras – Ias | Kyklades, Oia 847 02, Greece
Phone (reservations): 2286071404/ 6944515821
For queries: +30 2286 071404; Website
Pizza Edwin
Italian, Pizza/Pasta
The Edwin's Pizza is well publicised as the best pizza place in Oia and its also affordable to boot. A meal for two will cost around 25 euros if you order pizza, pasta and a couple of beers. The pizzas here are grand in size and taste, and you won't be disappointed even if you order the simple Margherita pizza.
Service is friendly and quick and the bus station in Oia is within walking distance (200 meters). This is not a part of the sunset watching hub but you do get views of the coastline and can get a great sunset view while savouring your food. If you request the staff, they will even get you seats that let you view the footy.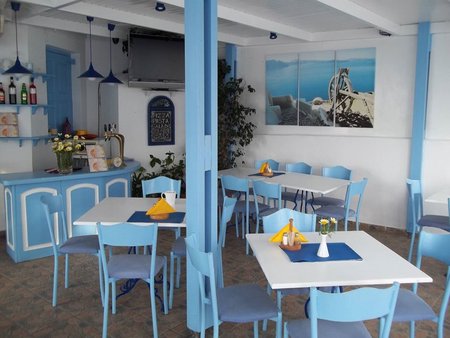 Cold donkey beer is a great companion to the Edwin pizzas as you sit and watch the sun going down. Besides pizzas, they also serve pasta and BBQ dishes. The pasta portions are not that huge but it's well cooked and as Italian as it can get in Oia. You can try the stuffed pepper and Caprese salad; it's filling, healthy and vibrant in taste. The tuna spaghetti, calzones and the pork chops are also well recommended.
There is a small garden with outdoor seating as well as indoor seating at Edwin's and the owner (Edwin) makes sure everything is kept well maintained. Don't sign off from here without trying their baklava in the desserts section. If you are a sports buff then you will like the fact that Edwin's has multiple screens broadcasting the latest games!! There is no Wi-Fi though.
Address:
OIA, Oía, Kikladhes
Phone: +30 2286 071791; Website
Nikos Place Grill House
Greek food
This is a lesser-known but equally delicious version of Pitogyros. Nikos Place is right next to the Tourist Information Centre and the central bus station so you will not have any issues locating it even if the storefront looks very nondescript. For around 22 euros two people can have two huge plates of meat, fries, pita and tzatziki.
The souvlaki, salads and almost all the kebabs (lamb, pork, chicken) are delicious. They have a vegetarian starter platter too and serve excellent value house red wine.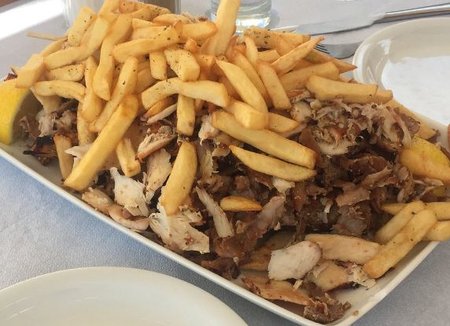 On the downside, it is a small place and though it has a terrace, there are buildings all around so there isn't much of a view. There is a cat family that looks rather cute and have sort of adopted Nikos. Service is quick and there is a takeaway option.
Since it's in a residential zone, you will find more of locals inside and you can people watch to your heart's content. There is alley seating with couple's tables and covered outdoor seating. Nikos is open till late night so you can come and crash here hungry after an entire day of sightseeing and partying.
Address:
Opposite the Tourist Office at Oia's Main Square with the Bus Terminal, Oia 840 07
Phone:  +30 2286 07110
Melitini
Greek Tapas Food
Melitini is classified as a Greek Tapas restaurant but the portions are very hearty. Some of the loveliest dishes are Saganaki cheese, Greek salad (a gigantic slab of feta inside), pork potato lemon stew, fried zucchini chips, grilled octopus with fava beans. The spicy lamb sausages with loads of crisp fries, fried cheese with herbs and olives and the starter platter with assorted dips, pita and lots of nibbles can all be shared by two and are a great choice for a light snack.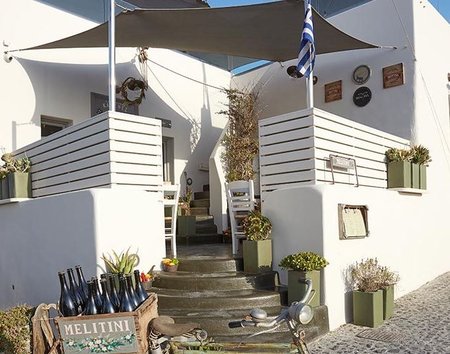 If you are into a gluten-free/ vegan diet then you will love the inclusiveness and variance of the clearly marked menu. The wine list is good and so is the bottled iced tea. Orange cake and chocolate mousse (tastes just like melted dark chocolate) are a good way to round off the meal. The attention to detail in the dishes is impressive; for example, the zucchini fry is done in paper-thin discs which make them crispy rather than the standard strips.
Meal for two with wine and dessert will cost around 50 euros. Wine (only house wine) is either red/ white and is sold by the litre (10 euro). The lack of a proper wine list is the only disadvantage. You can order delicious mountain tea as a substitute.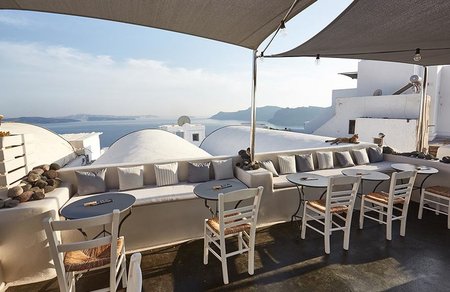 Waiters actively discourage diners from ordering extra food and are knowledgeable and friendly. Mirto is especially appreciable for her sense of humour and efficiency.  The restaurant is easy to find as it's near the tourist marble walkway as well as the main road though it's located on the side street. You will get a great view if you sit on the rooftop.
Address:
Epar.Od. Firon-Ias, Oia 84702
Phone: +30 2286 072343; Website
Mid-Range Restaurants
Oia has a fair number of mid-range restaurants and they all express the island's focus on aesthetics and traditional cooking methods in different ways. These are restaurants in which you can comfortably spend an hour or more provided you make a prior reservation. Some of these even offer views of the spectacular sunset while others offer well-sectioned menus that cater to every diet restriction like vegan, gluten-free, lactose intolerance etc.
Some restaurants, in fact, discourage diners from ordering too much food while others don't mind two people sharing a dish or two. It's entirely possible to have a delicious meal for two in a lovely ambience at these mid-range restaurants in Oia for less than 100 euros.
Roka Kafeneio Ouzeri
Greek Inspired Cuisine
The entire set up at Roka Kafeneio seems to have been supervised by a master painter… the restaurant looks as if it has stepped out of a painting. Cobalt blue seats and orange accents stare out at the Aegean with only pastel coloured fences and an ethereal view separating them. The architecture is eclectic and the restaurant building dates back to 1912, giving diners the opportunity to admire old Greek commander's homes.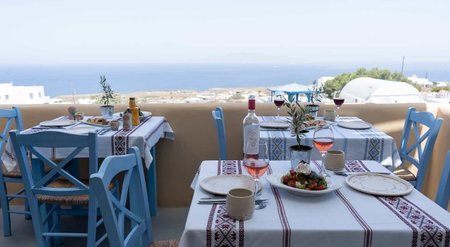 They have special menus on holidays and you will be lucky if you can sample their lobster spaghetti with truffle foam. Staple bestsellers are cauliflower soup, Roka salad (loaded with cheeses figs and grape syrup) and the fried talagani cheese apart from the linguini shrimp pasta that every seafood lover must try. A proper 3-course meal at Roka with wine will cost around 60 euros for two.
They serve some unusual dishes too like the Pastitsada free-range rooster, fresh dorado with fennel and gnocchi. You simply cannot miss the coffee crème brulee dessert containing mastiha ice cream. Roka's house wine is delicious but acidic and dry like Santorini wines. Waiters will gladly suggest intelligent substitutes in case you like mellower flavours.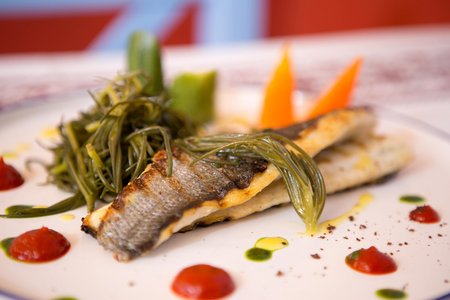 There is outdoor seating (terrace and courtyard) while there are 3 delicately furnished rooms which offer indoor seating. The courtyard is filled with fruit trees and flowers while the backyard offers a splendid view of Santorini's northwest side. The only downside is that it's tucked away and you need to scrounge through some back alleys before you locate it.
Address:
m.Mpotsari 6, Near Oia Bus stand
Phone:+30 2286 071896; Website
Ammoudi Fish Tavern
Seafood, Greek
A list of Oia's best restaurants cannot be complete without including one of those delightful setups that perch on Ammoudi Bay. Ammoudi Fish Tavern is one of the brightest stars in the Ammoudi bay gastronomic scene and it offers the freshest seafood with a great ocean view at one of the best spots to dine in town.
Some of the stars in the menu are fried anchovies and zucchini, grilled octopus, seafood risotto, grilled sea bass, saganaki mussels in cream and charcoal cooked sea bream. The mains will cost around 60 euros each and if you order a salad and a dessert then a meal will come up to around 90 euros. The portions are great so you can easily share.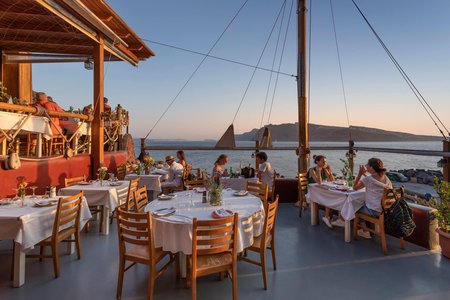 It's a treat to watch the fishermen roll in with their catch and then getting to choose your preferred fish and then see it being cooked in front of your eyes. If you order lobster or jumbo prawns, the staff will even come by your table and deshell the fish so that you can experience the cooking process from scratch.
This is a great place to drop in for just some Greek coffee and sunset watching. Technically, you can't see the setting sun but the ocean does colour over with a cornucopia of colours. Like all restaurants in Amoudi Bay, you need to climb down a huge number of steps to reach it.
Address:
Ammoudi Bay, Oia
Phone: +30 2286 072298; Website
Pelekanos
Seafood, Mediterranean, Greek
The star of this restaurant is definitely the view and if you sit along the railings of the rooftop bar (terrace with a 360-degree view) then you will get to see a gorgeous unobstructed sunset. Staff will supply blankets to keep diners warm on the rooftop bar.  If you want a table with a view then you should definitely reserve in advance.
It's cool to be able to walk down the cobblestoned path and then arrive at the bottom harbour area where Pelekanos is located. Almost everything on the menu like the seafood quinoa salad, moussaka, giovetsi, tomato fritters, halloumi, penne chicken, pork chops with sweet fig sauce and even the pita bread and yoghurt dip is delicious. Vegetarians will love the mushroom risotto and the special Oia salad with goat cheese.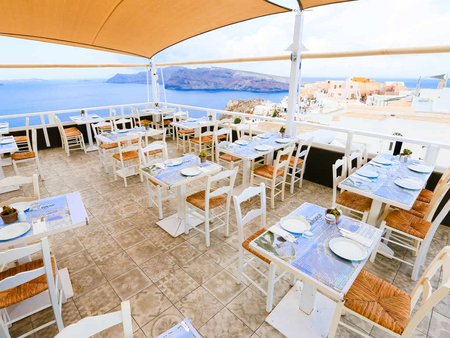 They serve everything right from breakfast to late dinners. A meal for two will cost around 70 euros including house wine. Sometimes Pelekanos rewards diners with free dessert. The staff is friendly, speak great English and Irene is especially noteworthy for her attention to detail.
On the downside, many entrees on the menu say that the fish used was frozen; you cannot help appreciating the honesty though. Pelekanos dwells on touristy restaurant rich zone and is easy to find.
Address:
Main Pedestrian | Oia Centre,
Phone: +30 2286 071553; Website
Armeni Restaurant
Seafood, Mediterranean, Greek
As with most restaurants in Armeni port, the fish you get will be superlatively fresh. You can choose which fish you want grilled/ cooked from the catch of the day and actually watch the cooking process a-la Armeni style with white wine.
Unlike most restaurants on the port, this one is neat and clean with earthy hues and good linen. The fig salad is superlative and so are the steamed mussels. Other great things to try are the calamari, meatballs, and grilled octopus. The atmosphere is relaxed and unhurried…you will feel like lingering, sunbathing on the beach and returning for cocktails and the sunset watch. The elevation is not as good as Oia town but the view of the ocean is superb.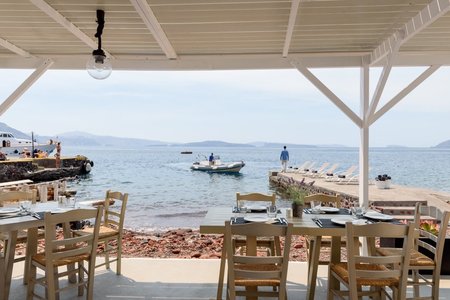 If you are visiting the Ammoudi Bay, you can take a short boat ride to the Armeni port and walk up to the restaurant (a fabulous romantic way to arrive). What's not so nice is that the owner will only accept reservations if you arrive by this fabulous way (he owns the free shuttle service). Alternatively, you can also walk down from Oia village.
There are lots of (playful) cats prowling around and that's a subjective disadvantage!! The host Nicoleta Houses is warm and friendly.
Address:
Old Port of Armeni, Oia 847 02
Phone:  +30 2286 071053; Website
Katharos Lounge Vegan Mezze Bar
Healthy, Vegetarian-Friendly, Vegan
Katharos is quietly tucked away in the popular Katharos beach of Oia and they have focused on light flavourful eats that are attuned to the global palettes. The setting is spectacular and there is a fantastic view of the ocean and a great setting for sunset watching as you sip Santorini wine.
Whether you are vegan or vegetarian or a gluten-free foodie; you will find a lot to your liking here. Even hard-core meat lovers will find the combination of smoked harissa cauliflower steaks, couscous salad and elegant zucchini rolls with vegan cheese and caramelised onions perfect. There is a huge selection of mezze.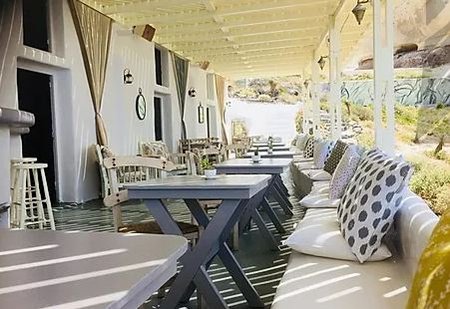 You must try the eclectic combinations like hummus and eggplant with pomegranate dip and spinach and artichoke dip along with phyllo rolls and gnocchi. If you are not a calorie counter then the baked cheesy spinach and crisp fried veggie fritters will appeal to you before you finish your meal with their signature mango dessert.
On the downside, the place is a bit small and can get stuffy when packed to the brim (which it usually is). You can walk downhill here from central Oia and it will take only 15 minutes. The restaurant has a path alongside that leads to the beach. The staffs are attentive and smiling at all times.
Katharos Lounge hosts morning meditation sessions and art shows as well as gorgeous DJ parties that are inclusive of all genres. It's highly recommended that you book a table in advance.
Address:
Katharos Beach, Oia 847 02 Greece
Less than 700 m from Ammoudi Bay
Phone: +30 697 096 6754; Website
Fino
Greek
Fino is an elegant restaurant with a romantic ambience but it looks much better from inside than on the outside. Gnocchi is what they are famous for but their lamb chops and the black cod fillet resting on a bed of carrot puree tastes great too. Other great dishes to try are the Black Angus burgers, fish roe mousse, lobster spring rolls, and prawn taglioni, salmon fillet.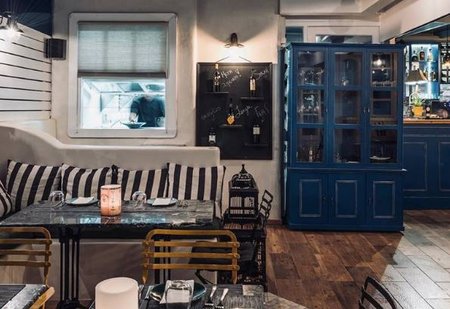 The mille-feuille with its subtle crème stuffed between pastry sheets is an absolute delight. Don't leave the restaurant without trying the Fino cocktail (the ginger cocktail and the Elderflower cocktail is good too)… you can pair them with some crackers and nibbles. Vegetarians will love the Aubergine soufflé, baked goat cheese and the Greek salad.
Fino is famous for its cocktails and they are very moderately priced at 10 euros. There is a good list of Greek red wines apart from the usual Santorini white wines. Meal for two with wine will cost around 65 euros.
The presentation of the food is so beautiful that you will feel like taking umpteen photographs. The dessert selection is unique; there are dishes like white chocolate with pineapple and coriander compote and the pistachio mousse with meringue blueberry sauce and everything tastes delish!!
On the downside, the restaurant doesn't have a view and is rather small in size. You can easily walk by without recognising the place… it looks rather nondescript. It is very popular though and you are likely to get turned down if you do not reserve in advance. Thanos the waiter is very knowledgeable about wines and some of the other staff like Yanis and Dmitris are very friendly too.
Address:
Oia Santorini, Oia 847 02, Greece
Phone: +30 2286 072037; Website
Fine Dining Restaurants
The fine-dining restaurants in Oia are nothing short of holistic works of art. All of these restaurants come with a superlative view of the ocean and caldera. The menu is always inventive and original regardless of whether the restaurant is a Michelin starred or not. There is a decided focus on showcasing the island's unique food heritage so expect dishes cleverly incorporating fava beans and cherry tomatoes and a copious use of the brilliant acidic wines of the island.
The ambience, linen, lights are superlative and even waiters are impeccably dressed while tending to the tables that are booked months in advance!!  All these restaurants offer food as an experience of the senses and presentation is top-notch though the portions are not always huge. Approach these restaurants for a special dining occasion and though the bill may come up around 200 euros for two, the experience will be priceless.
Lauda Restaurant
Lauda is technically Oia's oldest restaurant and it's a part of the beautiful whitewashed boutique hotel called Andronis. The hotel is built at the cliff edge so the views from its Michelin starred restaurant is undeniably beautiful.
Chef Emmanuel Renaut uses local and fresh produce and his global cooking technique to produce spectacular results. You can try the fish marinated with caper leaves or the decadent slow-cooked lamb with gnocchi or even the scorpionfish… they are all made to taste and look unique.

If you want a wider selection of food then try the 9-course Discovery menu or the 5-course tasting menu that comes with curated wine pairings (prices start from 145 euros plus 85 euros for the wine pairing). The exceptional view that takes in the calderas and the lovely white buildings of Oia is the icing on the cake. If you don't reserve a table in advance you definitely will not get a 'front-row seat' facing the caldera.
Prices are high and mains will cost around 50 euros each so dinner with wine and dessert will be around 190 euros. But if you consider the Michelin star, taste, inventiveness and the presentation of the food along with the beauty of the décor; the price is justified.
The real downside is that the manager is a little too strict when it comes to adhering to timings. For example, the staff will turn away diners who arrive at 6.45 p.m. because dinner timings are from 7.00 p.m. The manager also doesn't like it when diners ask for table changes. All lady diners are presented with roses and there are free champagne and chocolates!!
Address:
Andronis Boutique Hotel, Oia
Phone: +30 2286 072182; Website
Ambrosia
Ambrosia offers the fairy-tale chance of a candlelight meal on an artistic terrace that overlooks the ocean. They don't have a 'cheese platter' on their menu but if you ask for one, you will get an amazing selection of cheese, figs, apricots and cashews that's good company for the wine list.
The standard mains like the baby squid in pesto, duck in wine sauce, lobster on pasta, grilled steak with truffle etc. are all cooked to perfection. If you want an appetiser then the Ambrosia tart and the tomatoes in Greece will be good choices. Don't miss ordering the Greek Kadifi afterwards (ice cream, dry fruit, pistachio and slivers of pastry).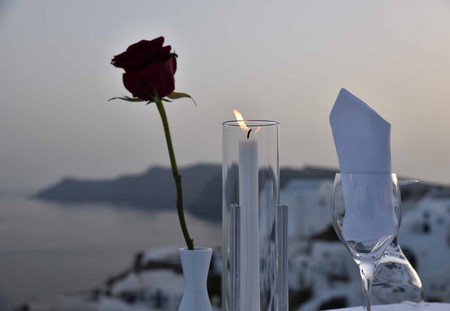 The price of a wine bottle, water, salad, 2 main dishes and 2 desserts is about 160 euros. When you consider the impeccable service, beautiful white tablecloths, napkins and sparkling glasses the cost doesn't seem much at all.
If you book well in advance then you might even get a table for 2 on the balcony that overlooks the caldera. There are only 3 tables like that!! They usually ask for a reconfirmation 2 days before and if you fail to respond they will cancel your reservation.
On the downside, there isn't a cocktail list and there are only house wines (both red and white and costs around 50 euros per bottle). The restaurant is on the wrong side of Ammoudi Bay, so cannot see the sunset but you sure can see the gorgeous ocean and the submerged caldera. The seating is a little overcrowded and you can always hear what your neighbour is saying so that's a disappointment.
Address
Cliffside Terrace at Village Center, Oía
Phone: +30 2286 071413; Website
Catch Bar and Restaurant
Catch is arguably one of the finest restaurants in Santorini to 'catch' the sunset. There is a quiet expansive terrace with prettily arranged seats and when it gets chilly the waiters prepare blankets to keep the diners warm.
The food quality is undeniably tasty and delicious. Some of the best dishes are fried gnocchi in parmesan cream, chicken bio, grilled octopus, pork belly in Pistachio and Greek lasagne with yoghurt. A meal for two will cost around 200 euros for a starter, mains dessert and cocktails. Drinks are priced between 14 to 22 euros and mains are charged between 18 to 35 euros each. Some of the starters like the seared scallop with truffle flavoured sunchoke and the potato salad with smoked eel are really inventive.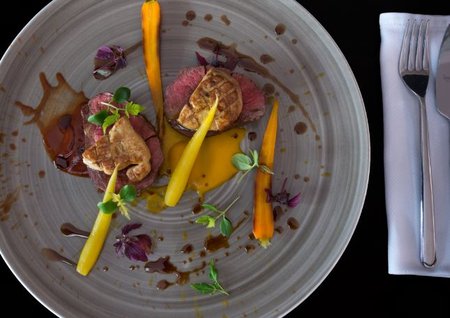 Their cocktail list is supposedly inspired from the 4 elements of nature; fire, air, water and earth. In the water section, you will find acidic whites typical of Santorini while the fire section showcases deep rich reds.
On the downside, it's disappointing that diners are ushered to tables without a view even if they arrive early and they get a table change only when they ask for it.
Address:
Konstantinou Paleologlou
Phone: +30 2286 072063; Website
Also Read