Perissa beach lies at the foot of the Mesa Vuono Mountain and its beautiful black expanse can be seen by tourists who come to explore Ancient Thera. The black lava of Perissa has attracted hordes of photographers and geologists who were fascinated by this sparkling black sand beach.
The dark sand at the pit of the ocean colours its waters dark blue and it's a treat to watch this unusual colour combination. Like Kamari Beach, Perissa is also a fully equipped functional beach with lounging chairs, showers, lifeguards and even a kid's playground. Water sports are very famous in Perissa with diving centres, windsurfing and parasailing opportunities and banana boats whizzing you around the islands.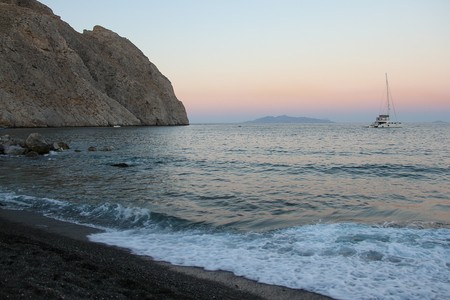 The cherry on the cake is the gorgeous water park with 3 water slides, pools and relaxation areas. The cafes and beachside eateries serve excellent Greek traditional food and seafood. Perissa is a bigger nightlife hub than Kamari and the scene becomes exciting once the clock climbs past 7.
Activities & Amenities
If you have never visited a black sand beach before then Perissa will charm your heart!! The 'sand' here is powdered volcanic rock mixed with pumice and shimmery minerals that give it this lustrous black colour. In winter mornings the sand is comfortable (black so absorbs more heat) but in summers it gets too hot to sit on directly.
The sand at the beach here (like most Santorini beaches) is similar to the smooth gravel found in aquariums. It's not sand in the traditional sense so don't expect the powdery feel under your feet. Perissa beach is less pebble filled than Kamari but it's still a bit unpleasant for a barefoot walk. When you get past the gravel/ sand layer there is a solid cold rock (a bit slippery) where the ocean meets the land. And then there is a sudden drop-off and the water is clear cold deep blue… a very interesting sight. The water is clear enough to see the fish (there are quite a few).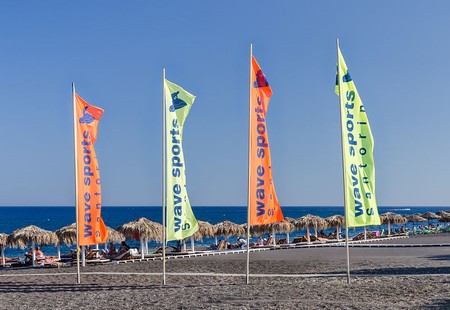 Perissa is a quieter beach than Kamari though it has all facilities that a tourist would want for a beach day. During summers even Perissa becomes crowded but during the offseason, it's calm and relaxing. There is conspicuously less number of hawkers here so that means less unsolicited conversations.
The beach has won the Blue Flag award for neatness and maintenance and you won't find debris, overflowing dustbins and litter along the beach.
The water is very calm and there are huge rocks on which you can sit and hear the ocean lap up to the shore. The lack of turbulence makes for great kayaking opportunities and there are quite a few kayak rentals along the beach.
Snorkelling gear is rented out by shops and snorkelling spots are present along the shore through the black sand and lack of underwater vegetation makes Perissa a less than perfect snorkelling spot. If you want to swim through the clear cool water with its sapphire blue colour then this is the best setting you could choose!! If you are with kids though you need to be careful as there are sneaky undercurrents which may be dangerous for little swimmers. Better not let the kids go near the sea alone.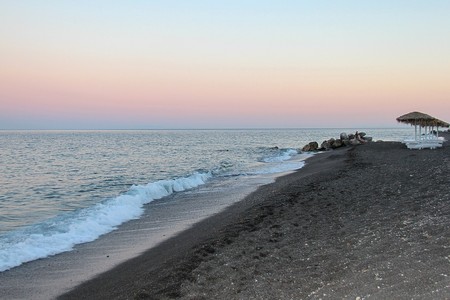 There is the Mediterranean Dive Club next to Tranquilo at the Perissa beach. These guys participated in the filming of the Tomb Raider movie 'Cradle of Life'. They were on many TV shows and are well known for their speed boat safari around the islands. The Mediterranean Dive Club conducts individual as well as group dives apart from tailored diving courses for kids above the age 6. If you pay 20 euros (steep fee!!) then they will take underwater videos and photos of your diving experience.
If you want to try out diving at a lower price point and then contact the Santorini Dive Centre's office in Perissa at the south-eastern part of the island. You will find the office sandwiched between Camping's Beach Bar and Yazz bar. If you book dives then they will provide you easy access to dive sites near the Volcano and caldera. These guys have a larger dive station at Caldera beach nestling below the cliffs of Akrotiri village. Instructors are helpful and they take loads of photos of the divers. Also, the equipment used is top quality and there is a safety training module before the dives.
A well-known bike operator called Mark's Bikes (provides scooters, bikes and ATV's) is also stationed at the Perissa beach. Santorini is perfect for ATV rides and you can easily ride off to different attractions after renting out vehicles from this centre.
The biggest attraction of Perissa is the Santorini Water Park that's a complex of 3 swimming pools, sunbeds umbrellas and entertainment areas that can take in 180 people. 3 water slides are placed inside the park and there is a large kid's play area along with a kid's pool and small water slides. The water park is open from 10 a.m. to midnight but the swimming pool and slides can only be used till 7 p.m.
Many people listen to music, groove to the beats and eat out at the nice restaurant inside the water park. There is a 6 euro entry fee for adults and a 3 euro entry fee for kids. Groups can get in at discounted rates. You can call +30 22860 81118 for more enquiries about the water park.
The Mesa Vuono Mountain clamps the Perissa beach on one side while the ocean runs in and clamps it on the other side. Therefore the beach isn't as long a stretch as it is in Kamari. It's easily walkable from one end to the other and it gets easier if you use the boardwalk. The sunset isn't as hyped at the Perissa beach as it is in Oia but lots of people enjoy seeing the sun drop below the deep blue ocean horizon. And that glistening black sand looks all the more enticing when set off by the rays of the setting sun.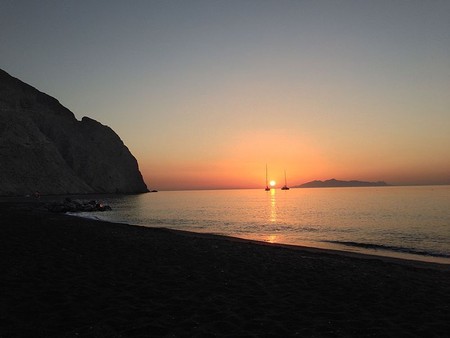 A Street runs between the restaurant and beach area…. It's a kind of boardwalk that's 2 km long. This man-made path is best for taking long walks along the beach and checking out the restaurants from a distance before zeroing in on one.
Plenty of little shops dot the Perissa beach and you will be able to buy sunscreen, massage oil, shades, towels and other essentials here. You can also get 'water shoes' on rent. These are huge sturdy footwear with good grip that makes walking on the slippery bed and gravelly beach easy.
There are some tiny shops selling souvenirs and local art at reasonable prices. This is a less commercialised place than Fira, Oia or even Kamari so bargain hunting chances are higher.
You will see plenty of loungers on Perissa… it's supposed to be one of the best beaches of Santorini for lounging. No cars are allowed and there are miles and miles of sunbeds, loungers and umbrellas as far as you can see.
There is a very photogenic blue-domed church (Church of Timios Stravos) near the very end of the beach. Walk-in around service timings and maybe you can listen to the traditional choir… it's a spiritually moving experience. And if you are lucky enough to arrive on a feast day then watching all the singing and dancing that happens on the square in front of the church, is a treat.
There are umpteen restaurants along the beach and eating at any one of them allows you to use their beach chaises and umbrellas without a fee. The waiters at all restaurants provide beach service and will bring up drinks, snacks etc. up to the loungers and umbrellas. There are some really cute looking tikka hut shelters under which you can sit and admire the ocean. Check with the restaurant you choose whether they can give you a lounger right near the sea so that you can enjoy a great view. Sometimes you will need to pay extra for these 'premium placement' loungers.
You have to be a little smart while choosing the position of the beach to lounge in. The north part of the beach is exposed to a lot of road and traffic noise. This is because some of the roads in Perissa close at 2 p.m. and as a result, all the traffic is directed near the roads that circumvent the north part of the beach. The middle portion of Perissa beach and the south part are relatively safe from noise.
If you aren't dining at the restaurants then you will have to rent the sunbed/ lounger. It's about 10 euros for a lounger and 15 euros for a lounger close to the water.
Beach Bars & Restaurants
Magic Bus is a classy restaurant and bar serving tea/coffee/ finger food besides drinks and snacks throughout the day. Chicken fillets with pesto and scrumptious steaks are most ordered items here and there is a clear focus on seasonal produce. Free bread is served with every meal and light jazz and R &B keeps on playing in the background.
Another good place to hangout is Bob's Bar that has really comfortable seating and a very relaxed vibe. Pina colada, beach orgasm and banana daiquiri are amongst the generous list of well-made cocktails here. If you have got a taste for eclectic music and minimalism in décor then you will love the Memories Café Music Bar.
As mentioned earlier Perissa has good nightlife though obviously not in the same league as Fira. Nightlife here is more about bars, pubs and restaurants that are open till 2 a.m. than clubs which specialise in hard-core clubbing.
Some other nice but basic places to hang out a late evening in the beachfront are Jojo, Kelly's, Chili and WET. Yazz looks like a shack with its thatched roof and ochre-coloured walls but it offers plenty of action as youngsters come here to dance the night away. For the more sedate crowd, they have a string of loungers perched against the shoreline. Yazz serves some of the best smoothies and cocktails on the island.
If you are in the mood for some hardcore clubbing then you should move to Fira after enjoying some sundowners and seafood on Perissa beach. You can also visit the Perivolos beach (roughly a km away) that has a livelier nightlife scene.
There are many dining options along the Perissa beach but there are eateries serving food at lower price points as you head towards the Perissa town. There is Gyros Time, Santa Irina Bakery, Chocolat Creperie and Ntomatini etc.
For a spot of shopping go off to the Old Cellar Gift Shop. This is a family-owned all-purpose store selling nice sarongs, swimwear, men's and women's clothing and accessories etc. They also stock some really pretty jewellery and gifts. A great authentic Greek shopping stop with friendly owners and 3 cute dogs.
How to Reach
Perissa beach is about 15 km away from Kamari airport and 12 km away from Athinios Port. It's also 13 km away from Fira and about 10 km away from the Akrotiri red beach.
It takes half an hour to reach the airport from Perissa if you are using a car. However, by bus, you will need to change for Perissa from Fira if you are coming from the airport. The bus stop near Perissa beach is just 10 meters away from the water. The bus will also go to Akrotiri Beach and Kamari beach so you can beach hop using the public bus service.

Nearby Attractions
Many tourists love walking to the Akrotiri red beach from here… it's roughly a half an hour walk. You can also rent a boat to go to the secluded and beautiful white beach (also known as lover's beach). History lovers will like exploring the ruins of Saint Irene church near the Perissa village… the etymologically important spot on the island. The name Santorini is actually a compressed form of the name 'Saint Irene'.
The Kamari to Perissa hike/ biking trail is a very famous activity here. The route encompasses the black beaches of Kamari and Perissa and the Mesa Vuono Mountain with its ancient Thera ruins. Walk up to Mesa Vuono from Perissa is via a stone-filled dirt track so wearing good trainers is important. Usually, tourists hike up one way and take the bus back.
If you want a more relaxed activity then exploring the quaint Greek orthodox town of Perissa is a good idea. It has a peaceful, un-touristy vibe about it and there is a local vegetable market, church, little shops and cafes besides a proper 'Perissa Shopping Centre'. Apart from assorted garments and accessories stores, there is a restaurant there called 'Cyclades' and it serves the juiciest biggest calamari you would have tasted. Sit out on the terrace under the vine decked pergola and don't forget to order a cup of Greek coffee with honey-infused baklava pastries after your meal.
Also Read