When visiting Santorini you need to keep in mind that this is an island that is shaped by the volcanic eruptions that happened aeons ago. The beaches are all ground down versions of the lava rocks that give the island its sublime yet wild beauty. Therefore the beaches are not typically 'sand' but powdered down volcanic material which makes them unusually beautiful but not very comfortable to walk on.
Go with the expectation of witnessing geological wonders and not with the illusion of walking barefoot on soft baby powder sand. The latter is a near impossibility in Santorini. However, you can get access to some of the most exceptional beaches you have seen in your entire life. Whether it's the oxblood cliff laden Red beach or the wild and windy Cape Colombo or the well-facilitated beaches of Kamari and Perissa; Santorini's coastline will take your heart away!!
Perissa with its 1.5 km stretch of black gravelly pumice and lava stone beach is a testament to the volcanic eruption that shook the island in 1620. The stones and lava rocks of Mesa Vuono came tumbling down and were powdered down to form this beach. However, Perissa is more appreciated today for its awesome facilities including a brand new waterpark with slides, entertainment zones for kids and rain showers.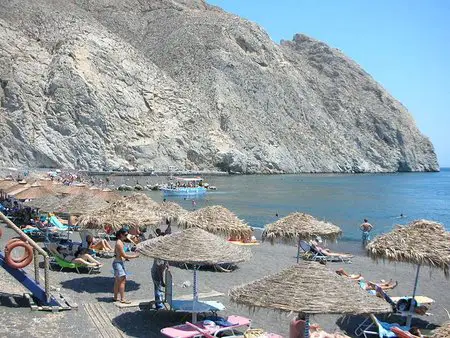 Perissa has some great dive centres that help everyone from professionals to beginners, embark on exciting underwater adventures. Perissa is also a great place to bargain hunt and there are many souvenir shops selling trinkets and local craft items at reasonable prices.
After you are done beach lounging on the sunbeds/ umbrellas on this Blue Flag holder beach, order some chicken fillets with pesto from restaurant Magic Bus and guzzle on some Santorini wine.
To learn more about the very popular Perissa beach read our detailed article on it.
Perivolos beach is a natural extension of Perissa beach and is known as the water sports hub of Santorini. You need to walk from Perissa to Perivolos and in that 2 km stretch, you will realise the fact that the coarse pebbly terrain of Perissa is ground into softer more pliable stuff by the time it reaches Perivolos. This is why Perivolos is the only black beach of Santorini that tourists can think of walking on without trainers.
Perivolos is also a nightlife hub and the chic set of Santorini citizens come here to party along with glamorous tourists and the occasional celebrity. Joho's, Wey Stories, Chilli beach Bar are all well known across the Santorini party scene. This well maintained quiet and exclusive beach doesn't see many hawkers but there are plenty of lifeguards. The Perivolos beach is just 14 km away from the Kamari airport and 11 km away from Athinios port.
To know more about this beautiful beach read the detailed article.
A Blue flag holder and one of the busiest beaches in Santorini; Kamari is a must-visit on every tourist's list. There are diving centres with proper PADI instructors who offer a good range of diving courses and activities. There is a lot to do on the Kamari beach like getting your hair braided, etching a tattoo and lounging endlessly on a sunbed.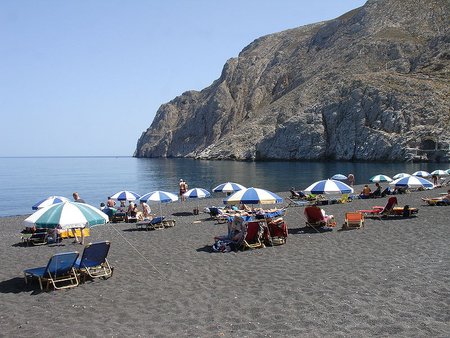 There are great restaurants like Almira ii, Elias Grill and Forno Pizza and a splattering of night clubs and sports bars. The 3 km long Kamari beach lies on one side of the Mesa Vuono mountain and many decide to hike up to see the Ancient Thera site. Learn more about this popular beach here.
One of the most beautiful beaches in Santorini, the Kokkini Paralia (or the Red Beach as it's popularly known) is flanked by dazzling oxblood lava rocks. Photographers across the world name the Red Beach as their favourite and thousands of tourists seek it out despite ISMOSAV marking it 'unsafe'. This is a great place to watch the sunset and then boat hop to the white beach and black beach.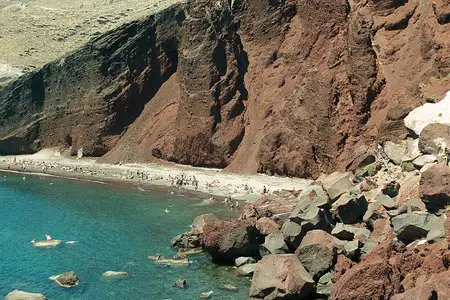 There are not many facilities on the Red beach but most people are too mesmerised by the iron-rich cliffs to seek anything else. Rent out some snorkelling gear and explore underwater life or spend your time photographing Mars-like landscape here; either way, you will be mesmerised.
Learn more about the Red Beach here.
Vlychada Beach
This is a very long beach with clear shallow waters and dark volcanic sand and lots of pebbles. Vlychada has the reputation of possessing a 'lunar landscape' and it does justice to its reputation. The beach looks like it has stepped out of the moon with its fantastic white cliffs and curved shoreline (this gives the beach a unique look).
The Vlychada beach has a nice little port near it that has a Sailing and Yachting centre. The tiny marina there has small yachts and boats and some of these are fishing boats. You can watch as the fishermen bring in the catch of the day and then the small taverns around prepare these and serve customers piping hot.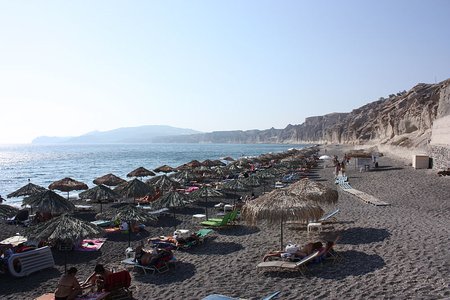 There is a Tomato Industrial museum near the beach that was once a tomato factory. You can enjoy a guided tour about the conventional methods of cultivating and producing tomatoes in Santorini. For the record, the Santorini cherry tomato with its hard peel and juicy sweet taste is a protected species that owes its attributes to the arid volcanic soil of the island. The tomato factory dates back to 1945 but the modern museum opened in 2014.
It's interesting to see exhibits dating back to 1890; there is a collection of tomato processing machinery, old tools and artefacts and a very intriguing collection of videotapes showing the interviews of the old workers of the factory. Kids can indulge in creative activities and games while adults can shop for ceramics and bags and local ornaments at the lovely gift shop here.
A visit to the Tomato Museum is an important part of the entire Vlychada beach experience. Incidentally, the Tomato Factory is the super cool 'SantoriArt Factory' initiative and they conduct dance programs, musical shows, recitals, workshops, educational and cultural activities all across the island. You can learn more from their website.
Vlychada beach has a gay section at its far end (you have to go west) and you will see many men sunbathing nude on it. This section is a bit of trek and you will need to walk for about 15 minutes to reach on it. The Vlychada beach is a very popular wedding/ pre-wedding photoshoot destination and it is especially preferred by Gay couples.
You will notice many people indulging in horseback riding on the beach… the disadvantage is that lots of horse poop are left behind. At the far end of the beach, there is Eros Wave bar which owns a small legion of sunbeds and its parking slots. Other eateries also offer sunbeds and if you don't dine then the rental charge is between 10 to 13 euros per day.
Go even further west and there is a remote half-hidden church built into the cliffs; an excellent spot for photography. Further away 3 arched entrances are nestling into the volcanic material; once upon time fishing boats and equipment used to be stored here.
The beach has some small cafes and snack bars and some beach chairs and sunbeds perched on it. Most of these small eateries aren't listed on travel forums but you will get amazingly fresh and tasty food there. Try the crepes, strawberry smoothies and the indigenous eggplant, cheese and tomato sandwiches.
There are good bathrooms on one side of the beach. However, there are few and sometimes no lifeguards on the beach. The beach is also not that great for swimming as the access to the water is rocky and full of sharp stones. The highlight of the beach is the towers of sand and the artistically crafted cliffs that stand on the background of the beach. The melted appearance of the beach makes it look as if Gaudi has crafted the entire set… Sandstone and pumice are the primary components of the 'cliffs' and the vagaries of weather and wind have created those glamorous shapes and lines; Vlychada is one of the best works of nature on Santorini.
Vlychada beach is 14 km from the Kamari airport and 11 km from Athinios port. The capital of Fira (Santorini) is 12 km away while the lively Perissa beach is just 2 km away. In fact, you can comfortably walk to Vlychada from Perissa/Perivolos. Not many buses come here from Fira. The best option is to hire a taxi or take an ATV. In lean season you will not find many shacks or loungers on this beach.
Agios Georgios Beach
Just about 3 km away from Perissa and about 1 km away from Perivolos there is a hidden gem called Agios Georgios beach. This is a part of the same black sandy stretch that stretches down from the Mesa Vuono mountain. A few numbers of tavernas and restaurants are gathered along the beach and you can get nice cocktails, fresh Mediterranean food and seafood.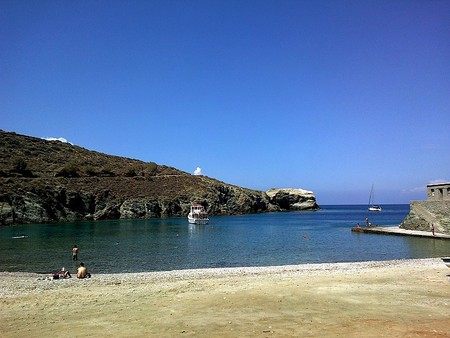 Agios Georgios shares the same reputation as Perivolos when it comes to watersports; it is a scuba diving, windsurfing, jet skiing and paddle boating hub.
The airport is 12.5 km away from Agios Georgios and the port is 10 km away while Fira is 11 km away. If you are taking a bus to Agios Georgios then get down at the 16th stop which is basically the Perissa village and then walk for 20 minutes till you reach the Agios beach.
Incidentally, Agios Georgios along with Perissa and Perivolos is called the longest beach in the world collectively. It's actually quite difficult to pinpoint where one ends and where the other begins. This is rather a quiet and peaceful beach and not a party place like Perissa and Perivolos though.
Cape Columbo Beach
If you are looking for isolation and nature watching without human hindrance then the wild and gorgeous Cape Columbo is your answer. The beach is 12 km northeast of Fira and has a windy untamed appeal that inspires poetry. One look at the savagely crafted rocks that flank the beach and you will be awestruck by the fiercer side of nature.
Be careful of the falling rocks though; it's not advisable to sunbath directly beneath these rocks… they are known to have fallen off unpredictably in the past. The unique-looking rocks are crafted by the strong gushes of wind that mark Cape Columbo.
You will find that the access roads to the beach are in pretty bad shape. If you are based in Oia then maybe you could take a longish (around 3.5 km) walk to this beach. Bus connections are non-existent so you can either make your way till here by ATV or car and then park your vehicle on a narrow street before following a thin road that leads to the beach. The Kamari airport is 17 km away while the Athinios Port is 19 km away.
Monolithos Beach
Quite close to the airport, on the east of Santorini, there is Kamari's sister beach called 'Monolithos'. The beach has fine black sand and is relatively less rocky than Monolithos. The beach has many facilities like children's play areas, water sports facilities and umpteen eateries who give out umbrellas and sunbeds for rent.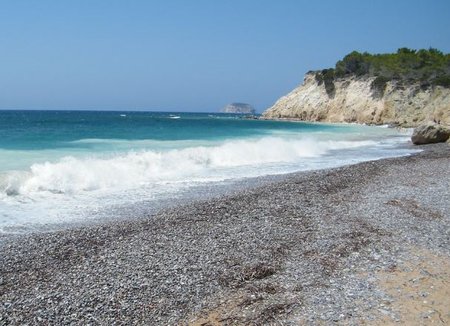 A section of the beach has sunbeds, umbrellas and a lifeguard tower while another section has well-facilitated football, volleyball and basketball courts. There are fascinating rock formations (similar to those found in Vlychada) on Monolithos beach too and they are sculpted by the three forces of nature; salt, volcano materials and wind!!
Monolithos beach is quite close to the airport (6 km) and quite near the famous Kamari beach too. If you have flown into Santorini for just a day then the Monolithos and its sister beach Avis are probably the best places to go if you don't want a too crowded beach like Kamari.
Avis Beach
The southern extension of the very long Monolithos beach is known as 'Avis'. This quiet and beautiful beach gets its name from the Avis tomato factory and its nickname 'Exo Gonia Beach' from the nearby village Exo Gonia. The peaceful looking beach has many trees lined up against its length… a rare sight on the vegetation deprived Santorini.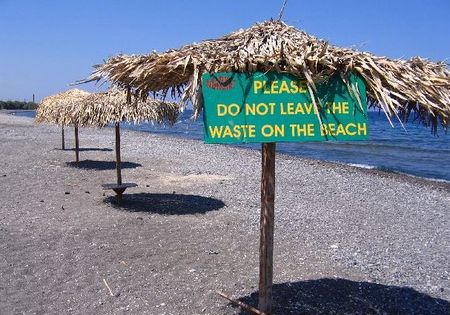 The beach is quite near the airport (just 6 km away) and if you have flown into Santorini for just a day and want to relax then this is the perfect beach for you.
You will find a few sun loungers and straw umbrellas here though there are decent restaurants and bars. This isn't a sheltered beach so strong gusts of wind blow across it making this an ideal windsurfing spot. Many kite surfing and windsurfing operators set up shop nearby and tourists are often seen trying this sport.
White Beach
Privacy and a remote, exotic romantic atmosphere gave the White beach a popular nickname 'The lover's beach'. You can only reach the white beach by ferry. The beach is on the south tip of Santorini and getting there requires a ferry which is why much of the tourist crowds skips visiting this beach. Couples and honeymooners love the white beach though and the stunning white cliffs at the background of this beach creates awesome Instagram worthy photos.
If you are visiting the Akrotiri Red beach (which you should) then hop on a boat/ water taxi and get to the white beach in 10 minutes. The beach is cordoned off by huge rocks so unless you are a rock climber with extensive experience…. There is no way to reach the white beach by land. The white cliffs that have a variety of pastel hues infused in them are the star of the show here.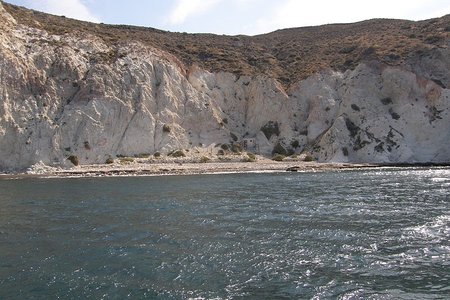 The beach is pebble filled and clearly resembles the other volcanic beaches of Santorini… the material looks the same as in Red Beach. The cliffs are positioned together to create a small cove and the tiny beach has pumice stones, grey volcanic sand and a smattering of pebbles.
The waters here are exceptionally clear and there is a good population of underwater life and decent vegetation (rare in Santorini); all of this makes the white beach a good snorkelling destination. On the flip side, there are no facilities here, though in the peak season (summers) a couple of shacks pop up. There are no bathrooms either so if nature calls, you will have to follow the caveman route!! If you want a snack or a drink then carry your supplies.
The White beach is 13 km away from the Kamari airport and 9 km from the Athinios port. It's possible to reach the White beach by ATV though its not a very comfortable ride.
Also Read