Akrotiri Archaeological Site is an ancient Alice in wonderland kind of experience!! Pay the entry fee and step in only to be amazed at the scale and structure of this hugely developed city that was submerged under the ashes. There is a maze of roads and pathways that go through the site and you can walk through the actual city while admiring the 2/ 3 storeyed houses that stand on both sides of the road.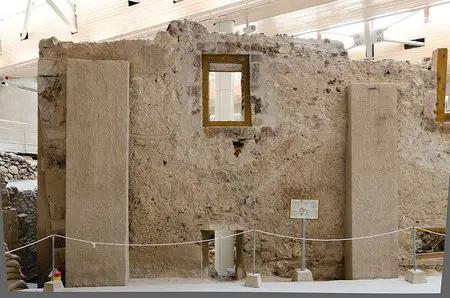 There are heating systems, well-developed bathrooms with drainage and bathtubs, huge storage pots, weaving looms and every amenity that civilised life demands. It's amazing to think that the ancient Minoans living in Akrotiri were this developed in times when most Europeans were only living in stone huts.
Akrotiri civilisation was wiped out when the volcanic eruption of Santorini happened in 1620 and this site is a unique chance to gain insight into the 'Pompeii of Greeks'.
History
Akrotiri civilisation is so old that it makes Pompeii look young. Minoans dwelt in Akrotiri 4000 years before Pompeii was even founded. The Minoans who founded Akrotiri used the limestone rock of Mesa Vuono as a natural fortress. The settlement started off as a farming and fishing community that grew grains and olives. However, it was strung on the prosperous trade route that joined the Middle East and Europe and soon the coffers of the settlement swelled as its citizens became prosperous.
All archaeological evidence suggests that this was a democratic community; there are no palaces and there is a parliament house. People lived in 2/ 3 storeyed houses and all of these had balconies, floor heating, hot and cold running water and functional toilets. This was an intellectually as well as aesthetically refined community that didn't engage much in warfare and had a fondness for beautiful things including flowers. In fact, some inscriptions and ancient texts suggest that they were called 'flower people' with some derision by other crude warrior communities.
This was the Bronze Age and inhabitants of Britain were making rudimentary huts and stone jugs while Minoans in Akrotiri made their own wine and impossibly life-like frescoes. The Akrotiri settlement was the only urban centre in the eastern Mediterranean zone.  Some say that Plato got inspired by Akrotiri and crafted the legend of Atlantis.
However, around 1500 BC the Volcano at Thera erupted and the island was blown apart into pieces.  A lot happened after that and you will know more about it when you go on the Santorini Volcano tours. Akrotiri got buried under a huge layer of volcanic material and ash and its architecture and wonderful artwork remained buried underneath for centuries. The citizens had presumably fled on boats beforehand taking their valuables along… literally, no human remains and very few pieces of jewellery were excavated.
Interestingly Santorini saw a lot of colonies after that… Phoenicians and Byzantines and Romans and Dorians but Akrotiri remained buried. It was when workers began digging up ash to build Suez Canal in 1860 that they chanced upon some artefacts from Akrotiri. However formal excavation work finally started in 1967 led by Professor Spyridon Marinatos who believed that this particular Minoan civilisation was wiped out by the Santorini volcano eruption.
New finds are still being discovered and about one-third of the city has been discovered so far….another century will be required for full excavation.
What to look for
What you will appreciate at the Akrotiri archaeological site is the scale and size of the civilization, the civic planning, layout and the lovely architecture. If you are looking for artefacts and art then most of them are displayed at the Prehistoric Thera Museum at Fira and at the National Archaeological Museum in Athens.
The buildings were all 2 storeyed/ 3 storeyed but are understandably all in ruins now. You can see the layouts though and actually can go up to the houses in some cases and see how people organised their rooms and bathrooms. Seeing the actual houses up close makes you feel as if you were transported to that era.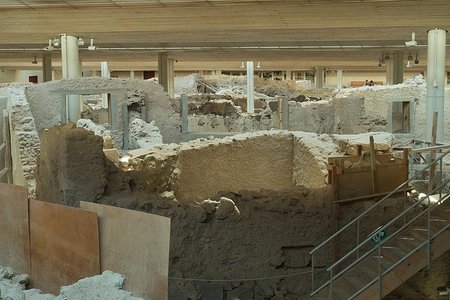 The houses have traces and remnants of different objects like pots and pans, weaving looms, sewage systems, bathtubs, heating systems, windows, amphora etc. Seeing someone's house in such detail is bound to make you feel connected.
Entire pieces of furniture like tables, chairs, beds etc. have been recreated when plaster is poured into casts created by ash in the same manner as Pompeii. However, at the Akrotiri site, you won't find human or animal casts…presumably, everyone escaped before the eruption.
The Akrotiri Archaeological Site is all put together in a light and airy building of huge proportions. The ruins had to be encased in a building as in 2005 the roof of an ancient house collapsed killing a tourist. The site was repaired and encased in a building and it was closed to the public for 7 years. This new structure that was opened in 2013 is made of steel and wood with light vents that kept everything cool yet prominently visible. The concept of enclosing an entire submerged city within one modern-day building is laudable in itself.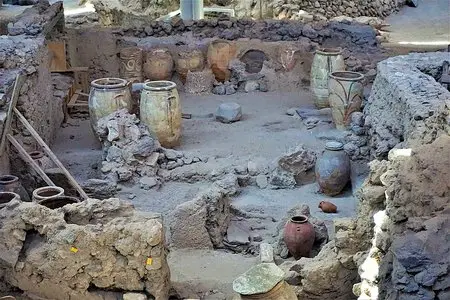 There are walkways suspended over the ruins and they will take you around the city periphery. You will feel as if you are walking on ground level but actually, this is roof height for Akrotiri as the whole place was buried in thick layers of ash (some even 40 meters high). There are pathways that lead down to reconstructed houses with amazing levels of detailing like stone bathtubs and restored Minoan toilets.
The principal walkway goes down ancient Akrotiri's main street and that's lined with warehouses and stores. There are many different routes and you can choose how much you want to see or which part you want to see. Most of the structures have descriptive plaques and you will receive an information leaflet with a map when you buy your ticket.
The ash has acted as a protective cover and you will see hundreds of examples of ordinary Minoan life. There are drinking cups, pots, frescoes, broken plates and gigantic storage vessels designed with geometric symbols. Some of these vessels were found with remnants of olive oil and fish inside. The most beautiful artefacts have been removed to the archaeological museums in Fira and Athens but what remains behind is also impressive.
The site is essentially ash coloured so it will be like walking through a monochrome with the design on the pots being the only splashes of colour. The staff is a bit over strict in making visitors following the set route and that's sometimes bothersome especially if the area is empty.
There are some information plaques that explain interesting insights about the city. For example, you will learn that a series of earthquakes preceded the eruption and the Minoans being a rich seafaring community had quick access to huge boats that allowed them to escape. You will also be forced to ruminate over mysteries like where did the Akrotiri tribe disappear and why were they never heard off again. There is some practical information too about the site layout, plumbing and architecture.
Walk through the site and you will be able to understand some cultural aspects. There are no palaces on the site so that means that this was a democratic settlement. There is no community temple but every house had a separate worship space.
If you compare this site to Acropolis or the national archaeological museum in Athens or even the prehistoric museum of Thera, the lesser number of information boards will bother you.  The information presented is designed to provoke interest but not to satiate curiosity. If you come here without a guide then you will probably have to take Google's help in getting more information.
There are interactive films too but the volume is a bit low and the subtitles are in Greek which is why that's a let-down. These are very informative otherwise and you will find them towards the exit door at the end of the archaeological site.
There is a model of the site as a ruin which looks impressive but would have been more helpful if there was a model showing how the place looked before becoming a ruin. Once you reach Akrotiri you will really wish that there was an audio guide but there isn't any.
The whole site is covered so if it's raining outside or very sunny then Akrotiri archaeological site is the perfect destination to visit.
There are washrooms near the site entrance. There are vending machines doling out soft drinks and snacks. There is even a gift shop selling postcards, artwork copies and souvenirs. The artwork copies are homogenous Greek art and not focused on the Akrotiri site so that's a bit disappointing. There is a small bookstore at the end of the road and you will also be able to buy a detailed guide on Akrotiri at this shop but it's priced rather steep at 22 euros.
Remember that Akrotiri archaeological site is a work in progress. Excavations have been happening here for 50 years and archaeologists say that the work isn't even halfway done. Be prepared to see some areas roped off and a fair amount of dust… these are some side effects of visiting a live archaeological site.
The area is wheelchair accessible and there is a medical office inside the premises. Photography is allowed inside.
Open Hours
The site is open from 8 a.m. to 8 p.m. from April to October and from 8 a.m. to 3 p.m. from November to March. In winter the site is closed on Mondays.
Tours & Tickets
Akrotiri archaeological site is covered on many Santorini volcano tours as this settlement was drastically affected by the volcanic eruption. Viator offers exclusive Akrotiri archaeological site tours that last for approximately 2.5 hours with a local guide. This tour is ultra-comfortable and includes hotel pick up and drop in an air-conditioned car.
You can book this tour through this Viator site.
Another Viator tour offers a full day sightseeing in Santorini experience with stops at Red beach, Skaros rock, Megalochori traditional village, Perissa black sand beach and Monastery of Profitis Ilias etc. This is a group tour that happens on an air-conditioned bus with a local guide and lasts for approximately 7 hours while the archaeological site stop is only for 30 minutes.
You can book this tour through this Viator site.
Then there are tours that combine a visit to an island winery, the Akrotiri archaeological site and a Perivolos beach visit along with a sunset watching experience in Oia. This tour lasts for 10 hours and includes pickup and drop from the tourist hotel. The Akrotiri stop is for a good 70 minutes and the guided tour is done by a trained archaeologist so it's sure to be comprehensive.
You can book this great package tour through this Viator site.
There are local guides pitching for tours at the entrance of the site and you can book one on the spot if you haven't signed up for a guided tour. They usually charge 10 euros per person and ask for a group of minimum size 10. If it's a busy day, tourists can be seen immediately forming impromptu groups and going in with guides. The scale and layout of the place demand a guided tour otherwise even the information plaques aren't sufficient to gain an in-depth understanding.
Entry to Akrotiri archaeological site costs 12 euros per adult and for a 14 euro fee, you can get a 4-day package ticket that includes entry to many other sites like Ancient Thera, Archaeological Museum, Museum of Prehistoric Thera, Collection of Icons and Ecclesiastical Artefacts at Pyrgos. The package ticket is a great offer as the Akrotiri entrance ticket alone costs 12 euros. The 12 euro entry fee seems too steep otherwise. Anyone under the age 18 can come in for free though!!
How to reach
Akrotiri ruins are one of the top tourist draws of Santorini. The archaeological site is in the southern zone of the island… you can drive here in 25 minutes from Fira. There is a regular bus service from Fira to Akrotiri town and Red Beach car park.  The actual site is ten minutes away from the main road and you will get many wonderful viewing points in between.
If you are coming by Quad bike then you can access the beach, archaeological site and all nearby attractions on your own. There is a parking lot right in front of the site and that charges 4 euros… it's best to park your car at the Red beach car park.
Most tourists visit the Prehistoric Thera Museum before/ after visiting the Akrotiri archaeological site; seeing the artefacts and architecture consecutively creates a better understanding of life in ancient Thera. However, if you are not much of a history lover then going off into the nearby Red beach with its wild red volcanic sand and immense photography potential, is a good idea.
You can just walk to the nearby port from the archaeological site and then take a water taxi to Red beach. The port area is full of interesting restaurants and 'tavernas', so you could fill up on some local island food and the famous 'volcano wine'.
The water taxis will take you to the white beach and the black beach too in case you want to take an island tour. On the red beach, there are restaurants serving fresh seafood like Melina's Tavern while the Wave serves Mediterranean cuisine. Most restaurants around here like the Cave of Stolidas and the Cave of Nikolas serve traditional food.
If you are in the mood for exploring unusual destinations then you can visit the Caldera beach that's a black sand beach inside the Caldera… you can swim and sunbathe here. You can also go shopping at the Farros beach near Akrotiri. Organic produce like olive oil, homemade biscotti and fresh fruits are top buys here. You can even buy exclusive things like organic body butter made with donkey's milk.
Also Read