North Ireland's capital stands on the river Lagan right where the river inlets into the sea (Belfast lough). In the 17th century, Belfast engaged itself wholeheartedly in the shipping industry and post the industrial revolution its principal shipbuilding firm Harland and Wolff created "Titanic", "Olympic" and many other starships.
The World War 2 air raids severely damaged the city, and around 1968 the city was badly affected by Catholic-Protestant battles which shattered its economy and till now is known dubiously by the name "troubles". These events are important to know because you will see its memorabilia, wall art and monuments scattered around the city when you visit.
If you are a British culture lover you will adore Belfast; the city spills over with Victorian buildings and stained glass windows. And even if you aren't particularly a British culture lover, the wild beauty of the North Irish coastline and the rugged mountains around will make you fall in love. The city is full of joy now and has embraced the lessons of its past while moving towards a joyful, tolerant and LGBT friendly environment.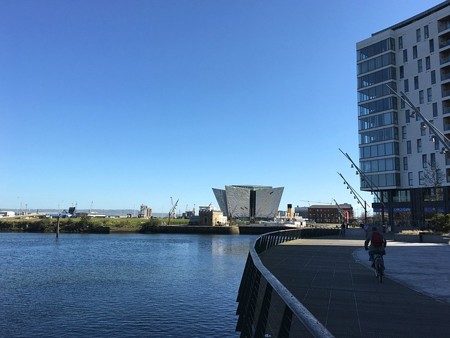 It holds a reputation as a preferred academic destination with Ulster University and Queen's University gracing the city. Belfast is not yet invaded much by hordes of tourists as is Dublin and therefore you can have a supremely enjoyable experience here.
Attractions and Activities
There is a lot to see in Belfast but since its Titanic connection is prominent you should begin your sightseeing by exploring the Titanic Quarter thoroughly (yes there is a special city area).
Constructed on the slipway where the Titanic was created a century ago, the Titanic Belfast is the centrepiece of the exciting city. Those who have seen it know that it isn't a museum….it's a journey into the most famous ship of history. Look through 9 galleries spread across the 6 floors and you will find everything from simulated rides to interactive exhibitions to an underwater cinema.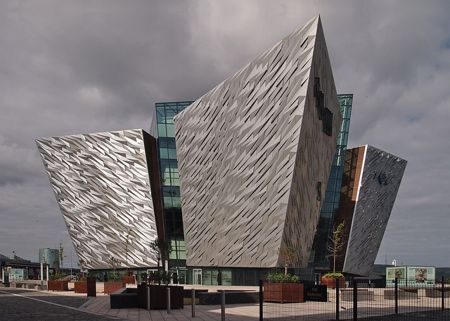 At the minimum, you need 4 hours to absorb the lovely mixture of images, reconstructed pieces and simulated fantasies. Explore the Titanic slipways where the Olympic and Titanic were built and had their famous launches a century ago. If you visit around Halloween then you have the chance of catching Halloween monster mash and fireworks display here. Tickets get sold out in high season so book well in advance. Step on the SS Nomadic that carried passengers up to the iconic Titanic.
Later, you can acquaint yourself with Goliath and Samson that are yellow cranes and then go to the Hamilton dock where the nicely restored S S Hamilton (the tender ship of Titanic) stands in its full glory…it's the lone surviving white star line vessel.
You can also hop on the HMS Caroline who is a proud survivor of the Jutland Battle in the First World War. There is a lot to see inside the ship including the Royal marine Mess, cabin of Captain Crook, galley kitchen, engine room etc. It's interesting to discover the habits of the 300 odd crew members who sailed on the ship and learn all about the Jutland battle. Older kids, teens and adults will also enjoy the experience of looking at the workings of a torpedo and different weapons at the Torpedo School.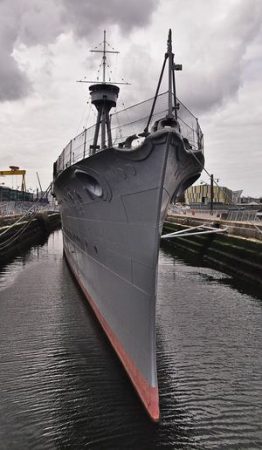 Other attractions of the Titanic Quarter (a multimillion-dollar regeneration project with a huge waterfront) are the slipway cable wakeboarding quarter, Odyssey pavilion, Thompson old office and the marine theme Cast and Crew restaurant. You can take a complete Titanic Quarter tour and look at shipyard stories documented on the wee tram.
The Ulster Museum is another noteworthy museum in Belfast that's even on the world map. There has been a multimillion-pound refurbishment of the museum and now there are stunning arrays of European, Asian, Pacific and African art decorating its galleries apart from a magnificent Egyptian mummy (named Takabuti). All you need to know about Irish history right from the Stone Age to medieval times is recorded here. There are very nice fine art exhibitions here that showcase almost all aspects of art right from jewellery to costumes to pottery to fashion etc. and between September to January the famous Diplodocus monster from the natural history museum "Dippy" comes and stays here.
The Ulster Folk and Transport Museum is also worth a visit as it exposes visitors to Irish life as it was a century ago. Farms and cottages and shops can be explored as you stroll through the reconstructed parkland and there are guides that come in costumes to educate you about ancient practices and traditional crafts. Experience steam locomotives, horse-drawn carriages, electric trams, vintage cars etc. all under one roof.
Once you are done with the Ulster museum walk on to the Botanical Gardens that's a 19th-century marvel created by Charles Lanyon and Richard Turner. Look out for the cast iron antiquity that spans all through the garden and especially the beautiful Palm House; it's all Instagram worthy.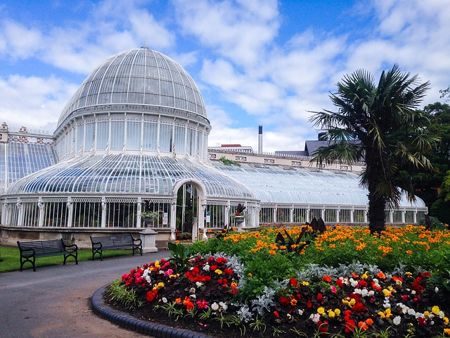 It's only later that your eyes will be drawn to the abundance of begonia, geraniums, leafy oaks (some date back to 1880) and fuchsia blooms. The orchid and cinnamon section is named "Tropical Ravine" and there is even a playground and a bowling place nestling here.
Speaking of Parks the Cave Hill Country Park that has been named after the 5 caves adorning Belfast cliffs can take up days of your time especially if outdoor pursuits interest you.  There are walking trails, jogging paths and hiking routes and the reigning attraction is the 19th century Belfast Castle.
Look out for Napoleon's Nose and its jewel…the Mac Arts Fort that's an ancient construct standing 1200 feet over sea level. The outline of Cave Hill resembles a slumbering giant who protects Belfast. Locals say that this sight inspired Johnathan swift to create the character "Gulliver".
Don't miss a visit to the Crumlin Road Gaol that opened in 1996 after it was abandoned for more than 150 years. Right now everything from educational tours to concerts to weddings are held here and seekers of the occult routinely target this place as it's one of the most haunted places in Ireland. In fact, you should take the paranormal tour once you are here….all the ghost frequented places are shown here along with a detailed tour of the flogging room and execution chamber. There are even kid-friendly tours available.
One of Belfast's first civic buildings; the City Hall opened its doors in 1906 and right now is one of the city's most visited buildings. The lovely stained glass windows of the hall that depict Celtic stories and legends and the renaissance design of the building all celebrate the city's rich heritage of architecture. Look for stories and you will see depictions of the Cooley Cattle Raid and the Great Famine and the world wars. Walk through the nicely maintained grounds of the Titanic Memorial Garden and pay tribute to the 1512 people (they all have bronze plaques) who died when the Titanic sank.
You will be spending an evening/ afternoon or two at the Metropolitan Arts Centre Belfast (MAC) that opened some years back in 2012. On an average day, you will find everything from dance to theatre to music performances here.  Look out for the main foyer that has the gorgeous 'Permanent Present' sculptural work and the local/ international art exhibitions that are spread across 3 different galleries. If you are lucky then a mind-reading show or a roller disco event or a really whacky documentary will be on.
In fact, exploring the whole Cathedral Quarter (arguably Belfast's most exciting area) should be on your priority list.  The area is lined with pubs, hotels and amazing wall art and a visit should be paid to the 19th-century ornate Merchants Hotel (this was originally Ulster's Bank). The Great Room inside the hotel has Ireland's biggest chandelier and its restaurant and cocktail bar are both amazing as you will read in the food section.
Then stroll around to see St Ann's Cathedral (Churchgate was named after this) that has a strange long spire that impales the sky. From here you can detour into the Waring, Donnegall and Hill Street. Do visit the Friend at Hand …this is a whiskey shop and museum that will educate you about the lures of Irish whiskey. And don't miss the Umbrella passage ….this is a narrow street that's decked up with an army of umbrellas while the walls are filled with murals that tell their own stories.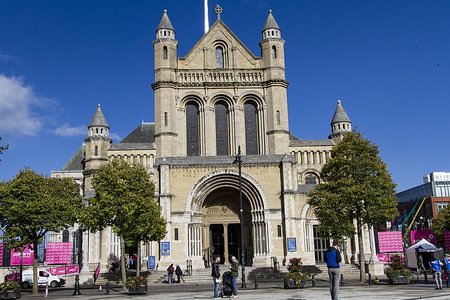 The city's fondness for art and culture speaks through its festivals. There is the international arts festival that's a 2-month winter extravaganza and there is Fleadh Feirste in autumn (Quarter festival) that's a tribute to the Irish language and its role in music and literature.
Few tourists are aware that CS Lewis; the celebrated author and intellectual giant was born and bred in Belfast. But everyone is awestruck on seeing the fantastic and all-time illuminated CS Lewis Square where there are 7 sculptures depicting characters from the Lion, Witch and Wardrobe (stone table, robin, beavers, Tumnus, a white witch and Asian). There is even a CS Lewis festival that happens in the city in the first week of November.
You will find the square beside the Eastside visitor centre at the junction of the Comber and Connswater Greenaways. The visitor centre has lots of interactive screens, wall maps and multimedia panels that let tourists know about the famous attractions, citizens, industries and nearby places of interest. The visitor centre, as well as the Holywood Arches Library and the Arches Health and Wellbeing Centre, have free trail maps.
Belfast is famous for its Peace Walls & Wall Art and one great way to see the cream of it is to take a Black Taxi Tour. These are run by taxi operators who provide history lessons and engaging information about the conflicts, rebellions and revolutions that led to the creation of the city's wall art. Basically the cities whole history is recorded on those walls. Note the beautiful murals too…these are recent adornments that celebrate the sports and cultural side of the city. Look out for the 8 famous ship masts that represent 8 of the many ships that have been created in Belfast. You will find the masts on the eastern side of the Donegall place.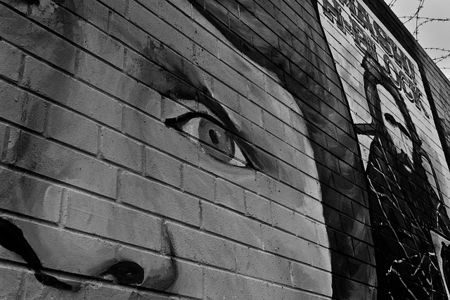 The Game of Throne (GOT) Tours is quite popular in Belfast. A typical full-fledged tour will take you around Antrim Plateau (Night Watch Beheading scene) near the Ballygally settlement. The next stop is Carnlough and the next Cushendun Caves. The caves are actually 400 million old and there is a pretty coastal village called Cushendun that's worth exploring even if you aren't a GOT fan. The next stop is Ballycastle where there is usually a lunch break (menus are inscribed on stones).
Carrick a Rede Rope Bridge (the next destination) is exceptionally beautiful and there are caves and an ancient quarry nearby (Fans of GOT will immediately know that this is Storms End). The next stop is Larrynabe Quarry and the next Ballintoy (sandwiched between Giants Causeway and the Carrick rope bridge). And the next stop "Giants Causeway" would anyway be on the schedule of any tourist who wants to see one of the most beautiful wonders of the North Irish coast. The stupendous rock formations that have sustained themselves against the ravages of Atlantic storms have fuelled the imaginations of millions.
There are other common stops on a typical GOT tour like the Dark Hedges which are actually an avenue of Beech trees that were planted by the Stuart family when they decorated the entrance of the lovely mansion "Gracehill House". Then there is the Dunluce castle which was filmed as Greyjoy's house on the Iron Islands. Taking the tour is also a great way to explore the natural beauty of North Ireland.
And in case you want to explore North Irish beauty fully then take a train and pay a visit to the 9 Glens of Antrim where time indeed stops still. Then there are the stately Mourne Mountains, Marble arch caves Geopark, Benone beach, Sperrin Mountains etc…you could spend months and yet not see it all!!
Read: The top tourist attractions in Belfast that you must not miss.
If you are visiting Belfast only for 2 or 3 days or less, one of the best ways to visit many attractions in the city in a short time and by spending less is to avail the hop on hop off bus tours. They have many stops and you can hop off anywhere and hop on again. Some of them also offer live on-board guides to let you know about the background of the places you are passing by.
Read: Hop off hop on bus tours in Belfast.
Food and Drinks
The food scene in Belfast is so iconic that they even have a musical band named after it. Yes, it's true the "Belfast Food" band has featured on many charts and had lovely hits like the rocky road to Dublin and Dirty Old Town. The food is inherently fresh produce and seafood driven and there is an overall emphasis on potatoes. Try the champ… it's north Ireland's edition of mashed potatoes with scallions, butter and milk.
Ginger Bistro on Great Victoria street has a nice ambience and good presentation and the menu is friendly to people with special dietary requirements. The squid, olive tapenade, French onion soup, grilled sausage, steak, lemon sole and basically most of the entrees are delicious. Holohan's Pantry on University Road serves authentic north Irish dishes like goat curd, pearl barley, potato pancakes, pork belly, stone bass and seafood Boxty. Yum on Stranmillis Road is affordable and serves delicious steaks, tempura of chicken, cheese starters and most variants of British food.
In Belfast, there are many affordable yet amazing restaurants like the Mourne Seafood Bar at Bank Street. Try the oyster's au Naturel, seafood stew, mussels with Mediterranean korma sauce and fish and chips…everything is ultra-fresh and flavourful. There is Coppi in Belfast city centre which has a range of main course items at competitive prices. The décor and ambience are worthy of a much pricier place. Try the pan-fried gnocchi with spiced pork and the broccoli with parmesan cream.
On Howard Street, you will find Love Fish and Meat Locker specialising rather obviously in seafood light dishes and heavier meat-laden delicacies respectively. Both are presided by celebrity chef Michael Deane who operates the elegant and pricier Eipic in the same building. While Love Fish is an expansive white room with a largish atrium and smoked salmon, chilli salt squid and Dundrum mussels as its stars, the Meat Locker caters to people with heartier appetites. Tuck into braised pork with onions and the giant meat burger with chips at affordable prices.
If you are in the Botanical garden area you can try the Kathmandu Kitchen that serves generous portions of Nepali/ Indian food with good service and competitive pricing. Try dishes like onion bhaji starter, Nepal dumplings etc. and then move on to mains like lamb magarati bhansa/ meat korma with coconut naan, Kathmandu special curry all of which are delicious in a fiery way.
On Dublin Road in Belfast, there is the Souls Restaurant which serves a vegan-friendly fusion Indian menu….the chilli chocolate, prawn cocktail and chicken tikka are winners here.
Right near the 'Titanic Quarter' on Donegall Quay, there is Wolf and Devour that's a street food van serving startlingly well-made burgers, sandwiches and chicken dishes. On Lisburn Road, there is Bollywood Spice that specialises in exotic south Indian dishes like Varutharachathu chicken curry.
For a truly sophisticated meal, check out Michelin starred Ox on Oxford street. The Chateaubriand main course, truffle and cauliflower dish, cheese platters are all superb. Try the tasting menu too…the elements of innovation and seasonal ingredient use will appeal to you.
The Great Room Restaurant Merchant at Skipper Street is inside a hotel of the same name and offers all meals right from breakfast to afternoon tea to supper. There is a tasting menu and amazing potato and leek soup, profiterole swan dish, smoked quails, sandwiches. The afternoon tea session is highly recommended. The Cocktail Bar here is also great with amazing steaks and a good alcohol list. The coal-burning fireplace and the ambience of the champagne lounge are the best part of the place.
For nice coffee, you can drop into the General Merchants Cafe (there are 2 locations but the one at Ormeau street is more popular). The other older one is at Ballyhackamore and both serve brunch food like toasted sourdough with veggies, poached eggs and pistachio-avocado platters, roast beef with cheese and onions etc.
Also on Ormeau Street is Kaffe O that is Scandinavian inspired and has a Nordic menu with coffee beans sourced from Denmark. Then there is Established Coffee (they unabashedly serve the famous Dublin 3fe coffee)… this has good Wi-Fi and is a nice place to finish off those emails. They source all their bread from Zacs Bakehouse. Try the lamb meatballs with hazelnut and squash-beetroot-sunflower seed tzatziki salad.
Read: Great budget eateries in Belfast serving breakfast, lunch and dinner.
Read: Great affordable cafes in Belfast to go for coffees and quick bites.
Nightlife
The best way to spend the evening (and the night) in Belfast is to listen to some excellent and authentic Irish music at one of the city's many venues. Try the Gaeltacht experience at Cuturlann Mc Adam O Fiaich where dinner comes with Irish music, ancient Gaelic songs and some vintage dancing (you will get dance lessons too). Then there is Flbber Magee on Victoria Street which has a roaring fire and a band of traditional Irish musicians every night who regale visitors with Irish history and music. Expect solid Irish food, craft beer and good Irish whiskey in all these venues.
Doing the traditional Irish pub crawl in Belfast is a glorious thing. You can start off with Kelly's Cellar on Bank Street which has high vaulted ceilings, a vintage bar and an intriguing bric-a-brac covering all surfaces. Nearby is Berr's street which has Maddens… a small pub with a big reputation. Stop long enough in the evenings to listen to some local musician strum the Irish guitar and soak up the warmth from the fireplace and the drinks. Look out for the Madden Monday weekly event…it's a huge thing amongst locals.
The nearby White Tavern (listed in all Irish city guides) is a historical venue with awesome home-cooked delicacies, peat fires and antiques on display. This is a 17th-century place (one of Ireland's oldest taverns) and the music played is strictly traditional.
You can then move to the famous Cathedral Quarter that has Duke of York which serves alcohol and Irish music in good proportions. You will find a nice crowd swaying outside the narrow cobbled street as the inside is almost always packed. Walk into the nearby The Dirty Onion that's said to be the oldest building (though the pub is new) in Belfast (a spirit warehouse). It has low ceilings that are supported by wooden beams and brick walls that breathe of history. There's a different musical menu each night right from instrument learning workshops to live bluegrass etc. apart from a fantastic beer garden.
And of course, the list is never complete without mentioning the Crown Liquor saloon which stands in a 19th century renovated building on Victoria street right at the heart of Belfast. Even if you don't drink inside, stare at the lovely antique booths, stained glass constructs and gargoyles. It's one of the few places in the modern world where you ring a bell and a server appears to serve you a Guinness topped with shamrock.
If you are a jazz person then visit Bert's Jazz Street with its incredible food and excellent musical performances that starts at 9 p.m. The food is always well presented and the staff is knowledgeable about alcohol. If you want to steer clear of noise then Harp Bar on Hill Street is perfect; spotlessly clean, comfortable seats, live music and a less boisterous more mature crowd.
Remember you are in Ireland… at least attend one comedy night while you are here. There are regular comic gigs held at the Empire Laughs Back Comedy Club. Exploring the other line-ups at the Empire that's a converted church into a music venue is also recommended. On Ormeau Road, there is the Pavilion Bar which hosts the Monday Night Comedy Club. That's the jolliest way to end the first day of the week.
Read: Great pocket-friendly bars & pubs in Belfast.
Shopping
Exploring the St George's Market on Donnegalls Quay should legitimately be a major holiday experience and not just a shopping trip. Friday to Sunday are the best times to visit and you can get to listen to some excellent live jazz too. About 160 traders display their wares ranging from jackets to metalwork to shoes to artisanal chocolates and cheese.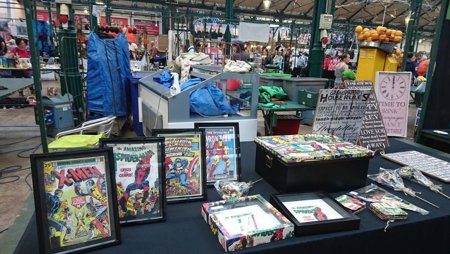 But  North Irish food is what dominates this place…you get excellent stuff like belly buster soda bread, fudge from Aunt Sandra's candy factory and goat meat from Broughgammon and the famous Ulster Fry. Usually, on Fridays, there is the variety market (fruit and fish and organic produce) and on Saturdays, there is a food, craft and garden market while on Sundays there is the antique market.
In City Centre there are the ancient deli Sawyers that once served game, cheese and gourmet delights to the RMS Titanic drawing offices and visiting royalty. Belfast locals say that if you can't get something in Sawyers then Belfast doesn't have it either. For luxe chocolates visit Co Couture on Chichester Street….they have won multiple awards and everything is handmade (sip on hot chocolate and marshmallow while you are here).
Victoria Street Shopping Square has brands like L K Bennet, Hollister, House of Fraser and Mango. You will also find good options for shopping beauty products and home wear. Check out the Lunn's jewellery store and the Apple store. The Castle Court shopping arena has more than 80 stores including Miss Selfridge, Debenhams, Entertainer, New Look and Dune.
Read: Great shopping centres and streets in Belfast to know about the top shopping scene.
Getting to and around
Flight
Belfast International Airport is in the nearby village of Aldergrove and is about 20 miles away from the city centre. It's currently Ireland's second busiest airport after Dublin.
Flights from all over Europe arrive at Belfast and the busiest connections are to London (all 3 airports), Edinburgh, Manchester, Bristol, Glasgow, Alicante and Newcastle. Translink operates a Europa Buscenter bus from Belfast city centre to the airport. The nearby Antrim railway station (10 km away) is connected to the airport via bus service.
Train
North Ireland train connectivity and ease of transport are nowhere near England owned Ireland. However, you can buy train plus ferry tickets at extremely affordable prices between Belfast and any British station like Birmingham, London, Edinburgh, and Newcastle via Liverpool, Holyhead and Cairnryan. The journey will encompass crossing the Irish Sea by ferry and the countryside by train.
You can travel to and fro from Belfast via 4 major lines; Bangor, Larne, Derry and Newry. The main train station is just 10 minutes away from the city centre. Belfast is also connected by train to Dublin.
Belfast can be a good base for taking some beautiful scenic train rides. The Derry Coleraine train journey and even the Dublin Belfast journey is full of tourist value.
Bus
If you want to explore some of North Ireland's beauty then your best bet is to take a Rambler Ticket that allows unlimited travel time on the Ulster Bus service as well as Gold line and the metro on weekends. Apart from that the Rambler tickets enable bus pick up and set down at designated areas in each location so that the spectacular natural scenery can be explored by foot. The Kilkeel Rambler, for example, explores the Kilkeel Cranfield belt along the north Irish coast and into the Mourne Mountains.
Similar Rambler services are available to Sperrin, Antrim, Giants Causeway belt etc. The best way to know more about Rambler services to different locations is to get first-hand information from Translink's North Ireland website.
For Intra-city travel it's best to avail the Metro Bus service that are super-fast pink coloured buses that zip off from the Belfast city centre and cover the entire city in 12 directions. The Metro Day Link Travelcard will be useful if you are in Belfast city for a few days and plan to explore the city thoroughly.
There is the hop on hop off open-topped, audio guide enabled city tour bus that allows you to explore the amazing city in the least exhaustive way.
Ferry
Belfast is the major port of North Ireland and ferry connections to Liverpool (England), Stranraer (Scotland) and Douglas (Isle of Man) are available. The ferry is probably the best way to get to North Ireland from certain parts of England and Scotland. The Isle of Man ferry service operates from the Albert Quay while the Stena line service operates from Victoria.
Belfast port is well connected to the city centre and has good road connections to major cities in the rest of the country.
The city is walker-friendly with flat streets and large sidewalks and you can get rid of some potato induced calories while exploring.
Read: Getting around Belfast easily using public transport.
When to visit
Belfast's position in the inland side of North Ireland has given it a dry climate. Generally, the weather is cold and dry with pleasant non-humid summers, beautiful autumn and slightly wet and cold winter. Springtime is beautiful but it may rain at intervals. April onwards till September is a great time to visit as the days start getting longer gradually. The sun keeps shining gloriously and there is a good (extensive) daylight which means that more exploration hours are possible.
Autumn is pretty with gold and rust foliage but there are strong winds and chill too. Winters in Belfast are bearable only if you are comfortable with sub-zero temperatures (considerable consumption of chocolate, coffee and Irish whiskey will help).  As a rule, June to August are the busiest months and hotel rates and airfare are at their highest. Before June and after August (especially May and September) are great to sightsee and enjoy among slightly sparser crowds.
Read: Important weather conditions in Ireland including Belfast
Also Read