Settled in the northern Atlantic with the currents of North Channel separating it from Britain (on the east) sits the third largest island in Europe…the intriguing Ireland. The Irish Sea and St George's Channel are other barriers between Ireland and Britain.
This island is surrounded by 80 other islands of which only about 20 are inhabited. There are many tiny islets too that cluster on the Irish coast through the Irish sea on the east and in Atlantic ocean to the southern, northern and western sides.
Low lying mountains and lush rivers cover almost all of the land, and the climate is like quicksilver…it changes in a flick of the lashes. The Atlantic Ocean and the relatively moderate terrain has a heavy influence on the Irish climate keeping it pleasant and beautiful almost always. There are milder winters and cooler summers and the skies play with sunshine and clouds…. You will feel blessed to view such changeable loveliness of nature without having to run from its extremities.
Irish culture can be called an influencer as it always had a strong influence on other western cultures. Gaelic style sports and games and the melodious Irish language have impressed the world and Irish music is held in high regard almost everywhere. Ireland has a very strong sports culture like Great Britain and is deeply invested in sports like rugby, horse racing, football and golf.
Historically, it is well known that millions of Irish had migrated towards the new world in search of name and opportunity and this migration came from an area called Ulster (mostly north Ireland but includes Monaghan, Donegal and Cavan as well) and some of them went on to become great luminaries. Few examples include President Andrew Jackson, President Woodrow Wilson, Finance giant Thomas Mellon, writers Mark twain and Edgar Allen Poe and astronaut Neil Armstrong amongst others.
In the modern day context Ulster still exists as a province and there is a pot pouri of culture that melts here…the normal, Gallic's, Ulster scots have all created a unique culture. While in Ulster do check out the Glenveagh National Park, Lakelands of Fermanagh too besides basking in the atmosphere of Belfast.
The Viking lords founded Leinster province that now has Dublin at its centre. This entire province is full of fine examples of Norman and Neolithic architecture besides a bevy of Georgian buildings. Read: Secrets of tourism in Dublin.
If you love food then Munster is the province you should visit…the two largest counties of Ireland are placed here…Cork and Kerry. While Cork calls itself the gourmet county because of the delish food found here, Kerry has an array of golf courses and lovely coastline. Read: Secrets of tourism in Cork, Ireland
If you want to experience unusual terrain then the province of Connacht is your choice… the landlocked county of Roscommon, Achills and Aaran islands, Sligo's coastline are all wonders of nature. Some of the areas here only speak Irish so language may be an issue.
Each province is further broken away in counties and everything in Ireland including transport systems to beaches can be located better if you mention the county (c.o.) name (there is a c.o. after every Irish destination)
Politically, the island of Ireland is divided in Northern Ireland (this is a part of UK) and the Republic of Ireland (i.e. all the other parts of Ireland). The republic of Ireland is considerably more populated and commands a far larger land area.
While making up plans to visit Ireland you may feel confused as to what part of Ireland you should visit. Technically this means North (UK owned) vs. South (this is how the rest of Ireland i.e. the Republic of Ireland is referred to). Here is a snapshot of the entire situation in the two politically demarcated lands. The cost of living (or the price of a pint) is lower in north Ireland than south so obviously you would get cheaper meals and affordable hotel rooms there.
The biggest city in North is Belfast and the biggest city in south is Dublin. Both are amazing places though Dublin is a much bigger, more attraction packed and more cosmopolitan place if you know what I mean. Belfast is more historically aligned and more vintage in atmosphere….it also produced the world's most famous ship (Titanic).
Read: Belfast Tourism… the secrets revealed.
In terms of natural attractions both north and south will offer pieces of heaven… it's like choosing to see either the Cliffs of Moher in the Republic of Ireland or the Giant's Causeway in Country Antrim (North Ireland). You will be unable to decide.
Food and culture is basically the same all across Ireland though some meals are named differently. For example the breakfast (traditional one) will be called Full Irish in north and Ulster Fry in south. Both versions are similar though in North there is soda and potato farls along with the other dishes and in south you have white pudding.
It's entirely advisable to split your travel quota between North and south (this has far more land area) and see both. Otherwise it will be like choosing between Pierce Brosnan (south) and Liam Nelson (north)…you realise that you have a crush on both of them!!!
In spite of whatever political differences, in tourist perspective there is nothing to stop cross travel. You can easily cross the border without going through a checkpoint, hardly anyone is stopped and mostly passports aren't checked.
Unlike many other parts of Europe…people speaking exclusively in English are welcomed. If you are from Asia or America then this is probably very good news. However North Ireland has more of people who have Presbyterian ancestry and you can see that they have a more hardworking broadminded attitude than the traditional catholic south.
The towns and cities of Ireland have a lot of character. Westport with its walking routes and national parks with the title of best kept town in Ireland is a great experience. Blackrock with its beaches and quaint Irish pubs is another good destination while Carrick on Shannon with its waterways and shopping hubs is also one of the most interesting towns. Rosscarberry, Corbh, Doolin, Ennis, Gallway, Glenngariff are just some of the more urban areas of Ireland that are major tourist draws.
However the true beauty of Ireland is not in its monuments, hotels, restaurants or castles or in anything manmade….it is in unspoilt natural beauty. There is a lot to see here like the massive granite mountains of Mourne (they inspired the creation of Narnia by C.S Lewis) and volcanic rock creation….Giant's Causeway (in Antrim province Ulster).
Ireland is basically a bowl shaped structure flanked by mountains on almost all sides. Start off by exploring St Patricks (each year lots of pilgrims tread up barefoot to pray to the favourite saint of Ireland). And then you can move on to the 12 bens in County Galway (Connemara and the staggering Carrauntoohill (highest point in Ireland) in the County Kerry. And if you don't really want to venture far out from the city then Wicklow Mountains (just 30 minutes from Dublin) or the Divis and black mountain in Belfast are ideal.
Ireland has more than 330kms of lovely coastline beaches and coves and luscious lakes. The biggest freshwater lake of Europe i.e. Lough Neagh is in Ireland and it is reportedly known as a fisher's paradise. Numerous age old castles and picturesque old world houses dot the entire landscape and the entire country is loaded with a legacy of tales.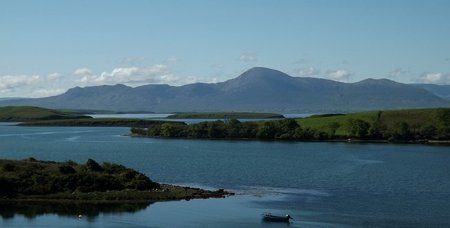 Ireland boasts of exquisitely beautiful beaches like the Inch beach on the sensational Diingle Peninsula, Achill Island's scuba diving hotspot Keem Beach, the surfers Paradise Bundoran beach (near Donegal) and the Inchydoney beach in western Cork. And if you are near Dublin then check out the Kiliney strand beach and the Killney hill (you will get to see the Wicklow Mountains as well as Wales if you peer hard).
And if your tastes are eclectic then the pockmarked lunar landscape of the karstic plateau in Country Clare and giant lithic tombs of Galaway County will enchant you. Ireland is the favourite haunt of most landscape artists and photographers. Particularly the west of Ireland with its dazzling Knocknarea and Benbulben slopes and lakes and coastlines is a good area to explore if scenic beauty is your quest.
The natural bounty of Ireland provokes travellers to go on long walking trails …the most famous one being Kerry Way that's a 200 km trail that winds through the gorgeous Iveragh peninsula. The trail starts and ends at Killarney that's a popular tourist spot.
Irish island hopping is slowly gaining popularity…the Irish are never brazen when it comes to marketing themselves. Don't go expecting long sunbathing sessions (the sun mostly plays hide and seek)…go for nature watching, scuba diving and magnificent views. And also go for peculiar wonders like the fossil footprints of tetrapods on Valentia Island, castles and pirate queen tombs on Clare Island (Mayo) and the exotic birdlife on Inishmurray Island (Sligo).
Tory Island (Donegal) and Boa Island (Fermanagh) are other wonderful islands which can serve as interesting excursion points. There are about 30 islands that can be explored on the wild Atlantic side though arranging a boat to the more remote points can be an adventure in itself.
Irish whiskey has earned its respect in the world of spirits. Don't miss going on a distillery tour in Ireland…that's quite a rage here….there are even different types like apprentice tours, distillers tours, connoisseurs tour. The Dingle Distillery in Co Kerry, the 1757 born Kilbeggan Distillery in Kilbeggan, Tulamore DEW Distillery (just an hour from Dublin) are great.
Also on the list should be Bushmills Distillery in North Ireland country side (oldest one in Ireland) and Jameson distillery "experience tours" in Midleton. Arguably, the Irish were the pioneer distillers in the British part of the world and some say that the Irish Whiiskeies are a superior blend as compared to their Scottish comrades.
The Irish are pretty fond of good food too and they have strong attachments to traditional dishes like Soda bread, Irish Stew, Black pudding (made from pork blood, fat and meat), Champ (Irish style mashed potatoes) and Colcannon, Boxty, Irish Salmon and Coddle (deliciously slow cooked). And don't forget to buy a fresh loaf of Barmbrack or fruity tea loaf before you leave Ireland. Also have loads of fresh oysters if you are visiting the western coast of Ireland around September; this is when the famous Galway Oyster Festival takes place.
And off course you would want to taste a wicked cup of Irish coffee…every street in Ireland will serve you a cup… Recent research shows that a certain flying boat terminal at a place called Foynes (near Shannon) was where the first delectable cup of Irish whiskey, coffee and running cream was whipped off.
How to reach
If you are flying to Ireland from North America, North Africa and Middle East then probably Dublin will be your destination airport. It receives flights from more than 76 airlines all across the world. Shannon airport receives flights from Canada, USA and mainland Europe. In North Ireland, Belfast is the international aviation hub and it receives flights from Vancouver, New York etc. and European cities. If you are flying from Asia to Ireland then you would have to fly via Middle East or other European cities.
Trains in Ireland are quite reliable and tickets (apart from speciality trains) are priced moderately. Eurail passes are valid in Ireland. Eurail Youth Pass (for travellers under 26) and Eurail Savers Pass (a combined pass for two people) are also accepted. In case you want to explore the state and nation specific rail and bus routes then get an Irish Explorer Rail and Bus pass for cross city and country touring. The passes are valid everywhere in Ireland except the northern UK owned part
Train tickets in Ireland are easy to get….buy them online or at the station… or at automated ticket counters. Everything from cheques to credit cards to cash is accepted. In Republic of Ireland you can get hefty discounts by booking online.
There are two major train hubs in Ireland; Dublin and Belfast and both are connected via Express trains apart from regular trains.
Getting around
All the major towns and cities in Ireland can be reached via train from Dubliin. Sometimes travelling to smaller towns may take much more time by train. For example if you go to Cork City from Wexford then you need to take a roundabout train route via Limerick Junction. It's much quicker if you opt for a bus in these cases.
Almost all Irish trains have only one class and tickets are priced reasonably… it's cheaper to book round trip tickets. Belfast is the train hub in North Ireland and there are three principal lines going out of Belfast….to Derry (through Ballymena ad Coleraine), to Bangor (through the scenic shores of Belfast Laugh) and to Dublin.
In Ireland, it makes sense to buy a train pass only if you prefer to explore the urban areas. Otherwise rural Ireland is not that well connected by trains….bus networks are denser and fares are cheaper. If you are exploring Irish countryside and want to go by train then sign up for specific scenic journeys and buy point to point tickets.
The RPSI / Railway preservation Society of Ireland operates a vintage railway museum at Whitehead and they organise steam hauled train excursions from time to time. The steam clouds going up in the sky and the heavy chug chug of rail wheels along with the wonderful pretty countryside is one combination you shouldn't miss (of course you have to find out their schedule online).
Otherwise one awesome route to travel is from Dublin to Sligo (city suburb plus rural views) and Cork to Cobh (takes just half an hour but shows a lot of tourist points). The Waterford and Suir valley rail journeys are a heritage project that offers a simplex locomotive train experience to travellers. And if you are on the mood to splurge then sign up for the Grand Hiberian journey (sort of Ireland's orient express).you get to choose out of 6 scenic routes and there are lavish meals, furnishings and a bunch of entertainment options on offer.
The journeys mentioned above can be enjoyed best if you view train travel as a tourist experience/ attraction rather than a mere conveyance option.
If you opt for buses then probably you will be choosing one of the buses operated by Bus Eirann that runs buses all through Republic of Ireland and if you are exploring the Dublin area then Dublin regional buses will mostly be your choice. Major bus routes run to Cork, Waterford, Limerick, Galway, Navan, Athlone, Dundalk, Balbriggan, Drogheda and Navan.
You can also travel from London, Birmingham. Manchester, Leeds and Liverpool to Ireland via Eurolines Buses. In North Ireland, Translink (a public corp) operates national buses and metros. Ulsterbus covers most of the important towns like Antrim, Newtownards, Newry, Bangor, Lisburn, Omagh, Newcastle, Downpatrick etc. while Goldline buses connect important cities and also run cross border (North Ireland and Republic of Ireland) as well as cross channel (Belfast to Edinburgh and Birmingham).
Taking a ferry to Ireland is a great option if you are are coming from Britain or other parts of Europe. Some popular ferry routes across North Sea are Amsterdam-Newcastle, Rotterdam-Hull, Zeebrugge-Hull, Liverpool- Dublin, Holyhead-Dublin, Pembroke-Rosslare, Fishgaurd-Rosslare etc. there are numerous departure points in UK for ferries to Ireland so availability isn't an issue. Brittany ferries and Irish ferries are two of the main service providers.
Read: Local transports in Dublin and how to get around.
Best time to visit
Thankfully, this country that has such a lot to offer can be visited in just about any month. July and August are the warmest months and have more than 16 hours of daylight making evenings longer. This is tourist peak season…there are festivals all around and parks and cafes are well decked up.
Autumn is also a good time to travel… there are bronze leaves all over the country and in spring you can admire the snowdrops, daffodils and tulips. And if you really want to experience mountainous Ireland at its best then do come in winters…as mentioned Irish winters aren't that chilling.
Read: Important weather conditions in Dublin, Belfast, Galway in Ireland.
Parting Note
Ireland is best savoured in tranquillity probably with just a camera, notebook, some Irish whiskey and a few like-minded souls for company. After a few days (or maybe hours) you will wish that you lived here. As someone once remarked…there are only two kinds of people in the world….the Irish and those who wish they were Irish!!
Also Read