If you compare retail value inch by inch then the main shopping streets of Belfast are no less than premier shopping cities like London or Manchester. However, Belfast has a more relaxed atmosphere and a more artsy vibe with its smattering of murals, out of the box cafes and distinct air of history and mystery.
What are the best shopping streets around the City Centre?
Whenever locals in Belfast decide to shop they usually head off to Belfast City Centre that's the heart of the city. It's a compact friendly place with a great mix of Victorian and Edwardian mansions along with modern buildings.
Liberty Blue on Lombard Street is around 25 years old and is the best destination for casual pieces that have a classic style. Vintage pants, floral dresses and mono colour gowns are three items you should look out for. Look out for the skirts and t-shirts too; they might just become your wardrobe staple.
Sawyers Belfast in College Street looks somewhat like an Aladdin's Cave of gourmet food. You will fall in love with the range of cured meats, jams, oils, chutneys and spreads here and might just end up buying a lot more than you can carry back. The deli has its own range of preserves and compotes and their sweet chilli jam is highly recommended.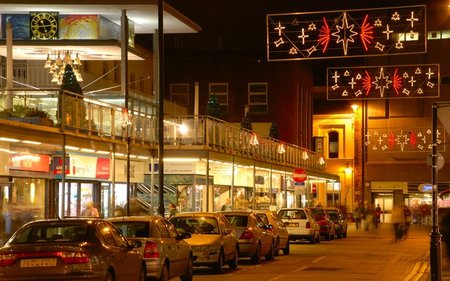 Also on College Street is the relatively new store 'Space Craft' that supports North Ireland's craft. You will find a good collection of shawls, sterling silver jewellery, silk scarves and pottery here. This is a good place to browse through for reasonably priced collectibles. Prices start from 2 pounds.
It's unfair if you leave Belfast (known as an open art gallery) without shopping for some art and the Studio Souk is the best place to do so. This 3000 sq. feet store has 3 levels and features the work of nearly 90 local artists including fresh upcoming talent. Find T-shirts, Photography prints, woodwork, cards and ceramics are just some of the items found here. The real treat is the chance to see resident artists working in the in-store studio spaces. You will find this intensely artsy store on Ann Street.
What are the best Open Air Markets?
To get the real feel of any city/ town, you must visit its open-air markets. Belfast is no different and its vibrant open-air markets guarantee fun. Food and bargains.
St George's Market
Since 1604, there has been a Friday market on this spot but the covered and aesthetically pleasing St George's market with its arches and red brick body only came in existence around 1896. The National Association of British Market Authorities named it the best UK indoor market in 2014. They have a Friday fish and variety market that has 23 different fish counters.
On weekends there is the food and craft market that showcases the best range of local craft, fresh produce and organic preserved food as well as fresh cuts. Look out for the tempting breads at Simon Dougan's Yellow Door Stand. The markets sits in really early on East Bridge Street and live music performances often happen there on Sundays.
FolkTown Market
The FolkTown Market is a weekly market that brings grocers and street food sellers together with street musicians. If you are a vegan then you will love the speciality brands like 'Matter not Batter' who have set up store here. If North Irish fresh produce and speciality food is something you are interested in then head off here (in Bank Square) on Thursdays (from 11 a.m. to 4 p.m.). Buy some locally brewed coffee jars or a packet of those ultra-fresh bread.
Fine and Dandy Market
Belfast's Botanical area hosts the monthly Fine and Dandy Market that promotes small businesses like Urban Tonic (beard oils and balms), Wee Yarn (cute hand knits). Shop for anything from handmade chocolate to kimonos here. The University Road hosts the Campus Food market monthly and its speciality is the food trucks. Belfast Boojum truck, Dublin Burger Truck and basically the best street food offerings in the country are showcased here.
Continental Market
Every November and December, the City hall grounds host the Continental Market. Usually, a large snow globe is constructed and the artist community gets together to produce some mind-blowing Christmas themed décor. More than 150 stalls set up home here and they represent different countries and cultures, you will find apparel, accessories, craft, Christmas décor and speciality food. Try hot cider and cactus beer or have a prosecco speciality burger. The market is open from 10 a.m. to 10 p.m. every day these two months.
What are the best Shopping Malls in Belfast?
If you prefer shopping in malls then Belfast has a range of them from the glitzy Victoria Square to the homely Cityside Shopping Centre
Victoria Square
Victoria Square is a sumptuous feast of the senses; 4 levels of premier retail heaven featuring a mix of luxury brands and high street stores. Shop at Urban Outfitters, Hollister, LK Bennett, Pull and Bear, Reiss, Cruise, Mango, Monsoon etc. There are lots of food stores too like Frankie, Starbucks, and Pizza Hut Wagamama etc.
The COSMO here is the first one in Ireland; it serves more than 150 fresh dishes from 13 live cooking stations spanning across, Asian, Indian, South American and continental food. For a fixed price you can eat as much as you like!! Most restaurants at Victoria have special kid's menus and some like Ivory offer kids free meals on Sundays.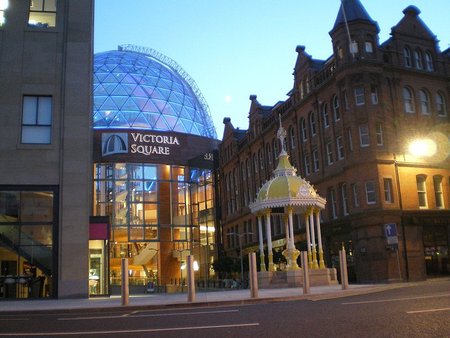 Also lookout for the heritage Smyth & Gibson store in Clockwork Orange. They owned the biggest of Belfast's linen mills and their linen shirts can be a classic addition to your wardrobe. There are plenty of big-time brands here like Hugo Boss, Calvin Klein, Dune, Guess, and Michael Kors etc. . . . Check out Goldsmiths for jewellery and Inglot and MAC for makeup.
The multi-storey House of Frasers store that anchors the Victoria Dome is a one-stop destination for all your fashion needs. Few other stores you should check out are… Boux Avenue (expensive exquisite lingerie), Rio and Brazil (serious couture) and the Eva Kayan store (fun scandi fashion).
The dome of Victoria Square is as big an attraction as the shops. The glass and metal construct shimmers in equally tempting yet different ways in the morning and night. Did you know that free yoga mornings are hosted in the dome and there are special activities there at almost all important dates?
Level 2 of Victoria Square has the ODEON that's a cinema with 8 screens and 6 ATM's plus Ben and Jerry's.
Victoria Square is open from 1:00 PM – 6:00 PM on Sunday and from 9:00 AM – 6:00 PM on Saturday. On Monday and Wednesday, the mall is open from 9:30 AM – 6:00 PM and on Thursday and Friday the timing is 9:30 AM – 9:00 PM
Victoria Square is famous enough to have its own tour and own tour guide. Gerry offers a free tour every hour and you can check out the stunning views of Belfast that take in the famous Harland and Wolff cranes, City Hall, Courts of Justice, Albert Clock and even the Belfast castle. You can avail the tour anytime between 10 a.m. to 4 p.m.
Note: parking prices are rather high… nearly 7 pounds an hour so better arrive by public transport.
Castle Court and Royal Avenue
Belfast's oldest mall Castle Court stands on Royal Avenue that's a famous shopping street. Before actually entering the mall drop into the Irish Linen and Gift Centre on the same street for looking at a great collection of Irish Linen, Claddagh jewellery, Belleek China and scarves.
If you are a makeup lover then you simply cannot miss a visit to the Space NK Beauty boutique that was founded by Nicky Kinnaird (a local). This is probably one of the best places in Belfast to buy makeup and try to get a makeover. Then there is a retro shop here called 'Vintage' and you can buy everything from antique chinaware to a wedding dress here.
Look out for a supersized Marks and Spencer's store here and a Next and a Zara. There is also a large Boots store and Easons (stationary and books). If you are bargain hunting then Stradivarius is a good place (Spanish fashion at bargain prices).
Castle Court is also known for the vast number of bombings it faced. 5 and 4 bombs were dropped on by during its construction phase and opening phase respectively, by IRA. Nevertheless, it remains Ireland's second-biggest shopping destination after Victoria square. Castle court, in general, has more affordable high street brands than Victoria Square like New Look, Argos, Dorothy Perkins, Debenhams, ToysRUs and some affordable jewellery brands.
The hop on hop off bus will deposit you near the Castle Court and you can go and look at the nearby City Hall afterwards or continue your shopping tryst at Victoria square (one of the exits of Castle court is near it). The food court has a new Sushi restaurant called Mitsuru that serves great teriyaki and noodles. You will also find KFC, Burger King and Subway. There are massage chairs at the top level.
Castle court is open from Monday to Wednesday and Friday –Saturday from 9 a.m. to 6 p.m. On Thursdays the Castle court is open from 9 a.m. to 9 p.m. and on Sundays, it is open from 1 p.m. to 6 p.m.
Note: there are seats all around in the mall so that you can rest a bit on your shopping trip. Toilets are not always kept optimally clean. There is an attached car park that charges around 2 pounds an hour.
Right behind Castle Court there is Smithfield market that will give you a glimpse of what Belfast shopping was like in older days. Shop for exquisite ''gardens in a bottle'' or for old vinyl's and when you need a treat hop in to Old Tym Favourites (one of the city's oldest sweet shops).
Park Centre
This mid-scale shopping complex in Southwest Belfast has 35 retail outlets to choose from.  There is Peacock, New Look, Chaplin, Loui Boyd Menswear, Holland and Barrett and many more mid-range stores. Once you are done shopping you can dine at MACE or Subway or JAM.
Incidentally, the location is the erstwhile football ground of Celtic Park that was home to the famous Belfast Celtic team till 1949.
Park Centre is open from Monday Tuesday and Saturday from 9 a.m. to 5.30 p.m. On Wednesday, Thursdays and Fridays the Par Centre is open from 9 a.m. to 9 p.m. and on Sundays, it is open from 1 p.m. to 5 p.m.
Cityside Shopping Centre
The Cityside Shopping Centre and Leisure is a mid-sized shopping mall near the Belfast Cathedral. There is a Burger King, Movie House Cinema, Subway, Funky Monkeys, Pound stretcher, BM Bargains inside. You will also find an ASDA Living and a Tesco unit inside.
Kids can have fun as there are gaming arcades and an indoor mini-golf section. Though not as upmarket as Victoria Square, the Cityside serves well for a casual shopping spree.
Connswater Shopping Centre
In East Belfast, there is the Connswater Shopping centre on Bloomfield Avenue. This mall has a good mix of moderately priced fashion stores like Bonmarche, Claire's, peacocks, Blue Inc. etc. apart from lifestyle brands like Boots, Perfume Shop and O2. Then there is New Look, Sports Direct and Poundland.
You will find casual food brands here like burger king, KFC, subway, Mac Donald's, Holland and Barrett and Relish. You can also check out their 9 km retail park that follows the course of Knock, Loop and Connswater Rivers.
Bloomfield Avenue abounds in nice stores like Anabelle Ladies Fashion, Siren, Peels Fashion Store, Harlequin and Arabesqueshoe (stocking Italian and Spanish shoes and bags).
Other Shopping Zones to check
Queen's Arcade
Queen's arcade is known for its luxury shops and boutiques some of which date back to 1910. Look out for the super stylish yet tiny jewellery store called Lauren May. The owner Sean Harden has named the store after his niece and sells semi-precious jewellery sourced from UK designers. Apart from the women's range; fashion-conscious men will love the collection of bracelets, cuff link and rings.
There is Ernest Jones that sells watches and jewellery and Lauren May that sells only jewellery. There is the Watch store stocking not just watches but also sunglasses. Then there is Lunn's (one of the best jewellery stores in Belfast) where you are treated to champagne while you are shopping for Cartier.
If budget is an issue then head off towards Cornmarket which has shops that suit all budgets. Joseph Rea (oldest gem merchant here) is highly recommended. China Craft on Queen's arcade is worth checking out for their collection of Belleek pottery. Or you could take a detour to Bedford Street which has Steensons (they specialise in Game of Throne inspired jewellery).
Lisburn Road (the Style Mile)
The main arterial road that links Belfast to Lisburn has attracted shops since 1817 … it now calls itself Style Mile. The Queen's University, Belfast City Hospital and the influx of many Asians and Africans in this area give it a cosmopolitan vibe.
There is Bedeck that stocks latest home good lines like bath, beds and homeware. Then there is Arcadia with its assorted collection of gourmet food and local fine produce that showcases North Ireland's rich heritage. This 80-year-old shop is the best place to buy food hampers and cheese boxes.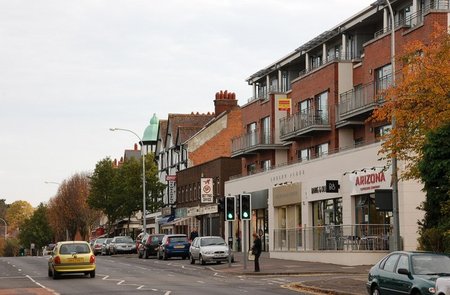 For serious couture outfits, you can go to Una Rodden Couture…they use bespoke material with typical Belfast motifs. Avoca stocks a good range of home décor, clothes, toys, food. And if you visit Sprucefield in Lisburn then don't forget to visit one of the biggest Mark and Spencer's stores in North Ireland… it contains a wine shop, a food hall and a 120 seater restaurant.
The Queens University area is also an interesting place to shop with brands like Vibrant Yellow Submarine, Viva Retrois and Rusty Zip adequately representing the 'quirk' factor of south Belfast. You can go to the French Village Patisserie to grab a bite later or drop into No Alibis (a bookstore that only specialises in Crime Novels).
If you are looking for apparel then Oliver Banas stocks the best summer dresses while Jourdan stocks the best evening wear (celebrities are her clients). Look in Hugo Thomas for expensive Men's fashion and Carl Scarpa and ROJO for shoes. Orchid Lingerie, MaxMara, Gerry Webber are some of the other big names here.
Fred J Malcolm sells exquisite diamond jewellery. There are lots of good outlets here like Bedeck, Maven, Velvet Boutique, Real, ModaShoes etc. There are elegant restaurants (Deane and Decano) and cafes around and more than a couple of Starbucks. You can also visit Sir Thomas and Lady Dixon Park especially if you are here in summers… the rose displays look spectacular.
Also Read