In Belfast, there are many affordable yet amazing cafes and bistros which will expose you to different kinds of cuisine without burning a hole in your pocket. These places in Belfast generally take both cash and cards and sometimes the bill has service charge automatically added to it.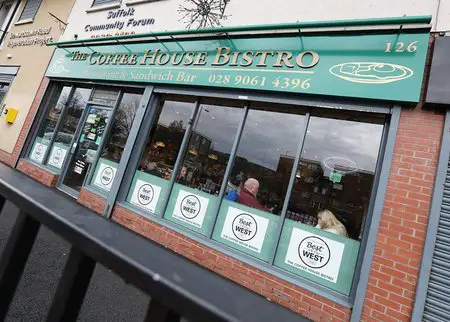 You can have a light snacks platter/ breakfast at any of these cafes in Belfast for under 10 pounds. A cup of coffee is usually 2 to 4 euros. Most cafes serve breakfast and offer gluten-free and dairy-free food options. Some have Wi-Fi and encourage visitors to hand around and finish their emails.
The cafes close by 6 p.m. and breakfast or brunch is the best time to check out their offerings. Bistros, however, are open till later hours, serve dinner though the atmosphere is relaxed and casual.
The Dock Cafe
Cuisine: Café/ casual food
The Dock doesn't have an extensive menu but everything available is mighty delicious. The Coffee is strong and you can have as much as you want without being presented by a bill. There is soup and stew and cake and sometimes savouries from French Village Bakery. Tea (Suki) and strong filter coffee (Bailies) are served and there is a prayer garden where you can sit and enjoy your food. If you don't like the coffee blend at Dock then bring your own favourite cup but do sit for a while to appreciate the honesty box (pay what you want).
If you decide to sit inside then find yourself a comfy sofa and look at the 'map of the world' on the wall. Visitors have pinned their locations on the map and it shows what a cosmopolitan clientele this little café has. Dock invites you to just sit (no strings attached) and you can even bring your own food.
Everyone is welcome at the Dock (it's pet-friendly and LGBT friendly) and its staff (only 2 permanent employees who are chaplains of the Titanic Quarter) pop up to tables to share advice about new restaurants, attractions and activities that are fresh in town.
The rest of the staff are volunteers who belong to different church denominations. There are often art exhibitions at the Dock and artists come in to talk about their inspirations. Even if there isn't an exhibition on, you will like the tasteful décor, sculpture and playful furniture scheme here.
It's a great idea to visit the Dock after your Titanic tour as there are titanic memorabilia, H &W prints and pictures of the shipbuilding era all throughout the café.
Address: 2A Queens Road, Belfast; Website
Kaffe O
Cuisine: Quick bites, European, Cafe
Kaffe O is known for its Scandinavian charm and has a nice ambience with an award-wining Danish blend. This Nordic-inspired Coffee house runs on both Botanic Avenue and Ormeau Road. Kaffe means coffee in Danish and O stands for Orla (the owner). The import their coffee blend from Ricco's Kaffe bars in Copenhagen.
Try their flat white and Ecuador Chocolate…they are super!! They claim that the beans are never more than 3 weeks away from the roast and then you get to see the coffee made on the latest La Marzocco Linea PB and then served on elegant Danish ceramic ware.
There are no hearts drawn on the coffee here in keeping with the Danish minimalism theme. Locally smoked salmon and cured meats are served on house-baked Smorrebrod and Brods and there is a range of salads to give all this company. Kaffe O serves breakfast and lunch and they have a lot of gluten-free menu options too. Their beer list is pretty impressive too with special Nordic and local craft beer.
Hygiene is a strong point and the lack of clutter and minimalistic design will appeal to some.
Address: 73 Botanic Avenue
Phone: 02890 319977; Website
General Merchants Café
Cuisine: Irish, Cafe, Veggie Options
For nice coffee, you can drop into the General Merchants Cafe (there are 4 locations East Belfast, Ormeau Road, Sranmills, and Forestside). All branches except Forestside are full-sized restaurants but the coffee is superlative. You will get Cortados, Flat Whites, Cappuccinos, Lattes, Espressos and Americanos apart from Batch Filter Coffees. Prices start from 2.50 euros per cup.
The evening menu focuses on world cuisine; Mezze plates, Thai noodles, pork rib eye, artichoke Puttanesca. If you are bored with ice-cream, waffles and rhubarb crumble then try the Vegan Brownie and Spro Martini (vodka, espresso, Kahlua and chocolate bitters). The café is quite accommodating of food preferences and allergies. There is a separate kids menu that costs around 3.50 pounds per meal.
The only downside is that they are open for dinner on just 4 days a week (Wednesday, Thursday, Friday and Saturday). It's difficult to find parking around all its locations.
Address: 481 Upper Newtownards Road
Phone: + 44 28 9065 2708; Website
Established Coffee
Cuisine: Cafe, Veggie Options
Established Coffee (they serve the famous Dublin 3fe coffee) has good Wi-Fi and is a nice place to finish off those emails. This big bustling café has a large communal table and several smaller tables with a busy but friendly atmosphere. They source all their bread from Zacs Bakehouse and offer nice breakfasts.
They do have other beverages like the chilli hot chocolate (very unusual and nice) and teas but the star will always be coffee. Choose your own method of getting it made (espresso, cafétiere, filter, V60) and buy bagful's of blends/ beans before you go. You can even buy the latest coffee-making gadgets. A cup will cost you 2.20 euros or more.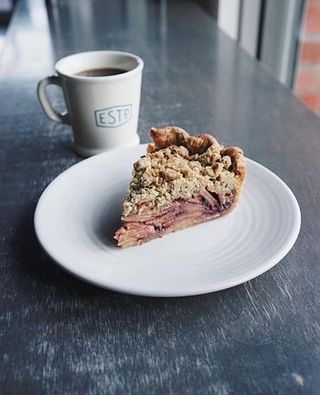 Try the lamb meatballs with hazelnut and squash-beetroot-sunflower seed tzatziki salad. Established even makes a simple dish like a poached egg with sourdough taste great. Locals say that this is the best place to have coffee in Belfast.
On the downside, the price may seem high for the kind of casual eats they serve but the top-notch quality almost makes up for it. There is no decaf tea though there is good decaf coffee. On weekdays they open the shop at 7 a.m. so this is a good place to grab breakfast and go!!
Address: 54 Hill Street, Belfast
Phone: +44 28 9031 9416; Website
Maggie Mays Stranmillis Café
Cuisine: European, Irish
As their website proudly claims; Maggie Mays doesn't do rules and serves breakfast all day!! Order the Bumper fry and you will get two sausages, 2 huge chunks of bacon, 2 fried eggs, mushroom and beans tomatoes along with pancakes, potato bread, hash browns and chips.
This is one of the cheapest and best places in Belfast to enjoy Double Espressos, Macchiato, Americanos, Mochas and Flat Whites. Do try their Hazelnut flavoured Latte too. A cup of coffee starts from 2 euros.
The Maggie's flaming burger with hot sauce is amazing and so is the dessert selection (Bueno cheesecake, pie in your face etc.). There is a children's menu and a special hangover cure menu too plus a wonderful range of milkshakes. If you like heartier food then the Beef stew with potatoes, carrots and beef in a brown gooey gravy will please you.
You will find a lot of students and locals at Maggie's and the service is great though devoid of graces. The team of waitresses are lovely and special mention must be made of Joanne and Jodie.
On the downside, the time taken to process an order is longish. Also, this place does not accept cards. The Malone Road café is the most popular branch but there are 2 other branches of Maggies; Botanic Avenue and Castle Street.
Address: 2 Malone Road, Belfast
Phone: 44 28 9066 8515; Website
The Coffee House Bistro Belfast
Cuisine: Irish, British
The CHB (as it's fondly known as) is the best place in town to grab breakfast. They serve just four versions of coffee; Espresso, Americano, Latte and Mocha but brew them all superlatively. Prices start from 1.80 per cup and staff often give free refills.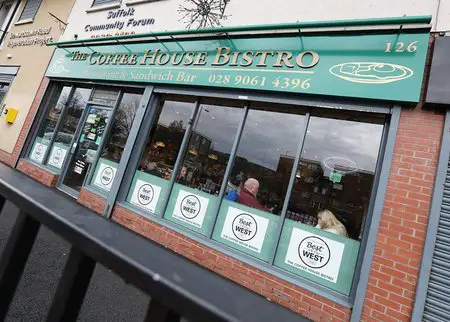 The four egg omelette with its creamy coleslaw/ bacon pepper cheese filling is the breakfast star and it comes with a side of chips. The small fry is not small at all (priced under 5 pounds) and can easily feed two people to the brim (they allow guests to share food). The Buffalo chicken wrap is very tasty and it comes with sides of salads and chips.
Breakfast is served 7 days a week all day …a big hearty Irish/ English breakfast and the staff give diners free refills of coffee, soda bread/ potato bread. If you want just a light bite then try the toasties (try the chicken, cream cheese and red onion toasties). The pancakes are drool-worthy especially the Nutella drenched ones.
You will get Irish hospitality with all its open-hearted friendliness with every meal. The owner Jim is very friendly and runs the show well considering the fact that CHB has won the 'best of the west' award for years in a row.
On the downside, this place takes only cash. The tables are set together quite close but then it's the culture at Coffee House for diners to chat with each other. The overall vibe of warm friendliness cancels any reservations about the lack of privacy.
Address: Stewartstown Road, Belfast BT 119JQ
Phone: +44 28 9061 4396
Curated Kitchen & Coffee
Cuisine: Cafe, British
Design is definitely one of Curated Kitchen's strong points with the steampunk vibe and artsy décor. They are known for changing their blends (and menu) frequently but you will always like their Espressos and Macchiato. Look out for the eclectic blends of flavoured coffee they introduce seasonally (vanilla-honey, peach-chocolate). If experimentation in Coffee is your thing then should be your favourite café.
The food is tasty with a creative touch lie French toast with Sumac roasted strawberries and Lamb jalapeno pesto. You will also find classics like avocado toast and sourdough with bacon.
The dishes name the cookery books from where they come and the books are on display inside so honesty is their strong pint too. Coffee is great and is served in beautiful (but heavy) ceramic cups and they change their blends often. Pair your coffee with their light bites like vegan banana bread and coconut macaroons.
The café is right across the road from St Anne's cathedral so it's not difficult to find. You can sip your coffee and have your carrot cake while sitting on high chairs and admiring the cathedral. The atmosphere is relaxing and the staff uniformly friendly. It's a pity they close at 4 pm every day. They are open Monday – Friday 8am-4pm, Saturday 9am-4pm, Sunday 10am-4pm.
Address: 60 Donegall Street, Belfast. Website
The Pocket Coffee
Cuisine: Cafe, Veggie Options
Pocket Coffee only serves single-origin coffees; espressos and bulk brews but they change the origins every month. They make their coffee rich and creamy and not too strong. The Coffee mostly comes from 3FE and Cloud Picker while the loose Tea comes from Bristol's Canton Tea Co.
Try the chai tea… it comes spiced and fragrant in a tiny saucepan with a small sieve. The health-conscious with love offerings like protein balls, green eggs on toast and salads.
The place emits cheerfulness in a dreamy way with soft yellows and creams interspersed with pops of colours in between. The food is always beautifully presented and you will definitely want to click lots of Instagram pictures. Come here for breakfast if you can, the dishes are flavourful and extremely well presented.
Dhal with spicy cheese, sweet potato, waffles with panko chicken crust, merguez sandwiches, charcoal brioche with spinach and mushrooms are just some of the items you can expect. Portion sizes are great and the menu is coded to show all possible allergens in it. The staff is willing to modify everything in order to accommodate celiac, gluten-free and dairy-free diets.
The location is right across the road from Queen's University and the lovely botanic gardens are also nearby. Though the space is small, the décor and the friendliness of the staff make up for it. These guys have another branch in the city centre in Flat Iron building.
Address: 69 University Road, Antrim, Belfast
Phone: +44 77 888 78525; Website
Café Smart
Cuisine: Cafe, British, Healthy food
Café Smart does justice to its name and coordinates its menu and ambience in a smart way and is currently the most popular café on the buzzing Belmont Road. They do very nice gluten-free sandwiches, bagels and lemonade. Breakfast options are great including the standard English and Irish fry ups.
People flock here for the 100% Arabica Roast beans and Suki tea. You will get strong filter coffee here and plenty of refills (sometimes free ones). They don't experiment much with blends. Prices for a cup start from 2 euros.
There is a very nice kids menu and toddlers can actually order babychinos for themselves. Try the scones…they are fresh and delicious like the lemon and coconut and the raspberry jam with fresh cream versions. The menu has the calorie counts noted on it so you can choose your food accordingly. Thursdays
Space is a big advantage; café smart is spread over two floors and is bigger than most cafes in Belfast. Staff is friendly and special mention must be made of Claire who goes out of her way to make diners feel comfortable.
Address: 56 Belmont Road, Belfast
Phone: +44 28 9047 1679; Website
Applejack's Coffee
Cuisine: Cafe, Irish, Veggie Friendly
Applejack's Coffee is pleasant, relaxed and spacious and you will enjoy your time here especially if you aren't in a rush. The Coffee takes its time to come but all variants are served (Espresso, Macchiato, Latte, Americano, Mocha) and they will win the approval of coffee aficionados. For example, the Espresso is strong without leaving a bitter after taste. The rest of the menu is simple; tray bakes and sandwiches, soups, pancakes and long blacks. You can have the Irish fry up if you come for breakfast.
Staff is very friendly and attentive. Full marks for the lovely ambience and the local artwork displays put up on the walls. They serve breakfast, lunch and snacks till 5 p.m. The view is great and staff will encourage you to take your time and read a book/ work on your laptop if you wish.
Address: Caffrey Avenue, Glen Road, Belfast
Phone: + 44 28 9043 1125
Also Read