Gold animal-themed jewellery from Spanish Armada, skeletons of dinos and whales and a giant Irish wolfhound named Patrick of Ifold; the Ulster Museum is a picture of diversity.
Spread over 5 levels, this National Museum of North Ireland has collections that focus on natural history, applied art, mixed media, science, natural sciences and even mixed media arts. Whatever your tastes are, you will surely satiate them at the Ulster. Locals say that the Ulster Museum is the best place to study the origin and cultural context of North Ireland and its citizens.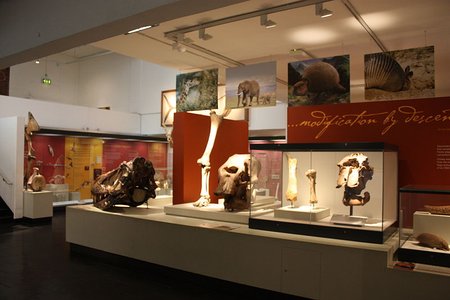 History
Established as Belfast Natural History Society in 1821, the Ulster Museum now hosts Ireland's best permanent exhibitions. The Ulster is touted to be a thorough representation of the origin and culture of North Ireland since its inception. Almost 17 million pounds was spent to completely renovate the museum in 2006 and the project took 3 years. Post its reopening the Museum has 4 floors and a top-notch viewing gallery.
Top Attractions
The Welcome Zone of the Museum has an exceptionally beautiful Glass sculpture made by Dale Chihuly (known as the world's finest glassmaker0. This stunning blown glass sculpture stuns people with its light and colour play and is Ireland's only public display work of the artist. There is a Game of Throne's Willow throne right on the entrance while flying dragons are suspended from the Atrium creating a fantasy meets technology atmosphere.
There are many sections in the Ulster Museum and seeing all the exhibits on the umpteen galleries across 5 levels is a mammoth task so the cream of the lot is described below. Take the help of the Visitor Guides on each level for a better experience!!
Fossils and Evolution
This is one of the best sections of the museum showcasing everything from an elephant skull to a 4-meter fossil fish to a huge armadillo. The shape of different skulls, comparative differences and similarities and the entire process of evolution explained through bones; are some of the fascinating insights to gain.
Early Peoples Gallery
This gallery exhibits objects from the time of Mesothilic settlers (8000 BC) to Saint Patrick's arrival (400 AD).
The Corrad torc is the only Irish origin coiled torc and the most important display of this section. This coiled spring-like gleaming jewellery was worn around the waist and neck. It lay in a Fermanagh field for more than 30 centuries before being discovered in 2009. This massive piece of gold jewellery weighed 720 gms… whoever owned it must have been a very rich person. You will also see neck rings, toe rings and bulla (locket); a video explains how the different pieces were worn. Do not miss the Bronze Age burial display; it contains a real skeleton!!
The Malone Road hoard of Neolithic polished stone axes is about 6000 years old. This group of large smooth axes were polished to perfection and show no sign of wear and tear. It's a mystery what their purpose was… they look too large to chop down trees. There are clay pots and weapons from the prehistoric era too.
Spanish Armada
Focusing on Spanish treasures, the Armada gallery centres its collections on the 1588 planned invasion of England by the Armada; a historical event recorded in numerous books and documentaries
Armada Gallery contains the exquisite 'Girona salamander' that is was washed away from a Spanish Armada shipwreck that happened near the Giants Causeway in 1588. The salamander is supposed to scare away fire which is why many sailors used to wear it around their necks (sailors are generally very scared of ship fires). This beautiful piece of jewellery (large pendant) is finished to perfection including each of its gold scales and the mirror placed beneath its body.
There are many rings including a beautiful one that say 'I have nothing more to give thee'. Also lookout for the memorabilia from the ship 'Girona' and the cannonballs displayed at the far end of the collection.
Deep Time
This permanent exhibition traces the history of the planet. You can see Ireland's oldest rock (1800 years old) and sandstone from a riverbed that existed 230 million years ago. There is a giant flint, petrified wood, fossilised underwater creatures and a lot of information about how the earth and its climate has changed with time.
Windows of the World/ WOW Gallery
This multi-access gallery presents the best of Ulster museum and its exhibits are sourced from different collections and sections. If you have limited time on your hand then the WOW gallery is where you should go first.
Window on our World lower level has a beautiful collection of Morpho Butterflies… blue-green metallic shaded creatures whose colour changes with the angle they are viewed from. These rare Neotropical butterflies were once part of the private collection of Austro Hungarian Empress Marie Therese … read more about the fascinating legacy of the empress.
The Nature zone of Windows of the World has 'Peter the Polar Bear'; a taxidermy version of an actual 360-kilo polar bear who used to stay in Dublin Zoo. Peter was donated to Ulster Museum by Dublin Zoo after his death in 1972. Peter is not only very cute and popular but is also a stark reminder of the side effect of global warming; polar bears die because sea ice is melting.
The display is just a stuffed toy but a real scale representation of Patrick (a superstar Irish wolfhound) who was 7 feet tall and won many championships. For the record, Irish wolfhounds were huge and powerful and they were mentioned in literature and myths besides being used by Irish guards. Earlier Patrick was kept on display and visitors continuously stroked his nose leaving him with a bald patch on his nose.
The Natural History section of Windows of the World has a stunning 6 meters long and 2-meter high dinosaur statue tats called Edmontosaurus. The bones of this reassembled skeleton were discovered in South Dakota in 1979 and hundreds of bones were found at the same spot suggesting that hundreds of these giants had perished at once. Incidentally, this skeleton has bones of several individuals; most of the museums follow this trick when displaying large skeletons.
The window of the World upper level contains a most fascinating and rare object "the Seymchan meteorite slice". This rare kind of meteorite sparkles with its gem-like yellow and green embedded particles almost seems like a fairy-tale object. It's hard to believe that you are actually viewing a meteorite slice that comes from the belly of a faraway planet
You will also find a life-size cast of Monasterboice High Cross and a Belfast made Chambers Car in the WOW gallery.
Discover Sections
This is where you should come for interactive activities. the Discovery History section lets visitors try out chainmail's, write their name in hieroglyphics, put on costumes from a medieval ball and lots of other interesting options.
The Discover Art lets everyone sit at workshop tables and create paintings, sketches, sculptures etc. The Discover Nature centre has cabinets and drawers full of preserved butterflies, insects and beetles. There are binoculars to peer around and skulls to touch and even shells that capture the sound of the sea!!
Avoid coming to the discovery centres between 1 p.m. to 2 p.m.; the staff (mostly artists, naturalists and historians) go away for lunch and the centres are closed.
George and Angela Moore Collection of Applied Art
You will find a lovely collection of traditional Irish silver and Belleek pottery, Irish Ceramics besides an internationally sourced collection of modern glass, metalwork, silver and ceramics. Applied Art also includes fashion and costumes and they range from traditional Irish to ramp-worthy global pieces.
The Kildare Toilet Set is an ultra-fashionable example of a 17th-century toiletry set. You will find this magnificent 28 piece silver laden toiletry set in the Applied Arts section. The 19th Earl of Kildare had gifted the set which contains perfume bottles, makeup containers, lockable caskets, patches, belladonna caskets, mouse skins (false eyebrows) etc. to his wife after the birth of their son. You can only guess the amount of time lady Kildare used to take to get ready.
Takabuti: Life and Death in Egypt
Every Museum worth its salt has an Ancient Egypt gallery in it and the Ulster Museum is no different. Inside, you will meet Takabuti; Ulster's biggest crowd drawer. The rather famous and attractive mummy (she was a courtesan who died at 40) was mummified using fragrant spices, oils, resins, linen bandages while her stomach. Intestine and lungs were stored in stone jars.
Incidentally, right beside Takabuti is the mummy case of Tjesmutperet who was a socially important lady… her double-layered mummy case demonstrates her rank. Her 'mummification was a lot less successful than Takabuti; her body was found to be black dust when the case was opened. Takabukti, on the other hand, was brought from Egypt in 1834 by Thomas Greg of Balleymenoch and donated to the museum in 1835.
Kids and science lovers will like the Gilbert U 238 Atomic Energy Lab that sits shrouded in the dim light in the 'Elements Exhibition Section' (3rd floor).
This is actually a 1950's Nuclear age toy that mimics an actual energy lab and contains many radioactive sources, cloud chamber, spinthariscope and uranium ore samples. A budding nuclear scientist could use this equipment to actually eye the fissions of subatomic particles and use the Geiger counter to calculate contamination. Obviously, this marvellous but unsafe toy set will not meet the safety standards of children's playsets today!! In 1951 it was priced at 50 $ and would have roughly cost 470$ today … the toy was soon taken off from the market and is now one of the museum's best-viewed items.
Top Floor
The Top floor should be visited first; it's a large open space viewing gallery and holds a very important collection of paintings. One of the best and the largest ones are the painting of St Christopher carrying Chid Christ b Jacob Joardens (a famous Flemish artist). The whole scene seems to be lit up by the light of a single candle presenting a great interplay of light and shadow.
Keep checking as there are frequent exhibitions of some great Master or the other. Da Vinci, Manet, Carravagio's work has been hosted here. There is a nice display of prestigious prizes and medals. For example, the Nobel peace prize was given to Mairead Corrigan and the Olympic gold medal of Mary Peters.
The top floor has a sensational Game of Thrones tapestry that depicts scenes from all seasons (1 to 7). Even if you are not a GOT fan you will love the sheer amount of effort that has gone into making this unique piece of art.
There are other galleries like 'Saint and Scholars' that focuses on St Patrick and Irish history from 400 AD to 1600 AD. Then there is 'Troubles and beyond' that focuses on North Ireland's conflict-laden years; prisoner artwork, LGBT history and civil rights memorabilia are on display here.
If you are interested in meteorites then there are a lot of them on display at the 'Origins' gallery. The Earth Treasures and Living World Galleries showcase the diversity of minerals and life on earth. Then there is the 'Ice Age 'gallery and the 'Sea Around Us' gallery and also a permanent exhibition on Modern History.
Facilities
Take The Ulster Museum map from the Welcome Desk; there are versions in French, Italian, German and Spanish. You are definitely going to need a map to navigate this humungous museum. A good tip is to start exploring from the top floor and then work your way downwards.
Kids will love the Explorer's map that encourages children to go on a self-guided discovery trail/ treasure hunt. Children have to find out 10 iconic items like an Egyptian mummy, dinosaur etc. and then put on a sticker on each of them. There is also a selection of different trails like the Easter trail, dinosaur trail etc.
There is a Grainger room (lunchroom) on the ground floor which you can use if you have brought snacks with you. This room is booked for school groups in the weekdays so don't be surprised if you find it crowded.
Free Wi-Fi is available under the name 'Ulster Museum Guest WI-Fi'. The locker fee is 1 pound and you can use it to deposit your cabin bags, rucksacks and luggage.
Ulster Museum has a gift shop that stocks a fantastic range of over 5000 products. Browse through environment-friendly, sustainable, locally sourced products as well as craft items and natural products sourced from fair trade suppliers. There is stationary, jewellery, books, souvenirs, textiles, ceramics and much more.
Ulster Museum's new café called 'Wynne & Pym' sits in a special building that's a good example of the 'Brutalist style'. Lovers of architecture will like the clever juxtaposition of John Cumming Wyne (original building) with a newer style of Frances Pym. Dishes served here are also fusion style; a fusion of modern with conventional Irish. There are lots of vegan/ vegetarian and gluten-free options on the menu.
Opening Hours
The Ulster Museum is open from 10 a.m. to 5 p.m. every day apart from Monday. The Museum is only open on Mondays if there is a public holiday in North Ireland.
It can take anything from half an hour to 4 hours to visit the museum depending upon how much you want to see. The ground floor has the 'Front of House Team' who can help you plan your visit. Don't forget to allot some time to the beautiful Belfast Botanic Gardens that flank the museum; it has many noted attractions like the Palm House, Tropical Ravine and the Rose garden.
The museum is busiest during weekends (especially afternoons). To avoid the rush visit midweek near opening hours.
Tours and Events
The Ulster Museum offers some date-specific tours too like the Fashion Friday tour which discusses the origin, context and trend of the North Ireland fashion industry and how it has been influenced by global fashion. Then there is the Phosphorus tour conducted in the Elements Gallery that's suitable for older kids
Keep some time apart to view the temporary exhibitions and events that keep taking place at the Ulster Museum. You can find a complete list of events from the official website.
The Ulster Museum is a top attraction of Belfast and it's covered by the City hop on hop off tour. You can book this tour from this Viator webpage.
You can also book the 4-hour History tour offered by Viator. This will cover Shankill Road, Titanic Belfast, and Belfast Castle apart from Ulster Museum.
How to Reach
Ulster Museum shares the same premise with Belfast Botanic Gardens and is adjacent to Queen's University.
You can use the Metro to get down at Queen's University (Metro 8) / College Park (Metro 7). Both stops are a short walk away from the Botanical Gardens. There are 3 entrances of the park; Botanic Avenue, Stranmills and College Park. The Upper Queen-street bus station is 250 meters … just a 5 minute walk away while the Bruce Street Bus stop is an 11-minute walk away. The nearest Bus depot is Europa Buscenter which is a 15-minute walk away.
The Botanic Railway station is also a short walk away from the garden; this is one of the 4 major railway stations of the city and has excellent connectivity. Parking is sometimes a big issue so it is better to park on the Stranmills embankment.

Stranmills Road, Botanical Gardens, Belfast BT9 5AB
Phone: +44 (0) 28 9044 0000
For more information on what to see around and nearby eateries etc, visit Belfast Botanic Gardens.
Also Read