There are plenty of places in Belfast where you can enjoy the famed black magic liquid 'Guinness' without putting much strain on your pocket. Pubs in Belfast mostly have the friendly yet basic Irish traditional pub vibe and serve plenty of food (piled on high) in a rather non-decorative manner. The menu is usually basic and some places like Kelly's only makes one item.
The music scene in Belfast is very strong and the pubs and bars here all run musical performances almost every night. Most pubs in Belfast close by 2 a.m. and there is plenty of craic (Irish term for fun, gossip and laughter). You should be able to have a pint of Guinness at any of these pubs from 4 euros to 7 euros. Belfast is unfortunately not known for very cheap alcohol prices.
Duke of York
This elaborately decked up pub has mirrors, beer mats, bottles, clocks, tin items and loads of other décor stuff all related to Guinness. On some days local musicians are called in to play Irish Folk music. Duke of York is known for its historic collection of whiskey drawn from all parts of the island right from Cork to Bushmills. The Collection is innovatively called 'Friend at Hand'.
If an event is on, the staff will cordially invite you to shift with the glass in your hand to the Dark Horse on Hill Street. The Dark Horse is a full-fledged restaurant with the famous "Game of Thrones Door". You can either continue drinking here or have their range of exquisite coffees while lounging on armchairs and admiring the gleaming copper tables.
The Duke of York is famous enough to be covered on most Cathedral Quarter tours. Surprisingly, Guinness is reasonably priced. They serve Beamish. If the weather is good, the crowd gathers outside and sing and dance… setting up a great party vibe.
Address: 7/11 Commercial Street, Cathedral Quarter, Belfast
Phone: +44 28 9024 1062; Website
Kelly's Cellars
Category: Traditional Irish Pub
Kelly's is known for traditional Irish stew with bread and surprisingly it is the only thing on the menu. Tonnes of people turn up every day to have the same dish (Irish stew) and pair it with cold Guinness so that's a testament to how delicious t must be.
Kelly's makes 2 kettles of the stew every day and it's gone by 5 p.m. every day. This is one of the oldest pubs in Belfast and it's charming in a bare-bones kind of way. There is a fire burning inside and lots of eccentric old fashioned décor knick-knacks that gives the place a quaint charm. Saturdays are always special here with live music and the atmosphere is very welcoming.
Summer afternoons are the best as they provide the best backdrop for the range of cold beers… you could keep on sitting till the evening. On the downside, hygiene is not a strong point at Kelly's and the washrooms especially need some tender love and care. If you are unlucky and miss out on the Irish stew then try the seafood restaurant next-door (Mourne).
Address: 30-32 Bank Street, Belfast
Phone: +44 28 9024 6058
Fibber Magees
If you want your drinks to be accompanied by some live Irish folk music then Fibber Magees is your best bet. The band starts at 12 pm and continues until the wee hours of the morning. This is essentially a local place with traditional Irish décor, lots of knick-knacks and an artsy vibe. The blazing fireplace adds warmth while the excellent Guinness draws in the crowds.
Try Robinson's platter if you are really hungry (mushroom, chicken wings, nachos and garlic bread) or the battered cod or maybe just the baby potatoes and garlic bread.
The Fibber Magees is at the back room of Robinson's Bar that's a much touristy place. If you want, you can migrate to Robinson's later as the Fibber is small and gets very cramped during the late evening. Established since 1895, Robinson's also operates a pool loft, bistro and a glamorous Saloon. Staff is very friendly and are never brusque (even if you are drunk).
Address: 38-40 Great Victoria Street, Belfast BT2 7BA
Phone: +44 28 9024 7447; Website
Sunflower Public House & Live Music
The Sunflower Pub stands behind the Central library and might not seem extremely welcoming in the beginning though some great murals can be found outside. Locals and tourists flock here to listen to its brilliant live music and take advantage of its lovely beer garden seating.
The Sunflower is known for its collection of Craft Beer and its great craic. Try cider, ale and unusual variants of beer here like the Pilsner Urquell or the Yardman Stout. They have beers from Scotland and England too. If you are hungry then try out their collection of stone-baked pizzas.
They give out free Irish music lessons that are open to all. The absence of Guinness in the menu is a disappointment. Also, hygiene is not a strong point as the washrooms and washbasins are not well maintained. There is a counter that sells t-shirts and souvenir items too. The décor is remarkable inside and there is an interesting collection of artefacts.
Address: 65 Union Street, Belfast
Phone: 028 9023 2474; Website
Maddens Bar
Maddens Bar is at the edge of City Centre and in the relatively UN touristy West Belfast (behind Castle Court Shopping Centre).  Expect lots of rustic/ shabby chic charm and a good dose of the famous Irish humour.  The staff are very welcoming and special mention must be made of Barney, Bamber, and Liam. They will make sure that all guests have fun with their baby Guinness shots.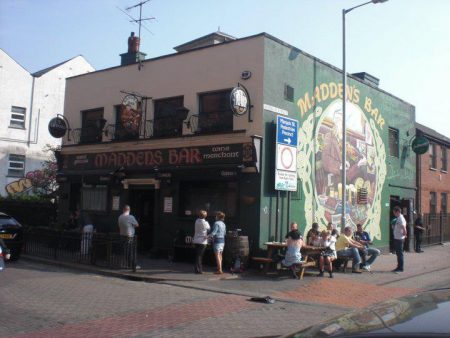 They don't take cards so make sure that you carry cash. There is a cash machine nearby. There are screens inside that keep broadcasting games. There is even a pool table upstairs and a good beer garden.
Most evenings, Willie Byrne a local singer and great guitarist comes in to play. On Sundays, young musicians play from 8 p.m. onwards. The impromptu jam sessions that happen here are very interesting.
Once you are done you can visit St Mary's and Ban Square both of which are nearby. Madden's doesn't have its own website but it does have an active Facebook page.
Address: 74 Berry Street, Belfast BT1 1FJ Northern Ireland
Phone: +44 28 9446 2177
Harp Bar
Harp Bar is known for its buzzing nightlife scene and is generally targeted by both tourist and locals who want to "live up the night". One of the staff at Harp (Rory) plays the Mandolin really well and on some days he delivers impromptu performances. You will enjoy all the red velvet and gilt if you like glamorous retro décor.
Bars in Belfast mostly have a rich musical tradition and Harp keeps things organised by putting up the names of the performers and the kind of music played on the website. Incidentally, the bar stands in a heritage building that was the headquarters of the old Bushmills Distillery Company.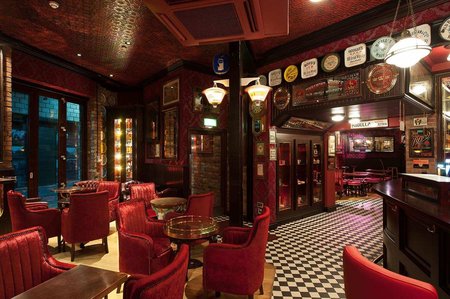 They serve great cocktails; espresso martini, Bramble, Whiskey Sour etc. but Guinness is still the most popular drink here. You will get free nuts with your drinks and the finger food items are decent.
The atmosphere is very lively at the Harp bar and it gets quite crowded any time after 6 p.m. don't be surprised if you don't get a place to sit. The music blares out very loudly and that might be a problem. All credit to the staff who keep things running smoothly even in this chaotic atmosphere.
The bar service is always prompt and there is always a smile on the face of the bartenders.  You have to come really early in case you plan on grabbing a seat before the musical performances start off. Don't forget to check out Harp Bar's new wing…the New Orpheus!!
Address: 5 Hill Street, Belfast BT1 2LB Northern Ireland
Phone: 02890329 923; Website
The Dirty Onion
The Dirty Onion stands in Belfast's oldest building (1680) and its exteriors have carefully been preserved to keep the 'old and decrypt' vibe alive. There is a fireplace inside and Irish traditional music on offer. You can either opt to sit inside that is dimly lit but full or character or outside i.e. the beer garden.
They have partnered with An Droichead that's a fine local music school and offer true blue traditional musical performances. There are a live band and acoustic acts on the weekends.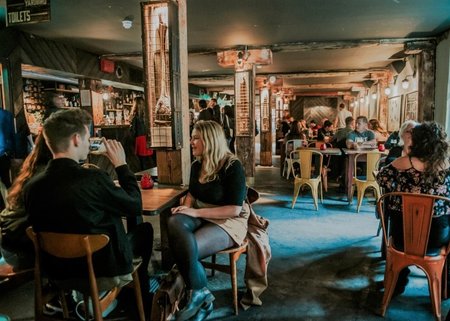 You can go upstairs and check out their dining Hall called Yardbird. The menu is thoughtful but very basic and portion sizes ample. The 'Wine o Cluck' offers a carafe of the wine of your choice and is good value. Food is overall pretty delicious and you can order the BBQ Chicken and the meat on Ribs.
They have a good collection of beers and Irish spirits though service is slow. The sauce is very tasty and homemade though you will wish for more choice than just BBQ Sauce. You can also order the YardBurritto with nachos and chips.
The Dirty Onion is very welcoming towards pets and they even host 'pooch specials' on some Sundays. Take a tour of the premises before you actually enter the pub; there is a lot of interesting stuff and artefacts displayed about the building's history.
Address: Apartment 3 54 Hill Street, Belfast BT1 2LB Northern Ireland
Phone: + 44 28 9024 3712; Website
Lavery's
Lavery's is supposedly the oldest family-owned pub of Belfast and it offers the intimate, homely and atmospheric feel that a traditional pub promises.
Order the Laverys platter and you will be stuffed. This has ribs, hot wings, pork onion rings, wedges and assorted bites. You can also order the vegan cottage pie, lasagne, nachos and guacamole, steaks. Most of the food is okay (but not superb) though the portion sizes are great. They have this monthly scheme where they select a particular strain of gin/ whiskey/ ale/ beer etc. and offer it at really cheap rates. You will find the details on their website.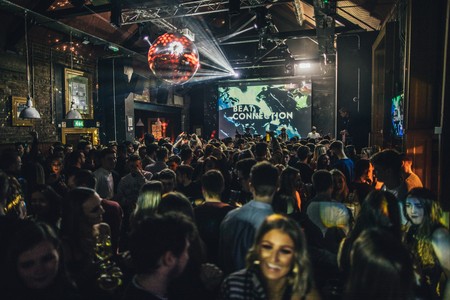 They have multiple TV screens and a giant display inside and keep broadcasting popular games especially football. On the downside, the staff is a little grumpy. Come here if you are not in the mood for Irish music and just want to watch a game while having your drink.
Address: 2-18 Bradbury Place, Belfast BT7 1RS Northern Ireland
Phone: 28 9087 1106; Website
Bert's Jazz Bar
Bert's Jazz Bar is a part of the Merchant Hotel that also contains the eclectic 'Great Room' … the best afternoon tea destination in Belfast. This is by far the priciest bar on this list but the generous dose of art deco glamour it will give you will compensate for your lighter pockets. Definitely the best place in Belfast for a classy Jazz filled evening. Jazz is played live seven nights a week from 9 p.m. and from 12 p.m. to 2 p.m. on weekends.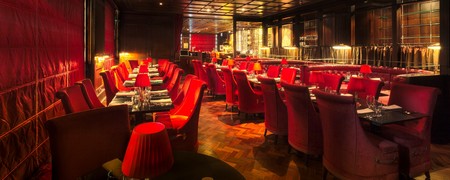 Brunch is served on weekends apart from the all-day dining menu. Their cocktail menu is inspired by popular cities and entrees are innovatively named and grouped in sections called Paris, New Orleans's, New York, Paris, and Havana. For teetotallers, there is the Merchant Tea Blend, cappuccino, Macchiato and Americano.
Pair your brew with the Irish beef burger or the smoked Haddock and salmon fishcake. The coal-burning fireplace and the ambience with its red velvet chairs are the best part of the place. Incidentally, Merchant Hotel is worth seeing just for its wonderful architecture and rich decorations. On Fridays and Saturdays, there is a 10 euro charge for reservation (8.30 p.m. and 9.00 p.m.)
Address: 16 Skipper Street
The Merchant Hotel; Website
Mourne Seafood Bar
Mourne Seafood Bar at Bank Street specialises in Seafood cooked with local ingredients and never disappoints. As a starter, you should try the crab claws in spiced chilli butter… these come in their own frying pan with oodles of butter which you can soak up with fresh bread.
Try the oyster's au Naturel, seafood stew/ casserole, mussels with Mediterranean korma sauce and fish and chips…everything is ultra-fresh and flavourful. The Dijon crusted cod with bacon sauce, cream and baby potatoes is delicious and so are the Parmesan truffle fries. The dessert items lie chocolate fondant, panna cotta, salted caramel and chocolate torte and raspberry coulis are well-chosen and the cheese board looks good too.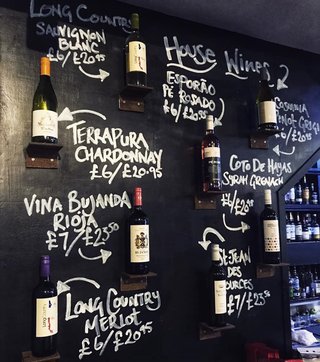 Mourne Seafood Bar is known for its wine list and elegant cocktails and the staff readily gives out food and wine pairing suggestions. You can take advantage of the Special menu; 2 courses for around 13 pounds. Otherwise too, a three-course meal can be had at 20 pounds.
On the downside, 10% service charge is automatically included in the bill. Ambience and décor are not one of their strong points. It's very busy in the evenings so making dinner reservations is a must. Mourne has a branch in Dundrum as well. The St Mary's Roman Catholic Church is nearby.
Address: Mourne Seafood, 34- 36 Bank Street (Located next to Kelly's Cellars)
Phone: 028 9024 8544; Website
Also Read