Where is it?
The Cathedral Quarter is referred to the slice of Belfast sandwiched between Royal Avenue (central library) and Dunbar Link. Interestingly, part of the quarter behind St Anne's Cathedral was called Half Bap. If you spot the junction of Royal Avenue, York Street and Donegall Street… the Cathedral Quarter lies in the East and South directions. The Merchant Quarter stands adjacent to the Cathedral quarter.
What made it special?
Since pre-medieval times, the Cathedral quarter traditionally had a good percentage of arts, media and culture-based enterprises and this led to the congregation of the city's art and culture groups in this area. Belfast Community Television, Safehouse Art Gallery, Belfast Zen Meditation Community, Belfast Print Workshop all have their offices here. The Northern Wing (erstwhile popular satire newspaper) stood in the corner of Warring Street and its historical building has now been remodelled into a pub.
The tradition of creative writing and art of satire still richly exists in the Cathedral Quarter through the publication Vacuum. Offices of leading newspapers like Sunday World, Irish News etc. have accentuated the arts and literary reputation of this quarter and the presence of central Library nearby has only added to its aura.
Belfast's Custom House on the banks of Lagan was a hub of public speakers during the 20th century and many spontaneous and lively debates were held here. The site has been reincarnated as Custom House Square and cultural activities, concerts, circuses and gala events are held here.
Belfast's coolest pubs and restaurants, newest artwork and the cream of the city's musical and cultural talents are found in Cathedral Quarter. Most of the architecture is a mix of the new and the vintage and a maze of cobbled streets run through it.
What Not to Miss
Merchant Hotel (and Ireland's biggest chandelier)
This incredibly beautiful 19th-century building on Skipper Street was once Ulster Bank but is now the five star Merchant Hotel. Drop in to see the Great Room which has Ireland's biggest chandelier and have a cocktail in the 'Cocktail Bar'/ Bert's Jazz Bar that has earned the reputation of being one of the best cocktail bars in the world.
With its red velvet upholstery, arches and artwork; the great Room seems right out of a castle. Gorge on beef bourguignon and baked camembert and listen to the jazz performances that go on till 2 a.m. while sipping on Irish gin.
St Anne's Cathedral (and the spire that pierces the sky)
The cathedral quarter was named after this cathedral so it's important that you visit it. The massively long spire (added in 2007 symbolises hope for the city) atop the church is nicknamed 'rod of god' and locals have been worshipping here since 1776.
The Donegall clan who ruled Belfast Castle erected this church. Inside the church, it's a gentle symphony of arches in a serene renaissance style. The organ recitals and the choir service of this cathedral is one of the finest in North Ireland.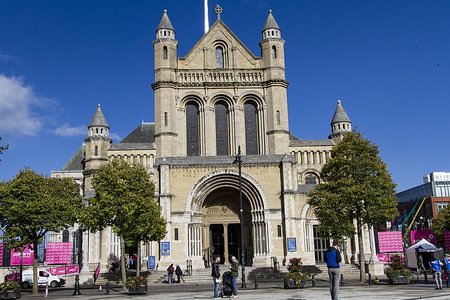 Since 1976 Dean Sammy Crooks began sitting outside this church in a Black Cape collecting money for charity. Locals began calling him black Santa and the name and tradition still continue with current dean Houston Mc Kelvey.
Near St Anne's there is MAC.Live (Metropolitan Art Centre) on Edward Street. Exhibitions, experimental workshops, dance and family workshops are held here all 365 days of the year. The venue opened in 2012 but has seen more than 3000 live performances since then. They have a pretty great café called MAC Café and serve delish coffee and casual food including burgers.
Phone for tickets: 028 9023 5053
Right opposite the road of Belfast Cathedral there is one of Belfast's most beautiful pieces of street art. Called 'Son of Protagoras' this piece shows a young boy angrily looking at the cathedral and he holds a dove stricken dead by the arrows of religion.
Hill Street (whiskey museums and cafes)
Look out for the amazing street art as well as little pubs and cafes. Established Coffee is one of the cooler cafes on the road while 'Friend at Hand' is an intriguing whiskey museum and shop. The pub Dirty Onion and Yardbird is as intriguing as it looks on the outside and so is the Harp Bar. Dirty Onion actually has Belfast's oldest timber frame (dates to 1680) and belts out Live Music every day. The restaurant is called Yardbird and it serves great chicken.
Look out for the stunning black and white super-sized mural made by Joe Caslin "Marriage Equality". Another intriguing Mural here is London artist Pang's 'Miniature asshole'. Also, look out for 'Unbreakable' created by the artist Psychonautes using millions of geometric shapes.
One of the stars of Hill Street is Black Box; a multi-event space. They organize literature meets, comic stands, independent film and visual art shows and even circuses and cabaret. You will even find science exhibitions and marketing workshops held here… get tickets from their website or office. They have a lovely café called 'Green Room' known for its coffee and light eats.
Phone: (028) 90 24 44 00
The Duel of Belfast; a stunning black and white artwork symbolising Belfast's troubled past stands near the Black Box. This evocative piece shows two men fighting over the carcass of a dead animal.
North Street
This rather derelict looking street that cuts through the centre of the cathedral quarter is flanked by shabby looking buildings but the graffiti and roll up murals are compelling. There is a rather poignant animal-themed mural on North Street arcade. This is a testament to the animals in the pet shop that used to stand here… the shop and its inhabitants were burnt in an April 2004 fire.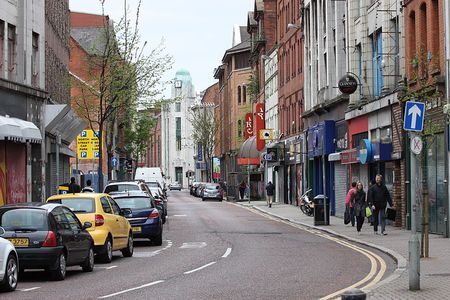 Also, look out for the stunning Phoenix boldly signifying that North Street can rise from its ashes. Most of the street art of North Street is done on its shutters like the lady with the gun drawn on the Atomic Collectables shop.
Commercial Road (historic pubs)
As you walk down Hill Street you will find another interesting looking road (Commercial Court) that has two iconic pubs. The Dark Horse with its Game of Thrones doors is instantly intriguing. Duke of York faces Dark Horse and stands out because of its 50 shades of grey street art and old school metallic advertisement plates. There is traditional Irish music played live on Thursdays
Umbrella Passage and the courtyard of Murals
Probably one of the most photographed corners of Belfast the Umbrella Passage branches off from Commercial Street and is distinctive by its sea of jade green umbrellas strung overhead. You can take millions of Instagram perfect photos here while admiring murals on both sides of the walls.
The Umbrella passage leads into a moderately sized courtyard whose sides are filled up with murals and pop art displays… each narrating a different story. There is an ode to Belfast Linen (the razor blade was German made but the cloth was Belfast linen) that's worth reading in detail.
York Street
The Ulster University Student Union Building and its arts Campus stands in this area and local rock celebrities like 'the Undertones' were regular visitors here. The 1970's punk movement influenced many bars and pubs here like the 'Front Page' and 'Giro's' and there were specialised punk record stores like Cathedral Records on North Street Arcade. York Street is also a street art hub!!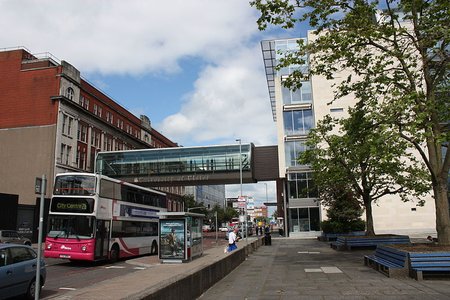 Street Art Walking Tours
Using public facades for self-expression was a tradition of Belfast that started long before the Troubles. And unlike the Peace Wall zones that have mostly Ulster loyalist and Republican themed murals, the cities artist communities expressed many other themes and emotions in the lively and artist-friendly Cathedral Quarter. Andy Council, Visual Waste, Smug One, Joe Caslin, MTO, KVLR, Psychonauts are just a few of the talented artists who have made Cathedral Quarter an open free for all art gallery!!
The sensational 2 storey high mural named 'Pandora's jar' is reason enough for you to take a stroll around Donegall Street. A detailed lifelike portrayal of Pandora opening the jar and her change of expressions; this is one of the best murals in Belfast and is a part of all street art tours. Also, check out the stylish red painted tribute to Beasties Boy Band. One of the most elegant pieces of artwork in Belfast stands near the Exchange Street Car Park. A sensual multi-hued portrayal of a lady waking up from a dream; the piece deserves a bunch of photos and more.
If you are in the Cathedral Quarter it would be a shame not to inspect all that fantastic art up close. Seed Head Arts offers the best street art walking tours… after all, they are the creators of the hugely successful 'Hit the North' festival. They have been forming a bridge between the walls of this quarter and artists since years and can provide an insider's perspective on the art, its creation process and its political and cultural context.
Phone: 07843590097 to book a tour.
Since the Cathedral Quarter bursts with fantastic street art you can do self-guided walks too while taking millions of photographs. If you want to take home a piece of this unique art with you then drop into Graffitistrasse on Lower Garfield Street and Urban Art on North Street. The street arts of the cathedral quarter are mostly large scale pieces that cover entire shop shutters and building sides so they are hard to miss!!
What to buy
If you are into artsy stuff then Cathedral Quarter will make you fill your bags. Shop for unique yoga mats, incense holders etc. from Hill Street's Flow Yoga. Do some bargain hunting in Smithfield Market and buy yourself a sturdy pair of boots from Mc Cann's Army Stores or a gorgeous trinket from E Lauro.
Buy everything in makeup from Royal Avenue's Make up Pro Store and if you are lucky you will catch one of their free makeup courses. For jewellery, you can hop in to Murray and Co on Talbot Street and Gardiner Brothers on Waring Street. And of course, a stop at Unique Art Shop (Ulster University) is mandatory just to see the insanely creative stuff produced by students of Belfast School of Art.
What to Watch Out for
If you arriving in May then don't miss the thrilling CQAF (Cathedral Quarter Arts Festival) that started in the year 2000. More than 60,000 people now congregate to participate and watch the 100 plus events that happen in different corners of the Cathedral Quarter and City Centre.
Catch big bands, small bands, fringe bands and some seriously talented independent performers amidst an eclectic ambience. In January there is the Out to Lunch Arts Festival and in summers there is the Open House Festival… both highly publicised events.
Culture Night happens in September and it celebrates street art, street music etc. in many venues across the city though originally the festival began from Cathedral Quarter. From 2013 a mural festival called 'Hit the North' has begun in Cathedral Quarter  (it precedes the famous Culture Night) so each year expect the murals to change as a fresh lot of artists bring in a fresh lot of ideas.
Late February is also when Restaurant Week happens; many restaurants from Cathedral quarter as well as other quarters bring up fantastic offers and innovations.
You will find a list of events and latest workshops, musical performances, comedy and theatre performances happening all over Cathedral Quarter on this webpage.
Where Else to Eat, Drink and be Merry
Check out the Ulster University, York Street… it promotes local North Irish food and supports local suppliers. Northern Wing bar and restaurant on Bridge Street is the winner of 2017 National Pub and bar award and is famous for its Cathedral Quarter Cocktails. Malmaison Belfast Hotel's brassiere goes by the name Chez Mai and serves fusion food along with a great wine list… lookout for its Titanic inspired design.
Café on the Square on Ulster Street is new but has already got a lot of fame from its battered haddock and chips and spicy barbeque burger. For fine dining with crisp Savignon Blanc, head off to Novelli (AC Marriott Hotel) on City Quay. The butternut squash and wild Irish venison are stars on the menu.
And for learning a lesson or two in recycling visit Made in Belfast that's non-pretentious and proud of using pottery and reused furniture for décor. This is a good place to people watch as mostly students and locals come to brunch here.
And last but not the least there is Curated Kitchen on Donegall Street that serves a new menu every week curated from a cookbook. It unabashedly says that the offerings are curated for the social and the curious!! If you arrive on a Monday then do drop in for wine and food pairing sessions at Hadskis (also on Donegal Street).
Sunflower Bar isn't technically inside Cathedral Quarter but it known as the 'best bar' of Belfast so this gets a place on this list. There is an amazing 3 D mural outside the bar with text over it that says that you can get a pair of 3 d glasses inside it. Drop in to take the glasses and you won't be able to leave without drinking a beer or two… clever marketing technique!!
How to Reach
The bus lines 1 E, 5 A, 2B and 61 pass near the Cathedral Quarter. The Laganside Bus station is 410 meters away while the High street bus station is also 6 minutes away. Cathedral Quarter is stop 23 (disembark on Donegal street) on the city sightseeing bus route. You can walk to Cathedral quarter in ten minutes from Belfast City Hall.
High street, Kent street, Little Donegall Street, St Anne's square, HandyPark (Winetavern street and Milfield street), Exchange street, Castle Court Car Park (can be accessed from North Street and King Street) are some of the secure car parks. If you are biking around Belfast (a great way to see Cathedral Quarter) there are multiple bike docks here.
Where to Stay
Many photographers, art lovers or genuine admirers of Belfast street art target staying in Cathedral Quarter because this has Belfast's thickest concentration of street art. If you have plans of staying here then the stylish Bullit Hotel is where you should check in into.
The Fitzwilliam Hotel Belfast on Great Victoria Street is also a good option… though it's technically ten minutes away from Cathedral Quarter. And of course, if the cost isn't an issue then the five star Merchant Hotel is the best option. For travellers with a moderate budget, the Ramada Encore may be more suitable. The Ulster University area has a lot of hostels that are suitable for backpackers.
Also Read