Mention Belfast and the concept of 'Black Taxi Tours' crops up simultaneously. The immediately recognisable black taxis who are mostly found doing their rounds around the mural dense West and North Belfast are on the to-experience list of almost every tourist. So here is all you want (and need) to know about the Black Taxi tours in Belfast.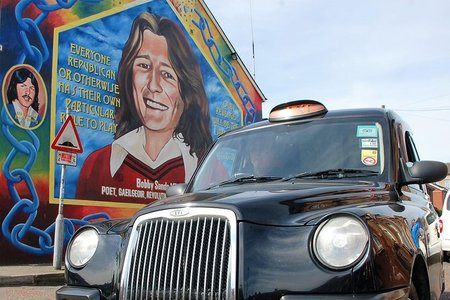 What are the Black Taxi Tours?
Unlike the colourful imagery on the defunct Berlin Wall, the Belfast Peace Walls are still alive and kicking. Their purpose of dividing the Catholics and Protestants/ loyalists and democrats is still relevant and necessary. If you read our exhaustive article on Belfast Peace Walls and have visited other attractions like Crumlin Gaol then you would have gained a decent idea of how the Troubles impacted the city.
Around the 1970s, specially marked black cabs began to operate in Belfast because other transport systems had collapsed. For many decades the black cabs were just transport mediums but since the 21st century, the cabs have now been giving tours. There are several operators who run the political black cab tours in Belfast and the best of these are covered below.
Remember that mot physical marks of the 30-year-old Troubles and the activist activities surrounding it took place in Western Belfast. A good thing to remember is that the Republic of Ireland uses the Euro and North Ireland uses the sterling pound. So if your taxi driver is from Falls Road he might sometimes give you a change back in Euros!!!
What to look out for?
The most important attraction of the Black Taxi tour is the politically inflammatory street art centring on Shankill Road and Fall Road. The taxi driver manoeuvring the shiny black cabs (come in different sizes and shapes) will guide you around the Gaelic dominated Falls road and show you the Irish flags flowing from rooftops.
There will be mural sightings like the famous IRA fighter Bobby Sands. The Irish Catholic Civil Rights movements and political imagery and murals connected to it should also be seen. Garden of remembrance should also be a stop on the tour. Shankhill Road tour with a demonstration of the neighbourhood called 'Shankill' and a retelling of the Ulster Defence Association should also be a part of these tours.
Sightings of the Ulster Covenant Mural and the huge painting of paramilitary leader Stevie "TopGun" McKeag should also be a part of the tour. It's strange to think that a man who killed at least 12 Irish Catholics should still have murals decorated for him in a civilised corner of the world.
The actual Peace Wall visit is a tour highlight with sightings of famous murals and signatures of famous people (Bill Clinton, Dalai Lama etc.). You also get the chance to sign your name on the 'international section' of the Peace Wall.
Also look out for the not so subtle hints of the troubles like the metal cages encasing the backs of the houses lining the Peace wall. A good guide should point out different conflict stories like Israel and Palestine (all of which Falls road sympathises with) as well Marxist rhetoric and calls for peace (all of which are demonstrated by various murals in this area).
Make sure that you check which model of car the taxi operator is offering. As a rule, 5 to 6 people can sit comfortably in a London style cab. Logically enough, the larger the group (max 8) the lesser the per-person cost of the tour.
Original Black Taxi Tour by Belfast Tours
This operator has been doing the black taxi political tours for 20 years and call themselves the 'Original black taxi tour'. They employ a mixed fleet of drivers (both catholic and protestant). They have been winning the TripAdvisor awards of excellence from 2009 to 2019.
The owner has been in Belfast all his life and has actively seen the repercussions of the 'Troubles' on his family which is why he wanted to sensitize the world to the plight of people here. The tour account is much personalised of how life was in Belfast in the '90s.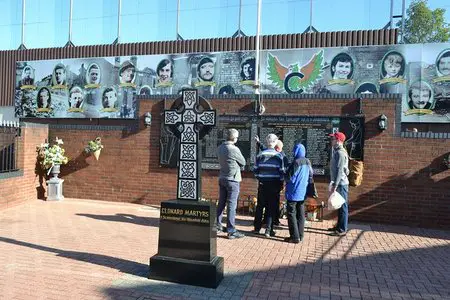 Tour Route starts in the City Centre and then moves through the Shipyards where the HMS Titanic was built. The rest of the time is spent in understanding the Troubles and their impact on North Ireland and Belfast. The time spent inspecting the murals and political imagery around Shankill Road and Falls Road will endow you with better knowledge about how things really are in Belfast. The chance to write your own message of peace on the Peace Wall is gratifying. The tour also includes a drive around the University Quarter and Museum district.
Prices
The roughly 2-hour long tour costs 40 pounds for the first 2 passengers. After that, it's an extra 17.50 pounds for each extra passenger.
Booking
You can Book the original Belfast black taxi tour through this Viator website.
Operator's Contact details
Phone: 028 9064 2264 | 07702449694
Email:  [email protected]; Website
Political Mural Taxi Tour by Black Taxi Tours
This is arguably the most popular Black taxi tour operator in Belfast and they have been around for more than 18 years. The tour guides (drivers) here make good use of old newspaper clippings, photographs, videos and plastic bullets to represent how life was like in Belfast about 35 to 40 years ago.
Their vehicle fleet is well maintained and you will like travelling in these old vintage London black taxis. If your hotel is within a 1 km radius of city hall then you will get free pick up.  The guide speaks fluent English and narrates both the republican and Loyalist sides of the story.
Prices
The minimum cost of a 3-hour political murals black taxi tour for 2 people is 50 pounds. The larger the group the more the savings and large parties over 12 are given hefty discounts. Kids under 9 get free tours and those between 10 to 14 only have to pay 5 pounds each
This operator demands a 5-pound deposit that's non-refundable for all their tours.
Booking
You can book this tour from this Viator website.
There is a similar but shorter 1.5 hours private tour offered by another operator which too is very popular with tourists. You can check and book that tour through this Viator website.
Other offerings
The operator Black Taxi Tours also offers the Giants Causeway tour and the Game of Thrones Tour and cruise pick up tours. There is also a nicely curated Historical buildings tour that takes in all important sights of Belfast like Albert Memorial Clock Tower, Belfast/ Carrickfergus Castles, the Titanic Shipyard, Big Fish, Belfast Wall Murals, Botanic Gardens, Belfast Castle, City Hall, Belfast City Centre, Laganside Walk, Queen's University, St Anne's Cathedral, Peace Wall etc.
Operator's Contact details
Phone: 07702060573
Email: [email protected]; Website
NI Black Taxi Tours
NI Black Taxi Tours are pretty well known all over North Ireland for their special Irish countryside tours. Their Belfast political Tour does not just focus on the Peace Wall-Shankhill Road-Falls Road area but also on the Crumlin Road Gaol and the Court House. The links of these Victorian buildings to the 160-year-old history of North Ireland is well explained. All NI Black taxis are wheelchair accessible
Prices
For 1-2 people, a 1.5-hour tour costs £35.00. However a bigger group of 3, 4,5,6,7 or 8 people can avail the tour at £15.00 per person.
Other offerings
NI Tours offers a murals tour which takes in all the best murals around the cathedral quarter, university area, Shankhill and Falls Road etc. They also offer NI countryside tours that include visits to Dunluce Castle, Giants Causeway, Bushmills Distillery, and the Carrick-A-Rede Rope Bridge etc.
Booking
Call them or email them to book a tour
Contact details
Phone: +44 7729 683104
Email: [email protected]; Website
Paddy Campbell's Famous Black Cab Tours
Paddy Campbell is quite a popular figure in the Belfast tourism circuit and the fact that he has been offering tours for more than 35 years and is a partner of most travel platforms reinstates his credibility. The best thing about Paddy Campbell's 'Political murals and peace walls tours' is that there is an unbiased demonstration of what happened on both sides of the Peace walls along with customary inspections of famous physical landmarks like Bombay street, Sinn Fein offices etc. the Paddy Campbell Tours are very scalable. They can range from 1.5 hours to a whole day depending on what you want to see.
They pick up guests from any location in Belfast (not just hotels) though there is a small charge if the location is outside the perimeter of the city centre… The cabs that they use are London Style black taxis. No deposits are needed and you can directly pay the driver in cash after the tour is done. If you are very lucky then maybe Paddy Campbell will conduct the tour himself and that will surely be a memorable experience.
Prices
For 2 people a 1.5-hour tour will cost around 35 pounds. The cost per person goes down (15 pounds each) if the group size exceeds 2 but is not more than 8.
Booking
Call them or email them to book a tour
Other offerings
They offer an Antrim Coast Tour that stops at different locations like Carrick Rede Rope Bridge, Bushmills Whiskey Distillery, Giants Causeway, Ballycastle, and Dunluce Castle etc. Their greater Belfast historical tour will cover well-known sights like Crumlin Road Jail, City Hall, Albert Memorial Clock, Crown Liquor Saloon, Titanic etc.
They also offer a Game of Thrones tour that include the Dark Hedges, secluded beaches, caves that were featured in the famous series. Their Belfast City tour is a healthy mix of political attractions like Peace wall, Crumlin road jail, court House and historical ones like Albert Memorial Clock, Titanic and Crown Liquor Saloon.
Contact details
Email: [email protected]
Telephone: 0044(0)7990955227; Website
Touring Around Belfast
Touring around Belfast is a partner of Visit Belfast and the former business is headed by Blue Badge guide Billy Scott (works for North Ireland Tourist Board). Their Black Cab Political Tour takes visitors around east and North Belfast and shows some of the best murals in town.
The guide points out icons like George Best Mural, Black Cab Mural, Titanic Mural, Guinness Mural, Duke of York Mural, East Belfast Mural, Red Hand Mural etc. Guests get to sign the Peace Wall and take loads of pictures at designated photo stops.
Other offerings
Touring around Belfast offers Antrim Coast and Giants Causeway Tour and Belfast City Tours as well as Titanic Tours. Their Bespoke Tour range is good for tourists who wish to craft their own schedule.
Prices
35 pounds for up to passengers and then 15 pounds for each extra passenger.
Bookings
This operator only accepts phone and email bookings.
Alternatively, you can walk into their office to book a tour
Contact Details
47 Fairhill Park, Belfast BT15 4FY
Telephone: 077 9860 2401
Email: [email protected]
Also Read