Arriving in Venice
There are three different ways to get into Venice. You can fly in from almost any part of the world as most of the major cities are directly connected with Marco Polo Airport (VCE) of Venice. Many flights from different European cities and low-cost flights also fly into Treviso Airport in the Mestre suburb of Venice located a little away from the city.
For getting in from other Italian cities (like Rome, Florence, Bologna, Milan, Treviso etc.) the best option is to take a train to Venezia Santa Lucia (Central Station). While coming from Austria or Slovenia one can take a train to reach Venezia Mestre station located on the mainland of Italy. If you are coming from Greece or Istria, cruising is a good option. You can disembark either at the Stazione Marittima or at the S. Basilio.
Venice Marco Polo International Airport (VCE)
Marco Polo Airport is 14 kilometres away from the city centre (Piazzale Roma) and is located north of the mainland of Italy. There are two major places in Venice that you can reach from the airport; one is central Venice which is Piazzale Roma (at the main bus station) and the other one is Mestre, the town on the mainland facing Venice. All the major tourist attractions are located in central Venice while most of the hotels are at Mestre.
Bus: ACTV line 5 Aerobus and ATVO Venezia Express connect Marco Polo airport with Venezia Piazzale Roma. A single trip costs 8 Euros and the return journey is 15 Euros per person for both the buses. Aerobus takes around 25 minutes while Venezia Express takes 20 minutes to reach. The service interval of Venezia Express is around 20 minutes. The operating time of Aerobus is from 4:00 am until 1:00 am at an interval of 15 minutes.
There is also ATVO Fly Bus service from Marco Polo Airport to Mestre (up to Mestre Railway Station). There are regular departures from early mornings till late evenings. One-way journey time is around 17 minutes and fares are similar to the above services.
Tickets can be purchased from the public transport ticket office at the arrival hall and from the ticket machines. The Express bus is a shuttle bus with no stops in between. You can purchase a ticket from the drive as well. Aerobus has low floors and you will travel with local commuters.
For a timetable of ATVO bus services from Marco Polo Airport, visit the ATVO's Marco Polo Service Page.
Alilaguna Water Boats: The water boats (similar to water buses) run by the company Alilaguna is another good option to get into the city from the Marco Polo airport. These are steamers that can have a capacity of around 50 to 70 persons and operates on a per-person fare.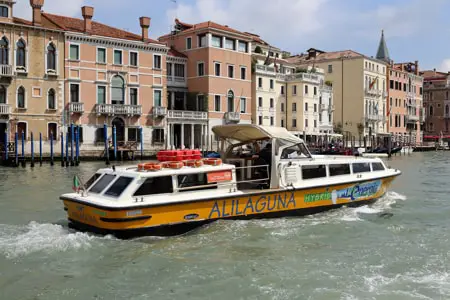 From the arrival hall to the boat house is 7 minutes walk. They connect the Marcopolo Airport with the boat docks at Historic Venice Centre, Lido and Murano. Within the historic Venice center, you can reach places like San Marco, Rialto, Fondamenta Nuove, Le Guglie, etc.
The single journey fare from the airport boathouse to Venice can be 8-15 Euros per person (depending on the destination). Alilaguna Blue and Orange line Vaporettos connect the airport to almost all parts of Venice.
Tickets can be purchased from the public transport ticket office at the arrival hall, from the ticket machines at the airport, from the ticket office at the dock or onboard the water bus or online. Note that journey time by water bus is around one hour 15 minutes.
Read Alilaguna Water Boat Service to get complete information including fares, routes, boat docks in Venice, and more.
Taxi: Taxis are available outside the arrival hall. The ride to Venezia Piazzale Roma takes around 15 to 18 minutes depending upon traffic. The fare is around 50 Euros including luggage.
Water Taxi: A private water taxi can be a good option to get into the city if your hotel has a water dock nearby, but it's quite expensive. The charge would be 125+ Euros depending upon the location of your hotel and the luggage you are carrying. They have a capacity of up to 10 persons.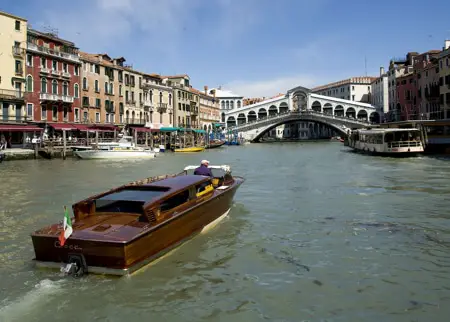 Like land taxis in Italy, it might be possible to negotiate the fare with the water taxi before getting into it. While Water Taxis can take you to the dock nearest to your hotel, some hotels may not have water landings nearby and then you will need to walk with your luggage.
Read Water Taxis in Venice for a complete guide.
Train: Train is also an option but not quite practical as you first need to take a bus up to Mestre; from there you can board a train for Venezia Santa Lucia. The only advantage is that it is the most economical way to reach. The bus fare from the airport to Mestre station is 3 Euros and from there the train fare is 1 Euro.
Treviso Antonio Canova Airport (TSF)
Treviso Airport is located in the northwest of Venice at a distance of around 40 kilometres from the City Centre (Piazzale Roma). The best way to get into the city from Treviso airport is to avail the ATVO buses. The bus stop is on the right-hand side of the airport exit. It will take around 70 minutes to reach Piazzale Roma.
This bus has several stops including Mestre Railroad station and Santa Lucia station. The single journey fare is 12 Euros and the return journey costs 22 Euros (return ticket valid for 7 days). You can purchase tickets from the ticket office in the arrival hall, from the ticketing machine, from the ATVO counter and on the bus.
For the timetable of ATVO bus services from Treviso airport, visit ATVO's Treviso Bus Services Webpage.
There is also Barzi operated bus service from Treviso airport to Piazzale Roma. The fare is the same as ATVO bus but it takes much lesser time… around 40 minutes.
Another way to reach Venice from Treviso airport is by taking a bus from outside the airport and reaching Treviso Centrale rail station. From there catch a train for Santa Lucia. The journey time is around 35 minutes by train. Train runs from 5:00 am until 11:25 pm at an interval of around 20 minutes. You can also take a taxi outside the arrival hall and reach Venice. Taxi fare will be around 76 Euros.
You can choose from a wide range of private transport and transfer services (including airport transfers) and book online from this Viator site.
Venice Transports
Venice is a cluster of 118 tiny islands along with the Grand Canal and 150 other canals. Most of the attractions are located in and around Central Venice. Most part of Venice is a pedestrian zone (Europe's largest), and even biking is also not allowed in the heart of the city. So walking is often the only option, and you can take the water bus to get to other islands/destinations.
If you arrive by train at Venezia Santa Lucia station, you will find a gigantic Vaporetto (water bus) dock in front. That is the main mode of transport around Venice. Azienda del Consorzio Trasporti Veneziano or ACTV is the main operator for major public transports in and around Venice.
Vaporetto (Water Bus)
The backbone of Venice's public transport system is Vaporetto or water bus. ACTV operates 30 lines with around 100 floating stations or jetties to transport over 95 million commuters per year.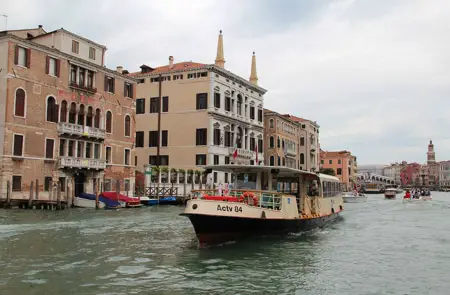 Line 1 and 2 are very important and these are basically city centre lines that run through the Grand Canal and Giudecca Canal. Both the lines have similar routes, the only difference is line 1 Vaporetto has several stops while line 2 is galloping. This route from Piazzale Roma to Lido is open from 5:00 am until 11:30 pm with a service interval of 10 minutes.
Nightline N also has several stops covering Giudecca, Grand Canal, San Marco, Piazzale Roma and Santa Lucia. It operates from 11:30 pm to 4:00 am with an interval of 40 minutes. Other lines connect important points of all the islands including the mainland. Finding the right dock to board a Vaporetto for your destination can be a bit tricky; stops like Piazzale Roma, San Marco, Ferrovia and Zattere have two separate docks for opposite directions for the same line.
Read Vaporetto Service in Venice by ACTV for complete details.
Another important Water Bus service provider is Alilaguna. They have 4 lines… Blue, Orange, Red and Green. The most important service they provide is connecting Marco Polo airport with the Venice City Centre (San Marco Square). They actually complement ACTV service. Important destinations like Giudecca, Lido, and Murano are also connected through these Alilaguna lines. Tickets can be purchased online. With Venezia Unica City Pass you can get a good discount on their tickets. ACTV passes are not accepted by them.
Read Alilaguna Water Boat Service for a complete guide.
Gondola
It is often said that if you do not take a Gondola ride then your Venice visit is incomplete. Although the ride is pricey, for a tourist even a single short ride could be a lifetime memory. A Gondola is a typical Venetian canoe type boat normally sailed by a single person known as Gondolier, in ancient times they used to be known as Barcaiolo.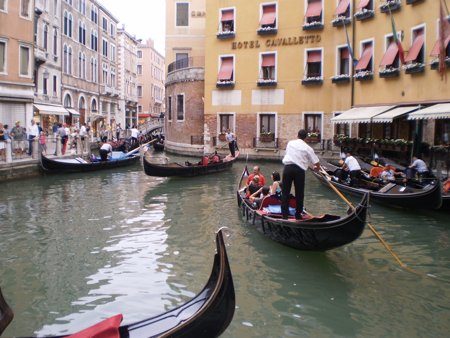 The daytime official rate is 80 Euros for 40 minutes and during the night (7:00 pm to 8:00 am) 100 Euros for 35 minutes. Tips are also not included in the rates given above. For every additional 20 minutes, the charge is 40 Euros during day time and 50 Euros at night.
Go through All about Gondola rides in Venice to know all details including tours, experience, cost, how to book, and more.
You can find Gondolas mostly along the Grand Canal, near major attractions and tourist hotspots. There are some tailor-made Gondola cruises available. Gondolas can be booked on the spot or over the phone (+39 041 522 11 51).
Traghetto
These are unfashionable Gondolas but very handy to cross the Grand Canal where there are no bridges nearby. There are seven routes presently operational that take locals and tourists from one side of the Grand Canal to the other at different points.
They are mostly available at Riva del Vin, Campo San Marcuola, San Tomà, the Rialto Market, Ca' Rezzonico and besides the Gritti Palace.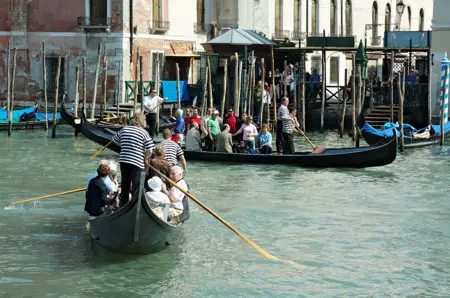 Advance ticket purchase is not required, you can pay by cash. For non-residents, it costs 2 Euros for a single ride. Traghetti (plural of Traghetto) usually operate from 7:30am to 8:00pm. This mode of transport is mostly used by locals, although many tourists also use it to get a somewhat similar experience to that of a traditional private gondola ride.
Read Traghetto ride in Venice to know about the routes, when and how to ride, fare, and a lot more insights.
Water Taxi
Water taxis are pricey and not a great option for general tourists unless you are late or need to travel at odd hours or have lots of luggage. Fare is metered and on a few occasions, it can be negotiated. The base fare is 15 Euros and thereafter 2 Euros per minute. Calling a water taxi incurs an extra charge of 5 Euros. There are some additional surcharges as well, such as 10 Euros between 10:00 pm to 6:00 am, 5 Euros for every extra piece over 5 pieces of luggage and 10 Euros for every extra person beyond 4.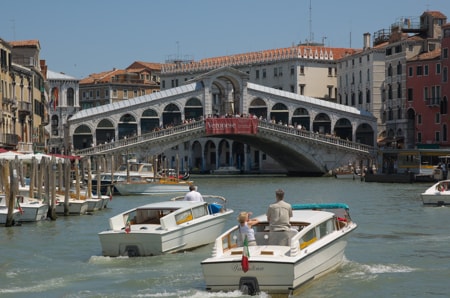 Licensed water taxis have yellow strips on both sides and displayed license numbers. You will find the official water taxi stands at the airport, Piazzale Roma, near the train station and at Tronchetto (the parking lot).
Read Water Taxis in Venice for a complete guide.
Land Bus
The land buses mainly run from Piazzale Roma to the mainland and are operated by ACTV and ATVO. These bus services connect Marco Polo airport, Treviso airport, Mestre rail station (important rail station with national and international connections), Mestre City Centre, Lido di Jesolo and Aviano. Travelling by bus is an economical option.
People Mover
A People Mover is basically a monorail that connects Piazzale Roma with the cruise ship terminal and car parks on Tronchetto. Ticket vending machines are available at the stations.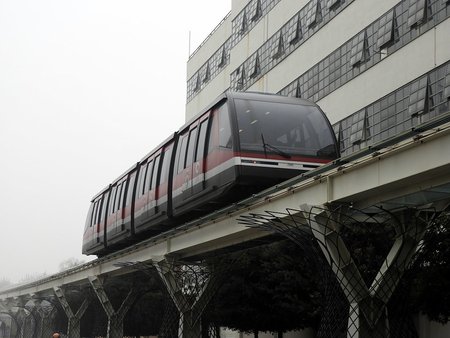 Transport Tickets and Passes
Single transport tickets are priced exceptionally high in Venice and you can end up paying almost 6 times more compared to a ride with a pass. So it is always better to buy a transport pass.
ACTV water bus (Vaporetto) single ticket costs 7.50 Euros and it is valid for 75 minutes after its first validation. You can take multiple rides apart from using Clodia, Fusina and Alilaguna lines. Round trip or return journey is however not allowed.
One day Travelcard is valid for 24 hours and you can take unlimited rides by land busses and Vaporetto. This day ticket also allows one to take ACTV line 5 bus from Marco Polo airport to Venezia Piazzale Roma by paying additional 6 Euros. Like one-day travel cards, two-day, three-day and seven-day travel cards are also available. The prices are 30 Euros, 40 Euros and 60 Euros respectively. Tickets are available at ACTV counters, vending machines, tourist information offices as well as online.
Venezia Unica City Pass is great for tourists staying three days or more. They have a lot many options to choose from according to an individual's needs. For a stay of up to 3 days, Gold City Pass is a good choice. It costs 58.90 Euros. For a stay of up to 7 days, Platinum City Pass at 70.90 Euros is ideal. Both of these cards offer free and discounted entries to various attractions as well as free access to public transport. Venice has lots of incredible museums that see long queues; you can skip the queues if you have this pass. You can purchase it online from www.veneziaunica.it. Carry the voucher. You need to collect the transport pass from ACTV ticketing machine by providing your PNR number or alternatively from ACTV ticketing offices upon producing the voucher.
Another interesting pass is the Rolling Venice Card specially designed for the age group of 6 to 29 years. The cardholder enjoys heavy discounts at restaurants, museums, stores, hotels, bars and on ACTV cards (standard cards).  The price of this card is 6 Euros and it can be purchased from the above-mentioned website.
Boat Hiring
Since Venice is a place of canals and lagoons, many tourists take guided or self-driven boat tours. You can even rent a boat without a boat driving license. A 7-metre boat for 6 persons can be hired at a rental rate of 43 Euros for an hour or 196 Euros for a full day. Ensure to mark the boat petrol stations on your map before you cruise. Following are a few boat rental companies in Venice.
Classic Boats Venice: classicboatsvenice.com
Brussa Is Boat: brussaisboat.it/en/
Biasin: www.veniceboatrent.com/
Car Rental
Venice Proper is a car-free zone but you can get around in Lido and Pellestrina by car. Car rental rates start from as low as 14 Euros per day. Following are a few well-known car rental companies…
Sixt Autonoleggio: sixt.global
Europcar Venice: www.europcar.it/
Hertz: www.hertz.it/rentacar/location/italy/venice/VCEC61
Getting To Major Attractions
As mentioned earlier most part of Venice is vehicle free. So walking is often the only option. In order to cross the canal or get to other islands, the best option is to take Vaporetto. St. Marco Square is known as the centre of the city. All trips below start from there unless mentioned otherwise.
Many major attractions are within the periphery of St. Marco Square. Following are a few of the important ones.
You can start with Campanile, the city's tallest building that offers a breathtaking view of Lido, the Venetian Lagoon and the Dolomites. Next visit Piazza San Marco and then Saint Marcos Basilica. Other attractions include Archeological Museum and Palazzo Ducale. Also, pay a visit to the nearby Bridge of Sighs in between Palazzo Ducale and the New Prison.
Next is the Jewish Ghetto or the Ghetto Nuovo. A guided tour is recommended including a visit to the Jewish Museum located nearby. Jewish Ghetto is located around 2 kilometres northwest of St. Marco Square. It is recommended to walk to this place. Alternatively, get to Rialto (500 metres walk) and then ride the Vaporetto towards Marco Polo airport and get down at Guglie. From Guglie it's less than 300 metres walk.
Another interesting place is Accademia Bridge or Ponte del Accademia. This lovely wooden bridge is full of locks although now it is illegal to place any lock on this bridge. This place is located a little under one kilometre towards the west. Having visited this bridge cross it to reach Gallerie del Accademia, Santa Maria Church and the Guggenheim Museum.
Santa Maria del Frari or the Basilica dei Frari is a 320-foot church. It is located 1.3 kilometres to the northwest. You can combine this walking trip with Accademia Bridge.
A must-do in Venice is to take a Gondola ride, check details under the Gondola section mentioned above.
Sant Erasmo Island is also known as the 'Orchard of Venice'.  It is around 8.5 kilometres towards the northeast of St. Marco Square. To get there, walk for around 1.5 kilometres towards F.te Nove, then board a line 13 Vaporetto towards Chiesa and disembark at Sant Erasmo Capannone. Journey time would be a little over an hour (that includes your walking time).
Another cool place to visit is Mazzorbo. Try one of the top gourmet restaurants of Venice and the beautiful Quince garden. This place is located around 10 kilometres to the northeast. In order to get there you need to first get to F.te Nove and from there board a line 12 Vaporetto towards Treporti and disembark at Mazzorbo. The water bus would take around 35 minutes to reach.
Walking Tour
There is a saying that 'if you do not get lost while walking in Venice then you have not seen the city properly'.  Do not get panicked, locals are very helpful to guide you. There are also a handful of options to take guided walking tours. You may try www.seevenice.it to find excellent guided walking tours and listen to loads of local stories.
Day Trips
There are numerous day trips from Venice to other islands. Here are a few of them…
The largest and most famous lake in Italy is Lake Garda. Take a boat ride across the lake or stroll along the shore to enjoy its serenity. Lake Garda is located around 165 kilometres west of Venice. On the south shore of Lake Garda, there are two railway stations… one is Peschiera del Garda and the other is Desenzano del Garda. You can disembark at any of the two stations and take a boat ride across the lake. Desenzano comes after Peschiera station.
Take a train from Venice Santa Lucia station towards Milan Central and get down at one of the two stations (i.e. Peschiera or Desenzano). The journey time to reach Peschiera is 1 hour 25 minutes. Desenzano takes 9 minutes more. The ticket costs 33 Euros by direct fast trains up to Desenzano. Regional and one change train ticket costs lesser but the journey time is more. If you take a fast train to Peschiera del Garda and change to a regional train to Desenzano, you can save up to 4 Euros.
Take a separate day trip to Murano, Burano and Torcello islands. Apart from its natural beauty experience the famous glass blowing, lace production and embroidery making. Getting to Murano from Venice is easy. Take ACTV's Vaporetto (line 4.1/4.2) from S. Zaccaria and reach in 40 minutes. You can get down at Colonna (glass blowing demonstration place would be nearer). Murano to Burano is around half an hour cruise by line 12 Vaporetto going towards Treporti. For Burano to Torcello Island, take a line 9 Vaporetto towards Torcello. The journey time is only 5 minutes. To get back to the main island of Venice from Trocello you need to travel to Burano first and from there take a line 12 Vaporetto towards F.te Nove.
The Shakespearean town of Verona is certainly worth a visit. Watch the famous Juliet's balcony when you visit Verona. Also, explore and enjoy the picturesque little town on foot. Verona is located around 120 kilometres west of Venice. Take a train from Venice Santa Lucia station towards Torino Porta Nuova and get down at Verona. The journey time would be around 1 hour and 10 minutes. The ticket costs 19.90 Euros by faster train. A ticket for the regional train costs 9.25 Euros but the journey time will be double.
Padua is another beautiful place that you can visit by train from Venice. Enjoy the beautiful architecture, marvellous Piazzas and delicious local cuisines. Padua too is located towards the west of Venice at a distance of around 42 kilometres. You can take a train towards Verona, Torino Porta Nuova or Bologna from Venice Santa Lucia station and get down at Padua (Padova). Journey time is 26 minutes by fast trains. A ticket by fast train costs 15.90 Euros. The regional train ticket costs 4.35 Euros but the journey time will be around 50 minutes.
Transport Tips
These Italian words could be helpful to remember: 'rii' (smaller canals), 'calli' (alleyways), 'campi' (square), 'fondamente' (banks) and 'salizzade' (streets along canals)
When visiting Lido, exploring the town on a bike is a good option. Visit Lido on Bike to rent one (www.lidoonbike.it) . The outlet is located near the Vaporetto stop (photo id is required)
The free mobile app 'Venice in Time' can be helpful
Booking transport tickets online is an easier option
Large bags are not allowed inside Basilica San Marco
Venice has unlimited wifi access against payment of 5 Euros for 24 hours
The use of public toilet costs 1.50 Euros
Also Read