About Water Buses in Venice
The water bus is one of the most popular options of public transport in Venice. These public water ferries are much larger than the water taxis and serve as mass water transport from one place to the other within Venice including its outlying islands.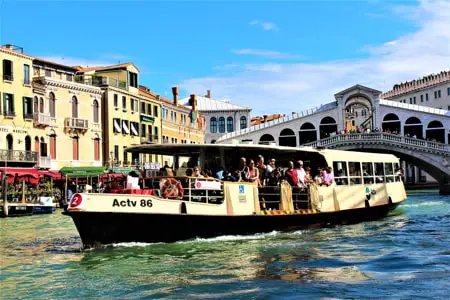 These water buses in Venice operate on a per-person fare and there are designated terminals around Venice for these water buses to dock.
There are two establishments that run the public water buses in Venice: Alilaguna and ACTV.
Alilaguna is the only company that provides water bus transfer services between the Marco Polo Airport to the various water bus docks around Venice including major places at Venice Centre, Lido, Murano and Trenchetto. These water buses are known as Alilaguna Water Boats. For details about Alilaguna including routes, fare, and timings, go through Alilaguna Water Boat Service.
ACTV has no water bus service from/to Marco Polo Airport. ACTV is the main public transport authority in the urban areas of Venice as well as in some of the suburban areas, and operates both water and land buses.
So, once you take a transfer from the airport using the Alilaguna Water Boats and get to your hotel, for further transportation using public water bus within Venice Centre and other outlying islands, you will need to avail of ACTV Water Bus. An ACTV water bus is commonly known as Vaporetto.
It is quite possible to save a lot of money and see Venice through its publicly managed water routes. The information below will help you use Venice's public water buses for transfers and also as a sightseeing medium.
ACTV Water Buses (Vaporetti)
The transport authority ACTV runs the main public transport system of Venice including the water bus and land bus service within the urban areas of Venice as well as catering to some of the suburban areas.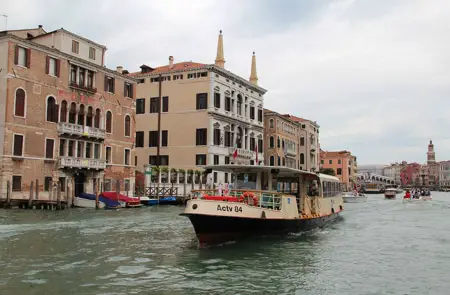 They have an extensive network of water buses that are commonly known as Vaporetto reaching out to almost all corners of Venice including the outlying islands like Lido, Murano and Burano. ACTV has a fleet of 150 water buses of varying sizes and capacities.
Go through Exploring the canals in Venice to find out how to experience the best canals in Venice using ACTV Vaporetto and other means.
Types of ACTV Water Buses
There are actually several types of water buses operated by ACTV. Although all are commonly known as Vaporetto, there are some differences in technicalities as well in their structure and size.
The type of water bus which is technically a Vaporetto is a single-level fairly large boat with an average capacity of 230 passengers. These water buses are wheelchair accessible. They do not however have toilets. Line 1 (Piazzale Roma → Rialto → San Marco → Lido) and Line 2 (S.Zaccaria → Giudecca → Rialto/ Piazzale Roma/ San Marco) use such Vaporetti.
There is another type of water bus used by ACTV which is known as Motoscafo that has a single deck and an average capacity of 160 passengers. Some of the new Motoscafi are wheelchair accessible. They are used in lines 4.1, 4.2, 5.1, 5.2, etc that serve the outlying islands such as Murano, Lido, etc.
The water bus type Motonave comes in the form of both a single-decker (with a capacity of up to 600 passengers) as well as a double-decker (with a capacity of up to 1200 passengers). These are also wheelchair accessible. These have toilets and operate only in a few lines that cater to distant islands in the Venetian lagoon.
When to use a water bus
While it is quite possible to walk between most places in Venice and there is no need to actually spend money on water transport in most cases, the ACTV water buses play a useful role when one wants to travel to outlying islands such as Lido, Murano etc, or want to take a pleasure ride on the Grand Canal, or want to make a day sightseeing trip to several islands in the Lagoon.
You can, of course, take a Vaporetto anytime even to a nearby place if you want to avoid a walk (for example, to cross over the Grand Canal although there are four footbridges over the canal).
ACTV Water Bus Routes
Water bus routes and timetables are seasonal and change from time to time. Therefore, if you have any confusion or need further details on the routes and the timings, then check the latest routes and timetables through the official links that have been provided at the end of this section.
ACTV tickets can be purchased at any of the numerous ACTV Waterbus stations having a ticket office or a ticket machine. You must validate the ticket at the electronic reader before boarding. Do not board a Vaporetto without a ticket… otherwise, there could be a heavy fine. It is however possible to buy tickets on board from the conductor.
Generally, the ACTV water bus lines that circulate in Venice start running from 4.30 a.m. until 12.30 a.m. You can get a PDF detailing the ACTV timetable for each route from the ACTV website (links are given at the end of this section).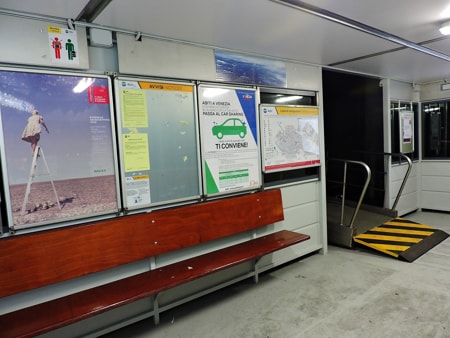 In Venice, the busiest water bus lines are 1 & 2. These lines are run by large boats and they leave every ten minutes. Even in the low season (winter), there are about five boats per hour in the daylight hours.
There is a whole array of Vaporetto docks and ticket windows standing against the backdrop of the Grand Canal.
Line 1: Piazzale Roma → Rialto → San Marco → Lido
Line 1 will take you from Piazzale Roma Central Bus Station through Grand Canal all the way to Lido Island, and back. If you want to visit landmarks like the Rialto Bridge, Piazza San Marco and the Ca' Rezzonico, then Line 1 is the route for you.
However, this is a very popular route with tourists because it's the fastest way to cross the Grand Canal at various points as the Vaporetti zig-zags the canal. So, expect the water bus to be crowded during the high season (April to October), particularly the open deck areas.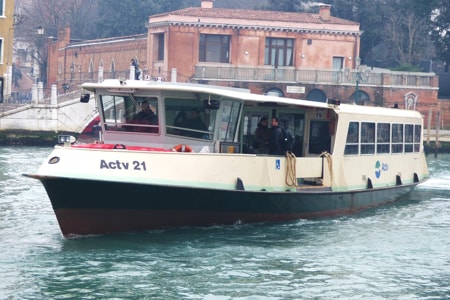 The evening trips are less crowded and offer a romantic atmosphere for the cruise along the Grand Canal. It will take 45 minutes to reach St. Mark's Square from Piazzale Roma. There are 14 stops in the middle including Rialto and Accademia, and 15 minutes more before you can reach Lido Island.
Line 2: S.Zaccaria → Giudecca → Rialto/P.Roma/S.Marco
This is a complex route and it changes by the hour. The main route is from San Zaccaria (near St. Mark's Square or San Marco) and then through Guidecca Canal to Piazzale Roma and St. Lucia Railway Station. Some boats continue through Grand Canal to Rialto and a few onward to San Marco.
Line 2/: P.Roma → Ferrovia → Rialto
This is not the same as Line 2, this is a different line and runs from Piazalle Roma through the St. Lucia Railway Station (Ferrovia) to Rialto.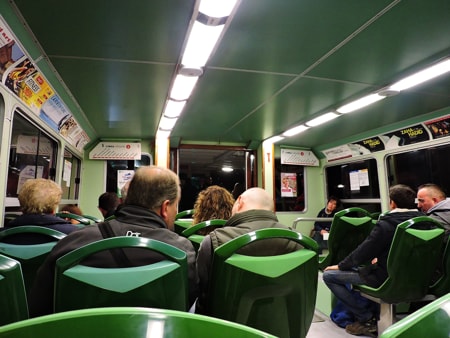 Line 3: P. Roma → Ferrovia → Murano → Ferrovia → P. Roma
This line allows tourists from Piazzale Roma (where the buses terminate) and Ferrovia (which is the water bus dock at St. Lucia Railway Station) to get to all docks at Murano Glass Island and return. This is a fast route and takes only 20 minutes from Piazzale Roma to Murano.
Line 4.1, 4.2, 5.1 and 5.2
Water bus routes 4.1, 4.2, 5.1 and 5.2 use smaller boats and they circle the main island in both directions without using the Grand Canal. These boats are wheelchair friendly and shaded. Route 4 travels along the coastline circling the island and offers a good option to visit Murano Island. Route 5 also circles the main island but offers a detour to Lido. Given below are more details on these individual routes.
Line 4.1/4.2: Murano → F.Nove → Guglie → P. Roma → Giudecca → S. Zaccaria → S. Pietro → F.Nove → Murano
As you can see, this is a circular route that covers Murano, Fondamente Nove, Piazzale Roma, Railway Station, San Zaccaria, St. Pietro etc. There are some 30-odd stops in between. Note that the route is shortened early in the mornings and late in the evenings. Refer to the ACTV timetable (links given at the end of this section).
Line 4.2 is also a circular route which is similar to Line 4.1, the only difference is, that Line 4.1 runs counterclockwise, while 4.2 runs clockwise.
Line 5.1/5.2: Lido → S. Pietro → F. Nove → Guglie → P. Roma → Zattere → S. Zaccaria → Lido
Line 5.1 circles Venice counterclockwise using the Cannaregio Canal… it's a good option to visit Lido. However, note that some runs of this line (early in the mornings and late evenings) get shortened, so do check out the ACTV timetable. Line 5.2 is similar but circles clockwise.
Line 6: P.Roma → Zattere → Giardini → Lido
With only around 7 stops, this is a quick Vaporetto to get to Lido from Piazzale Roma via the Giudecca canal. This is also a great transport option to get to Giardini to see the Biennale exhibitions.
Line 7: S.Zaccaria → Murano → S.Zaccaria
This line operates between San Zaccaria (near San Marco) to several stops in Murano Island.
Line 8: San Basilio→ Giudecca → Giardini Biennale → Lido
This line goes from Sacca Fisola Island, to the water bus stations at Giudecca and then to Lido.
Line 9: Burano → Torcello
This is a small Vaporetto connecting Burano and Torcello.
Line 10: Lido → San Marco → Zattere
This line connects Lido SME with San Marco Giardinetti and then to Zattere. Very few stops… Lido to San Marco takes only 15 minutes. However, there is usually no service on the weekends.
Line 11: Lido → Alberoni → S.M.Mare → Pellestrina → Chioggia
Line 12: F.Nove → Murano → Burano → Treporti → P.Sabbioni
Water bus line 12 is the outer island route. This line starts from Fondamente Nove and connects Murano, Mazzorbo, Torcello, Burano, Treporti and Punta Sabbioni. However, some runs terminate at Treporti. This is also true for the reverse journey when some runs start from Treporti.
These boats have toilets. This route is well preferred by tourists and the departure is from Fondamente Nove on the north shore of Venice (reachable by route 4 and 5). The Line 12 boat is bigger than Line 4 and 5 boats but smaller than boats running on route 1.
Line 13: F.Nove → Murano → Vignole → S.Erasmo → Treporti
This line connects Fondamente Nove with Treporti. It's a great line to visit St. Erasmo where it has three different stops.
Line 14: S. Zaccaria → Lido → P.Sabbioni → Burano
Although this is a line with very few stops, it's one of the most confusing lines. Sometimes it caters only to Lido and Punta Sabbioni instead of starting from San Zaccaria station or terminating there. And sometimes it transports cars and trucks between Punta Sabbioni and Lido instead of people.
Line 15: S.Zaccaria Pietà → Punta Sabbioni
It's a direct express line between San Zaccaria station (located opposite La Pieta church and above San Marco) and Punta Sabbioni. There is no stop in between.
Line 16: Zattere → Fusina
NOTE: The normal ACTV Vaporetto tickets are not valid on this line. You need to purchase a special ticket to ride this boat.
Line 17: Tronchetto → Lido (S.Nicolò)
This line transfers both passengers and vehicles between Tronchetto Parking and Lido.
Line 18: Murano → Lido → Murano
This line goes from Murano to Lido and back. Sometimes the route is diverted to Sant' Erasmo (instead of Murano) and then back to Lido.
Line 19: San Zaccaria → Chioggia
You need a special ticket for this line, ACTV tickets are not valid.
Line 20: Lido → S.Zaccaria → San Servolo → San Lazzaro Armeni → San Servolo → S.Zaccaria → Lido
This is a good line to visit the islands San Servolo and San Lazzaro degli Armeni located between Venice Centre and Lido.
Line 22: Tre Archi → F.Nove → Venice Civil Hospital → P.Sabbioni
Line N: San Zaccaria → Giudecca Canal → Grand Canal → Lido
This is a night line and operates both ways. It goes from San Zaccaria via the Giudecca Canal, with stops at Redentore, Palanca, Zattere, Tronchetto, Piazzale Roma, then down the Grand Canal all the way to Lido. This line is great for Venice sightseeing at night.
Line NM (Nightline Murano): F. Nove (Venice) → Murano → F. Nove
This nightline operates from Fondamente Nove to Murano island stopping at Colonna, Faro, Navagero, Museo, Venier and Serenella.
Line NLN (Nightline Northern Lagoon)
This nightline operates from Fondamente Nove (Venice Centre) to Punta Sabbioni, via Murano and the islands of le Vignole, Sant' Erasmo, Mazzorbo, Burano, Torcello and Treporti.
ACTV Vaporetto Stations and Detailed Timetable (Schedule)
There are 97 water bus stations throughout Venice that are used by ACTV Vaporetti. For a complete list of Vaporetto stations along with routes that use each such station, go through this Water Bus Station List with Routes.
You can visit ACTV's website for a full list of Vaporetto routes along with all the stops in each route and detailed timetables for each route. Note that you need to download the pdf shown next to a route in order to get the detailed stop-wise schedule of the Vaporetto service.
Alternatively, go through this link for a complete list of Vaporetto routes and route-wise schedules.
ACTV Water Bus Fares
The standard Adult one-way ticket fare for a Vaporetto ride is 7.5 euros which remains valid for 75 minutes from the first validation of the ticket. You can travel on any number of water bus routes on the ACTV network to get to your destination. Child below 6 years of age travel free.
Fare for a disabled passenger on a wheelchair is 1.5 euros and it too remains valid for 75 minutes after the first ticket validation. The ticket can be used on any water routes of ACTV except lines 16 and 19. An accompanying assistant can travel free.
However, the best solution for tourists opting for Venice's public water transport service is the 1/2/3/7-day Travel Passes as they cover the Vaporetto service as well as the land bus service. However, these passes are not valid for certain Vaporetto routes like 16 and 19, and Venice to Marco Polo Airport Transfers. You need to pay a supplement fee (of 7 euros) for covering the distance between Venice Airport and Piazzale Roma Bus Station through the airport bus.
There are blue-coloured ticket machines with red signage at all major points like the Piazzale Roma bus station, Santa Lucia Rail Station and Venice Marco Polo Airport. Most hotels also sell these travel passes.
You need to validate your ticket on the machines at the airport, rail station and other prominent tourist destinations and the tickets become valid from your first journey.
A 1-Day Travel Pass costs 20 euros while the 2-day Travel Pass is 30 Euros. Similarly, the 3-Day and 7-Day Passes are 40 euros and 60 euros respectively.
For a complete list of all types of ACTV fares including Water Bus as well as Land Bus fares, go through this ACTV webpage https://actv.avmspa.it/en/content/venice-urban-services-0
Alternatively, you can buy the Venezia Unica City Pass from the official website of Venice Tourism. This is an all-inclusive pass that includes admission to tourist attractions like museums, parking fees, etc besides the public transport facilities. If you are in Venice for a long time and need to travel extensively using this transportation medium, then the Venezia Unica Pass can be helpful.
Conclusion
Public transport is affordable but it has its limitations. Water buses have specific schedules and if you miss one, you need to wait for several minutes or maybe half an hour for another Vaporetto to show up. These also have limited vertical space and are generally overcrowded.
However, this is not to be compared to the charming touristy Gondolas that Venice is synonymous with. To know more about them, read Gondola ride in Venice.
Whatever option you choose, weigh your priorities carefully as the city of canals has a lot to offer than you can possibly soak in a few precious days.
Also Read