What are Water Taxis in Venice?
Though Venice is synonymous with the gilded Gondola, the humble Motoscafi or the water taxis fill up the major gap for private transfers and tours. They are sometimes referred to as speed boats. The canal-dominated city has two basic conveyance options; foot or water.
The water option is mainly dominated by water taxis that look much like tiny ships with a capacity of up to 10 persons and function much like regular private taxis in any metropolitan city. Unless you have booked a hotel in the Mestre (mainland) or close to Piazzale Roma, some part of your journey will be through water.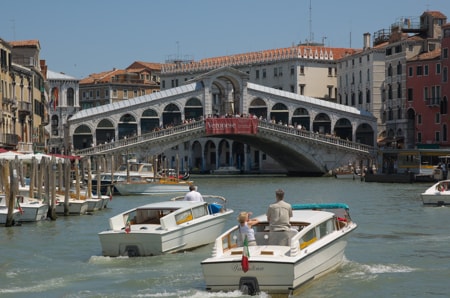 The Motoscafi are known for their fabulous speed, airy cabins, open-air seats and friendly captains. Travelling by water taxi is the most scenic way to Venice watch and it is certainly the fastest way to travel between two points. Venetian water taxis have yellow stripes with license numbers written on them.
Why Use Water Taxi?
Water taxis are direct and swift besides being easily available. Water taxis have permission to use the smaller canals that allows quicker transfers. Unlike water buses that have designated docks, water taxis will drop you directly at the dock nearest to your hotel or destination requiring little or no walk to reach your endpoint. On the other hand, if you take a water bus, it is highly likely that you need to walk and go over a couple of bridges to get to your hotel.
A water taxi from Marco Polo Airport takes only around 20 to 25 minutes to reach a waterside hotel in the historic Venice centre.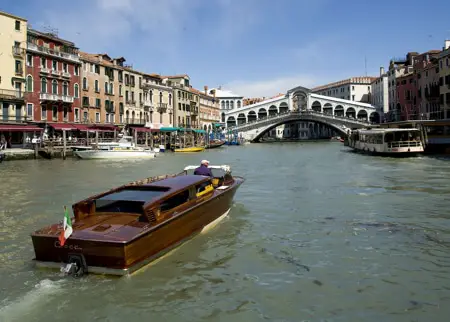 These water taxis are secure and comfortable besides having a much lower theft rate than a water bus. Most of them have leather upholstery and are beautifully furnished. The open-air seating allows a beautiful view of the city and you can get great pictures of the City of Canals on your water taxi ride.
The captain is generally gracious enough to help with luggage loading and unloading before and after the ride, unlike the water bus. This will spare you the hassle of lifting your luggage and then heaving it on/off board. The water taxi will generally not have a strict limit on the volume of luggage per person as long as you do not cross the overall limit.
Most prominent hotels of Venice can be reached directly by water taxis as they have prominent private docks. Some hotels like Duodo, Saturnia, Cavaletto, Bonvecchiati, Splendid and Bonvecchiati Palace cannot be reached by private water taxi but you will be dropped off at a dock that would be within a five-minute walk to the hotel.
Where & how to get Water Taxis?
All the important tourist areas in Venice including the Marco Polo Airport and Venice Santa Lucia Railway Station have designated water taxi docks.
At Marco Polo Airport
When you exit the baggage counter at the Marco Polo airport, look out for a counter with the sign "Speed Boat to Venice". Go up to the counter and buy a voucher for your water taxi ride specifying the destination. The voucher will have the taxi number on it and you will have to avail the vehicle assigned to you. If you are really lucky, you might get the taxi 307 assigned to you. This is an ultra-luxurious taxi made famous by the TV thriller series Commissario Brunetti.
Follow the sign "Trasporti via aqua – Water transport" and Walk towards a moving walkway (travellator) that will take you to the boat piers with water taxis waiting for riders. Here, you will also see piers for Alilaguna Water Buses. The walk will take around 5-6 minutes. If you have heavy luggage, you can also make use of the elevators to get to the piers.
At Santa Lucia Train Station
The water taxi desk is located to the left of the very last dock of the Vaporetto (public water bus). To avail of the water taxi, you need to buy a voucher from the desk which will have a specific water taxi number assigned to you and then you need to walk down to the dock to get that taxi.
At other important places
Water taxis are also available down the water at other important places such as the Piazzale Roma, and the Tronchetto Car Parking.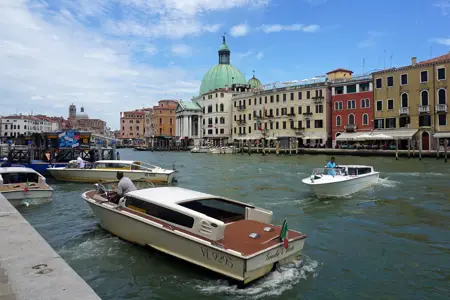 Calling a private water taxi
Consorzio Motoscafi Venezia is a consortium of private water taxi operators in Venice and has over 100 water taxis in their fleet that are available for 24/7 service throughout the lagoon of Venice. You can call them and book a water taxi (Note: do get a quote first before you book one). All their boats are connected to their office through the GPS system and are centrally coordinated so that the waiting time is minimized. Below are their contact numbers:
From Monday to Friday 9:00-18:00: +39 041 240 6712 / +39 041 240 6716 / +39 041 240 6746; Saturday, Sunday, public holidays and from 18:00 to 9:00: +39 041 522 2303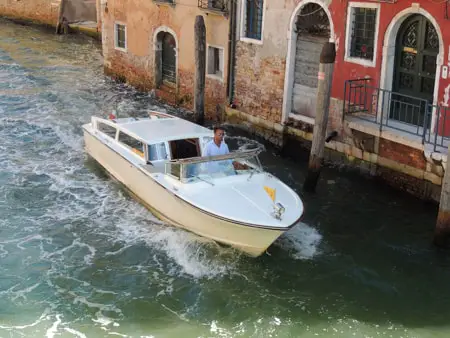 Share a water taxi
Some companies also offer water taxis on a sharing basis (that is on a per person rate) which is much cheaper than private water taxis, but still would nearly double the fare of a public water bus. These can only be booked online though.
Booking water taxis on a per-seat basis is arguably the best option if you want comfortable, fast and affordable rides and this is best done online.
You should book your water taxi online only from authentic websites. Booking water taxis from your hotel is sure to be more expensive as they often add hefty cover charges.
Viator (the largest online tour booking company in the world) offers a number of shared and private water taxi transfer options in Venice connecting all the important boat terminals including the ones at Marco Polo Airport, Cruise Terminal, Santa Lucia Railway Station, Piazzale Roma, Tronchetto Car Park to the major places in Venice Centre and Lido. Go through this Viator webpage to see the options, rates and book online.
By using a reliable water taxi operator
Below are the details of a few reliable private water taxi operators in the city who also facilitate online bookings. You can pre-book the water taxi online and the reservations can also be cancelled until two working days prior to the booked date. In this case, they usually issue a refund of 70%.
Venice Water Taxi is one of the market leaders among private water taxi operators, this company owns 30 boats and offers round-the-clock service. You will find their staff at the Venice Port, Marco Polo Airport and the exit gate of the Terminal Cruises.
Phone: +39 041 522 9040, Email: [email protected]
Veneto Inside offers full-fledged tours of the outer islands by private/shared water taxis besides airport pick and drop. They also offer Gondola bookings and skip-the-line passes to different attractions.
Venedig is a third-party platform that links water taxi operators to customers without charging an added fee.
Venice Private Water Taxi Price
Price is one area where the private water taxi substantially lags behind the water bus of Venice. The charges are significantly higher in case of a water taxi ride. For example, a ride from the Marco Polo airport to the town centre costs around 125 Euros or more depending on your destination. The price for a transfer from the Piazzale Roma and Venezia Santa Lucia Railway Station can range between 65 euros to 100 euros.
An indicative fare list (per taxi basis) is as follows (Note: There are potential extra charges depending on factors such as the number of passengers, number of luggage, time of transfer, etc.)
Marco Polo airport to Most Hotels in Venice
125.00 Euro per Taxi (1 to 6 people)
150.00 Euro per Taxi (7 to 10 people)
Marco Polo airport to Lido: (stop S. Maria Elisabetta)
125.00 Euro per Taxi (1 to 6 people)
150.00 Euro per Taxi (7 to 10 people)
Marco Polo Airport to Cruise Port
135.00 Euro per Taxi (1 to 6 people)
160.00 Euro per Taxi (7 to 10 people)
Try sharing water taxis with friends and families and share the fare if the high prices are an issue. The water taxis are larger than a standard land taxi and can seat up to 10 people and hold a maximum of 12 pieces of luggage. Exceed that limit and you will have to book an extra taxi.
If your hotel is in the city centre on the banks of a very narrow canal then the taxis can move at a very slow pace of about 5 km per hour. In this case, you may have to pay between 15 to 25 euros per person extra.
From 22.00 hours to 7.00 hours, the water taxi will charge an extra 10 euros per taxi for night service.
Tips for Availing Water Taxis
Before boarding the water taxi make sure that it has a yellow strip and a valid license number. Sometimes, unlicensed taxis swindle tourists, especially first-timers to the city.
Before de-boarding, carefully analyse the gap between the taxi and the pier otherwise you may slip into the water. The gap can be considerable at times and you should ask the captain for help if you find navigation challenging.
In case, you promptly want to board the water taxi at the airport upon arrival, it is advisable to prebook. The water taxis in busy areas of Venice are in high demand and there may be an empty dock. The waiting time for reordering a water taxi is 35 minutes approximately. Pre-booking costs only as much as on-the-spot bookings and will save you time.
While boarding the water taxi it is advisable to travel light. The captain will help with luggage de-boarding but the help will be limited since he cannot get off his taxi. You will find yourself alone with your entire luggage soon after the ride is finished.
Also Read