Alilaguna Water Bus Service
The company Alilaguna is the only water transport provider that runs water buses from Marco Polo Airport of Venice. These water buses known as Alilaguna Water Boats can carry a large number of passengers.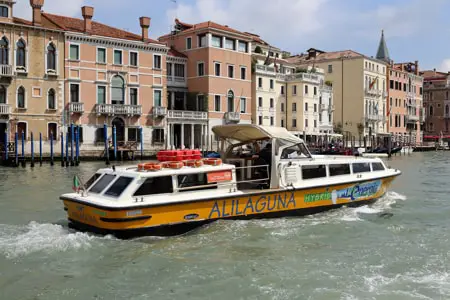 The passenger terminal at Marco Polo Airport has a designated area for Alilaguna Water Boat services (Boat Dockyard) with a huge electronic arrival and departure facility. There are regular services that run to all the main islands of Venice (i.e., Venice Centre, Murano, Lido and Marittima cruise terminal).
The Alilaguna water boats are easy to identify… the lower parts of the boats are coloured bright yellow. Alilaguna has a fleet of 34 water boats with different capacities.
The public water bus service (unlike the land bus service) is likely to stop near your accommodation in Venice. However, once you disembark, you may still need to walk for a few minutes and cross over a couple of bridges to get to your hotel or destination… so, keep this in consideration while planning for a transfer using public water bus, particularly if you have heavy luggage to carry.
Although Alilaguna primarily provides transfer services from the Marco Polo airport, there is one line which offers excursions from Venice Centre to outlying islands, and this is separately discussed in the last section of this page.
Alilaguna Water Boat Routes
From the Marco Polo Airport, there are three lines that reach out to various destinations in Venice. A One-way transfer by Alilaguna Water Boat from the Marco Polo Airport to a place in Venice Centre can take around an hour and a half with intermediate stops in between.
Below are Alilaguna Water Boat routes from Marco Polo Airport:
Blue Line (Linea Blu): The Blue Line connects Marco Polo Airport with Murano, Lido and Venice Centre. However, the Blue Line service can be subject to variations and you should either check out the notice section on their official website or confirm the route with the ticket clerk at the booth. Below are the usual points covered by this route:
Marco Polo Airport, Murano Glass Museum, Murano Colonna, Fondamente Nove, Ospedale, Bacini, Certosa, Lido, Arsenale, San Zaccaria, San Marco (Giardinetti), Zattere, Giudecca Stucky, Tronchetto, Santa Lucia Railroad Station (Ferrovia)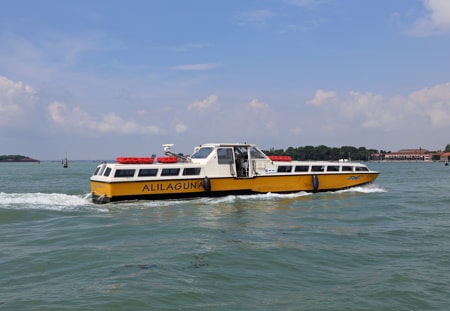 Orange Line (Linea Arancio): Marco Polo Airport, Fondamente Nove, Madonna Dell'Orto, Guclie, San Stae, Rialto, Sant' Angelo, Ca' Rezzonico, SM Del Giglio
Red Line (Linea Rossa): This is a seasonal route and connects the airport to Murano Glass Museum, Certosa, Lido, Arsenale, San Marco, Giudecca Zitelle, Giudecca Stucky, Cruise Terminal.
To see all the routes on a map and the respective stops, go through this Alilaguna webpage.
For a detailed timetable for each route and the main stops along each route, go through the Alilaguna Schedule & Stops.
Alilaguna Water Boat Tickets & Fares
One-way tickets are priced from 8 – 15 euros (one way) depending on the destination. Round-trip tickets are discounted. There are also time tickets that are valid for 24/48/72 hours and priced at 30/50/60 euros.
There is a 3 euro fee for each piece of extra luggage that you carry after your first luggage piece.
Kids up to the age of 5 can travel for free. You need to show the child's identity document for the free travel.
Prams or folded pushchairs for infants can be carried free of charge.
If you have a Venezia Unica card, then you can avail of discounts… show the card at the ticket counter and you can get a 50% discount on the normal fare.
Ticket offices for Alilaguna Water Boats are available at the following places:
Arrival Hall of Marco Polo Airport (Mon-Sun: 07:30-22:50)
Boat Dockyard where the piers are located at Marco Polo Airport (Mon-Sun: 06:00-00:20)
San Marco – ACTV Dock (Mon-Sun: 30 – 19.20)
San Marco – Giardinetti Reali (Mon-Sun: 8.30 – 17.00)
Rialto – Carbon (Mon-Sun: 07:15-12:50)
Tronchetto Parking (Mon-Sun: 30 – 19.20)
Santa Lucia railway station, Platform #2 (Mon-Sun: 30 -16.20)
At Marco Polo Airport, there are also 24/7 ticket machines where you can get the Alilaguna boat tickets. You can also get these tickets at various resale (distributor) points all around Venice. However, the easiest way is to buy the tickets online from the Alilaguna Website.
TIP: Having landed at the Marco Polo Airport, if you are still unsure which line to take and which ticket to buy to get to your hotel, simply approach a ticket counter at the airport (one at the arrival hall or the dockyard), and ask the counter clerk for help… mention the name and address of your hotel.
NOTE:
You must validate your ticket at the ticket machines located at the entrances of embarkation areas before you board the water bus.
It's a free seating system on the boats, you can not reserve a specific seat when you buy a ticket.
If you have an unused ticket which is not validated, it can be used later at any time, however, if the ticket prices have increased before usage, then the unused ticket will no longer be valid.
A round trip ticket must be used within 30 days from the first validation of the ticket when the forward transfer takes place.
You can also buy tickets onboard the water boat, however, that is likely to cost a euro extra. You may need to do so when there is a long queue at the ticket counters. It is therefore always advisable to buy tickets online and you may even be able to get offers and save on fares.
Once you board the boat, the boat staff will take your luggage and store that. While deboarding, the staff will unload the luggage.
Alilaguna website also shows a Green Line (Linea Verde), but this is not a transfer route, it is a tourist sightseeing route… described below.
Sightseeing Tours on Alilaguna Green Line
The Green Line (Linea Verde) is used for excursions to the outlying islands of Venice such as Murano, Burano and Torcello. Murano is famous for its many glassware factories, and Burano is well known for handmade laces and also the brightly-coloured fishermen's houses that line the canals.
From Burano, it's only a 10-minute sail to Torcello across the sandbanks. Torcello is known for its ancient church Santa Fosca which dates back to the 11th century and also for its world-famous mosaics.
You can board from any of the places below:
Ferrovia (St. Lucia Railway Station)
Tronchetto Car Parking
Giudecca Stucky
Zattare
San Marco Giardinetti
Lido
The tour duration is 4.5 hours (from San Marco). The boat stops at of the three islands for about 40 minutes. The trip cost is 25 euros per person.
Note that this is not a guided tour. So, while on the islands, you will be on your own to visit the attractions. There are several daily trips throughout the year except on Christmas. You can purchase tickets from any of the Alilaguna Ticket Offices. You can also get the Green Line ticket at any of the resale points in Venice.
For Green Line boat timings and other tour details, visit Alilaguna Green Line Page.
Also Read