The decadently gorgeous city of Venice sprawls across a cluster of 118 small islands all filled with amazing art and architecture. Canals of varying widths and structures connect these islands, so practically the best way to tour Venice is on a boat.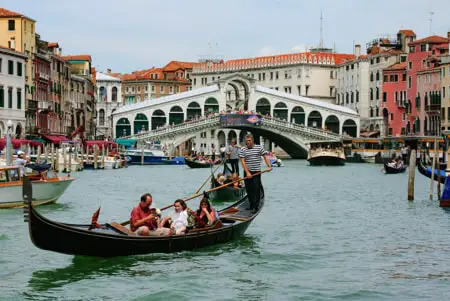 Venice has been associated with the Gondola ride in the same way Paris is associated with the Eiffel Tower. You would not dream of visiting the city and not soaking in the experience. While a romantic sashay on a Gondola down the Grand Canal with a singing gondolier has been well-publicized in movies and literature, there are around 145 more canals on which to enjoy the Gondola ride. There are different aspects like pricing, routes, rules, and several others that you should consider before booking a ride. So here is all that you need to know about the famous cultural symbol of the city and the best way to enjoy it!!
A Short Video on Venice Gondola Ride
A Brief History of the Venetian Gondola
Highly ornate-looking gondolas were seen in Bellini and Carpaccio paintings that date back to the 1490s. The method of rowing, i.e., a single oarsman (gondolier) with a single oar is similar to what is seen today. In the 1500's Gondolas started becoming decorated with beautiful ironwork symbolizing the Baroque period. This is also when the design incorporated a broader stern enhancing the stability of the boat in the water.
By the 1600s, the popularity of the Gondola had escalated with an average of 10,000 gondolas being rowed around the city. In 1768, an accurate architectural sketch of the gondola was created by a naval artist… the first attempt to give Venetian Gondolas some homogeneity. The asymmetrical design seems today was incorporated at the end of the 1800s and this was well suited to navigating the smaller waterways of Venice. The steam-powered engines also began to be incorporated around this time.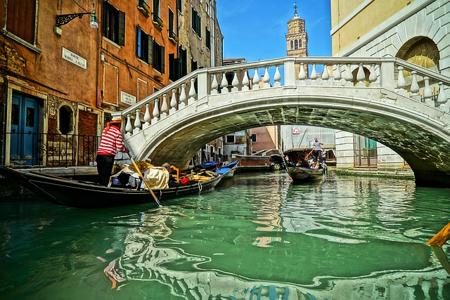 Interestingly while there were around eight to ten thousand gondolas in active use in the 18th century, today there are only around 400 in use around the Venetian waterways and almost all of them are used by tourists. While around four men would navigate a gondola during the heydays in the 18th century, the Institution for the Protection and Conservation of Gondolas and Gondoliers clearly specifies that the modern Gondola will have just one oarsman with a single oar.
A strict guild that issues only about 400 licenses regulates the gondolier profession currently and they are granted licenses after about 400 hours of training. Gondoliers have to pass a major exam in which their knowledge of Venetian landmarks, history, foreign languages, and navigational skills are tested.
Currently, the Venetian Gondola is a tightly regulated and homogenous entity with a single oarsman helming a rather unusually shaped long and broad oar.  The boat is up to 11 meters long and 1.6 meters wide. Around eight different kinds of wood including cherry, elm, mahogany, and walnut are used for constructing the Gondola and it takes about two months to make one.
Each Gondola has a typical iron ornament (can also be steel/ brass) on the front known as Ferro that is decorative but actually a counterweight for the gondolier positioned around the stern. The dolphin or the iron prow head of the Gondola also offers stability to balance the gondolier's weight and its inverted S shape symbolizes the twists of the Grand Canal. Look carefully under the main blade and you will see a comb with six prongs, each signifying one of the six districts of Venice.
A tooth-like structure juts backward toward the Gondola's centre representing Giudecca Island. The curved top represents the Doge's cap while a semi-circular break between the six teeth and the curved top is a symbol of the Rialto Bridge. So, a study of the Gondola beautifully represents the iconic constructs of the city. All tourists purposed Gondolas in Venice are black; if you spot any in brighter colours they are probably used for rowing contests.
The Gondolier's position was always held by males until Georgia Boscolo was made Venice's first female Gondolier in 2010 signifying the end of a 900-year-old tradition.
What to Expect out of your Gondola Tour
Generally, the Gondolier wears plain black trousers and a T-shirt with horizontal stripes in white, blue and red. Venetian gondoliers often wear straw hats on their heads and closed black shoes. Gondolier's attires, gondola ride times and prices are more or less uniform all around Venice. Interestingly, the colour, size and shape of the officially registered Gondola are fixed by the government. The only differentiating factor in terms of appearance is how each gondolier chooses to decorate their Gondola.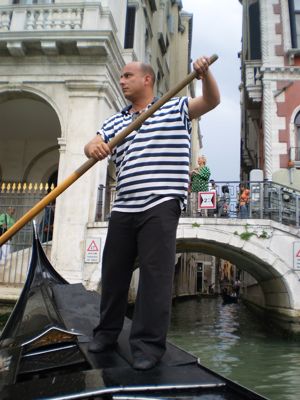 Your Venetian gondolier may not be a great singer, so it's best not to expect him to burst out into songs while rowing. Some gondoliers may sing and some offer sightseeing narration but neither service is mandatory. Expect your Gondola ride to be a wonderful experience as both sides of the wide well-publicized Grand Canal and the smaller waterways will be lined up with historic and amazing buildings.
If you want to visit a particular place, it is best to discuss it in advance with the gondolier before the ride as there can be an extra fee. Much of the gondola experience will depend upon the narration skills and friendliness of the gondolier so you can spend some time trying to converse with some of them and choose a gondolier who is fluent in a language you know and seem friendly and well versed in history. Expect most gondoliers to speak English although some speak French and German besides native Italian.
If you want to know more about the top sights in Venice that you should definitely not miss on your Gondola ride then go through Venice Tourism.
Where to take the Gondola Ride?
There are several stations around Venice where gondoliers can be seen waiting for their clients. Typically, these are town squares scattered through Venice near which the Gondola docks are located though the two most popular spots are the Saint Marks Square and the Rialto Bridge. All stations will offer a specific route and after the specified duration, you will be brought back to the original point.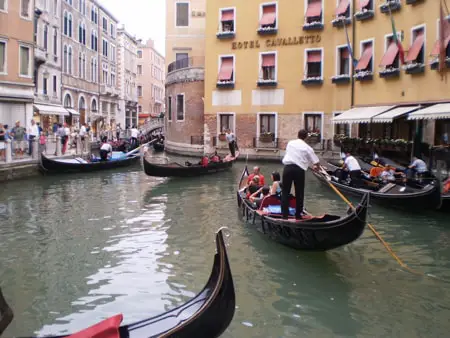 The boarding point of your Gondola ride will determine what kinds of views and scenery you will experience. The actual trip duration will also depend upon how busy the canals are. There are three major routes; Scomenzera, Cannaregio and Guidecca.
If this is your first visit to Venice then taking a ride from the Traghetto Santa Maria del Giglio station near the Gritti Palace Hotel, is a good option as you can see famous sights like the Peggy Guggenheim Museum, Canal Grande view, Salute church and other vintage palaces. Taking a ride originating from St Mark's Square will let you experience famous sights like the Doges Palace and drifting under the Bridge of Sighs.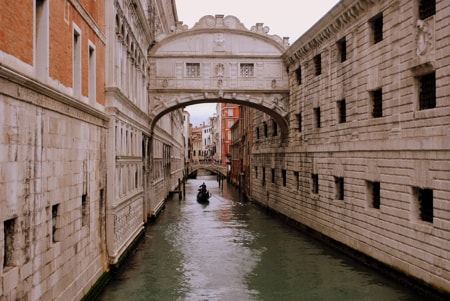 If this is not your first Gondola ride in Venice and you aim to see different aspects, then starting the ride from the Academia bridge station is a good option as a less touristy Canal Grande view and hidden routes can be experienced. Another option is the Campo del Ghetto Novo point in the Jewish part of the town. A ride in this area will reveal a livelier sight of the city with sights over narrow canals and lesser-known but magnificent palaces.
A route that combines some quieter smaller canals along with a chunk of the Grand Canal can be found to the southwest of Rialto Bridge as there are very beautiful Venetian palaces dated between the 13th and 18th centuries along this route. It is advisable not to take a gondola tour that only focuses on the Grand Canal or the area near St Mark's Square as you will miss out on an important Venetian experience; riding on old, twisted canals under the vintage bridges in the older parts of Venice.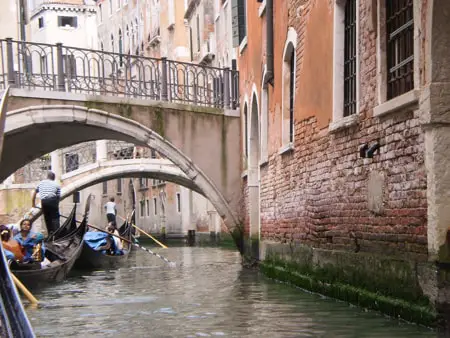 Typically, the waters near St Mark's Square and Grand Canal are extremely crowded and your gondolier will be too busy avoiding collisions with other Gondolas and navigating its way. This way there will be little scope for hearing the gondolier sing (a coveted experience) or talk about the sights on the way (a very important value addition).  Many gondoliers try to cut the ride short in busier areas instead of rowing for the full promised minutes.
You can easily book your Gondola ride online in advance through this Viator site where you get a number of tour choices.
What is the cost of a Gondola ride?
The Venice commune regulates the gondola ride pricing tightly so it is impossible to negotiate. A 30-minute ride costs 80 Euros during the day and 100 Euros between 7 pm to 8 am.  In case you want a longer trip, the prices will be calculated proportionately. Therefore, an hour-long trip will cost 160 Euros and a 45-minute tour will cost 120 Euros. In the case of a curated, longer trip there is still some scope for negotiation with the gondolier.
There are prices listed on signs at every Gondola station in different languages. Sometimes if the gondolier is having a slow day, rides can be had for as less as 60 Euros for 30 minutes… but this has to be initiated by the Gondolier. A Gondola ride is by no means a cheap proposition but the experience makes it worth every penny!! If you do not opt for a pre-booked ride then directly stand in a queue at any of the stations and hop on a Gondola.
Unless your tour is a pre-booked one, expect to pay in cash for the gondola ride. Tours pre-booked might be a little costlier than the official rates, but they offer the advantage of skipping the line and directly embarking on the ride without any kind of delay.  So, pre-book if you are in a hurry or have rigid specifications about your route and timing.
If you want to pre-book your Gondola ride, you can easily do so online through this Viator site where you get a number of tour choices.
Cheapest Gondola Rides in Venice
Solo or small group travellers may find the gondola ride price too steep. A shared gondola ride may come as a handy option if you can find two to four people to share your gondola as the boat will accommodate a maximum of six people.
It is also possible to pre-book a shared gondola tour. The prices are a little more than 1/6th of the average full Gondola tour price and you can make some great savings.
The traghetto gondola service is another great way of experiencing the Gondola ride in the cheapest way possible. This is a ferry service offered by an authentic gondola and it is generally used by locals who want to cross sides across the Grand Canal. This service costs just 2.5 Euros (one way) and can be found at Santa Sofia, Dogana, San Toma, Santa Maria Del Giglio, Riva del Carbon ad Riva del Vin. However, the experience is not comparable to a regular full-fledged Gondola ride.
Best Gondola Tour Operators in Venice
Listed below are the best Gondola tour offerings that you can book in advance.
Venice Tours SRL
Venice Tours SRL offers a 50-minute Gondola experience that focuses primarily on the Grand Canal and some smaller waterways. The tour has a recorded commentary delivered in German, Russian, Chinese, Japanese, French, Italian, English and Spanish. The route will pass by Teatro La Fenice (the only Opera house in the city) in Campo San Fantin San Marco, Canal Grande, Basilica di Santa Maria della Salute, Isola San Giorgio Maggiore Island and the Piazza San Marco. Like most other Gondola tours, the tour will end at its commencement point after 50 minutes.
Group Size and Pricing:
The group size is limited to 5 and the price is around 35 Euros per person
The tour operator also offers another popular 45-minute Gondola tour (a 30-minute tour with a 15-minute introduction of the Gondola experience) with the same multilingual commentary facilities. This tour route will pass by the Canal Grande, Peggy Guggenheim Collection (one of the world's best art collections), Palazzo Gritti Badoer, Teatro La Fenice, Basilica di Santa Maria della Salute
Group Size and Pricing:
The group size is limited to 10 and the price is around 27 Euros per person
Departure and Arrival Points (for both tours)
Venice Tours Assistance (Newstand in San Marco), Calle larga de l'Ascension, 1257, 30124 Venezia VE, Italy
Contact Details
Venice Tours SRL
San Marco 1130, Venezia
Phone: 04351870276
Veneto Inside
They offer a well-reviewed 30-minute tour that deviates from the busy Grand Canal and goes through a few of the narrow and quiet canals of Venice. The tour focuses on some lesser-known but ancient bridges along with famous sights like the La Fenice and the Basilica della Salute. The Gondolier will offer live commentary in English and Italian and usually will take pictures of the tourists if requested.
Pricing:
The Group size is limited to 6 and the price is around 36 Euros per person
Departure Point:
Calle larga de l'Ascension, 1255, 30124 Venezia
This place is in proximity to the post office behind the Correr museum
Contact Details
Viale Ancona 24, 30172 Venice
San Marco 4538, 30124 Venice
Phone:  +39 041 8877441
Private Gondola Tours
On a private Gondola tour, you can get the luxury of having the whole boat to yourself… an ideal option for couples and for people who love their own space. Both Veneto Inside and Venice Tours SRL offer private tours in the price range of 190 to 200 Euros per Group. Private tours can be customized and do offer a more enriched experience if budget is not an issue.
Tips to Remember
Deciding on a suitable time of the day or night for your Gondola ride is equally important as the views of the canals look very different basked in sunlight or bathed in colours of the moonlight. If you are interested in getting a clear picture of all the beautiful architecture of the city, choosing to take a ride in the daylight hours is better. Dawn/ dusk has a different appeal with the constant variation of light and shade and a Gondola ride in those time frames can offer wonderful photography opportunities.
At night, Venice projects a Gothic romantic appeal as the buildings, churches and palaces seem to emerge from the dark waters… a night ride may appeal to couples because of the silence and the aura of mystery all around. Do avoid late mornings and noon as the Venetian sun is hot and the Gondolas do not offer shade (night rides are priced higher).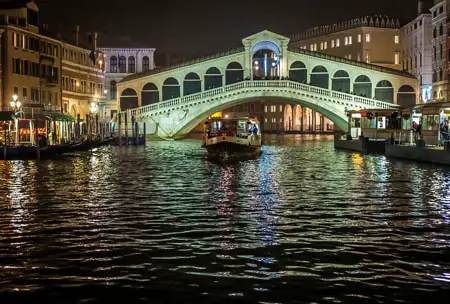 If you have ample time to spend in Venice, simply choose to take a Gondola ride in all these different slots to get a different view of the city.
Weekends are extremely busy in Venice, so if you want to avoid the crowds, avoid taking the Gondola ride on the weekend or on a public holiday. Plan your tour on a weekday instead.
Gondola rides in Venice may be overpriced and very over-marketed. But there is no other way to enjoy Venice as beautifully as from its waterways. So, choose your Gondolier and route well and create memories worth a lifetime.
Also Read