The capital of northern Italy's Veneto zone, Venice has conjured up many romantic fantasies in the minds of travellers thanks to its mentions in numerous movies, books and songs. A city spread across 118 tiny islands that are divided by canals and united by bridges has got to be special.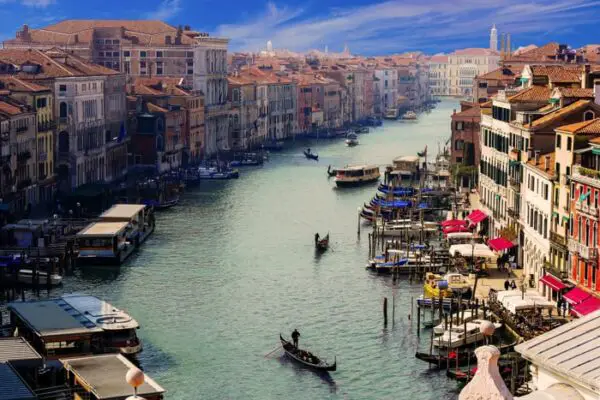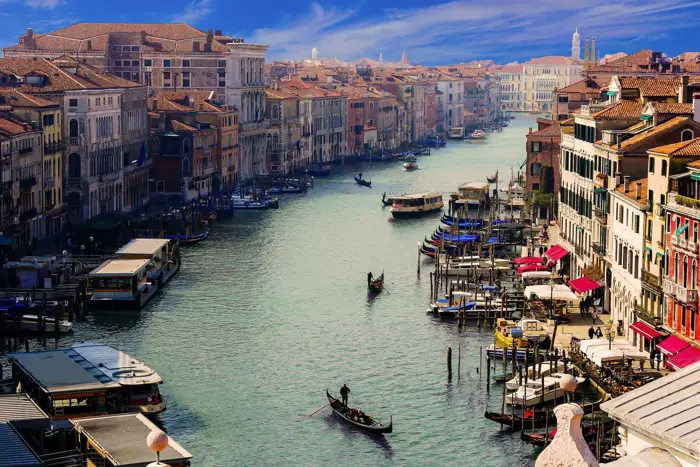 The cluster of islands all stand in the waters of the Venetian Lagoon and which lies between the Po and Piave river mouths… the entire lagoon and the artistic city construct is now a UNESCO world heritage site. It's amusing to note the endearments Venice has collected…."City of Canals", "La Dominate", "Queen of Adriatic", "City of Masks", and "Floating City" are just some of them.
Very few people know that Venice was a power hub in the middle age and Renaissance times and was developed as the world's best financial centre… Venetians were always a wealthy lot. Symphonic music culture is very strong in Venice and Antonio Vivaldi's birthplace.
The city is an engineering marvel with its closely situated wooden piles that support houses, shops, hotels and restaurants. The alder tree piles lay on sturdy Istrian limestone and the base is sand, mud and compressed clay…the survival of the city has interested many architects, civil engineers and environmentalists.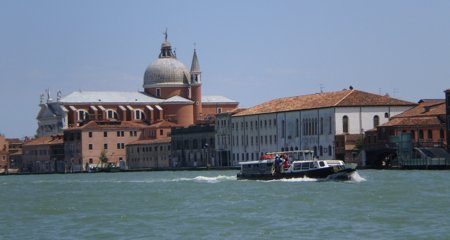 Venice is divided into many islands and while the main island is where most of the tourists spend a lot of time there are more than 100 others offering very different experiences. Some of the more visit worthy islands are Murano, Burano, Torcello, San Michele, San Giorgio Maggiore, Sant Erasmo, Giudecca, Lido, Mazzorbo etc.
The beautiful city is sadly fighting against multiple issues like erosion, water disfigurement, pollution and overstraining of resources… all the more reason why you should treat Venice delicately when you travel. Savour its beauty with respect and grace.
Top Attractions
As mentioned before Venice is heavily tourist infested so you need strategies before you go attraction hopping… the goals being jumping queues and getting around faster. For example, when visiting the lovely Basilica di San Marco and the Campanile di San Marco which have an average 50-minute queue you can buy a skip-the-line entry ticket online in advance.
A trip to the top of Campanile Bell Tower in San Giorgio Maggiore island (99feet…the city's tallest building) that stands on one side of St Mark's Square and next to St. Mark's Basilica,  is a must-do; take in the view of Lido (the 7-mile long island), the Venetian lagoon and the Dolomites (on a cloud-free day). Apart from the view, the Campanile should be appreciated for the Venetian grit… (The original 912-built building imploded in 1902) and the town council promised that an exact replica would be built.
It's a bewildering experience to stand in the gorgeous St Mark's Square or Piazza San Marco (Napoleon called it Europe's drawing room) as it's incredibly densely packed. You will be spending a lot of time here in Saint Marks Basilica (the chapel of the Doge's is full of gold jewels and 1000-year-old architecture) and the Doge's Palace and the Torre dell Orologio (1405 built huge clock tower that marks the city).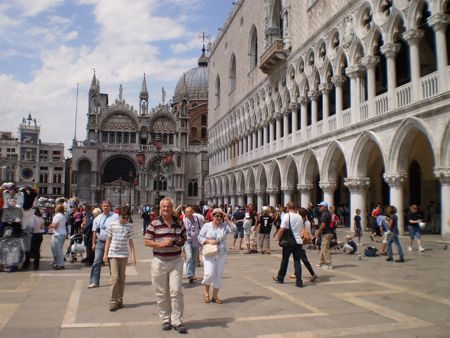 The magistrate of Venice or Doge was often elected for life ….the wealth and power of the 120 Doges who ruled Venice is reflected in the ornate palace that served as their home.
Walk through the Great Council Chamber and the room of the Senates before taking a coffee break in the erstwhile stables of the palace. The collaborative work of Titian, Bellini and Tintoretto graces the palace with paintings and sculptures and the palace's pure marble façade is jaw-dropping.
Right next to the Doge's palace is the eerie Bridge of Sighs… it connects the Hall of Magistrate (Palazzo Ducale) to the New Prisons. So many prisoners including Galileo and Casanova sighed in despair as they crossed this bridge and made their way into the dungeons… the history makes this place so interesting.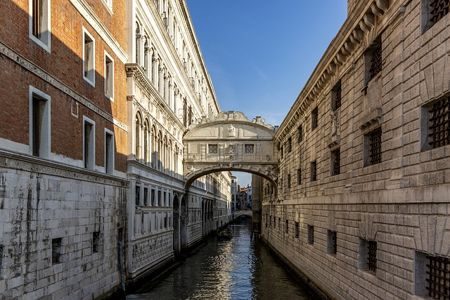 Another dark attraction is the Jewish Ghetto… between the 16th to 19th centuries Jews including practising doctors, merchants, and moneylenders were confined to the gated island of Ghetto Nuovo. The accumulation of more Jews led to vertical expansion and buildings acquired more storeys while synagogues, shops and publishing houses were established on the upper floors.
The ghetto expanded into the Old Foundry area and marvellous synagogues like Schola Levantina and Schola Spagnola and the post-Nazi invasion aftermath created a memorial here. Take a guided tour of the ghetto if you can…it's an amazing world history and sociology lesson.
From Piazza San Marco follow the yellow arrows that say "Accademia" and you will soon reach a lovely wooden arched bridge that's filled with locks… the Accademia Bridge. Like the Rialto and the Ponte Degli, this bridge is weighed down with locks courtesy of couples looking for romantic gestures. The government is however fining couples who put on locks in the bridge, so just look and click Instagram-worthy pictures…it's illegal to buy locks here and to use them. The views are exceptional. Right under the bridge arch is a little terrace restaurant.
Walk on further and you will reach the Gallerie dell' Accademia, Santa Maria Salute church and the Guggenheim Museum.
Venice is marked by its exquisite art and you can do a self-paced art tour around the city. Santa Maria del Frari is a 320 feet long church that has the magnificent Titian's "assumption" above the altar. Tintoretto's "crucification" is displayed at the Scuola Grande di San Rocco while the gorgeous frescoes of Tiepolo's are displayed in Ca Rezzonico and Pieta. If you are interested in contemporary art then the Peggy Guggenheim collection of art (20th-century masters) and the Punta Della Dogana (displays work of Rachael Whiteread, Jeff Koons, Dan Flavin etc.) are must-visits.
Every two years the Venice Biennale happens, and 136 artists of world fame flock to this city to display their craft. The Teatro La Fenice (reigning opera hall) was also rebuilt in 1996 after its complete destruction and every swirl of the original Baroque structure was preserved…if you arrive during opera season (January to July and September-October) you can see a period opera show. Alternatively, you can watch a classical concert or at least take the audio tour…during the Venetian carnival, the place becomes a resplendent ballroom.
Venice is never complete without Gondolas… the graceful not so speedy boats that epitomise travelling in style. The San Trovaso Squero is the city's oldest boatyard and is well worth a couple of hours of your time. If you are lucky you can see a new Gondola being made….7 different kinds of wood i.e. lime, elk, mahogany, cherry, oak, walnut, and fir are used to create it.
Every gondola has an iron symbol i.e. the Ferro that represents Venice…originally more than 10,000 of these elegant boats cruised the city waters and now just 400 odd ones remain and they cater exclusively to tourists.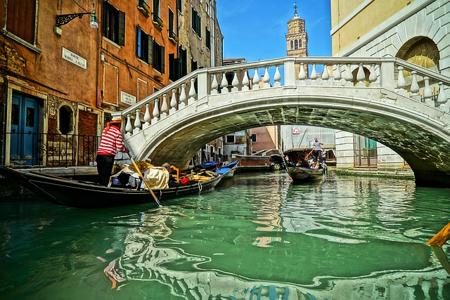 Taking a Gondola ride on the Grand Canal (officially the world's prettiest street) has to be a holiday highlight. The canal extends from saint mark Basin to a big lagoon near the Santa Lucia railway station and it goes in an S-shaped curve. Lovely Old buildings (mostly dated between the 13th to 8th centuries) line its sides and 4 picturesque bridges cross it while carrying loads of traffic; Rialto, Ponte dell' Accademia, Calatrava and Ponte Degli Scalzi.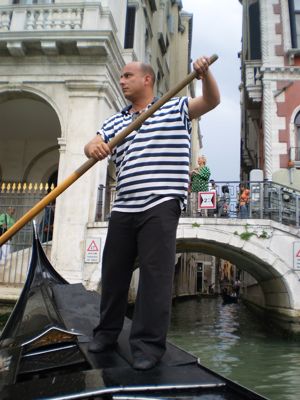 You will be able to differentiate between the renaissance and Classico-styled buildings with white facades and round windows (Palazzo Dario and Palazzo Grimani) and Venetian Gothic style brightly coloured buildings (Ca D Aro House of Gold) and the 16th-century Baroque style buildings (Santa Maria Nazareth church and Santa Maria Salute Basilica).
Go through Gondola rides in Venice to know all details including tours, experience, cost, how to book, and more.
Travel by a Vaporetto or a water bus from one end of the canal to the other if you want to admire the whole range of architecture.
If you are not too fond of crowds then escape to one of the outer islands of Venice where commercialisation has not yet seeped in. Sant Erasmo with its rich farmlands (it's called the orchard of Venice) offers tempting local markets while Mazzorbo offers Venissa (one of Venice's top gourmet restaurants)… check out the garden full of quince and almond trees.
Cross the bridge and you will reach Burano which is famous for its shops selling fine lace. Then there is the well-known Murano with its 1291-dated lovely glass-making traditions (this is exported to all corners of the world). For a lovely beach experience, take a boat ride to the Lido Resort Island which has an indolent lagoon on one side while the sea stretches out on the other. Late August sees the Venice Film Festival and the beach clubs here charge exorbitantly for renting out their chaise chairs (low season visits are recommended).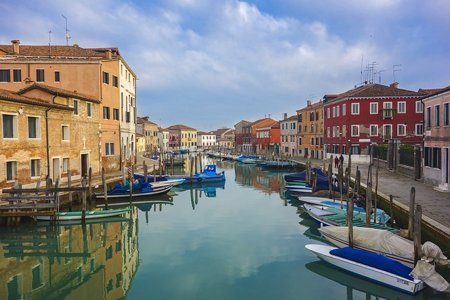 A simple 3-minute ride from St Mark's Square will take you to the tranquil Giudecca which has luxury resorts like Cipriani and dazzling views of the Doge's Palace and St Mark's. Torcello with its quiet beauty and the beautiful Santa Maria Assunta Cathedral and the archaeological museum is another great escape.
Go through Exploring the canals in Venice to know about all the great canals, how to visit them, and what can you expect to experience there.
Local Cuisine & Drinks
Italian food is anyway delicious but Venetians have their own signature styles in gastronomy… much of the food here is rich and decadent like in the city. The Oca in Onto or goose cooked in its own fat is a must try and so is freshwater fish cooked in special onion sauce (sarde in soar) …you can try both dishes in Antica Adelaide. Meatballs are quite popular in Venice and one of the best places to try them is Ca D' Oro.
Antipasti and raw seafood platters are a new rage in Venice and they target health-conscious locals and travellers….Vini da Gigio serves a nice spread. Just for the record, Venice is one of the world's best places to experiment in terms of Seafood. Local kitchens source an amazing variety of sea life from the stalls of Chioggia and Rialto and some of the variety will astound you….mantis shrimp, spider crab and sea snails are just a few of the dishes. The baccala mantecato or creamed cod is is must try… the locals count it amongst their favourite foods.
Wherever you go to eat in Venice it's kind of expected that you will consume alcohol …people who just order coffee or soft drinks are looked down upon.
The Venetians have their own version of Tapas ….it's called Chiicchetti. These are typically bar food and have several options of fillings right from meatballs to crostini to grilled fish to vegetables. Many Venetians prefer making a meal out of a mountain of Chicchetti…as usual, the focus is more on drinking than on eating.
Venetians have the most decadent breakfast ever…light snacks, fluffy pastries and the Ombra and spritz. The Ombre is a small glass of Rosso or Bianco wine that's gulped down in a second and the spritz is a healthy mix of Campari, white wine and sparkling water.
The Prosecco or the beautiful bubbling white wine made in the Veneto wine-producing region is the top beverage here. Another favourite is the Raboso…a rustic full-bodied red wine that's drunk chilled along with the Friuli (sweet dessert wine). If you do have time….go on a local wine tour; the best way to know Venice is to know its local bars.
The Gelato scene is very strong in Venice…this is the city's favourite dessert. The bustling salizada San Lio has a thin tiny outlet called Boutique del Gelato which serves the best Gelato here. Another great place to try the Gelato is Alaska Gelateria Sorbetteria which makes several flavours of ice cream with traditional flavours like hazelnut and chocolate as well as offbeat ones like fennel, ginger and asparagus.
Shopping
If you want to shop only for designer clothes and bags then go to Rome and Milan…Venice demands a more artistic shopping spirit. If you are a book lover you will simply fall in love with Libreria Acqua Alta (Venetians call it the most beautiful bookshop in the world… books tumble out from wagons, gondolas, buckets and bathtubs; find this glorious mess in Calle Longa Castello.
Visit the Rialto Market right in the centre of main Venice and you can see the most sumptuous seafood and green produce ever…shop for fresh fruit and snacks here. Shop for exquisite glass jewellery and Murano glass artefacts at Muranero… the artisanal boutique (in Salizada Del Pignater).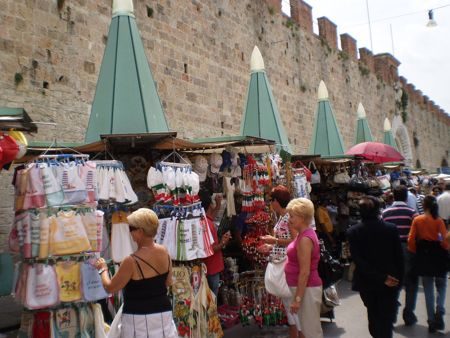 Venice is full of lovely curio shops that overflow with curated items. Mondonovo in the Rio Terra Canal area sells pretty paper Mache items while Jesurum in Piazza Marco sells lovely lace embroidery.
Venice is famous for its masks and a whole annual carnival (Carnival of Venice) is dedicated to the elaborate use of masks. Many shops in Venice decorate their facades and shopping windows with colourful masks. Plenty of shops sell masks here. If you are looking to buy one to take back home, then visit the family-run store La Bottega dei Mascareri which is located near the Rialto bridge. It opened in 1984 and is known for its creative masks. Many Hollywood celebrities have visited this store. Their masks have even been featured in the movie 'Eyes Wide Shut.'
If Gucci, D& G and Swarovski class of shopping is what you are after then head off to Le Mercerie street mazes that are sandwiched between Ponte di Rialto Bridge and Piazza San Marco. For luxury shopping, Salizada San Moise near the Piazza San Marco is also a good place…Versace, Miu and Etro are just some of the shops here.
If you want to shop for Italian textiles and crafts then go to San Samuele with its craft stores and boutiques (Chriarastella Cattana is a good haunt). Cale Larga XXII Marzo is also renowned for splurge shopping… think Montblanc, Burberry, Bulgari, Salvatore Ferragamo etc….jewellery from Pomellato is also a good buy.
For budget shopping the Lista Di Spagna, Strade Nova and the pedestrian street sandwiched between Campo San Polo and Rialto Bridge are good. Note that Venetians take a siesta between 12.30 p.m. to 3.30 p.m. and shops will be closed then… shops are also closed on Monday mornings.
Nightlife
Most Italians are sticklers for their favourite bar or pub come evening and Venice is no different. Head off to the north-western foot of the Rialto Bridge and you can see the chic Venetian crowd line up for aperitifs in the numerous bars there. Or for a more upscale experience try booking a table at the bars facing the Grand Canal….Bancogiro and Naranzaria are two options. The Skyline Bar has an outstanding view while the Ardidos has fantastic design sensibilities.
However, if you want to experience the true drinking culture of Venice then you need to visit a couple of Bacari… small bars with a couple of tables and a fixed menu with lots of impromptu singing, conversation and a general air of bonhomie. Then there are the Ostaria which are typically dimly lit and have the look of a restaurant. Take a local drinking tour to experience this version of Venice.
As a rule, the tourist-oriented nightlife scene is quite civil. The Café Florian in San Marco, the Gothic style L'Ombra del Leone (Ca' Giustinian ground floor), Enoiteca Masacareta (lovely wine bar in Castello) are good options for spending an evening. If you are near the Art and Architecture Biennales in the evening then visit the El Refolo wine bar and if near Doge's palace around the same time then try the Da Bonifacio for some spritz.
Accommodation
Deciding where to stay in Venice is a tough call…all its zones are equally tempting. The San Polo and Santa Croce areas are a little offbeat and there are few budget-friendly hotels (stay here if you want a taste of non-commercialised Venice). The Cima Rosa Boutique Bed and Breakfast and the reclusive yet luxurious Aman and the country house style Oltre il G are good options.
The north Cannaregio district has a host of quiet winding canals that seem deceptively quiet but transform into a nightlife hub in the evenings… scores of smart bars and restaurants dot the area. Domus Orsoni (next to a lovely glass foundry), Palazzo Abadessa (aristocratic family palace) and the Al Ponte Antico (mid-range with proximity to Rialto Bridge) are some of the nice accommodation options.
The Castello zone is fashionable with lovely churches and star restaurants. Stay in the Metropole (5-star antique hotel), De L' Osmarin (bed and breakfast near St Marks), Bucintoro (next Riva promenade with views of Doge's palace) ….they are all nice options. The San Marco area is prime Venetian real estate…the best attractions and the highest hotel prices are around here.
The exquisite Gritti Palace (overlooking the Grand Canal), Corte Di Gabriela (sleek, chic and modern) and the Novecento Boutique hotel are near San Marco Accademia (designed by Marano Fortuny). If you are an art aficionado then choose to stay in the Dorsoduro area….there is an artistic sophistication here along with art hubs like Accademia and Peggy Guggenheim Foundation along with the nice nightlife.
The Ca' Pisani (art deco décor and a futurist wine bar), Ca Maria Adele (Gothic décor and ravishing black Murano chandeliers) and the Centurion Palace (near Salute Basilica) are great hotels. If the lagoon islands seem more tempting then Giudecca has the lovely 5-star Hotel Cipriani while Burano has the exquisite Venissa Burano suites and the greenery abundant Kempinski Island has the reclusive San Clemente Palace.
Getting there
All European cities and most non-European global cities have direct flights to Venice's Marco Polo airport that's in the Mestre suburb. Low-cost airlines from Europe sometimes land in Treviso airport that's an hour bus ride away from proper Venice.
From Marco Polo airport, you can take the Allilaguna Water Bus or a water taxi to get to various parts of Venice by water. It will take you almost an hour to reach a standard hotel in the centre of Venice from the Marco Polo Airport if you are taking the public water bus. For fast and comfortable water travel, the private water taxi ride still remains the best option.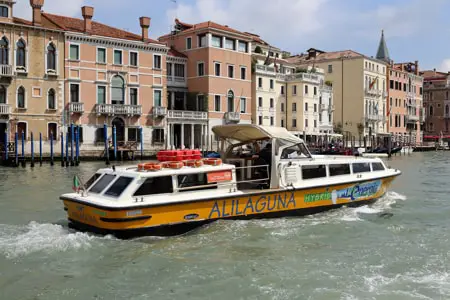 If you are coming from Greece or Istria then cruise and ferry are both great options… pull into the Stazione Marittima or the S. Basilio.
If you are coming from Italian cities like Bologna, Rome, Florence, Milan, Padua, Treviso, Slovenia etc. then take the train to Venezia Santa Lucia.
Getting around
Getting around in Venice has a different flavour compared to most other European cities….after all the place basically exists on water. That being said, the transportation system is simple to understand although the overall average ticket fee is unusually high (tourists pay 6 times more) which is why you should get a pass.
When/ if you arrive by train don't get off at the Venice Mestre station unless your hotel is there…the Venice Santa Lucia station is the one near all the attractions. Right in front, there is the Grand Canal and a gigantic Vaporetto (water bus) stop. ACTV is the main transport authority for local transportation within Venice. Buy a 1-7 day Travel Pass from ACTV and you can enjoy unlimited rides on land and water buses.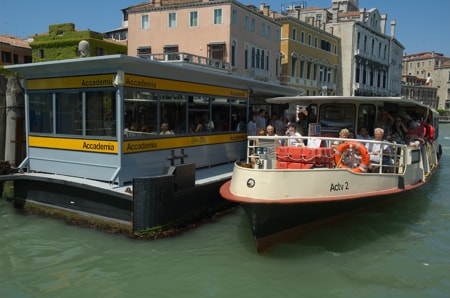 Inside Venice, you will basically be using a Vaporetto to travel from point to point on the water. The #1 Vaporetto line is the most popular tourist line and it will stop at every stop (13 times) till the last one i.e. Piazza San Marco.
Go through the Vaporetto service in Venice to know everything about the ACTV-operated water buses including the routes, fares, tips and more.
The Gondola with its high fee is usually used by tourists for a short cruise to experience a romantic ride where a private gondolier rows the heritage boat through canals and tourists can soak in the views of Venice from the water, appreciate the architecture of the buildings that line the canals and the bridges they pass under.
Go through Riding a gondola in Venice to know how to ride a gondola, fares, types of experiences that you can plan for, and more.
Traghetto (which looks like an unfashionable large Gondola) will get you across the Grand Canal at points where there aren't any bridges. Traghetto doesn't require tickets ….loose change will do…there isn't any set schedule and mostly locals use it (a great cheap way to travel).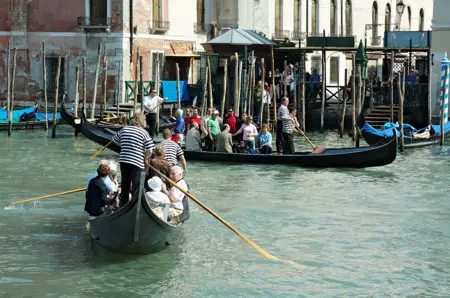 Read Riding a Traghetto to know when and how you should ride a Traghetto, its routes, fare, and a lot of other insights.
Nice looking Water taxis are targeted at the affluent tourist …unless you are set to splurge or have an emergency travel situation post 10 p.m., better avoid them for touring around Venice.
However, water taxis offer an important alternative for airport transfers, particularly if you do not want to ride a public water bus and waste over an hour getting to your hotel in Venice Centre. It is also possible to share a water taxi ride with others.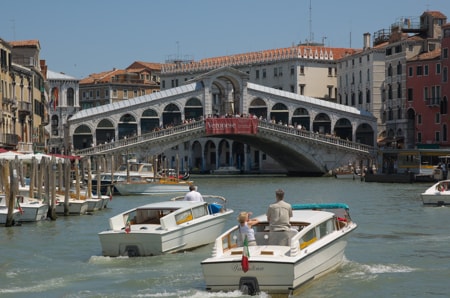 Go through the Guide to Venice Water Taxis for complete information.
Besides the Grand Canal, there are more than 145 other canals connecting the islands of Venice but the three principal routes are Scomenzera, Cannaregio and Guidecca.
If you fly in then you would basically be transported from the Venice Marco airport to Venice city or Mestre i.e. the town directly facing the historic island city of Venice (this has the maximum hotels). The Marco Polo airport is well connected to major global cities and will be your landing point if you are coming from non-European parts of the world while the Treviso airport brings in flights from other European countries.
Buses are inexpensive and you can avail of either an ATVO (regional bus company) or ACTV bus (both aren't covered in the ACTV pass) and a 25-minute ride will take you to Piazzale Roma. These buses also run to the suburban railway station Mestre on the Venetian mainland (this is an important point and lots of express trains go off to the south and north Italy from here). You will also be able to go to nearby towns like Lido di Jesolo, Aviano, Treviso by the ATVO bus
The startling range of discount cards and passes in Venice will bewilder you but you definitely need to get one as charges for tourist conveyance is about six times more. If you're staying for a short while (2 to 3 days) then an ACTV travel card should suffice. If you have done the research and know exactly how much you want to travel in a week's stay in Venice then the Venezia Unica card is good.
If you are interested specifically in museums then get a museum pass….Venice is full of incredible museums with huge queues (which you can skip if you have a pass) and incredible discounts are offered on the high entry fees if you get this card. The Rolling Venice Card is meant for people between ages 6 and 29 and gets the holder chunky 30% discounts in restaurants, museums, stores, hotels, bars and the standard ACTV travel cards. The Venezia Unica official website is a good resource…you can buy all passes and cards online.
While you are in Venice, walk as much as possible. It's good exercise, the locals approve it and sometimes there are just no other feasible means of conveyance. Besides, it's really the best way to see the city!!
Read: How to get around Venice easily
When to visit
Venice has a humid subtropical climate with light cool winters and warm summers. You can visit Venice at any time of the year just be prepared for humidity and crowds in the summer and fog and light occasional snow in the winters. Easter, February carnival and the Festa Del Redentore in Mid-July apart from Christmas-New Year are very busy times so you need to book tickets well in advance.
Read: Important weather information of Italy and Venice
A side note…
When in Venice it's difficult to stop binge shopping, binge eating, binge attraction hopping. As Truman Capote said famously "visiting Venice is like having an entire box of chocolate liqueurs in one go".
Also Read