Paris is at the junction of water (Seine, Mare and Oise rivers flow in this region) and land routes that are significant to Europe as a whole. Paris grew in importance under the Capetian dynasty and established itself as a cultural and political hub. The modern day France is a centralised country and Paris is the centre of intellectual, political and cultural power.
Paris today is a city whose boundaries have spread out to take in the nearby towns and their controlling churches and as of now there are 20 municipal districts (arrondissements) each with its town hall and mayor that comprises its outskirts.
Interestingly the numbering of these districts begin from the centre of Paris and then spreads out in the pattern of a snail. Luscious breech and oak trees encircle the city and are called "lungs of Paris" and Seine flows unhindered along the lines while Parisians dwell either on its left bank or Right bank.
There are cobbled quays which are lined with shrubs that border the river and the streets are also lined with trees… in between the two lines of greenery are large blocks of stone which still have moorings used to anchor merchant ships. The lines of greenery and the open river along with the abundance of parks and ivy covered walls in Paris give it a lovely garden effect.
Bois de Boulogne and Bois de Vincennes are two huge parks that flank the approach of Paris and the Promenade Plantee is an elevated pathway that's built along an abandoned viaduct and rail line on the Seine river bank (incidentally the planet's first elevated park).
The Promenade is also lauded for having inspired many other cities to turn their abandoned rail yards into green spaces…. you will find this 4.5 km stretch right from near the Bastille Opera to the Bois de Vincennes Park. Under the elevated park lies the Avenue Daumesnil and the Viaduc des Arts.
Paris began to be known as the City of Lights due to its role in the Age of Enlightenment and due to the practical fact that it was one of the pioneer cities in Europe to embrace gas lighting. However Parisian government has now decked up every bridge and boulevard with an army of lights and there are some 20,000 lights entrusted to the task of making the Eiffel dazzle bewitchingly. There are about 37 major bridges in Paris and 33 of them are fully lighted up so they are all great places to watch the sunset.
Great Attractions
The 1000 foot plus Eiffel Tower with its intricate iron latticework, old school elevators and numerous cinematic and romantic connotations is a world landmark. Kissing under the tower and clicking a stunning Instagram pic with the tower in the background are a must. If you are lucky you may also watch a sports event on the outdoor screens set up on the Champ de Mars under the Eiffel. Go up-to the second level platform and you can see the entire Paris in a 360 degree view….venture further up and you can see the highest viewing point in the city.
The Neo Classical design of the Pantheon dominates a large part of Paris… its dome is immediately identifiable. The secular temple hosts the tombs of all great personalities like Voltaire, Marie Curie, Victor Hugo and others.
The epicentre of Paris hosts the famous and superlatively beautiful Louvre Museum (1st arrondissement) with its iconic Mona Lisa and Venus de Milo (you will find both in the Denon wing) though there are other super interesting sections like Islamic Art and Egyptian Antiquities.
You can also stroll through the lovely Tuileries Gardens that's nearby. The expansive wonderful garden has numerous statues, fountains, a Ferris wheel, a children's playground, several restaurants & eateries… it's a great place for families to relax and enjoy.
The Orsay Museum with its impressionist and post-impressionist works of art (Manet, Monet and Van Gogh are just some of the contributors) and its multiple art nouveau galleries and recreated rooms were reconstructed from a discarded railway station…. the Belle Epoque.
The Grand Palais with its sensational glass vault and art nouveau curls is a throwback to the World Fair days that used to draw millions to Paris…if you are touring with kids then visit the Palais de La Decouverte on the west Wing as this has nice interactive exhibits, good planetarium show. If you are a fashion lover then at least peek into its runways…. the Chanel fashion shows are held there every season.
Just across the street from Grand Palais there is the Petit Palais (free entry) with its classic exhibitions and very pretty fresco dotted interiors.
While you are here do walk on the Pont Alexandre III bridge that connects the Grand and Petit Palais with the Hotel des Invalides which is on the opposite river bank. This is the most beautiful bridge in Paris and it's gilded with exquisite figures of nymphs and angels.
If modern art excites you then Palais de Tokyo vintage complex on the riverbank is not to be missed…. amazing art exhibitions, wildly experimental exhibits and the largest collection of art books and design journals await you. Another interesting modernistic design hub is Centre Pompidou with its criss crossed pipe design and a diagonally rising tube escalator….inside there are world class restaurants, modern art collections, library and café.
There are more ravishing museums around so you can visit what best suits your taste. Picasso fans can go into the reconverted Hotel Sale' that holds the largest collection of Picasso's work apart from Renoir and Cezanne. Then there is the grand Rococo palace Musee Rodin with a vast collection of Auguste Rodin's sculptures. Afro. Asian and American art is displayed at Quai Branly whose exteriors are as spectacular as its exhibits…. it designed by Jean Nouvel.
If the history of Paris intrigues you then Musee de Cluny in the Latin Quarters is a good visit… it holds the heads of the kings of Judah and vestiges of ancient Roman Baths etc.
On a nice sunny day you can simply stand and stare at the stained glass construct Sainte Chapelle that's a 13th century marvel… here are more than a thousand roundels depicting Biblical scenes. When the sun is at its brightest the whole building will dazzle you with its blues, reds and fuchsia tones. Or take a ride to the 4th arrondissement and visit the Notre Dame – a cathedral dating back to 1163 that's another world icon.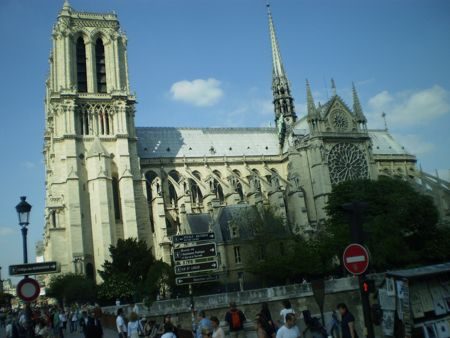 Apart from these and many other monuments…. visiting Paris is not so much about attraction hopping as experience collecting. An unforgettable experience will be to stroll around in Champs Elysees Avenue (popularly known as the world's prettiest avenue)… the city's hottest shopping destination and the host of the landmarks like Place de la Concorde and Arc de Triomphe (take a bus or train to the 8th arrondissement). Arc de Triomphe is a glorious monument that commemorates the military victories of Napoleon and today stands for the pride, victory and liberty of France.
Another wonderful site is the Roman Catholic Church Sacre Coeur (Basilica of Sacred Heart of Paris) built in Roman Byzantine style on top of Montmartre hill. This was the result of France's defeat to the Prussians in 1870 when the government wanted to lift the spirit and sense of pride for the French.
You can may be see a modern cabaret show with all its glittery trappings at the posh nightclubs or soak in the fragrances of the 1828 born Maison Guerlain perfume house. If you love the experience of an auction then the Art Curial at the end of the famous avenue is one of the best places to bid for art, vintage fashion, fine wine and jewellery amongst other things.
Paris is dotted all over with hundreds of fountains and they were originally meant to provide drinking water…. however currently they provide ecological value and create amazing photography backdrops. The Jardin du Luxembourg or The Luxembourg Gardens with its 3 beautiful fountains and 106 statues is a must visit for the Parisian garden and fountain experience.
In the 19th Arrondissement has the Nubian lion Fountain in the southern end of Parc de la Villette. The Jardins de l' Observatoire has a spectacular and famous fountain that represents figures from Asia, Africa and America… this was created by Jean Baptiste
Experiencing Paris may be different things for different people. For example you may be a movie buff who wants to see the sites where Casablanca, Notre dame, gossip girls etc. were shot or you may be a jewellery aficionado who wants to peek into the fine jewellery making scene of Paris.
Alternatively you may be interested in architecture, museums, art novae, fashion, shopping, and food or perhaps a select few attractions…. best way to explore Paris your way is to take a guided tour with a local. Some examples of customised tours are wine & cheese tasting gourmet tours, French film themed walks, car and bike tours etc. and these are all offered by local agencies.
Locals also have a gourmet AirBNB kind of concept called "Eat with" going on in their homes… you can go to a local cook's home and enjoy a proper French meal. Specifically for jewellery making you are best enlightened when you take a jewellery making class at the famed L'Ecole des Arts Joailliers that's housed in a lovely 18th century palace…. check their website for jewellery making classes and exhibitions.
If opera fascinates you then visit the Palais Garnier (Opera Garnier) which is a fantastic 1979 seated opera house that featured prominently in Phantom of the Opera movie… it's a landmark of Paris. If you visit this place then do combine it with a stroll on the Boulevard Haussmann which houses the iconic departmental stores Au Printemps (beauty, lifestyle, fashion store) and Galeries Lafayette (upmarket departmental store)….they all fall in the 9th arrondissement.
If you are with kids then travel 45 km east from Paris till you reach the world's most visited attraction….Disneyland. There are many Disney Resort hotels, Walt Disney themed studios, loads of rides, attractions, restaurants and souvenir shops….you could literally spend days here.
Another interesting detour can be to the western edge of the suburbs of Paris where you can visit the dazzling Palace of Versailles which housed a long succession of monarchs with its blinding hall of mirrors and lovely garden… the structure and furnishings are exquisite to the point of being excessive!!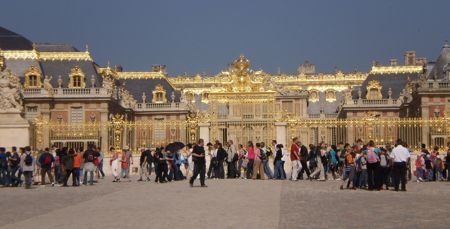 Sports buffs can pay a short visit to Stade de France in North Paris where there is always a football or rugby match going on.
Most attractions in Paris come with a hefty entry fee so if you are on a budget try experiencing some free activities too like a nice walk on the La Petite Ceinture (abandoned railway line converted to biodiversity walk) and a studio tour on a squat between the space of Louvre and Chatelet….30 artists' studios showcase their works for free 6 days in a week or a picnic on the Canal Saint Martin (immortalised in movie Amelie). You can browse for yellow paged comics and vintage fashion magazines from the collections housed in the green metal boxes of the Bouquinistes (book sellers) who line up on both sides of the Seine.
Read: Top tourist attractions in Paris you must not miss.
Read: Great local tours of Paris by bus, minibus, cruise, walk and more
Cafes in Paris
While you are doing your sightseeing and shopping, do stop for breaks at the numerous cafes in Paris. The café culture is France is famous… intellectuals, freedom fighters and everyone else used to debate and spend most of their time here. Paris has iconic cafes like Café de Flore (Picasso was a regular) and Les Deux Magots (Jean Paul and Hemingway were regulars).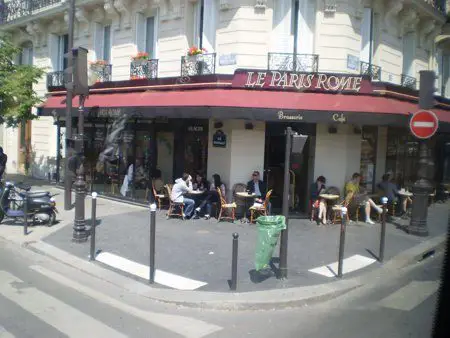 The Left bank Latin Quarter area and the Saint Germaine zone has the maximum fashionable cafes. If you go in the morning ask for café au lait (coffee with steamed milk) and Café Noisette in the evening (double espresso with a little cream). These are places to read books, people watch and pretend for some time that you are a Parisian.
Read: The top cafes and coffee shops in Paris you don't want to miss.
Great Budget Restaurants
It's no secret that the city of lights and love is known for its hefty price tag. The food in Paris is delectable but eating in most of the well-known restaurants here can burn a deep hole in your pocket. Sadly most visitors to Paris restrict themselves to eating at fast food chains and surviving on sandwiches, burgers, pizzas when they are here in order to economize.
And that's a shame because it's very much achievable to have great quality classic French food in Paris for a very affordable price if you only know where to look for it. And if French food is not your thing then know that there are many more international cuisine options even if you want to economise.
Read: Best Budget Restaurants & Eateries in Paris
Read: Great Food Tours in Paris
Top Budget & Luxury Hotels
Though Paris is an expensive city overall, there are a number of surprisingly affordable hotels that provide amazing customer service and great facilities at competitive prices. Most of the affordable/ budget hotels in Paris do not have their own restaurant/ bar and are not incredibly spacious but you do have a convenient location, hearty breakfasts and staff who go all out to ensure that you enjoy your stay. Read: The top budget hotels of Paris.
On the other hand, if you wish to splurge then there are lots of luxury hotels in Paris that can help you enjoy your vacation in style. You can expect anything right from a Jacuzzi to five course dinners and chauffeured limousines at your service in the Parisian luxury hotels. Read: The best luxury hotels of Paris.
Shopping
Novelist Honore de Balzac wrote in his 1830 novel "whoever doesn't shop in Paris regularly won't really be elegant" and it's actually difficult to disagree. Ever since Louis XIV wore a pair of white stockings Paris has been the fashion capital of the world.
If you want to shop for couture then the famed Golden Triangle and the glittering avenues of George V and Montaigne and the Champs Elysees and boutiques in Rue Saint Honore and Place Vendome are the best. If you are looking for French fashion that's moderately priced then BHV (Bazar de l'Hotel de Ville), Bleu de Cocagne and other boutiques on the left Bank are the places to go.
Shop for haute pastry at the Pierre Hermes boutiques and go on a blind macaron tasting spree and for delectable French sweets at Maison Georges Larnicol (winner of Ouvrier de France Tricolor seal only awarded to exceptional craftsmen). Maison Plisson with its food, cheese, meat and wine selections and Le Bon Marche (largest and best known departmental store of Paris) with its mouth-watering La Grande Epicerie ….you will find affordable selections of macaroons, teas, chocolates and madeleine's here.
For novelty sake you can visit the hugely expensive Perossian ….the pioneers of caviars (you will find them at the 7th arrondissement). On the second arrondissement you can opt for a French makeover at Christophe Robins the celebrity hairdresser and then next door you can dive into Nose Parisian concept perfume store for an "olfactory analysis" post which you can select a signature perfume.
Shopping for cheese and natural produce at La Fermette and for designer furnishings at Maison Sarah Lavoine and books at the historic Shakespeare and Company that was the favourite haunt of Hemingway and James Joyce.
If bargain hunting interests you then visit The flea markets of Port de Vanves and St Ouen which sell everything from vintage clothing to linen to postcards and artwork; visiting it is a lesson in sociology. Later you can breathe in some fresh air at the Parc Montsouris that's nearby.
Read: Great shopping areas & the top luxury/budget/boutique stores & street markets in Paris.
Operas, Concert Halls & Theatres
Paris had a rich history of opera and theatre since centuries and the atmosphere reached its crescendo in the Belle Époque period. To experience Paris fully you should see one of its beautiful ballet performances in the sumptuous Palais Garnier or a dazzling opera classic at the modernistic Bastille Opera. Or maybe a French original comic production from Comedie Francaise is more to your taste or a magical choir recital in a Gothic church is designed to enchant you.
Whatever be your taste in music and culture there is at least one Parisian theatre and opera offering that is designed to steal your heart away.
Read: The Top Operas, Concert Venues & Theatres in Paris.
Great Cabaret Shows
A hedonistic and often dazzling form of entertainment that involves several acts of music, dance and theatre in front of a live audience has become an integral part of the city's culture. Often guests feast of 4 course meals and fine champagne while watching the shows thus pleasuring all senses at one shot in an ultimate form of self-indulgence that Parisian fabric is woven with.
It was in 1881 that the first cabaret club "Le cabaret Artistique" opened in Paris and from then on the idea caught on inspiring several such establishments all across the city…and then the world. The creative set i.e. dancers, musicians, poets, writers met at these places to discuss their thoughts, brainstorm and have a good time.
Some cabaret clubs like the Moulin Rouge and Lido went on to become city landmarks and huge tourist attractions in their own right. To understand the essence of Paris; a visit to at least one of its cabarets is needed. Some of the cabarets today are extremely provocative affairs with fully nude ladies and suggestive songs.
Some however like the Moulin Rouge and Lido are still suitable for families and the grandeur of the sets, craftsmanship of the artists, extravagant costumes overshadow the risqué factor.
You can find a wide range of cabaret shows in Paris and book ticket online through this Viator site.
Here is all you need to know about the 2 most famous cabaret venues of Paris; Lido and  Moulin Rouge; ambience, show, tickets, dress code, location…the works. Read the 'Points to note section' very carefully…you will need them!!
Read: The Legendary Moulin Rouge Cabaret Show
Read: The Famous Lido Cabaret & Burlesque Show
Getting To & Around
One of the nicest things about Paris is that it's incredibly well connected. Almost all of France's neighbouring European countries have direct trains to Paris and the city has direct flights from all major cities of all continents of the world.
Another great thing about Paris is that you can see almost all attractions solely by using local transport…. the public transport system is efficient and well spread.
The first thing you should do if you plan on using the Metro rail is to download the map on your phone (there is an RATP app for IPhone and smartphone) or pick up the physical map from any metro information booth. Paris Metro has 16 lines that you can identify by number, colour and line names. You will need to buy a one day metro pass.
The Paris RER Commuter train system has 5 express trains that go within Paris and greater Paris and these lines are also identifiable by different letters and end line names. Look at the train itineraries in RER stations carefully and keep a copy in your phone. If you travel even a stop further than what's covered in your pass, you will be fined.
64 bus lines operate in Paris and its suburbs and though using buses may seem challenging due to language issues; as a conveyance medium they offer scenic advantages and are less crowded. Most bus stops have electronic information systems that will let you know when to expect the next bus. You can get bus route maps at Paris tourist information office. For another interesting experience, ride the T3 Tram line that operates in south Paris in 13th, 14th and 15th arrondissements.
Trains and buses are crowded but metro is super crowded in peak season and metro lines won't have air conditioning…. Paris has an eco-friendly stance and avoids the use of cars and air conditioning. It's better to avoid travelling by metro within 8.00 a.m. to 10.00 a.m. and between 5.00 p.m. to 7.00 p.m. as it's completely packed.
Long tunnels and large flights of stairs will wind all through the subway and underground rail network and escalators and elevators are hard to find…. this is a city for fit people.
Buy the Paris Visite Pass which allows unlimited metro, bus, tram, RER and regional train travel within Paris and greater Paris region for 1 to 5 days. Plus you get offers and discounts on restaurants, museums and attractions. The Daily and Weekly passes will also get you similar travel benefits but no discounts… these can be purchased directly from Rail Europe or online or from an agent in Paris Metro Ticket stand. This is a non-transferable pass and must have your name and dates on it.
Read: Getting around Paris for complete details of city transports in Paris including buses, taxis, trams, metro rail, trains, car/scooter/bike rentals and different kinds of passes with fares.
Best Time To Visit Paris
You can visit Paris any time of the year but the experiences will be different. Winters are time for grand festive celebrations and sumptuous meals of oysters and choice cuts of meat. Spring and the arrival of summer sees the city parks in full bloom and the café terraces are at their liveliest… the entire season is punctuated by festivals like the Fete de la Musique. From mid-July to august Paris Plages or the river beaches pop up on the sides of the Basin de la Villette and the Seine and you swim in its waters and sunbath on the banks for free.
Post August many restaurants and cafes are closed and while you may enjoy the general relaxed pace and slashed hotel and facility prices… most locals go off on vacations. Autumn brings in lots of gallery and exhibition openings, fresh cultural gatherings and there's always a new café event every day.
There is a huge annual discount time in Paris from Jan 10th to Feb 20th and its known as Les Soldes d'Hiver so you know when to go if you want to pick up classy stuff on a budget. The Fashion week happens between January to March and besides gala events like YSL and Chanel shows there are smaller catwalk events all across Paris… the best chance to view authentic Parisian fashion.
Read: Important weather information for Paris and other major cities of France
Also Read