Palais Garnier was once the hotspot of Parisian cultural life…this grand 2000 people seater opera took 14 years to be built. Previously referred to as Salle des Capucines because of its position on Boulevard des Capucines… it later earned the title Palais Garnier because of its extravagant beauty and glamour… and its famous architect Charles Garnier.
Many historians call Palais Garnier the most remarkable opera in the world and it's a permanent fixture on the most visited attractions list in Paris. If you have seen the movie 'Phantom of the Opera' then the loveliness of this opera must have already caught your heart. The Palais Garnier has the opera (mainly used for ballet nowadays) and the Opera library museum.
A normal ticket (without VIP tour) will get you access to the Opera Library-Museum, Bassin de la Pythie,   Rotonde des Abonnés, , Grand Staircase, Avant-Foyer, Grand Foyer and the Salons de la lune et du soleil. Right now mostly ballet shows are hosted here and together with the Bastille opera they make up the famous "Paris Opera".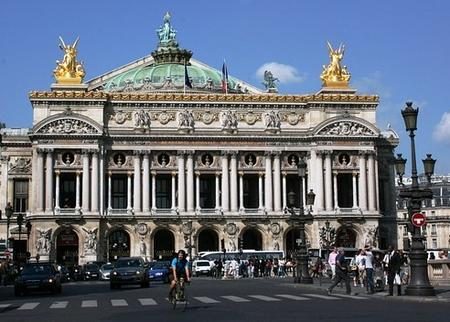 History
Civic planner Haussmann planned to upgrade the face of Paris under Napoleon III's rule and a competition for the best proposal of creating a grand opera complex was announced. The proposal of Charles Garnier (an unknown architect at that point) was selected and the quest a building an opera where the rich would compete to be spotted in…began. It took 15 years to build the Palais Garnier…it was inaugurated in 1875 and was the biggest theater complex of this time.
Its magnificence made it a place to showcase one's wealth and power as opposed to merely a theater to watch shows. Incidentally the inauguration of the opera happened after the downfall of the second French empire and Charles Garnier wasn't even invited because of his connections with Napoleon III. Cruelly, he had to buy a ticket like any commoner to see the building which he had painstakingly designed.
Design & Structure
The Palais Garnier is built in a fusion of several historical styles like Palladio, Baroque and Renaissance…in a design that Charles Garnier referred to as "Napoleon III style". The same kind of design is found in less spectacular proportions in the National Library and Les Halles markets. The polychromic (several colors blended together) effect is achieved by a fusion of different materials like gilded bronze, marble, porphyry and stone.
Exteriors
The principal exterior façade lies on the south and overlooks Place d Opera…more than 73 sculptors, 14 painters and mosaic artists worked on its creation. There are two sparkling sculpture groups here; La Poesie/ poetry and l'Harmonie/ harmony…interestingly these were made of gilt copper electrolyte by Charles Gumery. Notice these sculptures dazzling the eye when sunlight falls on them….they are visible from a distance.
The bases of the two large sculpture groups have 4 more beautiful smaller sculpture groups. There is Dance (created by Jean Baptiste Carpeaux and criticized for its vulgarity), Poetry (created by Francois Jouffroy), Instrumental music (Jean Baptiste Eugène Guillaume) and lyrical drama (created by Jean Joseph). Notice that all the sculptures have relevant meanings that are somehow related to the concept of opera and the arts. The bronze gilded busts of Rossini, Beethoven, Spontini, Auber, Mozart, Halevy, and Meyerbeer seem to fit right in between the columns of the front façade. There are also busts of Philip Quinault, Eugene Scribe and other librettists to the left of the façade.
To have a good view of the façade go backwards in Avenue de l Opera till you can see the whole building in one shot.
Grand Staircase
A magnificent double staircase goes up from to the foyers and many other floors of the theater… this is known as the Grand staircase. It's entirely built of white marble, red and green marble, and thirty huge single piece marble columns flank it. The staircase bottom has a theater within a theater concept; two lovely female figures hold torches to greet visitors here. The staircase ceiling has a painted ceiling bearing mythological tales like enchantment of music, triumph of Apollo etc. created by Pilis.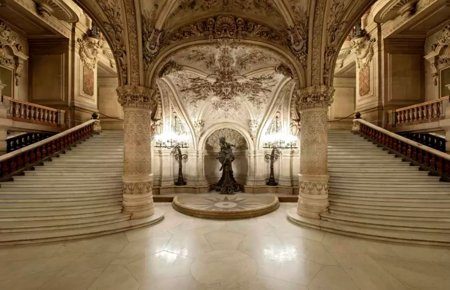 Take the stairs to the balcony level where there is a bar and have a glass of champagne while imagining how life must have been in the medieval era…women floating down in ball gowns and sensory extravaganzas!!
Auditorium
The auditorium is horseshoe shaped and the audience is at a visually prominent position for them to admire each other as well as the shows. The auditorium complex is a robust metallic structure that's hidden by velvet, marble and stucco covers apart from a lot of gilt. 1900 velvet seats in various levels are contained within the auditorium…try catching a show here to examine its beauty in detail.
There is a gorgeous and monumentally expensive 7 tons crystal chandelier with 340 lights, bronze and crystal hanging overhead; a sight worth remembering forever. Incidentally one of its counterweights broke in 1896 killing a concierge and inspiring the famous 'Phantom of the opera' scene.

The house curtain is exquisite with golden braids and pompoms… Auguste rube and Philippe chaperon painted over every inch of it (what exists today is a copy). The ceiling was commissioned by Minister of Culture and is painted beautifully by Marc Chagall. This is probably the most famous ceiling painting of Paris so have a good look… you will see opera scenes by elite masters like Mozart, Beethoven, Ravel, Berlioz there.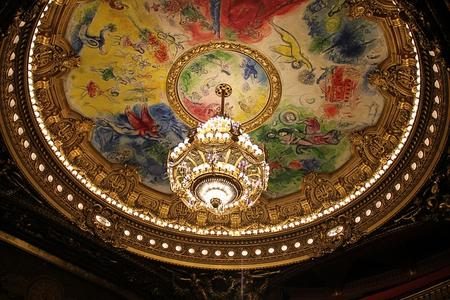 Grand Foyer
The 18 m high 154 m long hall once served as the meeting place for the crème de la crème of Parisian society. Look up to its ceiling and you will see the entire history of music captured by paintings made by Paul Jacques Aime Baudry. There is a large center painting with a bevy of smaller paintings on each side; one side representing tragedy and the other comedy. There are 2 octagonal salons attached to the outside space of the foyer and both have similar Baroque styles with gilt, chandeliers and painted ceilings.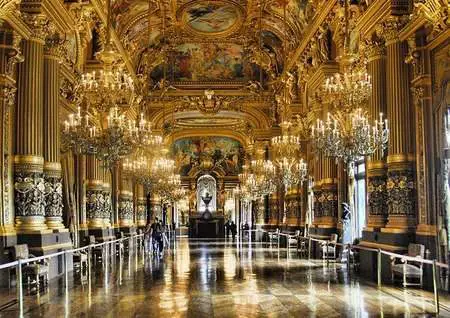 The other Foyers and Salon de Glacier
The other foyers are also beautifully decorated and the Avant foyer is next in importance with a stupendous 30 m high vault that's built of multi colored marble.
The Rotonde du Glacier/ Salon du Glacier is a lovely rotunda with a ceiling bearing fauna and swirling bacchantes (a masterpiece created by Clarins) and the different tapestries around show hunting and fishing expeditions. The rotunda was completed much after Palais Garnier opened to the public.
The vault in the Foyer is unmissable. A mosaic of shimmering colors on a gorgeous gold background encases it and a ceiling featuring paintings denoting the history of music overlooks it. Mirrors and windows are placed strategically to play up the space…don't miss the gorgeous view of the Grand staircase.
Notice the predominance of the lyre everywhere…it's found on doorknobs, grids, stuccos etc… a clear reference to music and theater. Charles Garnier's bust is at the center of the foyer near a window that looks down at avenue de l'opera. The interiors have luscious Baroque style with ample use of velvet, gold leaf, nymphs, and cherubs and many alcoves and landings in which people could share social conversations.
The salon is formally known as the "Salons du Soleil et de la Lune"….it's an artistic transition zone to other theater areas.
There are other sections in Palais Garnier like the Galerie de l'Orchestre, Grand Vestibule and secret places like Foyer de la danse (originally a courting place and now the ballet dancers rehearsal zone) that are shown in special tours.
Library-Museum
The library in Palais Garnier is worth a visit with its impressive collection of ancient documents. There is a good collection of artefacts majorly related to dance and opera along with costumes, drawings, paintings, sketches and some super interesting 3D models. Anyone interested in knowing more about the history of Palais Garnier will find this section worthwhile.
The library museum is in rotonde de l' empereur that's on the west pavilion that adjoins the main façade. There are year round exhibitions in this section.
Gift shop
A very expensive but beautiful gift shop that's worth admiring but not buying from unless you want something as a keepsake from this place. Paris opera ballet's DVDs are sold at about 10 euros more than Royal opera shop in London so be prepared to splurge. This shop stocks souvenirs and a large collection of CD/ DVD and also has an e-store version. Approach the shop from rue Halevy…its open from 10 a.m. to 6.30 p.m. everyday
Open Hours, Tours & Tickets
The Palais Garnier is open from 10.00 a.m. to 4.30 p.m. everyday apart from 1st January, 25th December, 1st May and some other exceptional dates. You can find the list on the Palais Garnier official website.
A number of official tours are offered by the Palais Garnier including a kids special Phantom of the opera tour that's completely interactive with quizzes and games. Seeing the Box 5 with its plaque saying that it has been rented to the 'Phantom of opera' forever is an interesting experience.
There is a "behind the curtain" VIP tour that will take you to the Foyer de la Danse (public is never admitted here) and up close to Marc Chagall's famous painted ceiling as well as the grand foyer paintings.
Prices of tour start from 12 euros onwards… these are audio visual tours offered on IPad mini (English, Spanish and French). Call/ mail beforehand to know when English tours are conducted. Self-guided tour/ standard audio descriptive tours are offered in Chinese, Korean, Japanese, Russian, Italian, German etc. apart from the standard languages and that allows participants to find their own route around the Palais Garnier. Excerpts from history, recorded interviews with opera creators and archived article readings are a part of the tour. Usually 18 stages are a part of the tour and you can do these at your own pace.
You can take an official Palais Garnier tour for free on the first Sunday of each month… it is super crowded on these days naturally. Apart from these there are lots of private tour operators who offer Opera tours with eloquent names like Treasures of the Opera Garnier tour, after hour's opera tour, secret Paris walking tour etc. If you have a Paris Pass then a free English speaking tour is available (call and enquire about available slots beforehand).
Calls are attended Monday to Thursday from 10 am until 1 pm and 2 pm until 5 pm
It's advisable to check beforehand if there is a rehearsal going on in which case you will not be able to see the theater building. In case you are not interested in seeing the whole place simply buy a ticket to one of the performances and enjoy the show as well as the glamorous theater complex.
For getting the cheapest tickets get to the ticket counter around 11 a.m. on the day of the show (category 6 and 5)… if you are lucky you can get one around 10 euros. If you are going to see a show here dress as if you would for a fancy dinner. You can check out the season's shows and artists on the "Discover the opera" section of the official website.
Tickets for performances and tours are sold from the same counter making queues huge. For saving time, it's recommended to purchase tour bookings and show tickets online.
You can book various types of tours of Palais Garnier online through this Viator Website.
There is always the security check to deal with and it can be pretty stringent. Keep aside a couple of hours or more free if you want to see the Palais garnier properly.
The Palais Garnier is friendly towards visitors with reduced mobility and vision/ hearing issues. Presenting an 80% disability card/ CMI Mobility inclusion card will get free admission. Only the museum library is not wheelchair accessible. Visitors need to call 014001850 or email [email protected] for accessibility queries at least 2 weeks before the visit.
Location & How To Reach
The Palais Garnier lies on the junction of rue Auber and rue Scribe on the 9th arrondissement of Paris…in what is famously known as the "Opera district". The Opera/ Bourse area glimmers with grand boulevards and lots of entertainment options. This is a historical area of Paris that sees theaters, bistros and sophisticated departmental stores sitting side by side.
Explore the opera district thoroughly after you are done with the Palais Garnier and don't miss the Musee du Parfum and the Galeries Lafayette all of which are within half a kilometer of the opera. Shop for chocolates from the Boutique Lindt Paris that's on rue Scribe and try the macarons at Pierre Marcolini next door.
Here is how you can reach the Palais Garnier
The nearest RER station (line A) to the Palais Garnier is the Auber station.
The nearest metro station is Opéra station and metro lines 3, 7, 8 can be used to access it.
Many bus routes go up to the Palais Garnier and some of them are 20, 21, 22, 27, 29, 42, 66, 68, 81 & 95. You can easily walk to the Palais Garnier from each of these bus route stoppages.
There is a large car park in Rue Bruno Coquatrix; Q Park Edouard VII…be prepared to pay heavily for parking and disastrous traffic.
Address
Place de l'Opéra, On the corner of rue scribe and rue Auber, 75009 Paris
Phone:  +33 171 2524 23; Official Website
There is an in-house restaurant "Opera" at Palais Garnier that's open every day from 8 a.m. to 11 p.m. Day time menus are quick moderately priced dishes and the nights see pricier sophisticated menu. You can enter the restaurant via Place Jacques Rouche from the right side of main façade of the building.
This restaurant gets pretty busy so reserve your seat in advance by calling (phone: 33 1 42 68 86 80). There is valet parking in front of the restaurant.
In case you want more options there is Café de la Paix on Place de' Opera and the Galeries Lafayette Gourmet store on rue de Provence. Rue Scribe has lots of restaurants like Le bar du grand, La Verriere (fine dining) and Le Lumiere. Then there is Boulevard des Capucines with Le grand café capucines, Opera Mandarin, Five Guys and Opera Ramen. If you walk a little further into the opera district you will find a lot of Japanese restaurants too.
Also Read