The iconic entertainment hotspot of the 18th arrondisment is marked by its vintage red design, countless Hollywood and literary references, famous clients, glamorous women and the trademark red windmill on its roof. Many say that visiting Paris is incomplete without catching the show at Moulin Rouge.
Today the Moulin Rouge is more of a tourist attraction than just a music dance venue. It's on almost every guided tour of Paris and some tours even include a ticket to one of the famous Moulin Rouge cabaret shows. Learn in exhaustive detail about the dinner and show combinations offered by various tours of Paris.
History & Current Ambience
The 1800's were the best time to have lived in Paris. She was getting a grand makeover in anticipation of the 1889 World Fair…the Opera Garnier, Paris Metro etc. were all parts of the grand makeover attempts. The Moulin Rouge was also a creation of the same Bella Époque era and it changed the way cabaret was perceived forever.
The place was named after the red windmill that still stands on its roof. It saw a succession of famous visitors including the Prince of Wales, movie stars and important politicians of all times. Moulin Rouge led to the creation of cabaret stars like Jane Avril and La Goulue. Moulin Rouge has been running since the 19th century with the vision of providing joy, sensual visual pleasure and fine dance, music and performing arts demonstrations.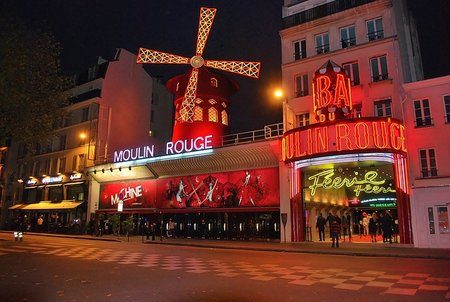 Very few know that the original Moulin Rouge burned down in 1915 and was subsequently rebuilt. The club is the original inventor of the Can Can dance that created a whole new form of entertainment and built the cabaret craze all across Europe. The interiors are classy rather than flashy and are done in various shades of red. Expect lots of gilt, crystal and velvet upholstery inside. The tables and chairs are set to perfection but are closely packed (in the standard seating area) and the stage is gorgeous in every sense.
Acts & Scenes
Some of the shows do change from time to time but the Can Can is almost always on the agenda. The Feerie show has been running since 1999 and is expected to last for a good number of more years given its unceasing demand. It consists of 80 artists (60 of whom are the famous Dorris girls) and they are recruited from all across the globe.
They wear these revealing yet sophisticated feather, rhinestone and sequin costumes made in the best of Parisian shops by Italian artists. The choreographer, costume designer and the conceptualiser of the show all deserve a standing applause. The music used is original and has been recorded by more than 75 musicians and 60 chorus singers.
The Feerie show can be divided into 4 scenes. The 1st scene is called "Moulin Rouge Yesterday and Today". This basically introduces the whole troupe and the Dorris girls in a lovely show of light and colour. The 2nd scene is the Pirates show that portrays the adventures of a group of Pirates in Indonesia…this is a visual extravaganza of priestesses, pirates, lovers and impossibly seductive women who enact the fantasy inspired stories.
The 3rd scene is the Au Cirque or the circus…expect Siamese twins, parrots, jugglers and clowns and all typical 90's circus stuff in a grander version. There is a parade of the Dorris girls at the end. The 4th scene is basically a tribute to Parisian women through the ages …a parade of the glamorous beauties who made Moulin rouge the icon that it is today. At the end of it all there is the Can Can dance.
Between these 4 main acts/ scenes there are a number of other acrobatic performances and short shows reminiscent of vintage circus acts. Expect ventriquologists, acrobatics, couple dance feats, impossibly fast dance acts, comic acts and strength displays. The Moulin rouge shows can be called risqué or even provocative as there is frontal nudity but there is no full nudity like many other cabaret shows in Paris.
Points To Remember
Don't try to take photos while you are inside Moulin Rouge watching the show. The staff will simply delete your photos and ask you to leave if you are caught. Buy photos (optional) from their press agency; they supply great quality prints.
There is a cloakroom inside and you can store small bags and coats. Camera cases, backpacks and large luggage cases cannot be taken inside though. The cloakroom fee is 2 euros but it's free for VIP ticket holders.
There is a kids menu but due to the racy nature of the Moulin Rouge neighbourhood and the debatable contents of the show; discretion is advised while bringing kids to the show.
It's possible to download a hearing aid via Wi-Fi inside the premises. All you have to do is download the "Sennheiser Mobile Connect" App for free and then connect your headphones before connecting to the WI-FI MobileConnect network. A very nice feature for guests with reduced abilities.
Shorts, Bermuda's, sport clothes and shoes are not allowed inside the Moulin Rouge. It's not compulsory to wear a jacket and tie but smart casuals and dressy attires are appreciated.
Since March 2015 Moulin Rouge has a new presiding chef David Le Quellec. The menu revamps and the elaborate new culinary presentations are all thanks to him. Roughly 25 other chefs and a support staff of 120 people work in the kitchens to serve up approximately 600 fantastic meals at the Moulin rouge.
Moulin rouge sells stationery, fashion jewellery, champagne flutes, candles etc. through their website as well as a gift outlet on their premises.
Kids below the age of 6 are not allowed inside the Moulin Rouge
Animals like ponies, puppies and snakes etc. are used in the show. If you are an avid PETA supporter then some acts involving animals can spoil your mood.
Show Details, Meal Timings & Prices
Lunch is offered at 1 p.m. while the show starts at 2.45 p.m.….this isn't a regular occurrence like dinner so you need to check the calendar on the website to know the exact dates of the lunch offerings. Lunch plus show is 165 euros per person while just the show is 85 euros.
There are 2 shows per night; 9 p.m. and 11 p.m. Dinner is served at 7 p.m. followed by the shows. Dinner is a much more preferred choice when it comes to a Moulin rouge show. The options of dinner menus alone will flabbergast you. There is the ToulouseLautrec evening menu (199 euros), Mistinguett evening (185 euros), Belle Époque evening menu (230 euros), Vegan menu (195 euros) and even a separate a la carte menu.
The contents and duration of the show remain the same…the price differences reflects only the menu differences. Food is gourmet French classic dishes of uniformly superlative quality and there is a bottle of champagne/ wine. Once you are through with the bottle and would like something to drink then there is no other option than to buy another bottle at an inflated price. They don't sell by the glass, there is no bar inside and outside food/ alcohol is not allowed. The cheapest champagne bottle they have is about 80 euros.
There is a separate kids menu and show with a kid friendly culinary offering ….costs 117 euros per kid (meant for Kids under 12 and above the age 6)
All The tickets can be grouped into 2 basic categories; VIP and standard.
The standard (non VIP) seating area is about 50 to 70 feet away from the stage and offers nice though not outstanding views. Tables here usually seat 4 so you might have to share your seating with other guests. Also you might have to adjust your chairs a bit to catch the best stage views.
All non-VIP ticket holders have to queue up quite a bit…the average line waiting time is 50 minutes. Once inside there is no option of choosing a seat…you just have to sit at the table number indicated on your ticket.  It may seem like too much to wait outside for such a long time and then be huddled inside rather unceremoniously when you have paid anything upwards 85 euros for a ticket (the price of a standard show without lunch/ dinner) but then this is a very famous place and that's the price of fame.
The VIP experience is meant only for 24 people so you have to book well in advance. Be escorted by the maitre to the plushly decorated balcony and settle down into lavish seats while you avail the sumptuous 4 course dinner and a steady flow of macaroons and champagne (1 bottle). Prices start at 420 euros for a single person. The VIP dinner happen at 7 p.m. followed by the shows (choose between 9 p.m. and 11 p.m.)
There is even a VIP experience with same facilities but no dinner…only half a bottle of champagne and gourmet macaroons served during the show.  Direct up close views of the Feerie show and the pleasure of having a private dinner table serviced by attentive waiters heightens the charm of the Moulin Rouge experience. Prices start at 210 euros per person…the guests just get to watch the show either at 9 p.m. or 11 p.m.
There is free cloakroom entry and even a surprise gift and a skip the line entry (big advantage!!) for all VIP guests.
Ticketing
You can find a wide range of cabaret shows in Paris including at Moulin Rouge and book ticket online through this Viator site.
You can book tickets in advance at the booking counter as well (address given below) and sometimes there are discounts for the 11 p.m. show.
Location & Conveyance
The Moulin Rouge is just a few steps away from the metro station Blanche in the Montmartre area so the location is very convenient. Nearby you will see lingerie shops, sex toy shops and peak shows happening in storefronts so it's not the best neighbourhood. If you want to avoid walking through the streets containing those shops surrounding Moulin Rouge then take a taxi. There is a commercial arrangement with Clichy Montmartre car park and Moulin rouge so you can park your car there.
If you want to save a lot of money, just watch the show and have your dinner at the excellent restaurants nearby. There is Rouge Bis, La Scuderia Del and Tsubame all within 500 meters of Moulin Rouge.
82 Boulevard de Clichy, 75018 Paris, France
18th Arr. – Buttes-Montmartre
Phone: +33 6 25 43 50 13; Moulin Rouge Website
Also Read