Probably the most famous burlesque show in the world the Lido is only second to the Moulin Rouge in terms of its tourist draw and popularity amongst the cabarets of Paris. Lido stands in one of the most prestigious addresses of Paris in the famed Champs Elysees.
The Lido looks sophisticated and modernistic from its exteriors with its huge white silver and black lettering and an abundance of lights. Inside it's an ode to the decadence and the fantasy romanticism of the Belle Époque period…a place to go to for a few hours of escape.
Unlike the Moulin Rouge, Lido rose to fame slowly and steadily and can now claim to a more diverse and technologically superior show than the Moulin Rouge. Besides its trademark cabaret shows, charity galas, fashion shows and performances by leading singers (Elton John, Frank Sinatra) are held in Lido. The French soccer team celebrated the 1998 world cup victory in Lido.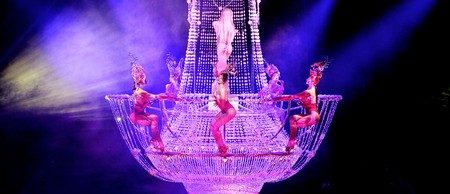 There is a kid's only Christmas show at Lido each year and 30,000 children are complimentary guests …though the parents have to pay for their own tickets. Incidentally the concept of dinner show originated within the walls of the Lido and the concept became an instant hit in Paris.
Read: The top night tours in Paris that combine cruise, dinner and cabaret.
History & Current Ambience
In 1928 Edward Chaux built an underground pool in a lovely French building on the Champs Elysees and named it "Lido" inspired by the iconic Venetian beach. It then graduated to a small cabaret and soon gained an haute status in the world of Parisian entertainment.
Gentlemen put on their best tuxedos and ladies slipped on their most extravagant gowns for a night at Lido. Guy de Maupassant, Claude Debussy etc. used to frequent Lido. There was a time in 1933 when its patrons deviated to other cabaret hotspots and Lido almost vanished. It was then that Leon Volterra (owner of theatre chains and racing stables) took hold of Lido and refurbished its swimming pool. He also built a gigantic glamorous playhouse with hundreds of Columns that soon captured Paris's fancy again.
In 1946 the Clerico brothers took over Lido and introduced the dinner show and in 1948 Miss Kelly (immediately named Bluebell because of her lovely blue eyes) joined the crew….spawning the new breed of Bluebell girls (all blue eyed beauties from various corners of the world). She has since then trained more than 10,000 bluebell girls who are known for their high kicks, sensuality and extravagant costumes in blue.
Right now Lido is at 116 avenue Champs and is much bigger and luxurious than what it was. There is a pool containing about 80 metric tons of water and a spectacular ice skating rink. The water effects used per show consume about 60,000 litres and the lighting is made up of 17000 light bulbs. The sound is completely digital though with lots of sound effects. The music was created by Jean-Claude Petit, and recorded by a top notch symphony orchestra while the Lido orchestra provides just support.
The music is a very important in the show so much so that the lights go off when the music stops. Inside Lido it's all glamour and symmetrical aesthetics with its awe inspiring chandelier, array of meticulously decorated white clad tables and a guaranteed unobstructed view of the huge stage.
Acts & Scenes
Since April 2015 the Paris Merveilles has been running in Lido and this features exceptional technological brilliance along with stunningly crafted dance and song sequences.
Right now the Paris Merveilles show is expected to be running in Lido Paris for many years. The direction and design of the show is by Franco Dragone (he used to work with Cirque du Soleil) and the theme is a tribute to Paris… the show has about 20 scenes and runs for approximately 90 minutes.  Expect everything right from the swan lake act with real swans floating on the lake to jazz performances to comic acts to sword swallowers etc.
Look out for the singer Mannon (she has featured in TV shows like Graine de Star and The Voice). Video play of Parisian scenes are played all throughout the show and there is even a slightly different version of the Can Can dance. Other artists worth looking out for are Circus artist Masha terentieva, mime Mansour and acrobats Igor and Luliia.
Each show has about 42 bluebell girls (from more than 16 different countries) and 16 Lido boy dancers al under the direction of Pierre Rambert. Apart from them there are several side artists, performers, stagehands, electricians, decorators, costume-makers, plumassiers, and sound engineers in total making up more than 400 employees. Lido is known for its technological brilliance…there are many engineering marvels that are behind the spectacular shows. For example a part of the room descends 80 cm so that all the audience can enjoy unhindered views of the stage.
Lido is known for its extravagant costumes that feature spectacular amounts of feathers, rhinestones and sequins. Every night 44 girls and 16 Kelly boys appear on stage and on an average there are 20 to 30 costume changes per show. It is said that 25 dressers work backstage to create and maintain those costumes and they are super busy always. Costume designer Nicolas Vaudelet who has worked with Jean Paul Gaultier, Louis Vuitton and Christian Dior in the past is responsible for designing the costumes. Jean Rabasse has designed the lavish sets with its actual fountains, shadow play and the famous crystal chandelier.
A wide variety of animals right from camels to black panthers to chimps to seals to bears and birds have participated in Lido shows and they all use their own special freight elevator that takes them straight to the stage.
Johnny Hallyday, Edith Piaf, Sylvie Vartan, Marlene Dietrich, Eartha Kitt, Josephine Baker, Maurice Chevalier, Kessler Twins, Shirley MacLaine, Laurel & Hardy, Mitzi Gaynor, Juliet Prowse, Elton John are some of the famous names who have graced the Lido stage since the last many years.
Points To Remember
Don't try to take photos or film watching the Lido shows. Your cameras and photos will be confiscated.
There is a cloakroom inside and you can store small bags and coats. Camera cases, backpacks and large luggage cases cannot be taken inside though. The cloakroom is free for all guests.
You can bring in kids above the age of 4 to watch the show…however the burlesque nature of the show demands discretion while doing so.
Shorts, Bermuda's, sport clothes and shoes are not allowed inside the Lido. It's not compulsory to wear a jacket and tie but smart casuals and dressy attires are appreciated.
There are usually 2 night shows at Lido; 9 p.m. and 11 p.m. you can find good discounts on the 11 p.m. show from their website or sometimes even from the booking counter. The contents of the shows remain the same.
Lido allows guests to organise their own special events and private celebratory occasions. For all such queries contact:
Phone: +33 (0) 1 40 76 56 15
Email: [email protected]
Lido sells gift items and souvenirs inscribed with their signage etc. through a gift outlet on their premises….the shop remains open from 7 p.m. to 12 a.m.
Kids below the age of 4 are not allowed inside the Lido.
Animals like ponies, puppies and snakes etc. are used in the show. If you are an avid PETA supporter then some acts involving animals can spoil your mood.
Show Details, Meal Timings & Prices
Lunch is offered at 1 p.m. while the show starts at 2.45 p.m.….this isn't a regular occurrence like dinner so you need to check the calendar on the website to know the exact dates of the lunch offerings. Lunch plus show is 110 euros per person.
Usually guests prefer to visit the Lido for the dinner show when all the dazzling chandeliers and lights are at their full glory. There are many options for the dinner menu. The Soiree Plume dinner and show is 130 euros per person. Dinner is usually 2 starters, 2 main courses and 2 desserts.
The Soiree Etoile dinner and show is 170 to 190 euros per person. Dinner is gourmet quality (2 starters, 2 main courses and 2 desserts) and there is 1 standard bottle of wine plus 1 glass of Lido Brut champagne. This is usually offered on Saturdays, Sundays and other special occasions.
The Birthday Celebration dinner and show is 240 euros per person. Dinner has 3 starters, 3 main courses and gourmet cake. The ticket price includes half bottle of Lido Brut champagne or ½ bottle of wine. There is privileged seating and better visibility of the stage.
The Soiree Triomphe dinner is 300 euros per person…there is a chef special menu with 2 starters, 2 mains and 2 Lenotre desserts. Half a bottle of Ruinart or Tattinger champagne is also included in the price.
The Soiree Champs Elysees dinner is 195 euros per person. There is a chef special menu of 3 starters, 3 mains and 3 Lenotre desserts. You will get regular half bottle Lido brut champagne or half bottle regular wine.
Apart from whatever is mentioned all extra drinks has to be purchased separately. Incidentally about 800 champagne corks pop out of bottles each evening at Lido which makes it about 292,000 bottles per year…Lido is one the globe's biggest champagne consumer. About 30 chefs whip up meals for around 900 impeccably dressed diners. Notice that all the staff is finely dressed and in an abundance of black; the captains, commis waiters and maître d's all wear black Franck Boclet designed costumes.
The contents and duration of the show remain the same…the price differences reflects only the menu differences. Food is of uniformly superlative quality and there is no bar inside, and outside food/ alcohol is not allowed.
If you choose to watch just the show then there are 3 options; balcony, spectacle sparkling and spectacle champagne. In the Balcony ticket (75 euros per person) you will sit in the balcony overlooking the stage…this is the cheapest ticket so no extras!! In the Spectacle sparkling ticket offer (85 euros per person) there is an escorted welcome and seating in priority seats plus one glass of Lido brut champagne. In the champagne and show offer (115 euros person) there is escorted welcome and seating in main room and half a bottle of Lido champagne.
On Saturdays and Sundays there is a special offer called Offre Service Premier that costs 165 euros per person. This includes seating in special priority table, personalised services and half a bottle of Ruinart champagne plus lots of macaroons.
The Lido de Paris remains open from 7 p.m. to 2 a.m… The dinner starts at 7.30 p.m. each evening followed by 2 show slots; 9 p.m. and 11 p.m. it's advisable to come by 7 p.m. if you aim to take dinner at Lido and by 8.30 p.m. and 10.30 p.m. respectively for just the shows.
Ticketing
You can find a wide range of cabaret shows in Paris including Lido and book ticket online through this Viator site.
You can book tickets in advance at the booking counter (address given below) and sometimes there are discounts for the 11 p.m. show. You can also book on phone or via e mail.
Phone: +33 (0)1 40 76 56 10; Email: [email protected]
Monday – Saturday from 9am to 8.30pm
Location & Conveyance
The Lido is on a prominent location on the Champs Elysees so getting here is never an issue. There is a car park right opposite the Lido; The George V car park that's open 24/7 so you can bring your own vehicle. The nearest metro station is George V and the nearest RER station is Charles de Gaulle Etoile station.
If you want to just watch the show then you can have your dinner at the excellent restaurants nearby. There is Pierre Gagnaire, Kok Ping, Le Fouquets and La Casita all within 1 km of Lido.
116 bis Avenue des Champs-Élysées
Phone: +33 1 40 76 56 10
Also Read