Most of Paris is a shopper's paradise so choosing the best place to shop is next to impossible. It's easy to get confused when there are so many glittering stores, worlds best luxury brands, tempting open markets, bargain flea markets, shopping villages and malls around. To shop in Paris it's best to pick out a particular area and then shop around that zone.
This article is structured around different arrondisments and their shopping experiences; not all of them offer the same deal as you will see. Whichever arrondisment you stay in Paris; this article will let you know the best shopping haunts there. And if you don't mind travelling to different zones to shop then decide whether you want to splurge, spend or save a little while shopping in Paris and you will get your perfect shopping destination.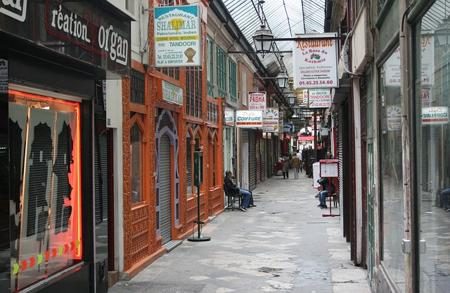 Best Time To Shop
Anytime is great for shopping in Paris but if you are looking for discounts and sales then it's worth knowing that Paris has two sale seasons. Summer sale usually begins on the last Wednesday of June and ends on last Tuesday of July. Winter sale lasts for 6 weeks from 8th of January (usually) each year and continues for 6 weeks. Discounts can sometimes reach 75%!!!
If you want ambience and lights then Christmas and Easter are the best times to shop. This is usually the time for special exhibitions, shows, new launches and limited period products too. The decoration of some shopping zones like the Grand Magasins and the Galeries make them no less than a tourist attraction.
1st Arrondisment: Palais Royal, Place Vendome and Place des Victoires
Luxury, High Street, Boutique Shopping
The zone around the beautiful Palais Royal gardens was once a hub for art and antique dealers but right now many leading designers have set up their stores here. Find Stella Mc Cartney, Pierre Hardy and Rick Owens here apart from independent boutiques.
The Place Vendome square with its classical columns was specially designed by Jules Hardouin Mansart to create a grand setting for government celebrations but right now the top watch, jewellery and couture stores live here. For example there is Cartier, Chanel, Boucheron, Swatch, Chaumet, Hublot and Van Cleef.
On Place Vendome head off to Charvet who stocks a staggering range of chemises (Churchill and Hemingway shopped here) and explore nearly 600 shades of white. An entire book can be written about the fabulous independent jewellery boutiques on Place Vendome…try visiting Boucheron, Mikimoto, Cartier, Piaget, and Mellerio etc. Nearby is the beautiful Rue St Honore and Rue Faubourg St Honore that are dedications to luxe fashion; all fashion brands like Hermes, Michael Kors, Lanvin, Gucci, and YSL are found here. Don't miss the French presidents home – Palace Elysee on the street…this is one of the most prestigious areas to shop.
This is a jewellery hub with brands like Apriati (Greek jewellery), Colette (sophisticated clothes and fine jewellery), Darys (antique jewellery), Mad Lords (men's jewellery), White Bird, Pelleni and IBU Gallery …on it. On Rue St Honore you will also find one of the best perfume stores of Paris – Ex Nihilo that literally means "out of nothing". This one offers a unique customised perfume blending process wherein the customer selects the perfume base and notes and sees it mixed in a sophisticated machine "Osmologue" before being packed in a bottle of choice.
Right on the border between 1st and 2nd arrondisments is Place des Victoires that's a superb elegant circle designed by eclectic French architect Jules Hardouin Mansart (creator of Versailles Palace).  All around the Louis XIV style square and the adjacent streets including Etienne Marcel are a row of designer shops like Kenzo. Walk for 5 minutes via Rue Etienne Marcel and you will reach Les Halles; the biggest underground shopping market of Paris…this is technically a part of 4th arrondisment so more on this later!!
At the southern part of the 1st arrondisment right where it borders with the second arrondisment is rue Richelieu; another shopping hub. The jewel in its crown is Yasmine Eslami stocking sensational swim wear and lingerie.
2nd Arrondisment: Galeries Colbert & Vivienne, Rue Montergueil
Luxury Shopping, Speciality Stores
Right on the borders of the first and second arrondisment of Paris there is the historic market network Les Galeries.  Some of these date back to the 18th and 19th centuries when there were more than 140 such passages/ galeries. One of the most historic Galeries here is Passage des Panoramas that opened in 1800 and sported gas lights (something like a marvel in those times). For history's sake you can look at the antique shops lining the Passage du Caire; the oldest surviving member of the Galeries (it was built in 1798 to 1799). Even if you don't shop here a visit to the most opulent passage in Paris is in order; Galerie Colbert with its magnificent glass dome.
Right next door is Galerie Vivienne; a decorative passage with mosaic floors and brass lamps in the busiest part of Paris. This part (Galerie Colbert and Galerie Vivienne) is marvellously decorated during all seasons and there is a lot of artistry behind the shop fronts, mosaic floors and the splendid arcades. You will find lots of independent French labels here like Wolff & Descourtis (vintage curated fabrics), Nathalie Garcon (French designer wear), Emilio Robba (artificial blooms), l Aparte (table arts) and Celine Robert (bags). This is one of those rare Parisian shopping meccas that's closed on Sundays.
Look for Jean Paul Gaultiers flagship store here (it opened in 1986).  If you are looking for out of the box gifts then shopping at the 1826 dated Librairie Jousseaume is a good idea. Shop for artisanal chocolates at Debauve ET Gallais and (33 rue Vivienne) and then slurp on a decadent chocolate Chaud at A Priori that's just a few steps away. For trivia's sake Debauve opened his first chocolate store in Paris in 1800 and one of his oldest creations is "Pistoles de Marie Antoinette"
After you are done, don't miss the renovated vintage clock at one end of the Vivienne Galerie; it's very Instagram worthy.
Move on to the Montorgueil neighbourhood (this contains Passage Grand Cerf) and you will find De Marseille ET D'Ailleurs that specialises in soaps, lotions and creams from Marseilles. Along Rue Montergueil you will find a completely different atmosphere than the opulent Galeries described earlier. This is a cheese, meat, bakery and flower paradise…the pick of the lot is the first ever Parisian bakery (Strohrer on 51 rue Montorgueil).
The coolest perfume concept store of Paris is here on Rue Bachaumont and it's frankly titled "Nose". You need to walk for about 3 minutes via Rue Etienne Marcel from rue Montorgueil to reach this road.  There is an actual perfume consultation of all customers that takes in personal history and preferences to fish up 8 unique fragrances that will surely appeal to each individual. Mostly, the store's co-founder Nicolas Cloutier is there to help each customer choose (and create) their signature scent.
A shopping escapade on the 2nd arrondisment cannot be complete without a visit to its legendary wine cellars. There is Legrand Files et Fils (Rue Banque), Aux Bons Crus (Rue Petits Champs) and Verjus (Rue Montpensier).
3rd and 4h Arrondisment: Le Marais and Rue Rivoli, Les Halles
Chic High Street Shopping, Affordable Fashion
Once the haunt of French nobility, Le Marais is where Parisians go to shop now… The neighbourhood straddles the 3rd and 4th arrondisments and has lots of beautiful boutiques, antique shops and snake like streets dating back to pre-revolutionary times. You should begin your Marais shopping spree on Place des Vosges; an iconic historic square that's surrounded by stores selling pictures, portraits and artistic stuff.
This is a non-touristy local fashion destination and there are large but affordable fashion chain stores here like Maje and Sandro and also famous French designer dens (Azzedine, Isabel Marant and John Galliano). Check out the cashmere scarves at L Habilleur (a designer discount store) and the androgynous fashion items at Swildens and Vintage apparel and accessories at Violette ET Leonie. If you have kids older than 5 but lesser than 12 then there is Souer with its fantastic dresses and t-shirts.
A little distance away is Merci (on Boulevard Beaumarchais); a gigantic cherry red concept store selling everything from wristbands to temporary tattoos, jacket. Also on the same road is Maison Plisson with its gourmet packaged food and groceries and Leon & Harper with its kitschy fashion. Boot Café with its staggering shoe collection is around the corner and so are a couple of nice independent designer boutiques like Anika Lena Skarstrom and Koshka Mashka.
If you are a man fond of fashion (or shopping for a man) then Ateliers Auguste (owned by brothers Xavier and Laurent) in rue Turenne is a must stop for their bags, luggage solutions and leather goods filled with the Parisian finesse.
Confectionary fans will have a field day picking up rose and berry puffs at Popelini, shortbread at Poilane and salty caramel macaroons at Pierre Hermes.
And of course a shopping escapade at Marais is never complete without a stop at le Marché des Enfants Rouges. One of the oldest and prettiest Parisian open markets you can brunch or shop for food, flowers and local produce.
The heavily arcaded and supremely elegant Rue de Rivoli runs around the Louvre museum and the Tuileries garden straddling both 1st and 4th arrondisments. The main street has major stops like BHV (opposite Hotel de Ville); a huge Parisian departmental store stocking everything from fashion to home decor. BHV has many unique brands like Anthropologie, Urban Outfitters, Pomax and APMP amongst its list of 900 brands apart from a floor completely dedicated to delicatessen products. There is a separate BHV Marais Homme with its 5 floors dedicated to men's fashion and accessories flanked by 5 luxury boutiques; Valentino, Gucci, Fendi, Montcler and Givenchy.
It's worth knowing that BHV offers a 10% rebate for tourists and also has a hands free shopping facility with dedicated shopping assistant and express delivery offer.
Then there is GAP, Zara, Mango, and H&M apart from old vintage stores like La Samataine around Rue Rivoli. There are countless side streets too filled with independent boutiques and fashion stores. Once you are done shop for chocolates from Angelina…you can even participate in the evening tea session here; it's widely hailed as the most elegant tearoom of Paris.
Another great shopping destination on Rue Rivoli is the Louvre!! If you love shopping then exploring the Louvre museum should begin at the underground level of the dazzling glass pyramid; at Printemps Carrousel du Louvre. A 2500 m2 of store space with over 40 luxury and high street brands spanning watches, fashion, jewellery and beauty products. Notable names include Pylone, Delfonics, Apple, Tumi, and Maison du Chocolat etc.
Before you tear yourself away from the charms of Rue Rivoli don't miss Libraries Galignani; the first English bookstore on the planet (established 1801)!!!
The Beauborg-Les Halles area of Paris is where all the major railway networks of Paris criss cross. The original gargantuan market began 800 years ago and this place traditionally sold only vegetables, fruits and produce to Parisian restaurants earning the name "belly of Paris". In the 1970's it transformed into multi-level underground shopping centre with a fantastic glass and metal façade. The top of Les Halles has bistros and cafes and the neighbouring Rue Montorgueil area is a very good food and wine market.
Forum des Halles (the actual underground market) has many brands under one roof like Tam Tam, Zara, Mango, Espirit, L Occitane, Sephora, Promod, Naf, Quicksilver, Benetton and Kookai. Quartier Beauborg et les Halles is a maze of streets bordering the Pompidou centre …they are mostly famous for shops selling sketches, books, posters and postcards along with a few quirky apparel stores.
6th Arrondisment: Rue de Rennes, St Germain des Pres, Latin Quarter
Independent Mid-Range Fashion Stores, Luxury, Boutiques And High Streets
Rue de Rennes is the road that connects the Tower Montparnasse to the fringes of Boulevard Saint Germain. Parisians call this one of their favourite shopping streets. Browse through brands like Etam (swim wear, lingerie, and turbans), Zara (there are two boutiques in the same street), Kookai and Naf Naf. There is a speciality Indian tea store (Darjeeling), a Fanprix store and a FNAC outlet. Amongst the lot, one of the Zara stores housed in Felix Potin building has a lovely Art Nouveau dome and is visit worthy even if you don't shop. Shop for gourmet products at La Vaissellerie and for umbrellas at Plastiques.
The sophisticated Boulevard Saint Germain des Pres is known for its high street fashion stores punctuated by the occasional luxury store and some chic budget stores too. The beautiful architecture and the profusion of trees make it a great place for a walk and the shopping mecca reaches its peak around the junction of Boulevard Raspail and Rue du Bac. There is Genevieve Lethu famous for its tablecloths and beautiful tableware and Plastiques with its stunning salad bowls, cheese trays and plates.
Saint Germain neighbourhood has interesting concept stores like the Sennelier Art Store, La Pistacherie (stocks all possible varieties of dry fruits especially Pistachios), La Maison Ivre (lovely pottery), Arty Dandy and Gab and Jo (gifts) and independent boutiques like Sabia Rosa and Lupicia. Round it off by shopping for chocolates from Debauve Gallaias.
While wandering around Saint Germain a stop at the Maison Georges Larnicol on number 132. The brand has won the Ouvrier de France Tricolor seal only awarded to exceptional craftsmen… the service is exceptional and you can try unusual flavours here like salted caramel eggs, raspberry Louignettes, and rose macaroons. The macaroons here are superlative and so are the chocolate bars.
Stroll along Rue d'Assas and follow the street leading by Luxembourg Garden into the exciting Latin Quarter for some cool bargains. Le Mouton a Cinq Pattes (sheep with 5 legs) is a fun store here and DPAM is good for kids apparel, toys and accessories. You can also take a 7 minute detour via Rue Saint Michel and reach Rue Madame; this is an emerging eclectic shopping destination.
There are incredibly innovative and versatile bags at Jamin Puech (43 Rue Madame) and two flagship men's and women's fashion boutiques of APC (35 Rue Madame). Maison Kitsume with its minimalist clothes and accessories and yacht like design is also a good stop and so is the brand new jewellery boutique; Mathilde Ma Muse (limited edition yet affordable).
7th Arrondisment: Rue Du Bac and Bon Marche, Rue Saint Dominique, Rue de Grenelle and Rue Cler
Luxury Shopping, High Street Shopping And Food Markets
The le Bon Marche departmental store is definitely the jewel of the 7th arrondisment. It stands on rue Sevres and is lauded as one of the world's first departmental stores; it was established in 1852 by Aristide Boucicaut,
The multi brand huge store with its stunning white tiled criss cross designer escalators and Instagram worthy architecture stocks the work of young French designers like Claudie Pierlot, Chloe and APC.   There are several departments including a dedicated luxury section, gallery of Imagination and an entire department dedicated to books and stationary. There are regular art shows, cultural exhibitions and limited edition launches here….the space is so big that it straddles a bit of both the 6th and the 7th arrondisments. Exploring Le Grand Epicerie that's right next door (that stocks almost every European gourmet item on earth) can alone consume an entire day. Shopping here is an experience in itself; there are personal stylists, dedicated shopping assistants and shipping worldwide!!
The zone between Champs de Mars and Esplanade des Invalides is often named by Parisians as the best place to shop in Paris. There On rue du Champ de Mars there is this fantastic food store; Epicerie Fine Rive Gauche…it stocks produce only from small scale French producers. This won the 2017 edition of Guides des Gourmands best epicerie award.
Rue Dominique connects the Esplanade des Invalides in the eastern side to Champ Mars in the western side and while it's a treat to walk on it; the shopping opportunities are also immense. This is a Parisian boutique zone with Ba&sh, Gerard Darel, Antonelle, Berenice, Des petits hauts, Stella Forests and Claudie Pierlot on it as well as Hircus that stocks lovely cashmere. For kids there is Jacadi and if you want to shop shoes then there is the Minelli (high street prices). If you are in the mood of splurging then there is the Venise Collection; a shoe lover's paradise with brands like Repetto, Chloe, and Marc Jacobs etc. For an authentic French cosmetics haul there is Marionnaud that stocks both high end and drugstore cosmetics.
Then there is Les Grandes Caves (55 rue Cler) stocking fantastic wine strains from champagne, Loire, Burgundy etc. and Martine Lamber (39 rue Cler) who stocks astounding Normandy style ice cream, cakes and sorbet. Buy Italian style parma ham, truffles and Emilia Romagna cheeses from Davoli (34 Rue Cler) and then cross the street to walk into Maison Jeusselin ( a French charcuterie named as best Parisian delicatessen by Gault and Millau guidebook) famous for its cheeses, jambon Blanc and foie gras. . Supposedly the best Pate Croute of Paris is also found near this street….Lastre sans apostrophe on 188 rue de Grenelle. For chocolates stop at Chocolatier Pralus (44 rue Cler) and for fresh Chantilly cream stop at La Maison de la Chantily (47 rue Cler).
Most Paris open market food tours will have a Rue Cler stop on their schedule. Right next to Rue Cler there is the Marie Anne Cantin store…lauded as one of the best cheese shops in the world. Shop for aged chevres, Comte, Morbier and Mont d'or…Marie Ann only stocks limited quantity cheeses from small farms across France.
Also in the 7th arrondisment is Rue de Bac with its famous taxidermy store Deyrolle (it was featured in the movie Midnight in Paris). And right at the edges of the 7th arrondisment there is one of the biggest malls of Paris; Beaugrenelle with brands like Marks and Spencer's, Zara, Mango, Uniqlo and H & M. Shop at this mall and avail its free shuttle boat service across Seine!!
8th Arrondisment (Golden Triangle/ Triangle d'Or): Champs Elysees, Avenue Montaigne, Rue Francois and Avenue George V
Luxury Shopping
The famed Golden Triangle in Paris is considered to be amongst the world's best destinations for luxury shopping. The golden triangle consists of Champs Elysees, Avenue Montaigne and Avenue George V and delving into the iconic stores here is as much about enjoying the high life that Paris embodies as luxe shopping. Champs Elysees shops are open 7 days a week from 10 a.m. to about 9 p.m. though on Sundays shops can open as late as 12 noon…
The Abercrombie Fitch (USA clothing brand on 23 avenue des Champs) is worth a visit even if you don't buy anything…topless male models stand in the doorways at all times and there is a splendid almost regal box hedged garden. 1930's style frescoes inside, bouncers to regulate every movement and Barbie and ken inspired shop attendants (they keep dancing to the music). The collection comprises of distressed jeans, t-shirts, bombers, tank tops and other casual wear items.
The Louis Vuitton flagship store (at the intersection of George V and Champs Elysees near Place Vendome) is amongst the biggest showrooms in the world and almost looks like a museum (it has 7 floors). All the brand lines from leather goods to apparel to jewellery to accessories to their famed travel cases and bags; you will get everything here. There is even a special cultural room that organises treasure hunts, workshops and exhibitions.
Also don't miss Caron (fine French perfumes), SF DuPont (finest writing instruments) and Linge de Maison (designer linen).
While strolling along the Champs Elysees it's easy to spot the vintage Guerlain mansion on number 68. The building was designed by Charles Mewes in 1913 and is now a historical monument. Shop inside for fragranced beauty products, complexion enhancers, soaps, and hair and skin products and off course their famous perfumes. Splurge on Eau de Cologne Imperiale 1853 or buy the moderately priced Shalimar 1925. Going for your own perfume designing session is highly recommended.
Tiffany's glittering new 3 storied store at 62 Avenue de Champs opened recently with magnificent interiors and an exhibit of the famous 128.54 carat yellow Tiffany diamond. You might as well run into Hilary swank or Jessica Beil while shopping inside the store. The 1837 glass encrusted Tiffany chandelier, mirrored murals by Hugo Dalton and Calacatta marble and limestone stair case are as drool worthy as the magnificent jewellery and accessory collection inside.
Champs Elysees has its share of mid-sized shopping malls like Elysees 26 (check Agatha jewellery and L'Eclaireur), Galeries du Claridge (Annick Goutal perfumes) and Arcades des Champs with its gift and confectionary stores. These are places you should visit if splurge shopping is not your goal but you still want to experience Champs Elysees. If you want to shop mid-range fashion ware then Gap, Zara, Levis, H & M, Lacoste and Banana Republic all have their stores on Champs Elysees. For mid-range make up and perfumes there is Sephora. The huge Virgin Megastore and FNAC book and music store at 74 Champs Elysees deserves special mention; shop for music, electronic items, books and accessories. Then there is the 5500 m2 Apple store sporting a dazzling glass ceiling and solar energy power. Apart from phones, laptops and apple merchandise there is a whole room dedicated to Hermes products.
Once you are done shopping at Champs Elysees you could check out the refreshments (pastries, macaroons, savouries) at Pierre Hermes (number 86).  The store is collaboratively run with the French perfume brand L Occitaine.
Avenue Montaigne (51 avenue Montaigne) is famous for its flagship stores too like Fendi with its exclusive collection of animal skin products and its inspirational Baguette Wall that's an ode to the brands famous handbags.. Right next door is Yves Saint Laurent and Chanel while right across the road you will find Dolce and Gabbana, Ralph Lauren, Pucci and Chloe. Don't miss the Dior Flagship store here!! One end of the Avenue Montaigne opens up to Champs Elysees while the other end presents a nice view of the Princess Diana memorial and Eiffel tower.
Avenue George V begins at the Alma and ends at 99 Champs Elysees creating the western boundary of the Golden Triangle. Look for Eli Saab, Kenzo, Hermes, Bvlgari, Santoni, Balenciiaga and Corneliani. Continue your shopping escapades on Rue Francois where there are Balmain, Rochas and Courreges stores.
Grand Magasins of Haussmann Boulevard, Place de la Madeliene and Rue Troenchet
Luxury Shopping, Boutiques, Speciality Stores
If you have ever been to Paris then the Haussmann Boulevard; a 2.5 km long connector between the 8th and 9th arrondisments must have struck you. If you have a taste for luxury brands but are on a budget then this is the zone you should explore. All the lovely streets surrounding the neoclassical Madeleine church are dotted with cafes and gourmet food shops (most of Parisian food speciality stores are here).
There is Maille …the speciality mustard store stocking more than 60 different variants. Then there is Fauchon with its cookies, candies, biscuits, jellies and chocolates and everything is packaged in hot pink and black. Then there is Kaspia (devoted to caviar) and right next door is Maison de Truffle. Also consider dropping in to Hediard with its teas, spices, fruits, cheeses, pastries, foie gras and wine cellar.
Take Rue Tronchet from La Madeliene and walk into the Printemps shopping space; this is an 1865 dated listed historical monument created by Jules Jaluzot. The concept shopping space sprawls across 3 buildings and a total of 25 floors and stocks more than 300 brands. There is a food hall, a vast beauty space, an entire floor for luxury goods (Printemps Luxe) and more than 7 cafes. They even deliver the shopping loot to international destinations as well as all locations in Paris and also provide a multilingual shopping assistant service!!
Then there is the gorgeous Galeries Lafayette with its multiple stores and multiple brands. If you are in Paris with kids then do drop into the kids section here… you will get all brands like Enfant Boss, Lacoste, Little Marc Jacobs, Tommy Hilfiger, Karl Lagerfeld Kids, Burberry, Absorba, Cadet Rousselle under one roof. What's more the Galeries often has tempting discounts. Nearby Galeries Lafayette there is a huge Monoprix store stocking everything from make up to skin products to home décor at moderate prices.
Another place nearby for grand discounts on high street stuff is La Maroquineie Parisienne (on rue Tronchet)…on an average everything is 20% cheaper here. You will get tax rebates post shopping for more than 150 euros. Shopping here is atmospheric as after dark the Opera area lights create a dazzling background for shoppers.
15th Arrondisment: Rue Commerce
Shop With The Locals
It's so surprising that one of the cheapest shopping streets of Paris is near the priciest Eiffel Tower area. Cross the Champ de Mars gardens and reach a street that's jam packed with more than 100 boutiques. This is where the locals shop and there are many standalone boutiques and affordable fashion store. Amongst the big names there are H&M, Cyrillus, Pimkie, Promod, Celio, Arthur & Fox, DPAM, MAC, Libertie, Marionnaud (shop discount perfumes), Princesse Tamtam, Body Shop, Sephora, Gerard Darell and Zara
The huge Monoprix store at the corner of Rue Commerce and Boulevard Grenelle is also a must visit. Shop for budget fashion and beauty products on the first floor and food on the second floor.
16th Arrondisment: Rue de Passy
Mid-Range Shopping And Open Markets
The 16th arrondisment offers ample shopping opportunities for mid budget shoppers. One of the busiest shopping streets of Paris; Rue de Passy is again more of a local shopping haunt than a tourist place. The first place to check out here is the Passy Plaza with its 30 odd stores including Lacoste, Woman, GAP, Ekyog, H&M, Repetto (delectable ballet shoes), Maje etc.
There is a delectable fresh produce market on Place de Passy; Marche couvert de Passy. For more fruits, flowers, cheeses, chocolates and cured meats check out Marche couvert Saint Didier on Rues Mesnil.
No visit to the 16th arrondisment is complete without a trip to the Librairie le Moniteur (books and photography equipment) on Place Trocadero and Natalys (future moms and babies and kids). There is a stunning Isabelle Marant store that spans across 3 storeys and is housed in a decadent private mansion on avenue Victor Hugo.
18th Arrondisment: Porte de Clignancourt, / Les Puces de Saint-Ouen
Flea Market, Antiques And Home Décor, Bargain Hunting
Timings: Saturday and Sunday from 9 a.m. to 6 p.m.
Monday from 11 a.m. to 5 p.m.
Over 200 years ago rag pickers vandalised Parisian streets at night looking for leftover pieces that they could sell. They were known as peucheurs de lune (moon's fishermen) and they eventually gathered outside the city walls at Porte Cligancourt and set up temporary stalls. It was in 1885 that Saint Ouen town authorities cleared the area, paved streets and set up covered stalls there thus creating the Les Puces de Saint-Ouen.
The most famous flea market in the world and the world's largest antique market happens to lie in the less affluent 18th arrondisment of Paris. Keep your cash secure, leave your passports at the hotel and arm yourself with caution and fortitude as you dive inside. Noteworthy items inside include African goods, clothing, household objects.
Along Rue des Rosiers there are an army of shops selling period art deco furniture, mirrors etc. There are two lanes inside; Marche Venaison and Marche Antica that sell everything from vintage textiles to vintage beads to antique jewellery to toys. There is Marche Biron that specialises in vintage jewellery and there are several standalone lanes like rue ert and Marche Serpette where there are vintage apparel and religious iconography on sale.
To reach the main market get down at the Porte de Clignancourt station (line 4).
Bouquinistes
Books, Culture And The Seine
A special section needs to be devoted to the Bouquinistes of Paris; a feature that's more about culture than shopping and an accessory without which the banks of the Seine would lose much of their charm. In the 16th century peddlers known as libraries forains peddled along the Seine banks and in the 1557 religion wars they were accused of circulating "Protestant knowledge" (a grievous crime in those days).
When the Pont Neuf opened at the starting of the 17th century the booksellers resorted to ferrying their wares on wheel barrows but it was only after the French revolution happened (and contents of chateaux and mansions dismantled) that these Bouquinistes started doing serious business. Post 1930 the government specified the box dimensions and width to ensure uniformity. The Bouquinistes are operational from 10 a.m. to sunset and at night their stuff is locked away in the green boxes and protected by metal bars.  Right now even non shoppers stop at the Bouquinistes for buying trinkets if not books.
You will find the green box shaped concoctions holding a varied collection of books on both banks of the Seine across 3 kilometres. On the right bank it's from Quai du Louvre to Pont Marie and on the left bank it is from the Quai Voltaire to Quai de la Tournelle. The boxes are always dark green (an ode to old train carriages) and contain magnets, stamps, souvenirs, posters and postcards apart from new and used books. There is an 8 year waitlist to become a Bouquiniste …after all they are the only traders in Paris who don't pay tax.
La Vallee Village
Best Brands With Best Discounts
A 90 store mall with a charming village setting; La Vallee offers most of the high end brands without the hefty price tags. Many stores here like Christian Lacroix, Celine, Givenchy offer deep and permanent discounts.
Take the shopping express bus that leaves from outside Place des Pyramides near Louvre. To reach here by TGV/ Eurostar/ RER get off at the Parc Disneyland or the Marne Vallee station and take RER4 towards Serris Montevrain. The Village is open every day from 10 a.m. to 7 p.m.
Shopping Tips
While splurge shopping in Paris try to stick to French brands as they will be cheaper here than in USA. For example Sisley, Hermes, L Octaaine, Chanel, guerlain are all French brands. If you want variety of one particular brand visit the flagship store and if you want all brands at one place then try avenue shopping. For example Galeries Lafayette is the perfect place for multi brand luxury shopping.
While shopping on a budget in Paris try taking a local friend along. Bargain hard (you can do this even inside department stores) and be persuasive. Stay aware and keep your wallet, documents and valuables safe when you shop at flea markets, open food markets and basically at any less fancy crowded shop.
Also Read