Before you plunge straightaway into the list of best cafes in Paris, it's necessary to know a few pointers. Frenchmen (and women) traditionally drank a lot of coffee. In fact Voltaire, the famous philosopher drank up to 40 cups a day and the focus was firmly on 'quantity'. But in the early 21st century a new movement arose in Paris…the focus shifted to 'quality' and hyper artisanalization or perfect execution of every step of the coffee production.
Quality organic bean sourcing from different roasters, on the spot roasting and gourmet coffee are some of the terms associated with third wave coffee. Entire books have been published on the subject but all you need to do is to pay a visit to some of the third wave coffee shops on this list to understand the essence.
Secondly, there are some cafes in Paris that are legendary so visiting them is as much a tourist activity as visiting a museum or church. There are vintage cafes on this list that luminaries like Verlaine, Mallarme, Jean Paul Sartre and Hemingway frequented.
Thirdly, food in Paris is sometimes unjustifiably expensive so there are some cafes on this list which offer you excellent food, excellent coffee and excellent people watching (the true essence of café culture) in a very decent budget.
So here are the top Parisian cafes in all three categories.
Ten Belles
Category: Third Wave
A few blocks away from the eclectic Canal St Martin lies the equally eclectic Ten Belles …a tiny cafe par excellence with a huge reputation for its in-house blends roasted by Belleville Brulerie. Owned and operated by Alice Quillet (she owns Le Bal Café) and Anselme Blayney (she owns Belleville Brulerie); they are both key people in bringing about the coffee revolution in Paris. The place shot to fame for its creamy mellow flavour of coffee….almost all variants from espresso shots to cappuccino are good (no wonder this is star chef Gregory Marchand's favourite haunt).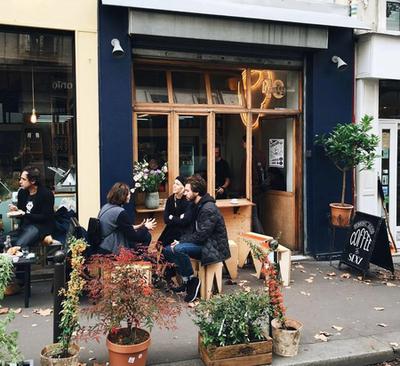 The original branch of the café is tiny with unobtrusive pinewood exteriors and a few stools standing on the pavement but there is a lot of character. There is a lot of detailing here like there is eco-friendly paper wrapping around the breads and the rye bread has sprouted rye in it. This is good for coffees, takeaways, bread baskets and a quick dessert.
Look out for the café gear on sale; nice coffee mugs, take away reusable cups and smart thermoses. You will find heavier meals and a larger selection of breads at Ten Belles Bread (another branch) at Breguet Sabin. The bakery and café has a huge terrace that's great for outdoor dining in summer-spring.
Both branches serve a good range of morning pastries; sweet and savoury and the latter variety is preferred by locals as an antidote to last night's partying side effects. The chocolate bread, spinach brioche, banana bread, bread buns with butter and jams are some of the most ordered items at both branches. The dessert department is great too with apple and berry tarts, Comte swirls, chocolate brioche, plum scones etc.
If you are in the mood for something hearty then Welsh rarebit or a traditional Eggs Benedict is a great idea. Even a focaccia sandwich with its hearty fillings of pickles, vegetables and meats is a good idea.
Timings
The Ten Belles bakery and café is open from 8:30am to 7pm (Monday to Friday) and 9am to 6pm (Saturday and Sunday).
Daily meals are Lunch and breakfast. Brunch timings are from 11am to 3pm only on weekends.
The Ten Belles original café is open from 8.00 a.m. to 5.00 p.m.
Contact Details
Ten Belles Original
10 Rue De La Grange Aux Belles
Ten Belles Bakery
17-19, bis rue Bréguet (11th)
Nearest Metro: Richard Lenoir/ Voltaire
Phone: 01 42 40 90 78
Email: [email protected]
Loustic
Category: Third Wave Coffee
If you are vegan and a foodie and a coffee lover then this is your go-to destination in Paris. Known for its tall Chai latte's…this vegan café and eatery with an interesting menu and loyal clientele of health conscious customers is owned by Chana who hails from London.
Don't be misled by the rather rustic chic interiors…this is sort of a high end coffee place. The vintage Hermes Wall paper and muted pink cushions and the rather smart bamboo bar make it look like a Parisian Apartment rather than a café.
The baristas inside are very friendly and pretty serious about their work. It's nice to watch then weigh the coffee and make up concoctions like the Chai Latte and then do their cream art on it. Try combo meals like the zucchini soup and kale salad. Or you could try the croissants, cake and banana bread.
The coffee here isn't too sweet, well rounded and all its variants from espressos to iced coffees to lattes are good. Incidentally Loustic is a prominent member of the Third wave coffee movement in Paris. Their latest offering are speciality coffee by Belgian Roaster Caffenation. For non-coffee lovers there is the stylish 'milk oolong tea'.
On the flip side, on really busy days the staff are pretty blatant in asking customers to not switch on their laptops and start work inside the café. Granted, the seats inside are limited but the whole concept of Parisian coffee culture is to sit and relax so…
If you are visiting the Pompidou centre or the Rambiteau then you will find it easy to drop in.
Timing
Monday to Friday: 8.30 a.m. to 6.00 p.m.
Saturday: 9:30 a.m. to 6 p.m.
Sunday: 10 a.m. to 6 p.m.
Contact Details
40 rue Chapon, Paris 75003
Phone: 33 980310706; Café Website
Café Les Deux Magots
Category: Vintage High end
If you want your coffee cup with a generous dose of history and do not mind spending a bit for it then this is literally one of the "celebrity cafes" in Paris. Once upon a time (precisely 1812) a novelty shop with Chinese figurines stood here before it was replaced by an alcohol serving café in 1885. Verlaine, Mallarme and Rimbaud were regulars here and by 1933 the café had its own literary cultural "Prix des Deux Magots" award.
Time progressed and artists like Picasso, authors like Hemingway and Existentialists like Sartre kept choosing Les Deux Magots as their haunt. The café stands today as a living testament to those glorious times and most café tours (and food tours of Saint Germaine) will have this as one stop. There are two Chinese figurines still in its window display testifying to its name deux Magots.
As you must have guessed this is where you come for ambience and a culture soak…the atmosphere is very French and very traditional right from the crockery to the rather tight lipped waiters dressed in black suits and ties with aprons and white shirts. Look out for the framed black and white pictures of its famous clientele decorating the walls.
The coffee is good but expensive…the café crème comes with a cute heart on top and is best paired with a Croque Monsieur. The coffee is Coffee Arabica sourced from Mexico. Some must haves are Italian salad, escargot, veal chop in mushroom sauce. They have vegan menu options like French green beans and gluten free food too.
Coming for breakfast on a weekday is a good idea; you can actually sit and people watch with a simple menu of bread butter jam and cheese omelette. Sometimes on Sundays you will find groups of musicians playing right outside the café…it's quite entertaining especially if you choose to sit on the outdoor seating area.
It's a busy place so guests are really not encouraged to linger.
Timings
Open every day from 7:30 am to 1am
Contact Details
6 Place Saint Germaine Des Pres
Phone: +33 145 48 55 25; Café Website
Republique of Coffee
Category: Budget to Mid-range
Conveniently located behind Place de la Republique; this is one of those Parisian cafes which has a perpetually trendy crowd. There were two twin bars here; Chilango and Chambre Noire till Mexican whiz chef Mario Flores took over. In the mornings it's usually locals and expats and as the day runs on there is a steady flow of fashionistas, students, millennial and coffee snobs.
Coffee is usually sourced from Beans on Fire but this place is known for experimenting with blends. However it's the ambience here that's the star…huge windows, pristine white tiles and ceilings filled with mirrors (all Parisian style and very Instagram worthy).
The place is known for its Mexican food… think burritos, tacos, nachos, rancheros, guacamole and it also has a whole lot of vegan food options like acai and berry bowls, avocado on toast etc. Look out for the viennoiserie (it's rarely found in modern Parisian coffee shops) and the Chai Latte that's best paired with pumpkin bread or gooey cookies.
It's the great food at reasonable prices that's a winner though …the incredibly filling and tasty California Bowl (rice, avocado, quinoa, cheese, black beans and kale chips) is just 13 euros while ceviche and mango is just 14 euros. The staff do not ever rush guests so there is time to relax and people watch.
Timings
Open from Monday to Friday 8am to 7:15pm,
Saturday 9am to 7:30pm, Sunday 10am to 6:30pm.
Contact Details
République of coffee
2, Boulevard Saint-Martin, 75010 Paris
Phone: 09 83 35 38 13
HolyBelly
Category: Budget to Mid-Range
The owner Nicolas had lived and worked in Melbourne for some years before he got down to Paris and he brought down a little bit of Melbourne in Paris when he designed the interiors of the café. Right Now Nicolas and Sarah own and manage the place and they have a huge fan following. The atmosphere is lively and laidback and Beastie Boys keeps on playing on the speakers. There is plenty of room inside with a pinball machine, but if you arrive later than 10 a.m. on any day you are likely to find the place packed.
The coffee here comes in a large mug and vegans will be happy to hear that there is the option of ordering vegan milk/ oat milk. Coffee is sourced from a local roaster in Belleville. In Paris it's not easy to get Drip coffee but they have it here. They also have flat white and earl grey and chai latte so there is a good range.
One of the best places to brunch in Paris they serve huge portions and extra sides like the poached eggs platter which automatically comes with sourdough bread and haloumi, beef Patti and mushrooms. Don't just come for a coffee here…fill up your belly with pancakes, hash browns bacon and eggs (a typical breakfast plate will have this) and then top it up with some pear juice or perhaps a bloody Mary.
Or perhaps if you love health food there is black rice/ chia pudding, yoghurt and granola. The pancakes are definitely the star of the show here…both sweet stacks and the savoury stacks were beyond amazing. Great food at competitive prices and an unhurried ambience makes this a good place for a short break or a long lunch.
Timings
Monday to Sunday, from 9am to 5pm. Last order at 4pm.
Contact Details
They have two locations: #5 and #19, Rue Lucien Sampaix in the 10th arrondissement of Paris. #19 is the original outlet while #5 came up later in 2016. Holybelly #5 is more suitable for sumptuous breakfast and sides & specials along with coffee.
Nearest Metro Jacques Bonsergent at Chateau d'Eau.
Access by Metro: Jaques Bonsergent on Line 5 or République on Lines 3, 5, 8, 9 and 11.
Phone: 33 182 28 0080; Café Website
Café de la Paix
Category: Vintage High end Café
The French government declared the de la Paix a historic site in 1975, this vintage café has seen many movie shootings and inspired many poems and paintings. It's a part of the Intercontinental Grand Hotel (earlier known as the Peace Hotel). It was re-built under Napoleon III in 1862 who made it even grander.
One look at the intricate frescoed interiors, enormous amounts of gilt and the museum like stateliness and you will know that this won't be a 'budget café'. This is a place to revel in your meal and admire the surroundings. The indoor terrace, separate rooms for hosting private meals and the fabulous outdoor terrace looking out to Palais Garnier and Opera House are all wonderfully decorative.
There are multiple menus applicable at different times of the day. Terrace menu refers to breakfast and lunch menus. For lunch you can order a more substantial dish like beef tartare with French fries and salad or fish and chips. There is a nice seafood selection like oysters, Dublin Bay Prawns and you can even order food that's not usually found in a café (sushi and maki platters, canapes and cheese etc.).
There is a la carte menu too…the stars here are cheese sprinkled onion soup, fried sweetbread, poached turbot with acacia seeds, burgundy poultry with cream sauce etc. If you are budget conscious then the Garden Market show menu can be browsed through …this has starters and main course for just under 30 euros. There's typical traditional French food here like flamed veal with port wine and potatoes and also classics with a twist like pan fried squid with grapefruit.
The Parisian chocolate chaud is just like digging into a large melted chocolate bar with cream. Their club sandwich comes artistically arranged and speared with sheafs of wheat. Try the pâté en croute and the layered vanilla mille feuille.
This is an accessible establishment with adapted toilets and walkways. If you are in the Opera Garnier area then this is simply a must visit.
Timing
Open every day from 7.00 a.m. to 11.30 p.m.
Terrace menu from 8.00 a.m. to 10.30 a.m.
Garden show menu from 12 p.m. to 3 p.m. and 6 p.m. to 7.30 p.m.
Dinner menu from 6 p.m. to 11.30 p.m.
Contact Details
5 Place de l'Opéra, Paris / 12 Boulevard des Capucines
(Northwest corner of the intersection of the Boulevard des Capucines and Place de l'Opéra)
Phone: +33 1 40 07 36 36; Café Website
Fringe
Category: Third Wave
This is a relatively new Café in Le Marais but it has been earning rave reviews because of its stunning Scandinavian décor and speciality coffees that define the third wave coffee movement in Paris. The design is eclectic to say the least…watch out for the lamps that float on the ceiling like clouds…these are created by inventive Dutch designers Margje and Erwin. Also look out for the cameras perched on the plentiful bookcases; they signal that this place is almost as much about photography as coffee.
Later you will come to know that all the artwork on the walls and the boards keep rotating weekly; they feature different independent artists. The café is owned and managed by Jeff Hargrove; a photographer who created a book called Paris coffee revolution.
Fringe has been appreciated for its coffee extraction practices and its generous servings. The double espresso, flat white and the lattes are all try worthy and served in style. Every Saturday and Sunday there are fresh cinnamon buns. Pastries are baked every day in small batches and in healthy versions; the overall focus is on conscious seasonal food (a typical Scandi view point).
The menu has a Scandinavian edge to it; look for delish open sandwiches loaded with mackerel, smoked salmon and many other toppings. This café promotes organic produce subtly. There are no eco-friendly slogans around but the bread is made in-house with wheat flour from a local mill in ille de France. The chai blend is home made with local spices and the entire menu is seasonal.
Sip through as you flip through photography and coffee centric books. The coffee is sourced from European speciality coffee roasters and the sources keep changing like the art. Sometimes some strains like the "coffee collective" (Danish) become very popular and earn a permanent place in the menu. This is a place to sit, read and be inspired…the staff won't rush you at any point. It's a small place though so arrive early and grab your seat.
Timings
Monday to Friday: 9 a.m. to 5.30 p.m.
Saturday and Sunday: 10.00 a.m. to 5.30 p.m.
Contact details
106 Rue de Turenne, 75003 Paris
Phone: 33 1 71 73 57 81
Breizh Café
Category: Budget to Mid-Range
The Breizh Café is unassuming and simple with little room inside and average outdoor seating. Once you enter the huge crepe variations on the menu it might surprise you and the prices may seem rather high for the ambience and quality of seating. But all your doubts would vanish as soon as you bite into your first crepe (you will surely have many more) and you will know why there is almost always a huge queue outside the door. As far as quantity and quality goes….Breizh more than justifies its price. There are more than 30 different types of crepes and galettes on the menu.
It's almost a sacrilege to leave Paris without tasting the crepes and pancakes of Breizh…after all this is one of the original places that started the whole 'gourmet pancake' thing. Breizh is one of those few cafes that takes reservations in advance and their galettes (savoury thin pancakes made of buckwheat) have become a local legend. The café stocks unusual (for Paris) items like apple cider and spinach with crème fraiche…vegans and gluten free seekers will have a lot of choices.
Try the classic ham egg and artichoke crepe… you can't really go wrong with it. Or the dessert crepe with butter yuku, green tea ice cream, strawberry and sugar. Or maybe try the savoury crepe with sea pickle and fish if you are feeling experimental. If you are here for lunch then try the smoked fish and potato with crème fraiche and a salad (recommended miso vinaigrette). Buy a packet of their home made sea salt caramels to take back with you when you leave.
They have good coffee too but this isn't a speciality coffee café…more of a creperie café that Parisians swear by. The Picasso museum is right next door and the Marais zone is always worth exploring once you are done eating.
The Breizh sources buckwheat, butter, cheese, fruits and cider (there are more than 60 variants) from Brittany and they are proud of their organic seasonal menu. The Café has its own school of crepe makers now with special courses on crepe making…its owner Berrand Larcher commands considerable media attention. Check out the Comptoir Breizh Café (an aperitif place) on 6 rue del 'orme too for more culinary options, more cider and more of Berrand Larcher's touch.
Timings
Open from 10 a.m. to 11 p.m. every day
Contact details
109 rue Vieille-du-Temple, 75003
Phone: 0033 1 42 72 13 77; Café Website
Café Marlette
Category: Budget to Mid-Range
Owned by sisters Margot and Scarlett (inspiration behind the name) this is both a café and a boutique though it began just as a bread and cake mix selling outlet. The café looks homely and cute with stonewalls and wood hewn furniture and a range of organic products on sale.
One of the best places in Montmartre for breakfast, the café Marlette is for those who like their mornings to constitute of more than just coffee and pastry. This place sources some of the best coffee from Coutume (try caramel latte, espresso and noisette) and their dairy from Fromagerie Beillevaire.
Popular breakfast option would be vegetable soup, avocado toast, speciality salad, baguettes and some Nordic Rillettes with boiled eggs topped with some homemade cake and hot chocolate. Try the almond financiers and the gluten free apple cake. And the home made granolas, pastries and yoghurts will make you come back for more.
Staff is multilingual and speak excellent English and Spanish. Rue de Martyrs is excellent for a walk…there are many speciality cheese, pastry and chocolate shops nearby. The place is usually crowded but there is some outdoor seating area too.
Timing
Open from 8.30 a.m. to 7 p.m. Monday to Friday
9.30 a.m. to 7 p.m. on Saturdays and Sundays
Contact details
There are several outlets of Marlette in Paris.
MARTYRS, 51 Rue des Martyrs 75009 Paris. Metro: Pigalle / Saint-Georges; Phone: +33 (0) 1 48 74 89 73
POISSONNIERE, 63 rue du Faubourg Poissonnière, Paris. Metro: Poissonnière / Bonne Nouvelle; Phone: +33 (0) 1 42 29 62 76
BHV MARAIS, 3rd floor of the BHV Marais, 52 rue de Rivoli, Paris. Metro: City Hall; Phone: +33 (0) 1 42 78 14 85
PARLY 2, Mail Pont Neuf, 2 avenue Charles de Gaulle, Le Chesnay (78). Phone: +33 (0) 1 39 51 79 42
Le Select, Montparnasse
Category: Vintage High End
Le Select has its name firmly engraved in the lore of Paris 1920's. The great modernists like Picasso and Hemingway spent a lot of time here and the latter mentioned this café prominently in his novel 'Sun also rises'. James Baldwin, Man Ray, Samuel Beckett also conversed here and the place even inspired a book…Paris Café; the select crowd. Right now it's the favourite of Bill Murray and Scarlett Johansson.
The decor is Bella Époque style and almost all elements of the 1920's have been preserved. Expect leather upholstered wood furniture, dim lighting with chandeliers and a dazzling bar area. Famous clients and celebrity pictures dot its walls and the crockery is charming and vintage. The inner dining area is huge and the outdoor seats are limited but grab the latter if you want to people watch in peace.
The a la carte menu is expansive; there is everything from steaks to fish to huge burgers. Bill Murray heartily recommends the croquet Monsieur. You can have traditional French food like snails cooked to perfection or a chilled haricots vertes sprinkled with balsamic and parmesan or perhaps a risotto with langoustine summer truffle. Or maybe a light lunch like artichoke and asparagus salad with rocket lettuce and shaved Parmesan is more to your preference.
The coffee menu is okay but unimpressive but this is more of an aperitif and wine café rather than a "coffee" café. The dessert and pastry selections are very tempting though and the hot chocolate is simply divine.
Location wise it couldn't get better…after all this is exciting Montparnasse, and the Luxembourg gardens and Notre Dame are nearby. On the flip side the service is very traditional French and that's not exactly "customer friendly".
Timings
Open from 9 a.m. to 2 a.m. on Tuesday to Friday and 9.a.m to 3 a.m. on Saturday- Sunday
Contact Details
99 Boulevard du Montparnasse, 75006 Paris; Cafe Website
Also Read