The capital city of Italy and the Lazio region… Rome is the seat of power and cultural brilliance. Europe's fourth most populated commune has more than 4.3 million residents staying inside the walls of the Metropolitan area. The Vatican City that exists inside the boundaries of Rome is an unlikely example of a country residing in a city. Unlike many other places in Europe which saw on and off the occupation, Rome was continuously occupied all through 28 centuries starting from its foundation around 753 BC by a heady mixture of Sabines, Latins and Etruscans and they all have contributed to what Rome is today.
The political control of the Papacy that had its home inside the city walls from 1st AD had many repercussions and one of them was a coordinated drive to make Rome the hub of artistry and culture in the world.
Geographically, Rome is distinct for being surrounded by seven hills… though they are more of ridges now. The star of the show is the Palatine hills which was once the home of emperors Augustus, Domitian and Tiberius (yes, the river Tiber is named after him)… naturally this area is full of old palaces, ruins and grand gardens.
Aventine Hills overlooks the Tiber and houses the Priory of Knights… this was an important strategic location. Only the wealthy used to dwell in the Celian Hills and this is where the most majestic churches are… Basilica san Clemente, Santo Stefano Rotondo, Basilica Santi Coronati along with the notable Clivus Scauri road.
Esquiline Hill was the home of King Nero and hosts the Domus Aurea (golden house) and the Santa Maria Maggiore… this is an important excavation site. The Quirinal Hill is noted for hosting the palace of the president of Italy and other important official buildings while the Viminal Hill (though the smallest of the 7) has the Termini station along with important museums, Diocletian Bath Ruins and the Teatro dell 'Opera.
Attractions
Rome is basically like one big museum and the tourist areas are compactly formed so you can easily walk from attraction to attraction and explore one Piazza to the other. Kids under the age of 10 have no entrance fees on most Rome attractions, museums, and transport options.
The Vatican City territory is an important part of the holy Vatican hills and it's the site of many important buildings like the Sistine Chapel, Saint Peter's Basilica, Apostolic Palace and many museums. Rome sees a very high footfall of pilgrimages to many numbers of sites inside the Vatican City.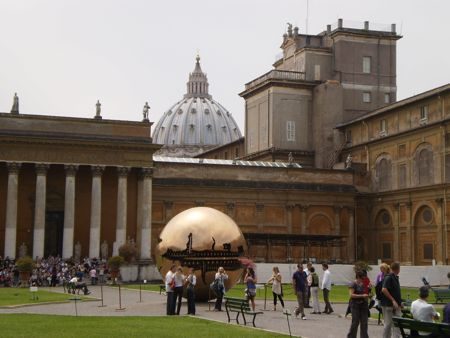 Saint Peter's Square is the most visited square in Rome… the Pope speaks to the people here. The square has an interesting ellipse shape and is flanked by Colonnades which have statues on top of them while an Egyptian obelisk stands at the centre of the Ellipse.
Some of the world's most important relics are housed in the Vatican Museums… the Raphael rooms and the Spiral Staircase are just two of the important sections. The Sistine Chapel ceiling with its iconic Michelangelo-created Last Judgement paintings can give you a surreal feeling. The Vatican museums can be explored preferably by a tour that ranges from an hour to 5 hours… this is a pretty busy route so plan ahead.
Read: Great tours of Vatican Museums.
Pantheon is a revered architecture all over the world whose history began in 27AD. From a Pagan temple, it has gone through several transformations to eventually become a church. The massive dome without a single iron rod is an engineering marvel. The hole on top (the Oculus) is the only entry to sunlight.
The 80 AD dated Colosseum that's the world's biggest amphitheatre is Italy's biggest landmark. It's fascinating to imagine how gladiator combats would have looked in this sprawling space that can seat up to 60,000 people. A few blocks away is the 12th-century San Clemente Basilica that's built on top of an old Roman temple and an ancient church.
Castel Sant'Angelo which was initially designed as a royal Mausoleum bor emperor Hadrian is now one of Rome's most well-known sights thanks to it being featured in the movie "Angels and Demons". Interestingly, this got converted into a fortress by the popes and then was converted into prison before being rechristened finally as a museum.
The Piazza Della Rotonda area in Rome is also known as the Pantheon area… this is where ancient attractions like the Pantheon, Colosseum, the fountain of Trevi etc. are found. The Piazza del Popolo area is a huge and beautiful oval square in North Rome and it's glanced by three lovely churches and an unusual obelisk from Egyptian times. On the north side of the square is the Porta del Popolo that leads to the Via Flaminia road linking Rome to the gorgeous Adriatic coast.
Piazza di Spagna or the Spanish square is best known for being the base of the famous Spanish Steps. These steps were built to connect the Bourbon Spanish Embassy to the Holy See and the Trinita Dei Monti French Church. You will see hundreds of locals and tourists conversing, clicking pictures and admiring the stunning buildings around. Come in May and you will be bewitched by the lavish displays of pink azaleas here.
Another of Rome's famous Piazzas is Navona which took the shape of its destroyed predecessor Domitian Stadium. 3 spectacular fountains cool the air here and people sit and converse at the numerous coffee shops around while artists sketch and performers keep the audience regaled.
Read: Exploring the magnificent fountains of Rome.
Loads of lovely green parks (Termini transport junction is right here) plus interesting sculptures and the prime minister's palace are the highlight of the Quirinal area… this is where you can go to take a break from all the buzz in Rome. A few quiet hours could easily be spent in the smallish valley that's between the Capitoline and Palatine Hill… in the ruins of the Roman Forum; don't miss inspecting the arches of Severus, Titus and Septimius and the Saturn Temple along with the lovely temples of Antoninus Pius and Faustina.
Or spend a couple of sensorial extraordinary hours in the palatial Doria Pamphilj family home where there is a fantastic sounds and visions of Caravaggio tour showing off the rich inventory (dates back to 1760) of paintings, sculptures tapestries and crafts.
Another great place to see how the Roman royalty spent their days is 1506 dated Villa Farnesina that's inside the Trastevere district… several frescoes detailing the legends of cupid and Psyche made by Raphael glorify this place. While you are in Trastevere do check the Santa Maria church… it dates back to the 4th century (try a visit at night… illumination accentuates its beauty).
The Basilica di Santa Maggiore is aesthetically and historically one of Rome's best churches. The 18th-century well-preserved façade is as beautiful as its sizzling Byzantine interiors. August 5th sees that ravishing festival of Snow happening here… thousands and thousands of dreamy white petals are dropped from the ceiling creating a fairy-tale atmosphere.
If you are fond of walking then consider exploring the Appian Way on foot… this was a famous route lined by monuments which originally functions as a military road. The first 8 km has several monuments flanking both its sides and there is lush greenery around.
The National Roman Museum houses its collections at several points around the city. The Palazzo Massimo alle Terme has breath-taking amber jewellery and roman artefacts while the Palazzo Altemps has gorgeous marble sculptures and the Baths of Diocletian have well-preserved remains of ancient Roman baths.
The Capitoline Museums hosting the marvellous work of Michelangelo, renaissance sculptures and fabulous jewels are a must visit… you will find them clustered on top of the Capitoline hills at Piazza del Campidoglio.
If you are holidaying with kids then allow them to experience the Ostia Antica which is Rome's nicely preserved fort… the marine theme and the vintage atmosphere will thrill them. There is an ancient restaurant bar here which has its menu frescoed on the walls (this is near the base of Tiber).
Don't forget to toss a coin in the waters of the Trevi fountain when you do manage to leave Rome….This rather astonishingly beautiful Baroque fountain was designed by Nicola Salvi and was featured in the movie Dolce Vita. It's said that one who throws a coin in its waters will surely return to Rome.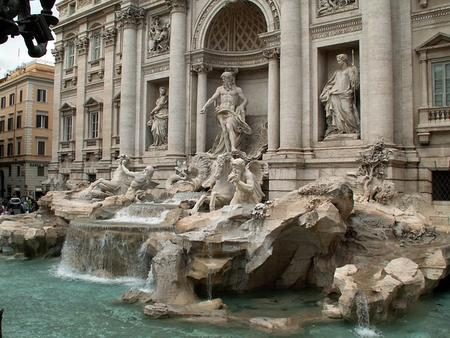 Rome is technically not on the Italian coastline but you only have to take a few hour's ride to reach wonderful beaches with luxury hotels and spa destinations. The Sperlonga white-washed beach resort town with its archaeological museum and the grotto of emperor Tiberius is a great destination… it's just 1.5 hours away from Rome.
Just 23 miles northwest of Rome is Fregene nightlife rich beach… here is where you should go to party and drink… the Termini to Maccarese Fregene train ride will take you there. Santa Marinella resort town is also a 50-minute train ride away from the Termini railway station… it teems with great seafood specialising restaurants.
Read: The top attractions of Rome that you must not miss
Knowing about Rome's attractions is one thing, but visiting the ones of your choice while optimizing on time is another. For the latter, you need to choose a good guided tour of the historical city. You can take a guided walking tour (there are free ones too!), take a hop-on hop-off bus tour or even a specialised tour such as the Vatican Museum Tour or a food tour to focus on a specific subject of interest. You can also buy a tour pass and get entry discounts at many top attractions and even on tour transportations.
Read: The best sightseeing tours in Rome.
Rome also has easy access to the ancient port town of Ostia Antica, spectacular Pompeii and its plaster casts, Mt Vesuvius, Herculaneum and the medieval town of Tivoli. The birthplace of the Margherita i.e. Naples is also nearby. Boat hopping on the Amalfi coast and feasting on the wines and cheeses of the Tuscan countryside are other activities you can partake in once the bustle of Eternal City tires you out. Read all about the fantastic day trips from Rome here.
Read: Great day trips from Rome.
Food & Drinks
A true blue Roman will always tell you that only authentic Romano Brunelli pecorino cheese should be used to prepare spaghetti carbonara. This is one of the most popular dishes here… egg and cheese have been combined with each other for many hundreds of years and cheese, bacon and pepper pasta have been natural additions to create one of the most delectable dishes in Italian history.
Rome is so full of attractions that it makes sense to eat at the best restaurants that are around the special monuments here… this way you can save precious time. For example, if hunger strikes you around Vatican museums then go to the 'Be. Re' nearby that has a gorgeous copper bar, and great signature dishes like trapizzini, simmered oxtail and chicken alla cacciatora.
Read: Great cheap restaurants and cafes in Rome with a view
Near the Colosseum and the Forum, you will find the cave-like Tempio de Iside that serves delicacies like fish Carpaccio, scallop roast, pasta with clams, ai Ricci etc… in short anything to do with fish. On the ground floor of a residential block that's near Villa Pamphilj, i.e. Rome's biggest Public Park is the traditional Cesare al Casaletto that serves croquettes, gricia, amatriciana and carbonara.
Armando near the Pantheon is an incredibly popular family-run place that concocts the best Roman classic dishes like spaghetti alla gricia and coda alla vaccinara and calamari with tomatoes.
Near the Trevi fountain, you will find Al Moro that's one of the most iconic trattorias of Rome. Go here for the almost extinct Roman specialities like calve liver, sweetbread with mushroom (animelle burro e funghi) and tagliatelle con le regaje (chicken giblets and tomatoes) and their unique version of spaghetti carbonara. 1893 founded Babington tea rooms in Piazza di Spagna area serve authentic English 4 o'clock tea besides tea tasting spreads and light lunch.
Read: The best budget, mid-range and fine dining restaurants in Rome
Read: Great food & wine tours in Rome
Accommodation
With 22 districts each having different neighbourhoods with varying price ranges for accommodations… deciding where to stay in Rome is a challenge. The best way is to decide what kind of experience you want and then decide the area before zeroing on a specific hotel.
Should you wish to splurge then there are 5-star hotels like the Rocco Forte Hotel De Russie in Centro Storico and the Hassler Roma with its magnificent views of the Spanish steps. The most expensive and spectacular areas with the best luxury and boutique hotels will be the Centro Storico area and the Tridente Via Veneto.
The Jewish Ghetto region has boutique and cultural experience-oriented hotels in the mid to upper ranges. The Termini station area has lots of budget hotels and easy convenience but there aren't many attractions around.
For a shopping-oriented Roma holiday stay in one of the mid-range hotels in the Monti area and for a Coliseum and Roman Forum dominated experience the Celio area is good… it has hotels of all ranges. For great nightlife and restaurants, the Trastevere area with its bohemian-inspired hotels is the best bet.
Read: Great budget and mid-range hotels in Rome.
Read: The Top Luxury Hotels in Rome.
Nightlife
Nightlife in Rome is a curious mix of the old and new… there are royal gilded bars with drinks served in goblets which make you feel like Caesar and there are discotheques full of youngsters dressed in the latest Italian designer wear. The sophisticated Straveinskij bar in Hotel de Russie on Via del Babuino is one of the best places in Rome to grab an aperitif or a nice cocktail. Regulars here swear by the Cuba Street with Cynar, Campari and cucumber pieces.
Read: Great Aperitif bars in Rome.
For nice music and great ambience check out Micca which is on Salone Margherita on Via dei due Macelli… its retro with burlesque vinyl accents. Experience classy cabaret and retro DJ evenings with a generous selection of liquors and beers.
For a nice winebar experience, go to Cul de sac… Rome's 1977 pioneer wine place… you will find it right next to Piazza Navona. There are more than 1500 bottles on their list and they have awesome salami, Greek salad and soup platters.
Enoteca Palombi on Piazza Testaccio serves an aperitif spread that's so filling that it can replace dinner… spending late evenings on the pavement terrace or amongst their huge collection of books is a very different experience. For the best beer in Rome go to Ma Che Siete Venuti a Fa (what on earth are you doing here).
Read: The best nightlife options in Rome: Bars, Nightclubs, Jazz & Music Concerts, Operas.
Shopping
For a feel of how the locals shop, do visit the Campo de Fiori which is a rectangular square standing south of the Piazza Navona… it literally means field of flowers. This is where you will find hundreds of stalls selling vegetables, fresh produce, spices, meats and a profusion of flowers.
For high street shopping, the Via del Corso area that's a huge boulevard near the Piazza del Popolo is crammed with brands like H&M, Nike and Zara. The proper city centre of Rome doesn't have notable shopping malls so retail therapy is best done here. Near Piazza di Spagna you will find the Via Condotti that's full of luxury shopping brands…think Bvlgari, Chanel and Gucci.
Via Babuino near the Spanish Steps is also a major luxury shopping zone. Via Cola di Rienzo in the upscale Prati street extends right up to the borders of the Vatican… get high-end Italian brands here like Falconeiri and Twinset. The Monti area of Rome has more of vintage shops and standalone boutiques with unique offerings… the Via Urbana and Via Boschetto streets are the best hunting zones.
For budget buys the Via dei Giubbonari with its small shoe shops and affordable apparel is good and the Via dei Coronari is great for jewellery and artisan perfumes (check the perfumery Essenzialmente Laura).
January and July are Sale times so these are the best slots to visit Rome if you plan on doing some serious shopping.
Read: The best shopping areas of Rome and what to buy.
When to visit
Italy is a warm country and Rome is warmer than most parts of it. Tourists flock to Rome in peak summer i.e. mid-June onwards and the city is overcrowded between July and September. Targeting a visit to Rome before the peak season starts i.e. April to June and after the peak season ends i.e. September to October is a great idea.
Post-October till Easter many attractions are open for shorter hours and some buildings, and facilities are closed for annual renovation but otherwise, it's a good time. Between November to February beach destinations and spas are locked and it becomes terribly cold.
Read: Important weather information for Rome and other major cities of Italy
Getting To & Around
The principal airport here is Leonardo Da Vinci in the Fiumicino area that's southwest of the city. Another airport is the Ciampino that's 15 km southeast of Rome. Flights to Rome aren't cheap though they are plentiful. A good tip is to fly into Ireland, Dublin or London and then to Rome using discount airlines like Easy Jet and Ryanair. If you are travelling from the USA then Atlanta, Boston, Chicago, Los Angeles, Miami, New York and New Jersey are the most well-connected cities.
The Leonardo Express Train will transport you from the airport to the City centre of Rome (Termini station) …the ticket prices are not covered by the BIT or Roma Passes. The Termini is the largest station here and trains arrive from other European countries as well as other Italian cities. The metro lines also use this as their focal point. Eurostar trains mainly use the Tiburtina station as their focal point.
The Autostrada del Sol road connects Rome to South and North Italy… it also connects with the ring road that envelopes the city… if you wish to approach Rome from neighbouring Italian cities then this is the road you need to take.
Rome's local transport systems aren't complicated and they are easy to understand. Bus and metro systems are controlled by the ATAC and the tickets are available with tobacconists, bars and vending machines apart from metro stations.
There are two simple choices… buy a BIT ticket that's valid for 100 minutes (you can do break journeys but not round trips). Or you can buy a ROMA 24/48/72 hour pass or a CIS ticket for a 7-day use. The ROMA Pass offering unlimited travel on Bus and Metro besides discounts on museums and archaeological landmarks is also a good option. A good option to save time is to buy lots of tickets at once… you can get them validated at the time of your journey.
Metros in Rome aren't as extensive as in London or Paris and have 3 lines that are of use to tourists. Line A will take you to San Giovanni, Barberini, Spagna and Flaminio while Line B will take you to Tiburtina, Circo Massimo, Piramide, Basilica San Paolo etc.
Some attractions like the Colosseum (Line B) or Vatican (Line A) are easily metro accessible. Others like Pantheon, Campi di Fiori, and Largo Argentina etc. aren't reachable by metro alone but you can combine the journey with buses and trams to reach them.
Trams are quite extensive in Rome though many of them are now replaced by buses. Travelling on the picturesque-looking Trams in Rome can be a wonderful experience. There are 3 tram lines of major tourist value… Line 3 (Valle della, Valle Giulia), Line 8 (Largo di Torre Argentina) and Line 19 (Flaminia, Piazza Risorgimento).
Buses are comparatively slow but they are so extensive here that they cover all areas without exception. Combine metro rides with bus rides and you can explore all of Rome and its outskirts. Rome has its own Open bus Tour specially meant for tourists… line 110. These picturesque double-decker buses drive past lots of attractions and you can get on get off wherever you want… a ticket once purchased is valid for the whole day.
An interesting way of getting around could be on the back of a Vespa scooter… there are nice half-day tours available in Rome which use the Vespa as a convenient medium. Or else rent a bike to roam around in the parks, Tiber riverside and the Coliseum zones. Don't think of driving inside Rome… the parking fees are horrific.
Read: How to get around Rome using Public transports
Also Read