Roman bars are a curious breed. You will often find gelatarias, pizzerias, musical venues and even art galleries functioning as bars here and they perform all their roles equally well. Then there are café bars which promote both the Italian cappuccino culture and the wine culture. Also there are bars that have been around since times of antiquity and bars that are swanky and new ….done up by the fashion brigade. So when you talk about the best bars in Rome there is really immense variety and our list allows you to taste something from each kind of plate.
The ancient adage "when in Rome do as the Romans do" is not just a quirk of language. The Italians are famous for their fixed way of doing things and some of those ways need not ever be changed and the rest of the world should learn to adapt to them. One of those absolutely perfect traditions is the art of the aperitif that's basically a light meal and drink that's sort of signals the end of the workday and announces the arrival of the dinner (this happens late). The aperitivo tradition began in Milan but has now spread to all parts of Italy and of course Roma….the capital city has sprouted some of the best aperitivo bars.
So when in Rome do not miss the chance of participating in the aperitivo…it's a wonderful tradition and the best way to enjoy the sunset from any one of the gorgeous rooftop bars of Roma. The star distiller Antonio Bendetto Carpano created and marketed the aperitivo tradition and it's supposedly meant to whet the appetite. Aperitivo cocktails are light on alcohol and have a slightly bitter taste making them a perfect companion for those salty Italian snacks and cheeses and cured meats though nowadays everything from pizza to pasta is served with the aperitivo.
Aperitivo hour is between 7 p.m. to 9 p.m. so expect all these places to have a long waiting line in front of them. While ordering remember that while wine is a classic, tasting the Campari (a gift from Milan) or Vermouth or Aperol or Amaro….is definitely a good idea. Traditional aperitivo hour is celebrated by offering discounted bundles of drinks and food from 7 p.m. to 9 p.m. and so all the below mentioned places must be visited during these hours if you want to avail their special aperitivo deals, buffets and offers.
There are many aperitivo experiences on offer in Rome. Some people prefer watching the sunset from a posh rooftop bar while some prefer to dance to the tunes of the D.J after downing a glass or two. Still others prefer scouring Roma for the best aperitivo spread available. If you are in Rome, then sharing an aperitivo with friends/ family or simply friendly strangers must not be missed.
Pimm's Good
Some may think that Pimms Good is gaudy with its huge chandeliers, red leather sofas and gilt laced mirrors but its Rome's 'the place' especially for the young crowd. The outdoor seating area is cute but the bar area is super cute and that's where the real aperitif action is. Come 7 p.m. and there is always a snake like line outside.

Of course the most popular line circulating amongst tables here is 'anyone for Pimms'? An ode to the fruity English liquer invented by the famous Sir Pimms many eons ago. Of course, it's no surprise that the most popular drink in house is also the Pimm and its endless variants.
There is the Pimm's original which is generally ordered in delightful fruit soaked jugs and then there is the sundowner and the Pimlet cocktail. Pimm's spice with its vanilla chunks and loads of ice is one of the most popular sub types and those with a sweet tooth will really like the Pimm's Toffee apple. You can even get the recipes of the drinks and buy some really cool merchandise.
Also, try the Tulum…it's a bit pricey at 10 euros but worth every penny and more. When it comes to food there are endless delicious options right from tuna balls to caprese salad to baked potatoes to brushchetta and sandwiches. There is a nice wine selection too (starts from 5 euros per glass) and plenty of cold beer too…free potato crisps are just the icing on the cake.
The rooftop terrace bar is the perfect place to be if you want a nice time (weather permitting) and there is a live band playing on Saturdays. Some of Rome's best mycologists are in action here….it's a treat to just see them perform. Nando, Marco, Melissa, Matteo, Simona, Pier, Valerio, Enrico are all stars in their own right.
For the record, Pimms Good serves up a mean English breakfast too and people have been known to fall in love with their burgers
Address: Via di Santa Dorotea 8. Phone: 06 9727 7979. Website
Minerva Roof Garden
There are umpteen rooftop bars in Rome but Minerva has got the ambience and menu in a perfect mix that's suited for the aperitif hour. The elegant rooftop restaurant is right next to the Pantheon and offers amazing city views. It belongs to the Grande Hotel Minerve that's a 5 star establishment but the drinks selection is relatively reasonably priced.

It has probably the most delectable apertivo spread in town thanks to the presence of Chef Antonio Falco…famous for his 'golden mozzarella wit friarelli and sausage' . Then there is the cheese board, the pastas and plenty of interesting light nibbles for those who watch their waistlines.
The drinks are superb and they are famous for offering 16 different kinds of martini. The elegant rooftop bar has sophisticated décor, a profusion of flowers and a very special 'date' vibe . This is the perfect place to come with your special someone for an apertivo. The sunset makes this place lovelier than ever as its tiles catch the dying rays and change colour magically. Definitely the best address in Rome for 'the cocktail with a view'. Don't miss the striking elephant statue (crafted by none other than Bernini) near the door when you reluctantly leave.
Address: Piazza Della Minerva 69, 00186 Rome. Phone: 39 6 69 5201. Website
Enoteca Cul de Sac
This historic wine bar and ristorante nestles in the piazza Pasquino that's near the Campo de fiori market. The narrow longish nature of this wine bar gave birth to the name Cul de Sac. The insides are still quaint with wood benches flanked by fisherman's nets that makes it all seem like a second class train compartment.  This place is an institution of sorts and though it opened (in its current version) in 1977 its roots can be traced back to 1900. In fact the first thing that will impress you inside is the clearly vintage marble counter.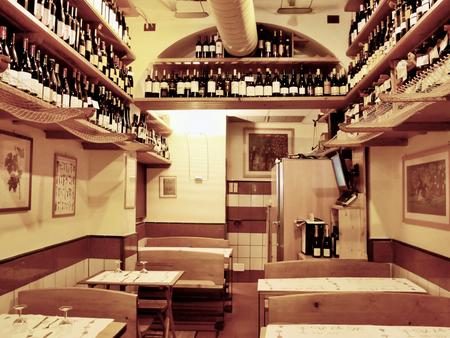 At any point of time more than 1500 Italian wine labels are stocked here so if your aperitivo idea is to sample Italian specialities then this is a perfect address. Expect a serious focus on Italian food and wine. Studying the wine list is a preliminary lesson in Oenology as the offerings are divided into sub groups of their origins. Production area, blend composition and taste features are all explained thoroughly. The cold cuts and cheese platters here are famous…they are sourced from all over Italy. Then there are the signature dishes like Topik (mixture if potato and chickpea with raisins), Roman tripe, meatballs soaked in wine, onion soup and red lentil puree and house special pate.
You can also buy items off the wine list and carry bottles home. The staff is very knowledgeable about Italian wine and food. Service is friendly but quick and devoid of frills. On the downside some may find the benches uncomfortable to sit on and there is only one very small toilet that almost always has a queue.
Address: Piazza di Pasquino 73, 00186 Rome, Italy
Phone: +39 06 68801094; Email: [email protected] Website
Gusto
Hearty eaters can rejoice…Gusto (the pizzeria, bar and restaurant) serves the best aperitivo buffet in town and every morsel of it is rave-worthy. Each evening, the wine bar spreads out a nice selection of tiny sandwiches, interesting salads, pizza slices and pizzettes. You will even get pasta al forno, bruschetta, potatoes in rosemary and oil, frittata muffins etc.
There is a gorgeous selection of cocktails tailored perfectly to suit the needs of aperitivo hour. For 10 euros, you can choose one of the cocktails and then walk straight to the buffet table to eat with Gusto. Or you can go to the nice patio and admire the Romans while sipping at your glass. If you choose to buy a second drink…the price is way cheaper. Try the classic spritz, ginger spritz, Milano mule, whiskey sour, gin basil smash and definitely the house speciality 'Vanilla Flavours'.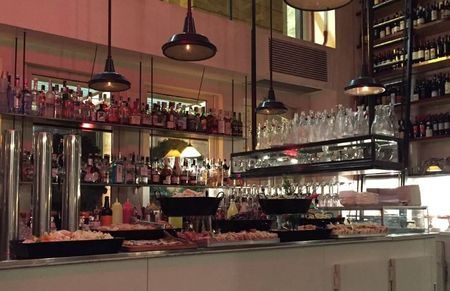 The guy in charge of the bar area….Marco really knows his job. The same can be said about Tommaso Coco the Chef with a Mediterranean influence. Food at Gusto has a lot of au gratins and eggs and freshly grilled stuff like steaks, swordfish, squid etc. On the downside, there is loft style décor and this is really a small place with the buffet menu placed on the bar with the spirit selection flanked above it. If fancy atmosphere isn't high on your priority list then you will love the place.
The location is great though…you can stare at the Augustus Mausoleum and the decor will open up into the Piacentini portico. If you are in the historic centre of Roma then this is one of the best places to sip your apertivo and have light Mediterranean spreads.
Address: Piazza Imperatore Augusto 9 angolo con Via di Ripetta, Centro.
200 m away from Via del Corso. Phone: +39 06 322 6273. Website
L'Antica Enoteca
This place has been on the 'best wine bar list 'of Roma since forever and with good reason too. There is an excellent wine selection and the bartenders always come out with nice and not merely commercially viable recommendations. The décor is just about okay though….neither is it super chic nor is it cute-grungy but you won't find a soul not having a good time here.
Come aperitif hour and the bar-restaurant-shop (yes, it's all three) is always buzzing. The high ceilings and frescoes may seem atypical of an old Roman home though. Most of the seating is inside but there are some outside tables which provide a great view of the shopping heart of Rome.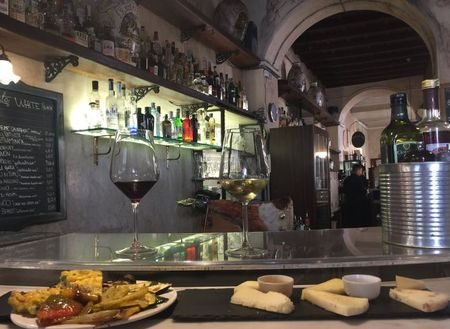 There is a fantastic half-moon bar with an engaging atmosphere and here you will find a nice mix of foreigners, locals and tourists raving over the drinks. Bartenders sawing of chunks of Parmeggiano from a huge cheese wheel and serving it with bubbling glasses of Prosecco…is a picture to cherish. Also try interesting nibbles like marinated artichokes, veggies, olives.
If you want to sip divinity in a glass then you have to try the Brunello di Montalcino. They have a nice by the glass wine selections with labels like Barolo and Brunello.  Their salad, pizza and antipasti selections are also nice. One of the best aperitivo companions here is the cheese and salami board with lots pickled veggies and grilled mushrooms.
The street on which it's located is full of interesting shops plus being very near the Spanish Steps. Antica Enoteca claims to be one of the oldest wine shops in Rome too (established 1726) and there is a separate section where you can buy interesting Italian wines.
Address: Via della Croce 76 B. Phone: 39066790896.
Salotto 42
Considering the fact that this incredibly fashionable bar is owned by a model, you should definitely dress up for it. Pictures from fashion photo shoots line up on the walls and the supermodel Malin Persson and her husband Damiano Mazzarella own and manage this place. This place was born in 2004 as a book bar nestling in Piazza Pietra directly opposite the Hadrian's Temple and right now it's one of the most fashionable spots in Roma. Deep almost soulful in-house jazz is played on loop here.
Every aspect of Salotto right from its plush couches to fantastic music (jazz, soul, swing etc.) and the fashionable crowd that graces it ….are truly mesmerising. The music becomes livelier as the evening progresses and some guests get up to dance. The comfortable vibe of a posh living room persists and there is no pressure though (Salotto means living room in Italian). The dress code is casual formal.
Incidentally Salotto 42 offers fantastic buffets for lunch and excellent afternoon tea sessions too but aperitif hour is when it truly shines. Vegetarians will have a grand time as the bar rustles up a range of organic food options and there is a wonderful cocktail menu that has drinks exclusive to salotto. There is also a wine collection that's sourced from all across the world. Try the Happy Ginger, Negroni and the lavender infused cocktails and team it up with a healthy grilled vegetable and sushi platter. They also have quite a few versions of the Aperol spritz.
Location is fantastic, it's right near the Pantheon so drop in after you have seen this masterpiece to participate in a truly swanky aperitivo session. Incidentally Salotto has another branch in Copenhagen.
Address: Piazza di Pietra, 42 (Pantheon). Phone: 06.6785804. Email: [email protected]; Website
Freni e Frizioni
One of the most iconic aperitivo joints in Rome, Freni e Frizioni is housed in a car repair shop called brakes and clutches. Now it's one of the coolest bars in Trastevere and sits prettily right besides Ponte Sisto….just a couple of minutes away from Piazza Trilusa. There is an ultra-casual vibe here…most guests will just take their food and drinks and hang out in the piazza or go and sit along the walls. The inside space is limited and there is always a considerable crowd milling around so the profusion of outdoor seating is a huge advantage.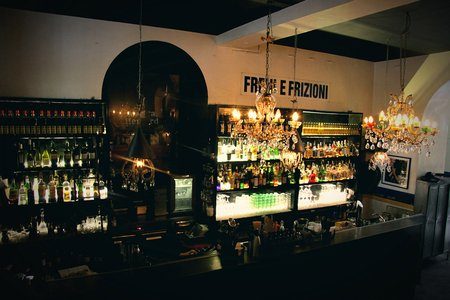 The drinks are beyond amazing though they are steeply priced at 8 euros and take forever to be made. Beer is in a plastic cup and costs around 6 euros per cup. However, the excellence of the drinks…especially their mojito collection makes this all worth it. The cocktails are extremely innovative; the martini based Devos, Rum based Iggy, Gin based Modern Lovers etc. However the Whiskey Go Go with Grouse whiskey, laphroaig whiskey, wine mix, seaweed liquor, soy sauce and berry bitters will definitely win the award for creativity.
And every drink comes with an unlimited buffet selection that's innovative, Middle East inspired and nice. Think carrot sticks, couscous, pasta, hummus, soup, salads etc….simple, tilted towards vegan and healthy. This place is equally good for meat eaters too. Expect a range of food at the aperitivo buffet including pasta to veggies to speciality grain snacks to cheeses…..it's all lined up at a long table and there are no restrictions on number of helpings.
You will find a mixed crowd of expats, locals and tourists hanging around here and the atmosphere is eclectic and conversational. It's a young place though….more suited for people on the right side of their 30's.
Address: Via del Politeama 4 – 6, Centro
0.2 km from Santa Maria in Trastevere. Phone: +39 06 4549 7499; Website
Black Market Art Gallery
For those who want a taste of something different, the Black Market will not disappoint. There is an old school quirky feel about this place….One look at the rich mahogany interiors, dim lights, artsy vibes and the band that plays throughout the night…and you will probably fall for its old world charm. This multi room art gallery and bar is one of the best ways to showcase how versatile Roman bars truly are. The Black Market Art Gallery and Bar Monti has two sister concerns too… Blackmarket Hall on Via de Ciancaleoni and Blackmarket San Lorenzo on Via dei Sardi.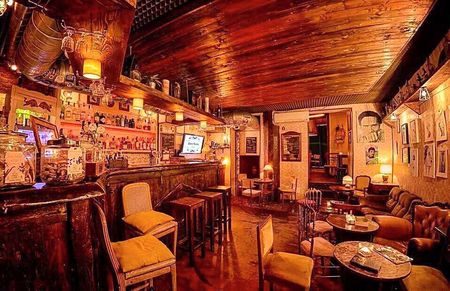 The best thing about black market is its daily menu variations….for example Sunday is usually seafood based aperitivo sessions while Mondays are vegan. The drinks selection is curated and can be termed unusual yet delish. The mescal drink with black salt is stunning and so is the Mai Tai. For those who prefer sweet wines, ordering the Fragolino that tastes like luscious strawberries is a good option. Just pair it with some light antipasti and you are good to go for the aperitif hour. Or maybe you can order some Apperon spritz…a la Roma style. There is a very good selection of beers too and maybe you can pair these with some old school burgers.
Whatever you do, don't miss out on the eclectic music. They will even give you music suggestions and hand held devices for a proper immersive experience. They even have their own collection of modern and funky art which they proudly display….the full name here is Black Market art gallery. But what really makes this place standout is the personalised service…the staff is very helpful and extremely attentive. The location is amazing….this is the cool Monti neighbourhood just a little distance from the Colosseum.
Address: Via Panisperna 101, 00184 Rome, Monti. Phone: +39 393 353 0498. Website
Also Read