Getting to the City
Rome has three airports G. B Pastine International Airport in Ciampino located 15 kilometres southeast of Rome, Fiumicino or Leonardo da Vinci airport located 26 kilometres southwest of Rome city centre and Rome Urbe Airport located towards northern part of the city. First two are more important as the third one is a small civilian airport with domestic flights while the first two are international airports.
Rome has excellent air connectivity with most of the international destinations. Flying via London or Dublin with Easy Jet and Ryan Air is usually economical. The most well connected US cities are Atlanta, Boston, Chicago, Los Angeles, Miami, New York and New Jersey.
You can choose from a wide range of private ground transport and transfer services (including airport transfers) and book online from this Viator site.
From Leonardo da Vinci Airport
This is the 8th busiest airport in Europe and the busiest in Italy. It has four terminals. There are plenty of options to get to the city of Rome from Fiumicino. There are trains, shuttle buses, regular bus service and taxis.
Trains
There are two options to reach Roma Termini (Rome Central Station) by train, one is a direct connection and the other one requires a change.
The direct ultramodern train Leonardo Express takes 30 minutes to reach Termini and it has a frequency of 30 minutes. The train departs from track 24 (located on the right side of the airport). Service starts at 06:38am and the last train departs at 11:38pm. Ticket costs 11 Euros and it's available at the counter and the news stand. Try not to purchase tickets at the departure platform because it is pricier. Validate your ticket at the yellow validating machine before the journey starts. The validity remains for 90 minutes.
You can take Metropolitan train from the track on the left but it doesn't go to the city centre. Take the FM 1 train and get off either at Tiburtina station or at Ostiense station, then change over to Termini metro for Rome's central station. First half of the journey costs 5.50 Euros while the metro ticket costs 1 Euro. Train service starts from 05:58am and the last train departs at 11:28pm with a frequency of 15 minutes (every 30 minutes on holidays). You can buy tickets online or at the designated counters and stalls.
Taxi
Outside each terminal you will find a taxi stand. Get a white cab with 'Comune di Roma' insignia on the door, it will cost you 48 Euros up to city centre. This fare includes 4 passengers and all bags. Note that since 2006 taxi fare from the airport to city centre has been fixed. City centre means the area within the Aurelian (ancient walls), any place outside that area is charged by metre.
Terravision Shuttle Bus
This bus service connects Leonardo da Vinci airport (terminal 3) with the central station Termini. Bus normally takes around 70 minutes to reach. There are 7 services daily and the bus has 5 stops during its journey. Fare for single journey is 9 Euros, return journey is 15 Euros. Either book your ticket online or at the airport upon arrival.
SIT Shuttle Bus
The bus station is located outside terminal 3 and it goes to Rome Termini station. The service begins at 08:30am and operates until 12:30am. Ticket costs 8 Euros. You can buy ticket from the driver.
There are couple of other bus services that connect Rome city centre with Leonardo da Vinci airport like Tam Bus and Schiaffini. Ticket costs 4 Euros for both services and both have their starting point outside terminal 3. Tam operates between 8:00am to 11:20pm and Schiaffini operates from 06:30 am to 09: 50pm.
From Ciampino Airport
This secondary airport of Rome too is very well connected with the city centre.
Airport Transfer Car Service
It is a private car service for transfers to hotels. You can book this transfer online and a driver will wait for you at the arrival lounge with your name placard. It costs 50 Euros and will take around 20 minutes to reach the city centre.
Terravision Shuttle Bus
Like at the primary airport, Terravision serves this airport too. It operates from 8:15am to 12:15am and takes around 40 minutes to reach the city centre. The first bus (#29) leaves the city centre for airport at 04:30am. If you book online then ticket costs 5 Euros. It costs 6 Euros if you purchase it at the airport or Termini station. For online booking, visit www.terravision.eu
SIT Shuttle Bus
This shuttle bus goes next to Termini via Marsala in about 40 minutes. It operates between 07:45am to 11:15pm. First bus from Rome city leaves at 04:30am for airport. One way journey costs 6 Euros while a return ticket costs 8 Euros. Ticket can be purchased online or on board.
Atral Bus
This bus service is quite economical than SIT. It has all the same features and ticket costs only 2 Euros. But the main problem is that the service is less frequent.
Regional Trains
To avail regional trains you need to take a bus from the airport to Ciampino station which costs 1.20 Euros. From there you can take a train to reach Rome Termini. Train ticket costs 1.50 Euro. Trains operate from 05:30am until 10:30pm at an interval of 30 minutes.   
Taxi
Taxi norms here are same as in Fiumicino airport. You will find taxi stand outside the airport and the cost of reaching city centre is fixed here too. From Ciampino the fixed taxi fare is 30 Euros to city centre.
Public City Transports
ATAC is the main transport company of the Municipality of Rome. They operate most of the public transports including metro, regional trains (tren), streetcars (tram), bus, suburban bus and trolley bus services.
You can purchase tickets from vending machines inside metro stations as well as at tram stations; tickets are also available with tobacconists and bars. If you are not using Roma Pass then either you purchase a BIT ticket which is valid for 100 minutes, with this ticket break journeys are allowed but no round trips. Or you can purchase a CIS ticket for 7 day use.
Bus Service
Bus service in Rome is extensive with 338 lines operating throughout the city and its suburbs. Unlike most European cities, metro service in Rome is little limited but it's well supported by the extensive bus service. Although the bus service is not fully reliable when it comes to punctuality and comfort, the service is essential to get to several monuments and museums around Rome.
There are over 8,260 bus stops in the city and that indicates how important this service is for the public transportation of Rome. Delay or getting stuck in a traffic jam is part of a commuter's life here. The fleet of buses in Rome includes conventional, diesel, electric and hybrid vehicles.
The major lines that serve Rome are the urban lines whose numbers start with the letter 'U'. They operate from 05:00am (06:00am for some lines) until midnight. For rest of the night until morning there are night bus lines with numbers starting with 'N'. They operate from midnight until 06:00am. There is another 'Exact' bus service (starting with 'E') that connects the city centre with the neighbourhoods and they have fixed timetables. Check the official website of ATAC for details of this service.
For longer journeys outside Rome, express bus service ('X') is also available. Presently there is only one line of trolley bus service in Rome operating from Termini to Largo F. Labia route over 12 kilometres (line number 90 Express).
All bus stops have boards mentioning line numbers along with originating and terminating stops and names of stops the lines serve chronologically. The stop shown within a red box indicates where you are presently. Note that your destination stop must appear below the red box, if it appears above the red box then cross the road to get the right bus. You will find bus timings at most of the bus stops displayed on an electronic display board.
The most interesting Bus Line in Rome is the line number 110. This red colour open double decker bus is easy to spot and pretty famous among tourists for hop on hop off sightseeing in and around Rome. Ticket is 20 Euros and valid for a whole day. Ticket can be purchased from Rome Termini station's ticket office, tobacconists and on the bus. Although it requires no reservation but during tourist rush sometime tickets might get sold out. It runs every day from 8:30am to 8:30pm at an interval of 15 minutes. The starting point is near Termini Station.
Metro
Interestingly the underground railway system (metro) in Rome was first conceptualized by Mussolini. There were two lines in metro system but recently a third line has been introduced which is still under expansion process. These three lines of Europe's smallest metro system are Line A (marked with orange), Line B (marked with blue) and Line C (marked with green).
Even with its limited service metro can get you to most of the tourist attractions of Rome such as Vatican Museum, Sistine Chapel, St. Peters Square, Villa Borghese, Coliseum etc to name a few. However to visit Pantheon, Campi di Flori or Largo Argentina, one has to take buses and trams.
The operating time of metro is from 05:30am until 11:30pm, but on Fridays and Saturdays it runs until 01:30am.
Streetcar (Tram)
The streetcars of Rome mainly serve the peripheral districts of the city and the service is not connected to the city centre. This makes it less appealing to the tourists. But a romantic trip on a tramline could be a good idea too. There are a total of six lines of tramways in Rome… line numbers 2, 3, 5, 8, 14 and 19.
There are three lines that would be of interest to tourists. Line 3 takes you to Valle della and Valle Giula, while Line 8 connects Largo di Tore Argentina and Line 19 takes you to Flaminia and Piazza Risorgimento.
Like urban buses, trams run from 05:30am until midnight. Validate your pass or ticket if you are taking a tram ride.
Trains
Termini is not only the central station of Rome but it is the only meeting point of metro lines A and B, and also the main operating station of urban railway of Rome 'The Ferrovie Urbane' and receiving station for international and long distance trains.
There are three urban lines operated by urban railway. All these three lines radiate out of the central station towards Lido, Viterbo and Giardinetti.
The first line is important for tourists as it goes past Ostia Antica. With exception of Rome-Lido line, trains operate from 05:30am until 10:30pm. Rome-Lido runs until 11:30pm. You will get a train within 10 to 20 minutes depending upon the line and time of the day. If you are travelling to outskirts, check if your pass covers that journey or else you need to buy a separate ticket.
City Taxi
There have been many complaints against the taxi drivers of Rome mainly for swindling tourists as well as locals. So be alert and know beforehand how to deal with such situations. The taxis are white with a visible taxi metre and rooftop sign. The license number should be printed on the door. Hire those taxis having phone numbers printed on the side doors.
You will find a taxi rank (stand) by spotting orange colour boards mentioning taxi and it is cheaper than calling a taxi over phone to your doorstep. Taxi fares in Rome are considered to be quite high in comparison to many other capital cities of European countries.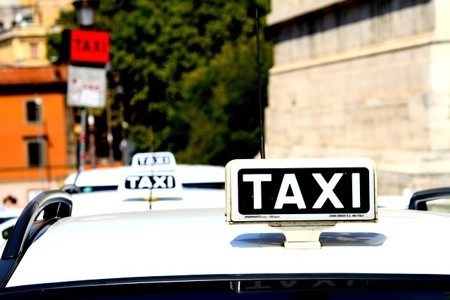 Here are some do's and don'ts while hiring a cab. Taxi fares from both the airports to city centre are fixed; do not pay extra if you are asked to do so. For any complaints contact the number printed on the side door. The normal fare from central station to city centre may vary between 8 to 15 Euros, it is advisable to check your route map on Google while traveling.
You will also find the license number at the back of the front seats. Do not forget to collect the receipt. Following are the fare structure of Taxis in Rome… For tariff 1 (weekdays 06:00am to 10:00pm) minimum fare is 3 Euros. For tariff 2 (public holidays 06:00am to 10:00pm) minimum fare is 4.50 Euros and for tariff 3 (10:00pm to 06:00am any day) the minimum fare is 6.50 Euros. Per kilometre rate for tariff 1 is 1.10 Euros, for tariff 2 is 1.30 Euros and for tariff 3 is 1.60 Euros. Charge for extra suitcase is 1 Euro for a single person (first suitcase is free). You pay extra 3.50 Euros for phone reservation. Waiting charge is 27 Euros per hour.
Here are phone numbers of a few taxi companies in Rome:
Radio Taxi- +39 06 3570
Pronto Taxi- +39 06 6645
Other companies: +39 06 5551, +39 06 4994 and +39 06 4157.
Transport Passes
There are only two types of major travel passes available in Rome. Metrebus Roma ticket is the best option for daily commuters and tourists wanting to travel extensively within city areas. Roma Pass is a great option for tourists wanting to visit museums with discounted price and comes with unlimited rides for three days.
Daily single journey ticketing facility is also available in Rome.
Metrebus Roma Ticket
Metrebus ticket is a combination of metro, tren (train), Streetcar and bus. This ticket entitles you with unlimited rides on public transports within the city and for a designated time period.
However this travel card won't work in all transports. You cannot board the non-stop train Leonardo Express connecting Leonardo da Vinci airport with Rome Termini. This card is not valid for travelling to any of the two airports. You cannot get to Civitavecchia, the cruise port of Rome by train with this card. And it is also not accepted by the hop on hop off sightseeing bus.
You can use Metrebus Tickets/passes across the buses, trams (streetcar), trolley buses, suburban buses, regional railways like Rome to Giardinetti, Rome to Lido and Rome to Viterbo. It is also valid in Trenitalia urban trains (2nd class only).
Metrebus ticket comes with several options like single ticket (BIT), 1 day, 2 day, 3 day and 7 day (CIS) tickets. You can switch bus lines (i.e. take connections) with a single ticket within 100 minutes provided your destination does not have any direct bus from your starting point. As an exception, a single ticket also allows a switch from metro to bus at Termini station.
The ticket will be stamped with date when you purchase. Validate your ticket on each ride at the machines placed inside the buses and at the entry points of metro and train stations.
A BIT ticket costs 1.50 Euros and is valid for 100 minutes, 1 day ticket costs 7 Euros and is valid for 24 hours, 2 day ticket costs 12.50 Euros with validity of 48 hours, 3 day ticket is valid for 72 hours and costs 18 Euros, and CIS is valid for 7 days costing 24 Euros.
Theses tickets can be purchased from automated vending machines at stations (with a language choice of English), ticket offices at metro stations, designated newsstands and tobacconists (look for a 'Tabachhi' sign).  For more information on public transport system and ticketing system of Rome, visit www.atac.roma.it.
Roma Pass
This pass is great for tourists staying in Rome for two to three days and wanting to visit tourism attractions like museums and architectural sites. It is a joint initiative of Rome City Council & Ministry for the Arts and Cultural Activities & Tourism in collaboration with ATAC (the public transport company) to encourage tourists to get familiarised with Italian art culture and heritage.
There are two types of Roma Passes available… one for 48 hours and the other for 72 hours. The 72-hour Roma Pass costs 38.50 Euros with facilities… a) First two museums and/or archaeological sites are free (allows you to bypass queues), b) Unlimited access to the Public Transport for 72 hours in and around Rome, c) 80 discounted tickets for museums & sites as well as free access to many including Coliseum. d) A city map is included.
48-hour Roma Pass costs 28 Euros and offers facilities such as… a) First museum or archaeological site is free (allows avoiding queues), b) Unlimited access to the Public transport for 48 hours in and around Rome, C) Rest are same as last two points of 72-hour pass.
The metro line number n.52 allows free ride between Ciampino airport, Subaugusta and Cinecitta metro stations for both the above pass holders. To purchase Roma Pass online, visit this website www.romapass.it. Validate your Roma Pass each time you use a public transport.
Getting to major attractions
(All journeys are from city centre)
For Coliseum take metro B line train towards Laurentina and get down at Colosseo station. Journey time is around 3 minutes; from there walk for 260 metres. The total distance is around 2 kilometres.
To visit Sistine Chapel, St. Peter's Basilica and St. Peter's Square you need to reach Vatican City. Metro is quickest and the journey time is around 9 minutes. Take a line 'A' train from Termini towards Battistini and get down at Ottaviano. Then you need to walk for one and half kilometres. Alternatively take bus line 64 outside Roma Termini towards S. Pietro and disembark at Cavalleggeri. Ride time is around half an hour but there are two advantages… it will be a nice sightseeing along the way and the walk is only for 600 metres. But for both metro and bus, beware of your belongings.
Pantheon is around 2 and half kilometres west of Roma Termini. Take a line 85 bus from outside Termini towards Arco Di Travertino and get down at Corso. From there it's a 5 minute walk. The bus journey takes around 14 minutes.
Trevi Fountain is around 2 kilometres west of Termini. You can take a line 'A' metro towards Battistini from Termini and get down at Barberini. It's only a couple of minutes ride. From there walk for 600 metres. Alternatively take a line 71 bus from Esquilino (500 metres from Termini) towards Tiburtina and disembark at Fontana Trevi, then walk for around 300 metres.
Piazza Navona is a beautiful Baroque Square with three royal fountains and surrounded by mansions. It's around 3 kilometres from Roma Termini towards to its west. Take a line 64 bus from outside Termini towards S. Pietro and get down at Vittorio Emanuele. Bus takes around 17 minutes to the nearest stop; from there it's only 4 minute walk.
Day Trips by Trains
Rome is located centrally in Italy and due to this Rome is a perfect base for making day trips towards places like Florence and Naples.
Naples is Europe's largest historic city centre and a UNESCO world heritage site as well as the capital city of southern Campania. It is also one of the important ports of Europe. You can take any superfast train from Roma Termini and reach Naples Central station in 1 hour 10 minutes. There are other trains as well. Check the train time table here: en.oui.sncf/en/. Fare is around €46 by fast trains.
Florence is the capital of Tuscany. Superfast trains take around one and half hours to reach Firenze Santa Maria Novella from Roma Termini. The slower trains take around 4 hours. Check the train timings. The fare is €48 by faster trains and €37 by slower ones.
The tallest manmade waterfall in Europe is the Cascata delle Marmore located near Terni of Umbria region. This 165 metre fall was created at the time of ancient Rome. Since the water feeds a hydroelectric power plant there are scheduled timings of releasing the water. So check the schedule on this website before you plan your journey. Take the Roma-Ancona line from Termini and disembark at Terni (Journey time is around 58 minutes and single way ticket costs €11). From there buses and taxis are available to take you to the Marmore (journey time is 10 minutes).
Car Rentals
There are many car rental companies in Rome offering various makes & models. A small car with capacity of 5 passengers, one suitcase and one handbag rents for around 26 Euros per day. A medium sized car with 5 passengers, 2 suitcases and 1 handbag rents for around 27 Euros per day. 5 passengers with 3 suitcases can travel in a large car at a rate of around 52 Euros per day.
Estate car that allows same number of passengers and luggage as a large car costs around 54 Euros per day. Rental rate of a premium car is around 147 Euros per day (luggage and passenger specifications are same as the previous two). An SUV allows 4 suitcases along with 5 passengers and costs same as premium cars. If you are travelling with a larger group your best choice will be hiring a People Carrier that allows 9 passengers and 4 suitcases and will cost around 137 Euros per day.
Here are few well-known car rental companies that operate in Rome
Hertz- (www.hertz.com/p/car-rental/italy/rome)
Europcar- (www.europcar.com/location/italy/rome)
Sixt- (www.sixt.com/car-rental/italy/rome)
Budget Car Rental- (www.budget.com/en/locations/it/rome/fco)
Bicycle Rentals
Rome has some dedicated bicycle tracks but other than those tracks it is not quite safe to roam around with a bike because of the city's hectic traffic. You can however cycle around the Coliseum area or alongside the river Tiber. Here are few well-known bike rental companies in Rome:
TopBike Rentals and Tours (www.topbikerental.com/nuovosito/eng/index.php)
Wheely (www.wheelybikerental.com)
Bici & Baci (www.bicibaci.com/en)
Collalti (www.collaltibici.com/storia.htm)
Bike rental rate is around 1 Euro for first hour with 4 Euros for every 30 minutes thereafter. However the rate varies between companies and also depends on the model. Guided bike tour packages are also available from most bike rental companies.
Scooter/Motorbike Rentals
Most of the bike rental companies also offer scooters on rent (for contacts see the Bike Rentals section above). On an average the rate for hiring a scooter of 50cc model is 7 to 11 Euros per hour and 19 to 45 Euros per day, for 125cc is 13 to 15 Euros per hour and 45 to 70 Euros per day, and for 150cc models the rent is 59 to 80 Euros per day. Half day guided package tours on scooter are also available.
Transport tips
Before saying 'Ciao' here are few special tips for Rome.
Do not forget to validate your travel pass on every trip otherwise it might attract hefty fines
While crossing roads on foot, use the dedicated path otherwise the motorist might sue you even for a minor accident
Try to carry enough changes while travelling on public transports as most vending machines do not dispense changes more than 6 Euros
Only the Metro lines A and B serve Termini station. As of now the C line does not serve Termini
Learning few Italian words might be a good icebreaker to interact with the locals (Per piacere- Please, Grazie- Thank you, Si- Yes, Ciao- for both Hello and Good Bye and Parla Inglese?- Do you speak English? )
Do not forget to take a foot & food trip in Rome.
Also Read