Crete's second-largest town Chania lies along the northern coast of Crete and commands a sizeable portion of the tourist flow that comes to Greece. Natural beauty, an amalgamation of cultures, wine and gastronomy and the pleasant contrast between the old town and the new town of Chania are some of its selling points.
The Old Town of Chania is a pretty puzzle of paved pedestrian roads and little boutiques and cafes crowding against tavernas, bars and tattoo parlours. The old town full of Turkish and Venetian buildings is perched next to the ancient harbour and this is the matrix that developed the entire urban area gradually.
The new town, in contrast, is modern, shinier and equipped with cosmopolitan restaurants, bars and hotels. Both are delightful and a photographer's treat.
A Short Video
Attractions and Activities
Walking is the most important activity you could do in Chania. Simply stroll alongside the ruins of the lovely Venetian fortifications that used to surround the old town… these have now crumbled away leaving just the western and eastern sides. The southern edge of the old town merges with the new city via many streets (principally Halidon Street) and the northern edge is flanked by sea.
Walk up to the small hillock that contains the centre of the old town of Kasteli and breathe in its historic air. Next to it is the Splantzia quarters. The old town's main square is called Eleftherios Venizelos Square. On the western side is the Topanas district which was the Christian quarter…it is very picturesque with its army of old buildings. The Jewish quarters are included in the Topanas area and are to the North West.
The Tabakaria area had an erstwhile function of serving as an industrial centre of tanneries. This area still has a couple of tanneries that present an intriguing picture….. The architecture is visually striking, to say the least.
The road leading up to the Old Harbour has an iconic structure…. the 21-meter high Lighthouse is a good destination to walk up to. The fantastic view and the ancient architecture around create a mystical effect. A bottle of Cretan wine from Daskalogianni Street will be a lovely company.
The marina/ Akti Enoseos and Akti Kountouriotou along with Alti Tompazi contain the cream of the nightlife here along with the best of ancient architecture. Look out for the profusion of wooden fishing boats in the area and the promenade that is lined with seafood specialising stalls.
The eastern part still has the Ottoman Turk Mosque…a relic of 1645 when Chania was captured by the Turks. It's also known as the Kucjk Hassan Mosque or the Mosque of the Janissaries. However, since 1923, it no longer operates as a mosque, it is now used as a cafe as well as a Tourist Information Office.
And stretching further beyond the mosque are the arsenals that were used by the Venetians and a lovely yachting marina that contains a re-assembled 15th-century ship. A breakwater protects the entire area… exploring the harbour will claim a couple of hours of your time.
Go through Old Venetian Harbour of Chania to know what can you see and do at the harbour.
Spend some of that time in the Maritime Museum that's at the western corner inside the Firkaus fortress on the opposite side of the Venetian lighthouse. It's in a beautiful red Venetian building that had a grim past… it was used as a prison earlier. Crete's ties with the sea and her vessels are showcased here right through the Minoan to the Venetian to the Turk and German invasions. Expect amazing models of ships and a display of nautical equipment along with photos and paintings.
Eleftherios Venizelos House (1880) and the ancient French school that now hosts the department of architecture are major highlights of the old town. The beautiful churches of Agia Magdalini and the Church of Evangelistria (both dated around 1900) along with 1882 dated Prince George's Palace are jewels in the new town's cityscape.
The Evangelistria at Plateia Mitropoleos is a Greek orthodox church with a very interesting history. This stands on the exact spot where a Venetian church stood thousands of years ago the church was razed to the ground by the invading Turks who spitefully built a soap factory there though they didn't dare destroy the Virgin Mary statue. The factory went kaput multiple times and the owner organised a fundraiser to give back Chania its church….locals also call it Panagia Trimartiri (3 aisles dedicated to Saint Nicholas, virgin Mary and 3 Cappadocian fathers stand here).
The Mary Magdalene church is Russian style (a lovely garden surrounds it) and is located in Halepa…it was built by Prince George and Queen Olga was present in its grand inauguration ceremony.
The archaeological museum inside the vault of San Francesco church is a relic of the Minoan times when the old city of Kydonia stood here. Archaeological finds excavated from west Crete dated to the Roman era from the Neolithic era are hosted here. Expect to find Minoan rare ceramics. Startlingly beautiful burial urns, clay tablets, gold jewellery etc, bird faced women, fierce ceramic bulls, a mosaic floor preserved from the 3rd century and Emperor Hadrian's bust are other notable exhibits.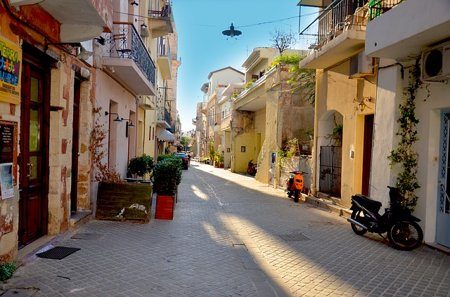 For a different flavour of the island visit the Koum Kapi district…. it's named the Gate of Sand that's just beyond the east walls of the old town. Halikoutes or a group of Bedouins hailing from North Africa had settled here in the ottoman area. Though restaurants and cafes now populate it, relics of its past can still be seen.
A great activity to indulge in while you are in Chania is to watch a movie at any of the outdoor theatres…this is a popular practice all over Greece. The open-air movie theatre Attikon in the Halepa area shows blockbusters and Kipos Municipal Cinema that nestles in the beautiful municipal garden shows fringe and cultural movies… buy the local newspaper 'Chaniotika Nea' from any kiosk in town and check the movie schedule.
Go 17 km east of Chania Bus Station and you can see 3 gorgeous monasteries. 1612 dated Agia Triada that's set against orange orchards and olive gardens, rests on a cloistered courtyard where you will see monks selling hand-pressed olive oil. A short drive away is the fortress resembling Governeto that's even older (around 1535).
Follow the footpath here and walk to the Bear Cave which used to host these ferocious mammals and finally descend 140 steps till you go to Katholiko that's a sixth-century monastery embedded into a cliff. After you see the monasteries go to Stavros Bay where you can enjoy a peaceful swim ….a famous movie Zorba the Greek was shot here.
Elafonisi is about 2 hours of drive away from Chania ….find a lovely islet here where migratory birds from Europe perch in. the sands here are famous for their pink hue and the water is sapphire blue…relax on the sunbeds and click nonstop pictures.
The mountains of Crete are slashed by deep gorges and the 18 km Samaria is the longest of them. Organised hikes are arranged here and you can go to the Omalos village that's 42 km south of Chania to participate in the hike. Explore the cruel terrain and look out for kri-kri (Cretan mountain goats) on the way. A gorge leads to the sea at Ayia Roumeli which has a black sand beach. You can catch the ferry from here to Sfakia and then a local bus to Chania….an exhilarating full-day plan.
Drive 18 km southwest of Chania and you will find the Botanical Park that lets you understand how rich and fertile Crete's soil is. You will find the park at the foot of the White Mountains….walk along the snake-like 2 km path and you will reach a fragrant garden blooming with rich fruit and petals. You have to buy a ticket but bottled water and a walking stick come free. Look at the trees of Olives, grapes, bananas, avocados, thyme, mint, and sage in all their fresh beauty. A café restaurant here serves dishes made with the park produce.
When in Chania going on a wine and olives tour is an enjoyable activity…it exposes you to the twin gastronomic pride of Crete. All tour operators have their own favourites but the standard wine road covers the areas of Kissamos, Mousourai, kolymbari, voukolies etc. some famous wineries you should target are the Karavitikis vineyards, Manousakis winery (foot of the white mountains), Anoskeli winery (producers of olive oil too) and Ktima Loupaki.
The foot of the White Mountains also has a pretty famous olive farm (Apokoronas in west Crete) where you can learn all about the art of curing, storing and virtues of olives besides viewing an incredible variety of healthy fruit.
You will probably want to pay a visit to the Olive Tree Museum at Vouves too (most wine and olive tours have this in their schedule). The world's most ancient olive tree is supposed to be more than 3000 years old grows in Ano Vouves and has gigantic hollow roots that come up straight from the earth in 12 meters perimeter.
Go through this Viator's Webpage to find out about numerous tours in Chania.
Food and Drinks
When in Crete don't forget to have some of the culinary specialities here like sweet mini cheese puffs (kalitsounia), lamb with chicory and firm Cretan bread (dacos) with tomato, cheese and the famous Cretan olive oil. Become a little braver and try the boubouristi (fried snails popped in oil) and the Haniokto boureki (vegetable patty from Chania) along with kserotigana (pastry dipped in honey).
Pork Souvlaki is a tastier, runnier and greasier version of the traditional pita bread sandwich. Gyro as it's known as has delicious pork, fries, Greek sauce and some veggies wrapped in pita bread….this famous Greek speciality is found all over Chania. A glass of beautiful red Cretan wine (Maraouvas) or Raki distilled from pomace should accompany your meal. Otherwise have diktamo that's a herby tasty concoction (Greeks describe it as erontas or love).
Incidentally, the Cretan diet is globally recognised as one of the healthiest and tastiest relying heavily on herbs and weeds and freshly plucked vegetables. Seafood, dairy, honey, virgin olive oil and fennel are prominently found in the food of Chania.
Portes is one of the most incredible restaurants in Chania. Portes literally means tears and the whole pathway to the restaurant is lined with old doors….the owner Sysana is an amazing hostess and all the food here will remind you strangely of home.
Chania beach has Akrogiali Taverna that serves excellent feta stuffed calamari and bakalava…the view of the ocean makes everything tastier. Tomikio Tavern is on a street in the old town that serves great lamb asparagus, rabbit stifado.
The Agia marina has Me Gusta Beach Restaurant that has an amazing ocean view and a great alcohol list. Try the mussels, Greek salad and the halloumi with vegetables…the owners here are Scandinavian.
In the Kalamaki area, there is Corinna Star Restaurant which serves excellent mixed souvlaki and tuna based dishes. There is a great wine and microbrewery beer list too. There's the Nanou Donut House in Kissamou which has been making and serving Donuts by the traditional recipe since 1979. Try the ones with Bueno cream and you will be hooked.
There are lots of bakeries in Chania and some of the best of its bread are baked in a wood oven at Chrisotomos in Ikopou. This is not merely a bakery…. They serve amazing quality Cretan traditional food like lamb stamnagathi, staka with fried eggs and sheep in pepper. The Greek-style doughnuts or the Loukoumades served here are loaded in syrup and have cinnamon/ nutmeg topping…the best part is that a plate of this comes free with a bottle of Raki.
Glossitses which has a great harbour view serves excellent tuna souvlaki…they are a fair trade eatery that serves directly from the fishermen. You will get complimentary orange with a knife with their raki bottle. While on this subject it's good to know that the oranges of Crete are in profusion and they are found almost everywhere…they are unrivalled in their juicy sweetness.
Chania is full of out of the way quaint places to eat and the Pasteleria de Dana in Isodion is one such gem. This serves excellent caramel panna cotta, baklava and sweet pastries.
Koukouvaya that's near the Venizelos Graves serves superlative Greek salad that's ultra-fresh…ingredients are picked and cut after your order. You should come here around sunset and enjoy the fabulous view while tasting the Knaafeh string pastry that's a distinct Middle Eastern taste.
Antikristo is an ordinary-looking restaurant set in a tiny village that's between Chania city and the airport. All that's served is cooked in a pucka fire in the kitchen which is open to view from the restaurant. Try the pork in orange sauce, beef in wine pate and aubergine salad.
For fine dining visit Serenissma on Skouton that's presided by a chef who had long stints in Michelin starrers. There are 3 separate menus; meat, fish and vegetarian and you will be spoilt for choice. Everything is delicious and well-presented but the cannelloni is exceptional. Food wine pairings are done beautifully here and the hostess is ever gracious.
Kariatis in the old harbour area serves nice Italian food in a classy setting. Try the pasta and pizzas (gluten-free!!) and the seafood all of which is served in grand portions. They serve free chocolate truffles at the end of the meal sometimes.
Nightlife
Mylos Club in Platanias (a nightspot hub just 10 minutes away from Chania) is set right near the towering waves and as you dance you will feel the music of the sea. The place is stunningly designed by a French engineer from steel, stone and wood. The splendid club is also in the same area and is well known for its exotic cocktail list and young crowd. Another big draw here is the Tropicano Club which has frequent karaoke nights that go on all night.
Villa Mercedes is in the Agia Marina area and it presents yet another chic musical venue in Chania. If 'sophisticated' is what you want then Senso Club in Enetiki Tafros is your answer. The bouncers there screen visitors very carefully and if you manage to get inside you will get access to amazing music and the best dance performances.
The old port area is a great place to explore nightlife options. Visit Synagogi in Kondilaki Street near the old port….this is an open-air bar in the Jewish synagogue that's famous for its atmospheric air. Nama offers Mediterranean food, drinks and coffee from morning to night.
An evening stroll in Dalliani street presents a grand opportunity for interaction with the locals and a refreshing way to spend the evening… this is where the Chania citizen goes to a party, gossip and sip on raki at the numerous cafes and bars (look out for the Turkish minaret) that are open till wee hours of the morning; the minaret bar is the most elegant of the lot.
Incidentally, Dalliani Street connects the new town to the old harbour and is named after the 1821 Epirus hero Hatzimihali Daliani. The rather mystic looking Kibar is also known as the 'Monastery of Charles'; this is a bar in a 16th-century building that was once a catholic monastery.
Shopping
Nobody really visits Chania with the intention of shopping and anyway the sightseeing opportunities will consume all your time. However, the city is the main shopping hub of Crete and there are a few things that you should definitely pick up when you come here.
Your first buys should be at the Market Hall / Chania Municipal Market… there's delish Cretan food here that's fully authentic. Find meat, kalitsounia Cretan pastry, olives, cheese pie and mountain tea. This is where you can fill up your bags with local soap, olive-based products and jars of Cretan olive oil (supposedly the best in the world). Shop for unique food like handmade cookies (used for weddings), wreaths made of bread, full-fat cheese made of sheep milk (protected origin food), fresh staka butter etc. Meanwhile gorge on incredibly aromatic rice cooked in meat juice, goat roast, sea urchin salad and fish soup while shopping.
A great place to shop for bottles of Cretan olive oil, handmade soaps and creams with olives and jars of pickled/ cured/ dried olives is the Olive Farm at Apokoromas near the foot of the White Mountains. This is where you can learn Cretan cooking and attend wine seminars too.
Skridlof Street is also called Leather Street and the whole lane is filled with leather makers. Buy great quality leather purses, sandals, handbags, purses etc. from here. Then there is Sifaka Street that's also a metal workers Lane where you can get traditional utensils, showpieces and artefacts that are all handcrafted.
Old Town has Diesel, Al Bies, Harris Cotton, Hamam, Tsigaloglou all of which sell interesting apparel and accessories. Also visit the stores of Antoniou (Greek jewellery), Memorabilia (souvenirs, gifts), Asteriou Technes (art, collectables) and Kiwi (Indonesian products). For groceries and essentials, you can visit the Mega Inka supermarkets in Agia Marina. The new town has more cosmopolitan shopping options like Marks and Spencers, Sephora etc.
While in Crete it's natural that gawking at the landscape and savouring the gastronomy will take precedence over filling up your bags.
How to Reach
The international airport of Chania/ Ioannis Daskalogiiannis is just 14 km away from Chania town in the Akrotiri area. Some European airlines like Ryan Air fly all year long to Chania and connect many European cities. Athens and Thessaloniki are well connected to Chania airport. Non-European cities are connected to Chania majorly via Athens. Like all Greek tourist hot spots frequency of flights to Chania increases in the summers.
Getting Around
A bus runs directly from Chania airport to the city centre many times a day starting from 6.00 am to 10.45 p.m. You can make the journey in 90 minutes flat and tickets are cheap …. however, there is just one bus making the waiting time long. It's faster and easier to catch a taxi from outside the airport.
There are no train networks in the Crete islands….the rugged landscape makes laying down lines difficult.
The only medium of inland local transport in Chania, bus networks are thankfully extensive. The KTEL or Greek public bus transport company operates and runs all buses in Crete and you can take buses to explore various landmarks in and around Chania as well as travel to other important towns and villages in Crete like Kastelli, Kolimbari, Vrisses, Rethymnon, Perama, Drossia and Heraklion.
Buses run on time and the frequency & route coverage get more intensive in the peak season (summers). Stations have luggage lockers where you can securely keep your stuff. Bus stops are marked in Greek in small blue font and that makes them difficult to locate.
You can travel to Sfakia (an important tourist spot) from Chania via bus and then take ferries to the villages of Paleohora, Loutro, Sougia and the lovely Elafonisi beach. Ravelling anywhere in and around Chania is a pleasure so soaking in the scenic beauty should be your priority rather than the fastest means of conveyance.
There are daily ferry links from Piraeus to Chania and in summers ferries operate 24*7 on this route (taking the Anek Lines ferries is recommended). Ferries land and commence from Souda port that's just 4 km from the main town. However other islands are not that well connected to Souda though there are alternatives.
You can catch ferries to Gythio, Kythira and Antikythira from Kissamos port that's an hour's drive away from Chania. To the south of Chania, there is a small port called Paleochora that runs ferries to Gavdos Island thrice a day.
One of the loveliest ways to move around is to rent any one of the municipal bikes in town…it can be availed instantly. There is something called the Automatic bike sharing system of Chania municipality where you (if you are a tourist) need to sign up for the service online/ station kiosk by paying a nominal fee. You will get a cycloCard and after ascertaining its condition you can use the bike freely. Returns are made at the numerous free slots in the station where you can simply lock the bike and leave. Greek citizens can avail this service free from the municipality office.
Another lovely way to get around is by walking… the narrow alleys and winding paths of Chania make this a convenient and healthy transport option.
Read: Transportation and how to get around in Chania.
When to visit
Summers are peak tourist season so between June to late September the beaches are at their liveliest, transport networks are denser and every little café is open. However, ticket prices and hotel prices soar along with the crowds. October (beautiful weather) is a good time to visit and so is May (lots of wildflowers) if you want fewer crowds.
May is great for hiking to the 3 gorgeous peninsulas of Akrotiri, Gramvoussa and Rodopi.  Easter and the wine festival (in spring) are both lovely but crowded times to visit.
Read: Important weather conditions in Greece and its major cities.
Also Read