Getting to the City
There are two major ways to reach Athens. One is by flight from various parts of the world and another way is to take a cruise from UK, USA etc. There are direct flights as well as connecting flights (via Europe) from USA and Canada. The major operators are American Airlines and Air Canada. You will get low cost airlines like Aegean air, Ryan air and Easy Jet from Europe to reach Athens. Asia is connected through Middle East.
Athens International airport 'Eleftherios Venizelos' is named after the former prime minister of Greece. It's located 20 kilometres east of Athens City Centre (Syntagma). There are numerous options to get into the city from the airport like Express Bus, Metro, Suburban Train, Taxi and Car Rental Services.
Express Bus: Four Express bus lines connect the greater Athens and the city centre. Route number X95 from airport goes to Syntagma Square (i.e. city centre). Bus Station is located between exit 4 and 5. It takes around 70 minutes to reach the city centre. Bus service is available 24 hours.
The service frequency varies from half an hour to one hour depending on the time of the day. One-way fare is 6 Euros for an adult and 3 Euros for a child. Tickets can be purchased from the kiosks at departure area, ticket vending machines at metro station or from the bus driver.
Metro: Metro line 3 connects airport with Syntagma. Metro station is located just opposite to the airport building. It takes 40 minutes to reach Syntagma station. Service is available from 6:30am to 11:30pm at an interval of half an hour and 7 days a week. One-way Metro ticket costs 10 Euros for an adult and 5 Euros for a child.
Suburban Train: Proastiakos is the suburban railway system of Athens. You can take a train to reach Athens Central station Stathmos Larisis from the airport. Central station is located around 3 kilometres northwest of Syntagma square. The service is available from 6:09am until 10:50pm. Frequency is one hour. Trains operate throughout the week. The journey time is around 45 minutes from central station and it additionally takes 10 minutes to reach Syntagma Square by bus.
Taxi: The famous Athens yellow taxis are available 24 hours outside airport building at the designated taxi stand. Taxi fare from airport to Syntagma square is flat 38 Euros between 5:00am to midnight and 54 Euros during the remaining hours.
You can choose from a wide range of private transport and transfer services (including airport transfers) and book online from this Viator site.
Getting to the city by Cruise
Greece has become the cruise capital of the world. There are numerous cruise services from USA and UK to connect various destinations of Greece. The main port of Athens is Piraeus which is the 6th busiest port in Europe (in annual Passenger count) and is 10 kilometres from the city centre. Cyclades Island is connected by ferries with two more nearby ports Lavrion and Rafina. Piraeus port is also connected with Turkey, Spain, Morocco, Tunisia and Italy.
Piraeus port is very well connected with the city centre of Athens. There are several options to get into the city like bus, tram, metro and taxi.
Bus line 40 connects Syntagma square with the port. For Omonoia square, you can take bus number 49. Buses are available 24 hours with a service frequency of half an hour to 1 hour. The fare is 1.40 Euros for an adult. The journey time is 40 minutes.  Another option is express bus line X80. This service is available only during summer. 3 day tourist ticket or 24 hour ticket is only accepted in express bus.
Metro is a good option as well to reach city centre from the port. Take the green line (Line 1) to reach Monastiraki station within 16 minutes. From there Syntagma square is less than a kilometre. The service is available from 5:00am until 12:30am with a frequency of 10 minutes. Fare per person is 1.40 Euros. It takes a total of 26 minutes to reach. The port terminal station is located just across the street at the port area.
The nearest tram stop SEF is 2 kilometres away from the port. You can walk or take a taxi. SEF is connected with Syntagma square by tram. Tram is available every 20 minutes and the journey time is around half an hour.
The taxi takes around 15 minutes to reach Syntagma Square from the port but it would cost anything between 10 to 25 Euros depending upon the traffic and the time of travel.
Public Transports
You can use public transport system of Athens to reach out to any part of the city as well as suburbs. Bus, metro, suburban rail and trams come under this network. Urban Transport Organisation known as OASA runs this public transport network in Athens.
Bus
The main attractions in Athens are very closely packed around central part of the city. So if you are staying in the central Athens area you won't be requiring buses.Bus timings vary depending on season, day and route. In general buses are available from 5:00am until midnight.
There are special bus schedules between July to September. Apart from normal air-conditioned buses there are electric trolley buses in the fleet. All buses and trolley buses have free wifi systems installed.
There are automatic voice announcement inside the buses to let passengers know about the approaching stoppages. There are over 300 lines including Express bus services and 24 hours services that connect the city with surrounding suburbs. 5 lines operate for 24 hours.
KTEL buses are a good option to visit outskirts like The Cape of Sounion. There is an orange signage on the body of the bus. You will get a bus from Syntagma square. The bus operates from 07:05am to 05:05pm. The frequency of first two and last two services is one hour.
Metro
Athens Metro is the second oldest underground railway in the world (after London). The green line is operational since 1869. Presently there are three lines Green (Line-1), Red (Line-2) and Blue (Line-3). Blue line connects airport with Syntagma (City Centre).
Metro network connects the port of Athens (Piraeus), Central station, Olympic stadium along with various other important parts of the city. Operating time is 5:30am to 12:30am (line 2 and 3 operate until 2:30am on Fridays and Saturdays). Line 1 and 2 frequencies are between 5 to 15 minutes. Line 3 frequency is 30 minutes.
Tram
Tram service in Athens resumed in 2004 (during Athens Summer Olympic) after it closed down in 1960. Presently there are 3 lines. Line 1 and 2 originate from Syntagma while Line 3 runs along the coastal area of Athens. The first tram departs at 5:30am and service terminates at 1:00am (at 2:30am on Fridays and Saturdays). On an average the running frequency is 8 minutes.
Suburban Railway
Suburban Railway known as Proastiakos is run by Greece's National Railway Network. 3 lines connect the Athens central station (Stathmos Larisis) with suburban destinations including the airport. Ath.ena ticket and card are accepted only within the city limits (with airport as an exception). 4th line connects Athens sea port with Kiato. Suburban railway operates from 4:30am until 10:50pm with a service frequency of 1 hour.
The railway network here is moderately well-developed with intercity trains and domestic overnight trains. The overnight train connects Athens with Thessaloniki. There are international overnight trains from Thessaloniki connecting Macedonia and Serbia. Several rail passes are available like Greece Pass, Greek Island Pass, Select Pass and Global Pass.
Taxi
Around 15,000 yellow taxis are licensed and metered in Athens. Taxi is costlier than public transports but economical than many other European cities. Most of the drivers speak English. They can be rude at times. In case of any complaint you can call 1019 between 8:00am to 10:00pm on weekdays and 8:30am to 8:00pm on Saturdays.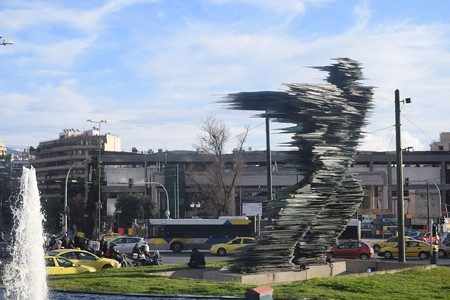 There are many taxi stands in the city. You can hail one on the street as well. The base fare is 3.44 Euros. Fare per kilometer is 0.74 Euros within city limits and 1.29 Euros outside city. Per kilometre charge is double during midnight to 5:00am. Waiting charge per hour is 11.81 Euros. Ask for a receipt before paying or else you might not get one.
You can call a cab within the city by dialing 10200. For other taxi companies you can call the following numbers.
Kosmos: 18 300
Hermes Radio Taxi: +30 210 4115 200
Athina: +30 210 9212 800
Sea Ferries
Greece is a country surrounded by seas and consists of numerous islands. Ferry service plays an important role in reaching out to different islands. Various ferry services are available from the main port of Athens (Piraeus) 7 days a week. Rates vary. Journey duration depends on the destination but ferry is quite economical compared to flying to an island although it takes longer travel time.
Ticketing and Transport Passes
Like other European cities Athens too has numerous ticketing options and travel passes.
Short Term Tickets Without Airport Transfers
90 minute ticket is valid for 90 minutes after its validation. One can ride all types of public transport within the validity period. Switching between metro, train, bus, trolley-bus and trams are allowed. However it can't be used to travel from/to the airport. A 90-minute ticket costs 1.40 Euros for an adult and .60 Euros for a child.
24 hours ticket is valid for 24 hours from the time of validation and a 5 day ticket is valid for 5 days. Other rules are same as 90 minutes ticket. A 24 hours ticket cost 4.50 Euros and a 5 day ticket cost 9 Euros for an adult.
Short Term Tickets With Airport Transfers
Single journey Express Bus Ticket for Airport can be used for transfer to/from airport by Express Bus only. Ticket price is 6 Euros for adult, 3 Euros for child.
Metro Ticket for Airport is valid for 90 minutes after validation. It works like a 90-minute ticket but also includes an airport transfer. It can't be however used in Express Bus. Ticket price is 10 Euros for an adult and 5 Euros for a child.
3 day tourist ticket is valid for 72 hours after validation and offers a return journey for airport. It also offers unlimited rides by all types of public transport within city limits for 72 hours. Ticket costs 22 Euros.
Ath.ena Ticket: This is a paper rechargeable ticket. It can be repeatedly re-charged. All forms of ticketing offers mentioned above can be loaded in Ath.ena ticket. This ticket can be purchased and recharged at ticket vending machines as well as transport ticketing offices in Athens. Child tickets are issued only at transport ticket offices.
Ath.ena Card: This is a rechargeable plastic card which can be loaded with all ticketing options. For the first time it has to be loaded with tickets worth minimum 4.50 Euros. This card can be purchased from ticketing offices but can be recharged from ticket vending machines as well. This card is however not applicable for child tickets. Ath.ena card is ideal for 24 hours ticket, 3 day tourist ticket or 5 day ticket.
You can also get a Personalised Ath.ena Card which bears photo and name of the card holder. A passport is must for foreigners. It can be loaded with child products as well. You can purchase this card at most of the ticketing offices. It can be recharged at ticketing offices, ticketing machines and online with a mobile phone. You can use the card without having to load any ticket products but as long as you have enough balance.
Athens Card: This is a tourist friendly card offering discount at various attractions. There are three types of cards… Bronze, Silver and Gold. 48 hours free hop on hop off bus ride is offered in all three. The cards offer different levels of discounts in tours and cruises. Silver and Gold cards offer 5-day unlimited travel by bus, tram and metro. Silver card costs 89.90 Euros and Gold card is 169.90 Euros for adults. Visit athenscard.com for details.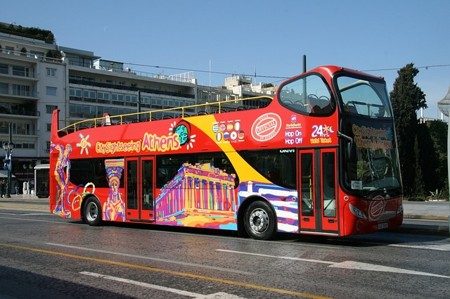 Day Trips
You can avail several day trips from Athens. Following are a few interesting ones.
A day trip to Delphi is worth for witnessing the wide archaeological findings that include the Temple of Apollo. The package trip duration is around 10 hours and the cost is around 70 Euros (it may vary a little) per person.
If you want to explore Delphi on your own then your best option is to take a KTEL bus from bus station B located at 216 Liossion Street. To reach bus terminal B you can take a M2 line metro from St. Syntagmatos station (3-minute walk from Syntagma Square) towards St. Elliniko Anthoupoli and get down at Attikes (Attiki) station. From there board B11 line bus towards Ilion Petropouli and disembark at St. Ypear/Kon Liossion stop, then walk for around 150 metres to reach bus terminal B. Journey time by metro is around 7 minutes while bus takes 5 minutes. The first bus for Delphi leaves at 7:30am from KTEL bus terminal B (next bus is at 10:30am). The journey time from Athens to Delphi is around 3 hours.
The Cape of Sounion and the Temple of Poseidon is another interesting place for a lovely day trip. You can enjoy both history and scenic beauty in this trip. The sunset here is stunning. It can be half or a full day trip. The cost of full package day trip is around 72 Euros.
To explore on your own you can take a road trip to the Cape of Sounion. Journey time would be around 1 hour. This private taxi tour costs over 150 Euros (including return journey). Alternatively take a metro line M3 train from St. Syntagmatos towards Airport-Douk, Plakentia-Agia Marina and get down at St. Koropi (journey time 40 minutes, fare 2 Euros). From St. Koropi take a taxi for the Cape of Sounion and that will cost around 40 Euros (journey time will be around 40 to 45 minutes). The most economical option however is to take a KTEL bus from Athens directly to the Cape of Sounion. Journey time is around 2 hours and the fare is around 7 Euros one way.
Check the bus timings from KTEL office.
You can take a day cruise to visit three different islands Hydra, Poros and Aegina. This trip is all about enjoying nature, history as well as gastronomy. This package trip lasts for 11 hours (from Athens to Athens) and will cost around 115 Euros per person.
To reach Hydra you can take a ferry from Port of Piraeus (ferry takes around 2 hours). Luxury ferries cost around 40 Euros for a single trip journey and regular ferry price is around 28 Euros. There are 4 sailings on an average per day from Hydra to Poros. Journey time is around half an hour and fare is around 14 Euros per person. There are at least 1 crossing per between Poros and Aegina. During summers the frequency is higher. The journey time is over 1 hour and 15 minutes and ticket per person is around 14 Euros (ticket rate is higher during summer).
Getting To Major Attractions
Most of the Athens attractions are located in and around the city centre area (on an average within 1 to 2 kilometres radius). Syntagma Square is considered below as the starting point for getting to those attractions.
Acropolis is in the list of UNESCO world heritage sites since 1987. While visiting Acropolis you should also see the temple of God Poseidon Erecthum, the Temple of Nike, Parthenon, Dionysius theatre, Herod Atticus theatre, Kerameikos, ancient Agora and Acropolis Museum etc. Take a M2 line metro from St. Syntagmatos station towards Anthoupoli St. Elliniko and get down at Akropoli station (journey time 1 minute). From there it's around 15 minutes walk (850 metres). Alternatively you can take a line 209 bus from Syntagma Square towards Metamorfosi-Plateia Syntagmatos and disembark at Philellelon stop (2 minute ride) and then walk for around 1 kilometre to reach Acropolis.
Academy of Athens (Akadimia) is famous for the sculptures of Apollo, Socrates, Plato, Athena etc. You can walk down (1.1 kilometres) or take a line 230 bus towards Akropoli-Zografou and get down at Nauarinau. Akadimia is around 150 metres from there.
Pedion tou Areos is one of the largest public parks of Athens located 1.3 kilometres north of Akadimia and is famous for statues of Greek soldiers. You can walk all the way or take a line 813 bus from Nauarinau towards Proussis-Averof and disembark at Tsimiske (4 minutes ride), then walk for 700 metres to reach the park.
Plaka area has so many things to offer including Kitsch shops, artist studios, Brettos distillery, Cine Paris and Roan, Greek ruins along with 19th century buildings and Byzantine churches. This place is located towards south west of Syntagma square at a distance of around 750 metres. You can take a line 11 bus and get down at Philellelon (1 minute ride) or take a M2 line metro for Akropoli. You need to walk for 500 metres if you take a bus and around 300 metres if you get there by metro.
Psiri neighbourhood and the Monastiraki Square are are located just over a kilometre north west of Syntagma square. You can take a M3 line metro for Monastiraki metro station and then walk for 350 metres. Alternatively take a 26 line bus for Monastiraki. Journey time by metro is 2 minutes and by bus around 6 minutes.
National Archaeological Museum is a great place see exhibits dated back to 5000 years. This museum is located towards north at a distance of around 2 kilometres. You can schedule the visit to this museum along with Akadimia as it is located only 1 kilometre north of Akadimia. Take a line 5 bus for Polytechneio and then walk for around 125 metres or alternatively take a M2 line metro for Omonia and then walk for 800 metres. Journey time by bus is 12 minutes and by metro 3 minutes.
Byzantine and Christian Museum is located 1 kilometre east of Syntagma Square. Take an express bus number E14 and get down at Byzantine Museum stop. Alternatively you can take a metro line M3 train and disembark at St. Evangelismou station, then walk for 300 metres. Journey time by express bus is 7 minutes and by metro is 2 minutes.
The best beaches are located at Kavouri Vouliagmeni area. This place is located around 17 kilometres south of Syntagma square. You have multiple ways to reach there. Take a M2 line metro for St. Elliniko, then board a line 122 bus for Xenod Kavouri. The beach is only 400 metres from the bus stop. Alternatively you can take an A2 line bus towards Akadimia-Voula route and get down at Terma Epivivasis, from there it is a 10-minute walk. For beach hopping along the coastal area of Athens take the line 3 tram.
Hiring Bicycles
There are many bike rental companies in Athens. On an average the rental rate is 10-15 Euros for a day. You can also rent on an hourly basis. Following are some well-known bike rental companies and their websites:
Athens by Bike (athensbybike.gr)
Athens Bicycle (athensbicycle.com)
Black Diamond Bicycles (blackdiamondbicycles.com)
Car Rentals
The minimum car rental rate per day in Athens is around 30 Euros. Here are few well-known rental companies…
Sixt (sixt.de/mietwagen/griechenland/athen/athen)
Enterprise Rent A Car (enterpriserentacar.gr)
Avis Car rental (avis.gr)
Joyride Car Rental (joyriderental.gr)
Budget (budget.gr/en)
Scooter/Motorbike Rentals
Rental rate starts from 20-25 Euros per day. Below are few well-known scooter rental companies:
Panos Rent A Scooter (rentascooter.gr/en/)
Dirt Motos (dirt-motos.eu)
Motorent (motorent.gr/en/)
Transport tips
English is an optional language provided in all ticketing machines
Always touch in your ticket or card during any ride by public transport
You can use the TaxiBeat app on your phone to hire a taxi and pay right fare
Transport strike in Greece is a common factor, check official site oasa.gr before your journey
Travelling without validating the ticket can attract a fine of up to 40 times the fare.
Also Read