The historical European and Grecian capital had its first settlement in the Neolithic age and since then, has been the target of a succession of conquerors who all wanted to possess her. Its strategic position (8 km inwards Bay of Phaleron) that's an inlet of the Aegean Sea and its north-south demarcation by mountain basins made it geographically distinct.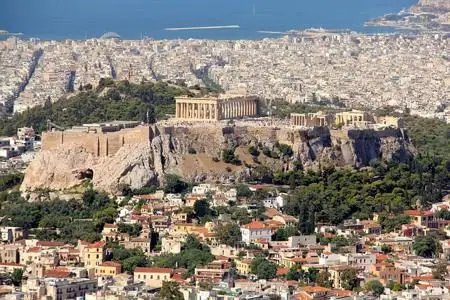 The ravages of the Venetians, Turks and Byzantines have taken away much of Athena's treasures but oddly the ruins are all so beautiful and decorated as they are with the pathos of history.
The majestic city centre is now a 3 km pedestrian zone and the best archaeological site in the world. As you move about Athens be conscious of the fact that not only are you looking at history but your feet may well be treading upon priceless historical treasures waiting to be excavated.
Attractions
A discussion about Athens's attractions must start with the Acropolis… the centre of Athens which was designated as a world heritage site since 1987. It's an archaeological site with an ancient fortress that comprises the ruins and remains of several buildings with immense historic and architectural significance. It rises 490 feet above sea level, spans across 7.4 acres and is notable by the single route approach and profusion of springs near its base all of which helped make it a refuge against the many wars that Athens has survived.
At the first glance, the Acropolis seems like a collection of columned Grecian temples but look closer and you will find that there isn't a single straight line in the construct. Each column rises at a slight angle and finally meets all the others in a grand yet simple union upwards.
The centre of the Acropolis is the Parthenon – the home of Goddess Athena, the name-giver and protector of the city. The obscure Christian wall paintings and the embellished star and minarets are testimonies to the use of the Acropolis as a church and mosque.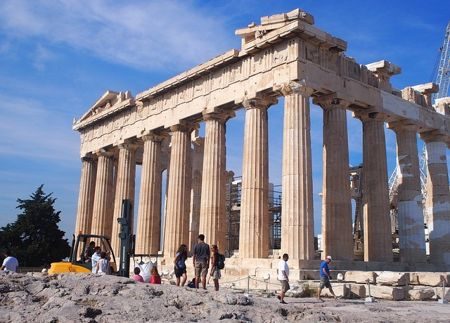 The Turks invaded the beautiful temple multiple times and sold many of its jewels to Europeans and Venetian artillery destroyed Athena's horses but the biggest damage to Acropolis was done by the British ambassador Lord Elgin (Greeks still bear him a grudge) who took back a large chunk of the Parthenon sculpture and sold it to the British Museum.
Buy a ticket for the Parthenon in Acropolis and you will get automatic entry to Dionysius Theatre, Herod Atticus Theatre, Kerameikos, Ancient Agora and Acropolis Museum. Parthenon had the exquisite gold and ivory statue of Athena which doesn't exist anymore …nevertheless the perfect symmetry of its columns can still be admired.
Propylaea is the entry gate to Acropolis. Erechtheum was one of Acropolis's most revered temples…an ode to the God Poseidon (a caryatid was removed by Lord Elgin) but it became a church under the rule of Byzantines and then the harem of the Turkish commander. Look out for the Temple of Athena Nike in Acropolis (victory giver and the inspiration behind the Nike brand).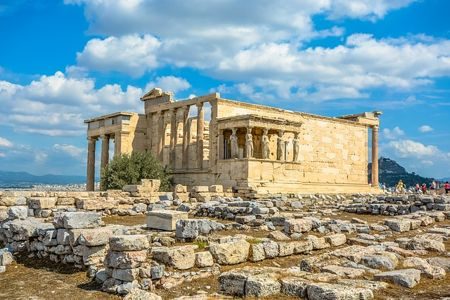 Now all these have fascinating histories so taking a guide is heartily recommended.
Watch out for the street of Tripods that's to the east of the Dionysius Theatre and you can see the Choragic Monument of Lysicrates located near Acropolis which is an excellent example of Corinthian architecture. This is now a convent. Lord Byron had his quarters there and famous Scottish artist Stuart adorned the walls with his imagery.
Go further west and you can see the ruins of Asclepius (an ancient hospital dedicated to the god of healing). While walking around the city you can easily spot several statues of superior craftsmanship. For example the Theodoros Kolokotronis Statue in front of the ancient parliament building and the statues of Adamantios and Rigas Feraios at the Greek University and the bust of Oiannis Varvakis at the National Garden.
The Papagou district has the horseback statue of Alexandro's Papago and in Pedion tou Areos (one of the largest public parks of Athens) there are several statues of Greek soldiers. Walk into the academy of Athens and you can see magnificent neoclassical sculptures of Apollo, Socrates, Plato, Athena etc. The ancient Greeks loved sculpture and Athens is a living testimony of this.
Wandering through different neighbourhoods on a self-paced walking tour is also a good idea. The Plaka with its kitsch shops, artist studios, Brettos distillery, Cine Paris and Roan and Greek ruins is interspersed with breath-taking 19th-century buildings and Byzantine churches. The splendid Roman Agora with its "Tower of Winds" and "Library of Hadrian" are treasures here as well as the Turkish Bath and Tzistaraki Mosque.  The Anafiotika neighbourhood is the spiritual seeker and photographers' paradise and Plaka is distinguished by Acropolis.
Psyri is another interesting neighbourhood with its cafes, ouzo bars, galleries and studios and open-air theatres. The Monastiraki Square with its interesting imagery is crowd filled on weekend nights…this is the hub of Athen's nightlife. The Athinas and Ermou streets are the coolest places to sit, munch and people watch. Don't miss the street filled with lantern lights i.e. Pittaki which has got a facelift by a collaboration between a studio and the enterprising locals.
Lots of museums dot Athens and one of the most important ones is the National Archaeological Museum with its exhibits spanning 5000 years of history and the multi-branched Byzantine museum. Then there are the Byzantine and Christian Museum, the New Acropolis Museum, the Numismatic Museum, the Hellenic Motor Museum and the Cycladic Museum. Try taking the long 40-minute walk from the Syntagma to the National Archaeological Museum and don't miss the 2000-year-old Antikythira device (the oldest computer ever).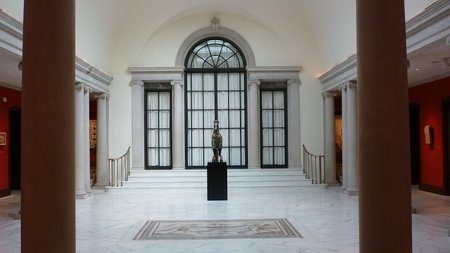 There is this lush green mini-mountain at the heart of Athens that has a bundle of attractions at its summit along with great views… amazing cafes and an amphitheatre that sees performances by James Brown, Leonard Cohen and Peter Gabriel. You can go up by train and then try climbing down winding through interesting looking neighbourhoods. Another interesting hilltop is the Philopapou hill that's near the acropolis. The Hills of Ares has the supreme court of Greece.
Apostle Paul Avenue has Hills of Nymphs with an observatory built by Bron Sina, hills of muses with Philoopappus monument remains and lynx with its meeting grounds (Grecians used to gather here to listen to the orators) still breathe of their glorious history.
Athens has the highest concentration of theatrical forums and the jewel of the crown is the Odeon of Herodes Atticus (Athens festival happens here from May to October). You can also try catching a performance at the Athens Concert Hall or the Stavros Foundation Cultural centre that houses the national library of Greece. Alternatively, gaze at the Planetarium in Andrea Syngrou Avenue (best planetarium in the world).
Panathenaic Stadium (also known as Kallimarmaro) is a great historic attraction of Athens and the only stadium in the world built in all marble. Its first existence was noted in the 6th century BC when Panathenaic Games were held here in honour of the goddess Athena. It was excavated in 1869. Following its refurbishment, the Olympics was held here in 1896.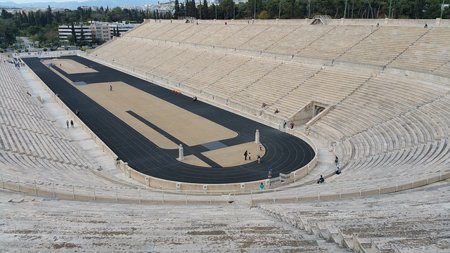 Take a taxi to the Sounion Temple of Poseidon that sits at the tip of the Attica peninsula. Lord Bryon scribbled graffiti on its walls and it offers a splendid sunset view and an island like experience. There is a small beach here and excellent shacks for munching on mezedes and ouzo. Start out from Athens via a taxi and reach here in an hour just in time for sunset and a swim.
A great cheap way to travel and an experience in itself… the Coastal Tram will take you to less-visited neighbourhoods of Nea Smyrni, Neos Kosmos and you can see refugee settlements and large squares. Stop at the yacht marina in Alimos or stop at the EDEM (there is a seaside tavern here that lets you have ouzo right on the Sea). Also, check out SEF (friendship stadium) that charms you to walk along its lovely canal and park till you reach the profusion of seafood restaurants in Mikrolimano.
The beaches of Athens are reachable by tram and the ones further away from the city are the best. If you want convenience plus the best possible beach option then check the Kavouri Vouliagmeni area. Faliron, Kalamaki, Voula, Glyfada and Pireaus have a string of beaches.
There are also pay beaches with snack bars, shower areas, washrooms and cafes from Glyfada and extending till Varkiza. Check out the Coves which have an otherworldly feel…the car can be abandoned at the top while you soak in the serenity of the land strip in the middle of the Aegean. If you are into windsurfing then Saronida and Anavissos beaches have good scope.
Finally, the multicultural Port of the Piraeus area is a must-see because here is where you should take a ferry boat and go island hopping. Or you could just take a spin in the Aegean and look at the Parnitha, Hymettos and Pendeli peaks or stare awestruck at the Acropolis standing proud against the sky.
Food and Drinks
Greek people are big champions of open-air dining and healthy favourable food. You will find everything from cute two table little cafes to glamorous Michelin star holders in Athens.
Varuolko in Piraeus is a Michelin starrer that serves the best seafood in Athens…the grilled squid with black beans and marjoram are a house speciality and the view of the yachts cruising by on the Mikrolimano Bay is an added plus. Funky Gourmet in Gazi also holds two Michelin stars and offers a very creative Mediterranean menu…salted roe with white chocolate is one such extraordinary entrée.
Aleria in Mataxourgio has a romantic vibe and leafy courtyard with two different degustation menus…you can bring in your own wine bottle if you want. Psarras in Plaka is committed to true blue Grecian cooking and it sports a series of white steps that leads up to the Acropolis. Café Avissinia on Avissinia Square has an antique look and plays live music…the romantic roof terrace and favoured lamb is a big draw.
Right down the Syntagma square the Ant and Grasshopper serves exotic dishes like chicken in creamy mastiha (aromatic resin). Strofi in Makrigianni dates back to 1975 and specialises in hearty food like gemistes tomates (stuffed tomatoes and rice) and red wine stewed cockerel (kokoras krasotos).
Close to the Central Market is the old fashioned Klimataria that serves original home-cooked food like spinach pie and meat casseroles…come here if you start missing home food. Mama Roux in Monastiraki has only colourful soups and salads and a great Sunday brunch menu.
For fine dining with added effects go to Dinner in the Sky in Attica and watch as they twirl you 50 meters up to get a 360-degree view of Athens and the Acropolis.
There are plenty of amazing standalone cafes in Athens like the Duck Soup in Panepistimiou, Froots Juice Bar in Porinou, I Feel Café in Karaiskaki and Off White Café Bar in Eolou.
Nightlife
Young Athens nightlife is best experienced in the Exarchia area which has lots of glamorous pubs and music venues. Gazi has many Rebetiko venues and Greek music and wine flow abundantly. Koukaki near Acropolis is the best place to have post sightseeing drinks while Metaxourgeio and Keramikos are full of hot yet offbeat bars and pubs.
Psyrri has lots of bars and some great wine hotspots like Boiler and six dogs. If you really want a classy night out then check out Rue de Marseille, Blondie and Skoufaki that define understated glamour in Kolonaki.
Brettos bar is the oldest distillery in Athens and it has antique century-old barrels filled with brandy, ouzo and other liquor variants. Sip on a glass here and appreciate the original concoctions that are exclusive to the Brettos. While in Athens a night spent on a rooftop bar is a must and having a view of the Acropolis is a bonanza.
The Couleur Locale near Monastiraki square oozes char and raki and rakamelo besides many variants of the ouzo. If you can find a seat you won't feel like leaving ever the service and music are both excellent. The James Joyce Irish Pub & Restaurant near metro Monastiraki is a great place to have a beer and watch a match at any of the multiple TV screens.
If you are not a pub person then a stroll in the historic centre when the city is swathed in the moonlight is enough to awaken your inner poet. Also, Athens teems with open-air cinemas, catch a night show and watch an older cult movie (or the latest blockbuster) while soaking in the balmy night breeze.
Shopping
Kolonaki bustles with Armani and Gucci and the best streets to shop are Voukourestiou and Milioni. There is Fanourakis that creates one of a kind gold jewellery pieces and Actipis sea pebbles with its bohemian collections. From Syntagma Square to Monastiraki there is a profusion of high street brands like Mango and Zara.
In Plaka, there are antiques and rugs and handicrafts and the 19th-century glass and iron crafted central market near Monia has apples and figs and heaps of fish.
If you are in Athens during the weekend then the Monastiraki Flea market on Sundays is where you should definitely go. Shop for quirky t-shirts, rare vinyl's and awesome CDs and hunt for furs and jewellery at unbelievable prices. Be prepared to shift through piles of junk as well and beware of pickpockets.
Go across the Monastiraki square into the narrow Ag Theklas Street and visit the famous poet Stavros Melissinos's shop. His book Rubaiyat is on the curriculum of many American universities and he makes classic handcrafted Greek shoes for a living (customers include Ursula Address, Sophia Loren, John Lennon, Jackie Kennedy etc.)… shop for shoes and buy his books.
How to reach
Flights
From the USA and Canada, you can take a direct flight to Athens or a connecting flight via Europe. Continental, Newark and American and air Canada are the major operators. From Europe, there are so many low-cost airlines easy jet, Aegean air and Ryan air that will take you to Athens at competitive rates. From Asia, a journey to Athens will connect through the Middle East.
Cruise
Greece is now the cruise capital of the world. Plenty of cruises from the USA and the UK highlight Grecian destinations as the stars of their schedule. Piraeus (one of the busiest ports of Europe) is just 10 km from Athens city centre. The Lavrion and Rafina ports are also nearby and the ferries from the Cyclades islands land here. Ferries from several places in Turkey, Spain, Morocco, Tunisia, Italy, Evia and Crete travel to and fro Piraeus.
Getting around
Metro
Metro in Athens took a formidable time to be built…every time work commenced with vigour a new archaeological finding was discovered!! As of 2018, it's the prettiest and best-maintained metro system in Europe and the Syntagma, Acropolis, Monastiraki, Evangelismos, Dafni Square stations are kind of a cross between museum and transport hub (they display archaeological findings excavated while setting up the metro).
The metro will take you from the Eleftheros Venizelos airport to the city and back via Monastiraki and Syntagma (line 3). Line 1 goes to Piraeus port, Karaiskakis and Peace and Friendship stadium while Line 2 joins the Railway station of Athens to Acropolis and Syntagma Square. Metro runs from 5.30 a.m. to 12.30 a.m. every 10 minutes.
Bus
Buses really aren't required to reach attractions if you are staying in central Athens as the attractions are closely packed together. If you plan to go to the outskirts like Sounion cape then taking KTEL buses (orange coloured signage) is a good option. Otherwise, there are more than 60 regular and trolleybus lines which link the whole city and suburbs…bulk of the lines are between Syntagma Square, Kifisia and Piraeus harbour. Buses usually run from 5 a.m. to midnight and some run the whole night too.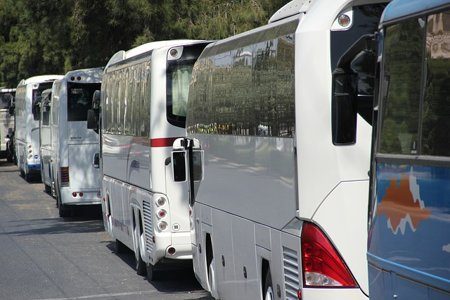 Tram
Coastal trams begin in the Syntagma area and end in Voula and the cars have air conditioning and plush seats. In case you are staying in the suburbs of Glyfada, Faliron or Voula …many tourists do so to enjoy the coast and avoid Athens crowds; the tram really is the best way to get access to Athens city centre. One ticket lets you ride the tram for 90 minutes in whichever direction.
Train
Athens has a moderately well-developed train network comprising intercity trains and domestic overnight trains. While Intercity connects Athens (Stathmos Larisis) to the airport and other important destinations the overnight train goes to Thessaloniki. International overnight trains connect Thessaloniki to Macedonia and Serbia. You can buy many variants of rail passes like Greece Pass, Select Pass, Greek island Pass and Global Pass.
Read: Transports in Athens and how to get around easily.
When to go
Anytime is a good time to go to Athens but the experiences are different in different seasons. July-August is peak season and hotels are pricier and the city bursts with tourists and dizzying nightlife. Expect high prices, hot days and super fun late afternoons and evenings.
September-October is quieter with occasional rains and relatively uncrowded museums and attractions and the same holds true for May-June…you will need warm sweaters and windbreakers. For café hopping, picnics and beaches and for ruminations in the archaeological sites…these are the perfect months.
November to March is rainy and cold but the city is still lively…snow is looked forward to. Sometimes there is lovely spring-like weather (halcyons) in February and Apokreas (huge carnival) season is wild and eventful. Christmas and New Year are amazing but Easter with its lamb roast fragrance and the wildflowers in full bloom is superb in Athens and the whole of Greece. You can go to Athens at any time except perhaps the Lent period as this is when the city is at its quietest and most of the favourite dishes are unavailable.
Read: Important weather information of Greece including Athens
On a parting note…
Wandering amongst the quaint houses of Athens you will come to realise why it is called "the eye of Greece" and the mother of "art and eloquence"…the city not only creates amazing art but also positions it eloquently.
Also Read