The Land of Landscapes, Castles and Adventures, Germany or the Deutschland is also known for its rich and long history and famous October festival.
What to expect
The Federal Republic of Germany is situated in the Central Western part of Europe. Germany shares its international border with nine countries. In east it shares border with Poland and Czech Republic, in south east with Austria, in south with Switzerland, in its west it shares border with France, Luxembourg, Belgium and Netherlands, in its north west lies the North Sea and in north there are Denmark and Baltic Sea. In addition to that Germany shares its maritime borders with Sweden and the United Kingdom.
The capital city of Germany is Berlin which is also the largest city of the country. With a total area of 357,022 square kilometres Germany is the seventh largest country of Europe.
Germany has a very varied topography from the plains of north east and north west and Alps at its south. With forested uplands in central part and low lying areas of northern part, Germany's highest elevation is its peak of Alps Zugspitze at 9,718 ft and the lowest elevation is 11.6 ft below sea level at Neuendorf-Sachsenbande in the low lying lands of northern part of the country. Three major European rivers Rhine, Danube and Elbe flow through this country.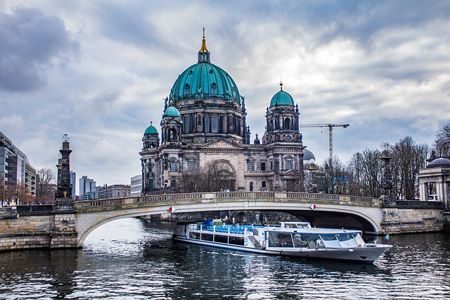 Germany has a very long and rich history. There is evidence of presence, of ancient human beings in this place as long as 600,000 years ago. The oldest musical instrument ever found is a mammoth ivory flute which dates back to 42,000 years! From Nordic Bronze age or pre Roman Iron age Germanic tribe inhabited the northern part of modern Germany.
During 7th to 10th century German territories formed the central part of Roman Empire. In 1815 German confederation was formed and during 1848 to 1849 the German revolution first paved the way towards democracy. Germany became a nation for the first time in 1871 when most of the states unified into Prussian dominated German Empire. This Empire was replaced by democracy after the 1919 revolution post World War I.
On 30th January, 1933 When Adolf Hitler was appointed Chancellor of Germany, democracy ended and dictatorship began, which led to the Second World War. After the war was over Germany was divided into two parts – West Germany, occupied by US, Britain and France and East Germany occupied by USSR or Soviet Russia. After the fall of Berlin wall in 1989, the two parts of Germany re-united and on 3rd October, 1990 the modern Federal Republic of Germany was born.
Now with the largest national economy in Europe, Germany is third largest exporter of the world. Its official language is German but 50% of its population speaks English as their second language. The country has a prominent place in the world and they are the member of UN, NATO, G7, G20 and the OECD.
The major cities of Germany are Berlin, Hamburg, Munich, Cologne, Bonn, Frankfurt, Stuttgart, Dusseldorf etc.
As for flora and fauna Germany can be divided in two eco regions. These are Mediterranean montane mixed forest and Northeast Atlantic shelf marine. Little more than 30% of Germany is covered by forest. One third of the forests consist of oaks, beeches, conifers and other deciduous trees. Fir and spruce are the common trees in the upper mountains.
Various species of flowers, ferns, fungi and mosses are found here. Among wildlife you will find  roe deer, wild boar, mouflon, fox, badger, hare, and small numbers of Eurasian beaver.
Germany always excelled in Science, Culture, Literature, Music and Sports. Many outstanding personalities emerged from Germany. In the field of science were Albert Einstein, Max Planck, Wilhelm Rontgen, and many more. In the field of music one doesn't need more than three names out of so many geniuses to showcase German mastery and they are Johann Sebastian Bach, Wolfgang Amadeus Mozart and Ludwig Van Beethoven.
Among the great authors and thinkers are Johann Wolfgang Von Goethe, Friedrich Schiller, Theodor Fontana, Karl Marx, and many more! If we talk about fine arts Albrecht Durer, Hans Holbein the younger, Matthias Grunewald, Lucas Cranach the elder are only few names from many. There are many world famous sport personalities from Germany including Michael Schumacher and Franz Beckenbauer.
Among all festivals, October Festival or the Oktoberfest is the most famous one. This annual festival is held in Munich, Bavaria and is world's largest Volksfest (festival of travelling funfair and beer). This festival was first celebrated on 12th October 1810 on the occasion of the marriage of King Ludwig I. Nowadays this festival is scheduled for 16 to 18 days starting in later part of September and ending on the first Sunday of October. During the festival large quantities of beer are consumed along with wide varieties of traditional foods.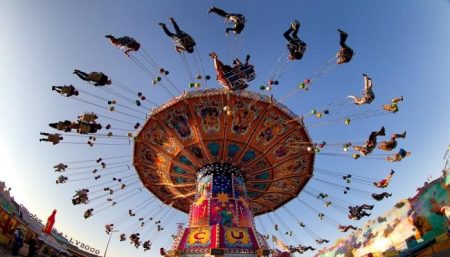 Another important festival is Karneval (Carnival) or Fasching. Most cities of the Germany celebrate this festival, which starts from 11th November at 11:11 am to the following Ash Wednesday. Huge street parades take places on Rose Monday, Shrove Tuesday and Ash Wednesday. On this Ash Wednesday traditionally women could kiss any man after cutting off his tie.
There are few more important festivals like Berlin International Film Festival, Leipzig Book Fair and International Dixieland Festival of Dresden. The last one is the oldest jazz festival in Europe.
Tourist Attractions
With its varied topography and rich cultural history Germany offers a great range of tourism destinations with its landscapes, architecture and mesmerizing scenic beauties.
Berlin- There is lot to do in the capital of Germany. Rebuilt Reichstag, Holocaust Memorial and the remains of Berlin wall will remind you about Berlin's turbulent history of 20th century. Enjoy the arts, culture, architecture and scenic beauty. You can opt for guided day trips, bicycle tour, Double Decker City Hop on Hop off bus tour, walk or take boat rides to explore Berlin.
To be part with the German cultural legacy pay a visit to world famous Berlin Opera and Berlin Philharmonic Orchestra. Enjoy the museums and do not forget to visit UNESCO World Heritage Site Museum Island.
Other places to visit in the City are Brandenburg Gate, Berlin Wall Memorial, Checkpoint Charlie, Charlottenburg Palace and park, The Gendarmentmarkt, Jewish Museum, Grosser Tiergarten, Pergamon Museum, Berlin Cathedral Church and others. The impeccable mix of classic and modern architecture will leave you mesmerized.
Berlin is also great for shopping, enjoying wide varieties of cultural events, dining etc. You will also get good options for staying in various range of hotels from budget to luxury.
Read:Know about Berlin Tourism
Munich- The Bavarian capital Munich is best known for its Oktoberfest. But apart from that it is a beautiful city to visit with its rich culture and history. Among many interesting attractions Deutsches Museum, Marienplatz, Viktualienmarkt, Allianz Arena, Nymphenburg Palace, BMW Museum, Hofbrauhaus Munchen, Englischer Garten and Munich Residenz are must visit destinations.
Other than visiting famous churches and museums, do spend some time with locals at a festival or a colourful market to get a feel of the local vibe. Also do not forget to taste a slice of famous Munich Cake. Like Berlin you can explore Munich by foot, Bicycle or other public vehicles.
Read: Know about Munich Tourism
Frankfurt- This is the major business hub of Germany… but there are lot for travellers as well. Located by the river Main, this 2000 year old city has numerous museums of historic importance, park lands, world famous opera, the river itself, lot of glittering shops and options to wine & dine. The present Goethe House Museum was the former home of the world renowned writer Johann Wolfgang von Goethe.
Read: Know about Frankfurt Tourism
Neuschwanstein- Neuschwanstein castle is the most photographed building in Germany as well as one of the most popular tourist destinations of Europe. From Munich the journey time by train is only two and half hours. Nestled in the Bavarian Alps this castle is like a picture illustrated in story book. Visit this castle, enjoy it and explore nearby destinations from this castle.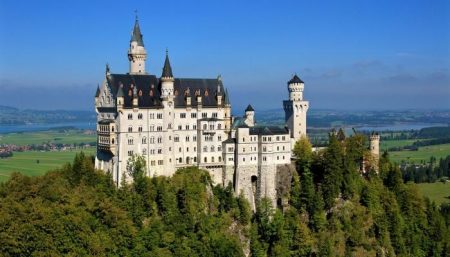 Heidelberg- One of the most romantic towns of Germany is Heidelberg located on the Neckar river at the Southwestern part of Germany. There are many attractions to visit in Heidelberg like Hauptstrasse and Altstadt, Heidelberg Castle, Heidelberg University, Karl Theodor Bridge, The Philosophers' Walk, The King's Seat, Schloss Schwetzingen, Heidelberg Zoo, The German Pharmacy Museum, The Palatinate Museum and others.
Cologne- 2000 year's old Cologne city is the regional cultural hub of Germany. Among many things you can visit the Cologne Cathedral, Cologne's old town, Rhine River Cruise, Ludwig Museum, National Socialism Documentation Centre, Cologne Zoological Garden, Cologne Cable Car, Chocolate Museum, Botanical Garden, Augustusburg Palace and many more.
Rugen Island- The Baltic Sea island, Rugen Island is the largest island in Germany. Among many activities and spots to visit in Rugen Island few important places are the theme park Rugen Park Gingst, Pirateninsel Rugen (another theme park), Sandskulkturenfestival Binz, religious site  Katholische Kirche Stella Maris, taking Hanomag tour (a sightseeing tour), boat tour, visiting museums and distillery.
Leipzig- Leipzig is situated in the eastern German state of Saxony and this place is long known since middle ages for its fairs and markets. The Bach music festival is one of the famous festivals of the city. You should visit Market and Old City Hall, St. Thomas Church, Miracle of Leipzig Monument, Battle of the Nations Monument, Madlerpassage, Leipzig Zoo, Museum of Fine Arts etc among others.
There are more things to see and more places to visit in Germany like Black forest, Lubeck, Dresden, cruise through romantic Rhine and many more.
Germany is an ideal country to wine and dine. There are varied options in almost all cities and towns to dine and savour various types of drinks. However Berlin remains on the top of the list. You can try local German delicacies which too vary from region to region.
As for accommodation you can choose from Luxury (Kempenski International hotel chain) to Budget hotels.
Getting to Germany from your Country
There are several international airports in Germany. The busiest airports are Frankfurt, Munich, Dusseldorf, Berlin Tegel airport and Berlin Schonefeld airports among others. From London's Heathrow airport to Berlin's closest airport Tegel Otto Lilienthal international airport, the flight distance is 940 kilometres with a flight time of around 1 hour 50 minutes. Tegel airport to Berlin city centre is only 9 kilometres and takes around 20 minutes to reach.
The following destinations of Europe have direct flight connections with the two airports of Berlin: Slovenia, Greece, Ireland, Russia, Kazakhstan, Spain, Netherlands, France, Malta, Serbia, Latvia, Italy, Turkey, Austria, Belarus, England, Bulgaria, Croatia, Czech Republic, Switzerland, Finland, Ukraine, Georgia, Iceland, Poland, Denmark, Romania, Portugal etc.
Direct flights are available from Asian countries like Iran, India, Israel, South Korea, Hong Kong, Taiwan, China, Jordan, Singapore, UAE, Thailand, Indonesia etc.
There are also flight connections with African, American and Latin American countries like Mexico, Morocco, Canada, US, Egypt, Kenya, Suriname, Tunisia etc.
Germany has expansive road network to rich every other part of Europe. Euro lines and Go Euro are two major bus services of Europe among others that connect Germany.
Railway network of Germany is also excellent. Almost all towns and cities are connected through railways. Germany is also connected through railways with major important international European cities.
Getting around Germany
Being located in central Europe, Germany has become the transport hub of the continent. Germany has an excellent public transport system. The motorway (Autobahn) network is the third largest in world. You can travel in Germany by trains (Deutsche bahn), Underground trains (U bahn), Buses, rental cars and trams (Strabenbahn). Bigger cities offer various types of public transportation compared to smaller towns yet even in the smallest towns there is at least a bus system.
Here are the different modes of transport within Germany.
U Bahn- Underground rapid transit is known as U bahn and is available in most of the metropolitan areas. They also operate very frequently from 5 to 15 minutes.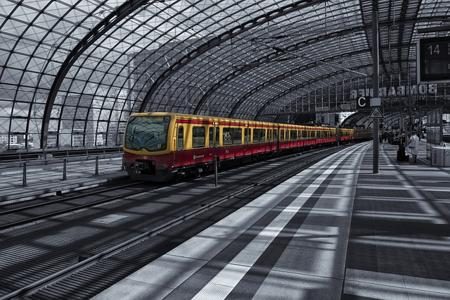 S Bahn- This is the suburban railway network covering cities and nearby towns. This network has express trains from the city centers and operates in the big cities like Berlin, Munich, Hamburg, Frankfurt, Cologne, Dusseldorf, Nuremberg, Leipzig, Dresden, Manheim, Rostock and Magdeburg. Its standard is similar to the metro system with service frequency of 20 to 30 minutes. Weekend service is usually little lesser than weekdays.
Bus System- bigger the city more the number of buses and larger the network. The capital 'H' sign indicates a bus stop in Germany. In bigger cities night bus service is also available.
Strabenbahn or Trambahn (streetcar/ tram)- Mainly the eastern cities of Germany have tram service over the ground. To avoid the overpopulated parts of the city in major cities, trams go underground. The nickname of this transport is 'the tube'.
Stadbahn (light rail)- In some large cities another means of transportation is Stadbahn or light rail which mainly operates in suburban areas and are quite similar to U Bahn. This mode is faster than Trambahn with a frequency of 10 to 20 minutes. Note that signs for Stadbahn and U bahn are same, both are capital U. Check if Stadbahn is written below the U.
You can purchase passes for one time, one day, weekly or monthly and travel in all the public transport including ferries. In most of the cities you will find bicycles on hire. Cycling is another good option to get around the cities in Germany.
Read: Transports in Berlin and how to get around easily.
Best time to visit
Being in between continental Eastern European Climate and oceanic Western European climate, Germany has seasonal climate dominated by humid westerly winds. There is no consistent dry season. Summers tend to be warm and winters are cool especially at the eastern and southern part of the country. These parts experience longer dry periods. Because of its topography, climate of Germany varies from region to region.
You can visit any time of the year as different seasons have their own charm. During April and May flowers blossom. Summer sees high rush which inflates air fares and Hotel rates. Maximum rainfall happens in midsummer. To avoid summer rush visit Germany during fall or autumn and witness Oktoberfest… this is the right time to start your itinerary with Munich. If you enjoy chilly weather, then even winter is a great time with lesser crowd and discounts on hotels and flight rates.
Read: Important Germany weather information including Berlin, Frankfurt, Munich
On a Parting Notes
Do you know that Germans are the second largest beer consumer after the Irish. Moreover in Bavaria, Beer is officially considered as food!!!
Also Read