The largest city and the capital of Germany, Berlin is also one of the sixteen states of the country and the second populous city of Europe after London. It's located in the northeastern part of Germany on the banks of river Spree and Havel. An international metropolitan city, it's a worldwide hub of politics, culture, science and media. Berlin's one third is covered with gardens, parks, forests, lakes, canals and rivers.
Because of its long past history, Berlin has three prominent city centres which may confuse someone visiting the city for the first time. These are Alexander Platz (former city centre of East Berlin), KaDeWe (Former city centre of West Berlin) and Potsdamer Platz or Potsdam Square. However, I shall use Potsdam Square (or Potsdamer Platz) as the main city centre of Berlin for future references mainly because this place is located at the centre of Berlin.
Unlike many other German cities, Berlin is a wallet-friendly city.
Places to visit
Berlin has an impeccable mix of classic and modern architecture.
Towards the north of Potsdamer Platz is the most photographed icon of Berlin… the Brandenburg Gate or Brandenburger Tor. This iconic gate is now a national symbol of Germany. Built in the year 1788 for King Frederick Wilhelm II, the design of the gate was motivated by the Acropolis entrance in Athens, Greece. It's located at a distance of 1.6 kilometres from the city centre and is one of the most visited places in Berlin.
Another Major attraction of Berlin is the Reichstag or the Parliament Building built during 1884 to 1894. Located at a walking distance of 1 kilometre towards the north of Potsdam Platz, Reichstag is an awe-inspiring architectural mix and symbolises Germany's journey from a gloomy past to an upbeat future.
The building was nearly destroyed in a devastating fire in 1933 and also severely bombed during World War II. Reichstag however became the powerhouse of Germany once again from 1999. Visit to the rooftop is free but you need to register in Advance. The view through the Dom into the Parliament hall is stunning and the 360-degree view of Berlin City from the top of Reichstag is simply spectacular. Do not forget to take a look at the historical graffiti. The place is open for visitors from 8:00 am till 10:00 pm.
It takes around 15 minutes to reach Museum Island or Museumsinsel by public transport from Potsdamer Platz. Museumsinsel is located at the northeast part of the city centre on a tiny island in Spree River and was built between1830 to 1930. This is a UNESCO World Heritage Site.
There are five museums here, the most popular being the Pergamon Museum. The buildings have spectacular architecture. The exhibits showcase varied aspects of German history and art. Another delight here is the Baroque style Berliner Dom and the large garden.
Berlin Welcome Card will give you free access to all the museums here. All five museums are open Tuesday to Sunday from 10:00am to 06:00pm and on Thursdays, the closing time is extended up to 08:00pm. The Pergamon Museum and Neue Museum remain open on Mondays from 10:00am to 06:00pm.
Checkpoint Charlie is a 10 to 12-minute ride by public transport from Potsdamer Platz and located in the southeastern part of Berlin. Having visited the border crossing between East and West Berlin you should visit the Checkpoint Charlie Museum or the Haus am Checkpoint Charlie, otherwise, your journey to the cold war time would be incomplete.
Here you will get an insight into the history of the Berlin Wall as well as many thrilling tales of the escapes from East to West. Photography is allowed by paying fees. Apart from holidays, the museum remains open daily from 09:00am to 10:00pm.
Around 5 kilometres southeast of Potsdamer Platz is East Side Gallery located in Friedrichshain district and it takes around 25 minutes to reach by U-Bahn, S-Bahn or bus. This is the longest remaining part of the Berlin Wall which stretches for almost one and a half kilometres. This is the best place to witness the remaining portion of the wall.
In 1989 after the fall of the Berlin Wall, many international artists assembled here and painted the world's optimistic and joyous reactions on the wall. Featuring more than a hundred murals this large wall has now become the largest open-air gallery in the world. It is accessible 24 hours a day for 7 days a week.
At a 7-minute walking distance from Potsdamer Platz is the Memorial to the Murdered Jews of Europe located on the north side of the city centre. This Memorial is also known as the Holocaust Memorial or the Jews Memorial. Covering an area of 900 square metres this memorial ground has a grid of 2,711 concrete blocks to pay tribute to the 6 million Jewish victims of the Third Reich.
Some of the blocks are 2 metres in height. You can walk through the grey blocks and also go down to the basement level to visit the underground visitors centre and learn more about the related history. The memorial can be visited any time but the visitors centre remains open from Tuesday to Sunday from 10:00 am to 07:00 pm. One and half hour public guided tours are free.
Tiergarten is a large park and forest covering an area of 2.55 square kilometres and located almost at the heart of Berlin, due west of the city centre. You can take Bus, U-Bahn or S-Bahn from Potsdamer Platz or else you can walk for 2 kilometres,or use a bicycle to reach this place.
Tiergarten means 'Garden of Animals' as it was a hunting ground for German Royals during the 17th century. Now those animals are conserved in the Zoologischer Garten (Berlin Zoo) located within the park (described below). Here you can spend some time among the virid nature or else can stroll around, jog or do some cycling. Another attraction of the park is its two beer gardens. Park is open for 24 hours.
Berlin ZoologischerGarten or Berlin Zoological Garden is very popular among tourists. Located towards the west of Potsdamer Platz, it's well connected through U-Bahn, S-Bahn and bus. Nestled in the southwestern part of Tiergarten, this zoo was opened in 1844 and houses around 1,380 species with a total of around 20,200 animals.
The most visited Zoo in Europe; it has diverse species like Giant Panda, Polar Bear, Bactrian Camel, Tuatara and many more. Its Aquarium too has a great collection of varied species. The Zoo is open daily from 09:00 am to 06:00 pm but the closing time varies with the changing seasons.
The only large palace of Berlin is The Schloss Charlottenburg or the Charlottenburg Palace. It's located towards the west of the city centre at a distance of 30 minutes ride by bus or U-Bahn. This palace campus has a spectacular garden as well. It was the summer home of the royal family during the 17th century.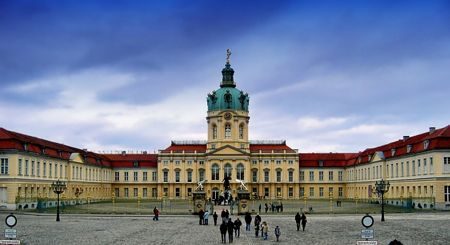 During the 18th century Frederick the Great ordered some additions and alterations which transformed this palace into a lavish property. It would take a full day trip to explore this palace thoroughly. I would suggest not missing Frederick I and Sophie-Charlotte's living quarters, Frederick the Great's place of residence, new wing, Family mausoleum and the ornate tea house. You can choose from a variety of languages to take the audio guide for a charge. You need to pay extra for taking photographs.
If you are interested in the history of Germany from 1933 to 1945, a must-visit destination in Berlin is The Topography of Terror locally known as Topographie des Terrors. Located 900 metres southeast of Potsdamer Platz… it takes 11 minutes to walk down. By public transport, it's an 8 to 10 minutes journey.
Located on the site of the former headquarters of Gestapo and SS Police of WW II, you can learn here about the atrocities committed by the German officers who worked here. Exhibits on the ground and the excavated parts of the old building show horrifying tales of the Holocaust and WW II from 1933 to 1945. To know more you can avail of the English speaking tour offered on Sundays from 3:30pm. Exhibits are listed in German and English languages.
Berliner Dom or Berlin Cathedral is located north east from Potsdamer Plaza. It takes 10minutes by S-Bahn and 15 minutes by bus. While in Museum Island, apart from the five museums, Berlin Cathedral will draw your attention separately. The huge Dom along with Cathedral's striking facade; the incredible organ and the Hohenzollern crypt are all exceptional.
Built in 1451 Berlin Cathedral was destroyed and rebuilt several times… last destroyed in WW II. In 1993, finally, the rebuilding of the Dom was completed. The view of the city from the roof of the Cathedral is awesome. Berliner Dom is open to visitors from 09:00am to 08:00pm on weekdays and from 12 noon to 08:00pm on Sundays.
North West from the city centre is The Gendarmenmarkt (about 8 to 10 minutes by public transports). The most beautiful public square in Berlin is surrounded by architecturally spectacular buildings and a couple of churches with towers. This place was a marching place for soldiers but now tourists and locals love to stroll around or hang out.
During summer, classical melodies are played by the orchestras in the open-air and during winter this square becomes a shopper's paradise with a Christmas market. Between two churches there is a new theatre named Konzerthaus and in front of it is the statue of famous German poet Friedrich Schiller. The two churches are known as Deutscher Dom and Franzosischer Dom (in German, Dom means Cathedral).
You can enjoy top-class operas available in a number of venues and if you are carrying Berlin Welcome Card then you can save significantly on your tickets. To enjoy the artistry performances visit the U Deutsche Oper Berlin located towards the west of the city centre (takes 17 minutes by U-Bahn) or Chameleon Theater Berlin located northeast from Potsdamer Platz (takes about 15 minutes riding S-Bahn).
Berliner Philharmonie hall is located at a walking distance of 6 minutes from the city centre towards the west. This hall is home to the legendary Berlin Philharmonic, they are considered to be one of the best orchestras in the world. The hall from both outside and inside bears the signature of great architecture. On Tuesdays, the top musicians of the Philharmonic play for free starting at 1:00pm.
Shopping
There are many shopping areas in Berlin, here are a few that you should keep your eyes on:
Alexa is located near Alexander Platz station and is very conveniently located from the city centre. Here you will find 180 stores selling all kinds of items. Shops are open from 10:00am to 09:00pm.
Kurfurstendamm KaDeWe can be reached by S-bahn and U-bahn to its nearest station ZoologischerGarten. Here you can shop amidst history and can choose from 3 departmental stores i.e. KaDeWe, Peek and CloppenBerg. It's open from 11:00am to 07:00pm.
Mall of Berlin is located at Potsdamer Platz. If you are brand conscious then this is the right place for you with a variety of 270 shops offering brands like Levis, Guess, Armani, Hugo Boss, G-Star etc. Open from 10am to 09:00pm.
HackescherMarkt is another one with the nearest station having the same name. Here you can find a small flea market, a lot of clothing shops and brands like Adidas, Diesel, Pepe Jeans etc. It's open from 10:00am to 08:00pm.
Friedrichstrasse is located near the station with the same name. It's located next to the historical remains of the Berlin Wall and Checkpoint Charlie. It offers exclusive shops and brands. Prices are high here. Open from 10:00am to 07:00pm.
Nightlife
Arguably Berlin is the best clubbing city in Europe. Berlin's emergence as a techno capital and the reunification of Germany has led to a change of lifestyle, and as a result, you can now find intense nightlife in the city. Berghain & Panorama Bar at Friedrichshain, Sisyphos at Lichtenberg, Salon zur Wilden Renate at Alt-Stralau Berlin, Kitkat at Bruckenstrasse Berlin and Chalet at Kreuzberg are few from the many popular night clubs in Berlin.
Berlin has numerous casinos… a popular one in Potsdamer Platz is the Spielbank Casino. Opened in 2000 this casino has become the most successful one with its three floors and plenty of gambling opportunities like slots, roulettes, pokers, blackjack etc.
Dining
Because of its cosmopolitan character, it is not hard to guess that a wide range of eateries, sidewalk cafes and restaurants are available in Berlin along with numerous Pubs and Bars. One of the must-try street foods is Currywurst which is sausage doused in curried ketchup and usually served with French fries… it's very popular in Berlin.
There are plenty of roadside stalls and eateries that offer Currycrust… some of the best ones are Curry Mitte in Mitte, Curry 36 in Charlottenberg, Konnopke's Imbiss in Prenzlauer Berg (operating since 1930 and makes traditional Currycrust with excellent flavours), etc.
Germans love to eat pork. So do not be surprised to find a range of pork preparations in any typical German eatery. While in Berlin do not forget to try continental dishes. It will give you an idea about the cosmopolitanism of the city. Right from Turkish dishes to Arabian delicacies, from French to Spanish specialities, Mexican to Thai food or from Indian delicacies to Chinese dishes…you name it, you get it.
Accommodations
There are around 3,000 hotels in proper Berlin. So getting accommodation of choice is not an issue. Among these hotels, quite a good number of them are budget hotels.
Getting to & around
Berlin Tegel airport and Berlin Schonefeld airport are the two international airports in Berlin. From London's Heathrow airport to the Tegel Otto Lilienthal international airport, the flying time of around 1 hour 50 minutes. Tegel Airport to Berlin city centre is only 9 kilometres and takes around 20 minutes to reach.
Schonefeld airport is located at the south-east of the city centre at a distance of 23 kilometres and well connected by S-Bahn, U-Bahn and bus. Do check beforehand the airport where your flight arrives or departs from. The departures from Berlin particularly require prior checks because many airlines operate from both airports and it is possible that their arrival and departure airports are different.
U-Bahn– Underground rapid transit and is one of the major transports of the city. They also operate at a frequency of 5 to 15 minutes.
S-Bahn– This is the suburban railway network covering the city and nearby towns. This network has express trains from the city centres. Its standard is similar to the metro system with a service frequency of 20 to 30 minutes. Weekend service is usually a little lesser than weekdays.
Bus System– Berlin has a handsome number of buses plying in the city with a large network. The capital 'H'sign indicates a bus stop in Germany. In Berlin, a night bus service is also available.
You can also avail of the hop on hop off city tour services of double-deckers. Usually, with a single ticket, you can hop off, visit the site and again hop on to the bus for your next destination.
Strabenbahn or Trambahn (streetcar/tram)-Mainly the eastern part of Berlin has tram services. The nickname of this transport is 'the tube'.
You can purchase passes for one time, one day, weekly or monthly and travel in all the public transport including ferries. Cycling is a good option to get around the city. You will find bicycles on rent.
Read: Transport system in Berlin and how to get around easily.
Best time to visit
Summers tend to be warm and winters are cool. You can visit any time of the year… different seasons have their own charm. During April and May flowers bloom. Summer sees a high rush which inflates airfares and hotel rates. Maximum rainfall takes place in midsummer.
To avoid the summer rush you can plan a trip to Berlin during fall or autumn. If you enjoy chilly weather, then even winter is a great time with lesser crowd and discounts on hotels and flight rates.
Read: Important weather information for Berlin and other major cities of Germany
Parting Notes…
Try to avoid hiring taxis as they are costly and more time taking. Normally you will seldom find a ticket checker on trains but do not think of not purchasing a ticket. If you get caught you will be in real trouble. If you want to show the number one, never show your index figure, it would be interpreted as two, because here counting starts with the thumb as number one.
Also Read