Frankfurt, officially known as Frankfurt am Main, is the financial capital of Germany. The commercial centre of the city is known as 'Mainhattan' of Europe for its unmatching skyline on the bank of river Main. Frankfurt was shaken by plague, fire, invasions and war but still excelled as a beautiful city of Germany.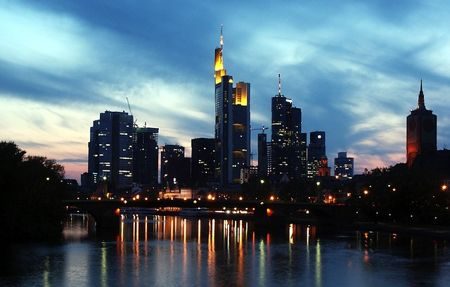 Frankfurt is located in the southwestern part of Germany on the riverbank of Main. Known mainly as a financial hub of Europe, Frankfurt has the headquarters of the European Central Bank, German Federal Bank and Frankfurt Stock Exchange. This city is also famous for its International Trade Fair.
Historically rich Frankfurt suffered serious damage during WW II bombings, but today's cityscape does not show any scar of such destruction. This city has an immigrant population of more than 50%. World-famous writer Johann Wolfgang von Goethe was born in this city and lived here till the age of 16.
Frankfurt is a city where you will find someone who can speak your language or an eatery offering your native cuisine.
Frankfurt has so much to offer for the tourists including its magical architecture, museums and soothing greenery. The city's skyline borders the bank of river Main along with 13 museums full of various collections from classical paintings to rich artefacts.
Top Attractions
I would suggest you take a guided walking tour to start with… this is because the major tourist attractions are located nearby and along the bank of the river Main.
First, take a bird's eye view of the cityscape from the viewing platform of Main Tower (a 56 storeyed building with an elevation of 200meters). The view is breathtaking. This tower is located towards the south of the city centre at a walking distance of 1 kilometre (12-minute walk). It has two viewing decks and five underground floors.
You can also take a look at the highest TV and Radio studios of Europe located on the 53rd and 54th floors. The observation deck in summer is open from Sunday to Thursday 10am to 9pm (winter 10am to 7pm), as well as on Friday and Saturday 10am to 11 pm (winter 10am to 9pm).
Next, go down to Römerberg or the Old Town Centre. As you step in, it would take you back to the historic period of the 16th century when these buildings were originally constructed. Most of this place was destroyed during WW II. It has been reconstructed, renovated and restored to its original form. Römerberg is a 12-minute walk from the Main Tower towards the southeast.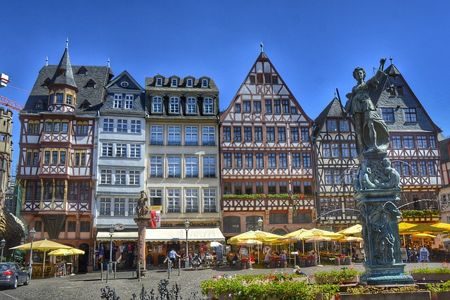 Take a leisurely stroll around the irregularly shaped square to explore the place. With Gerechtigkeitsbrunnen or the Justice Fountain in its centre, Römerberg, the busiest pedestrian area has much to offer. There are 11 picture-perfect buildings that include Römer or the City Hall which is a medieval building and has been the city hall for over 600 years, Kaisersaal or the Imperial Hall, Wertheim House (survived from the air raids!) among others.
You will find many shops and eateries around the place. There are also St. Nicholas Church, the Historical Museum and the Ostzeile (Six traditional buildings) among other attractions here. You should pay a visit to the Historical Museum to learn about the history and the rich culture of the city.
Your next stop is Museumsufer or the Museum District along the southern fringe of river Main. This place is often referred as the Museum embankment. Take a 15minute walk across the beautiful bridge over the river Main to reach Museumsufer. Museumsufer is located south of Römerberg at a walking distance of 850 metres.
It is a good idea to visit all the 13 museums located here but if time does not permit then do not miss the following ones. Museum der Weltkulturen or the Museum of World Cultures with more than 60,000 ethnic exhibits collected from almost all over the world (North America, Latin America, Africa and Asia). It is considered as one of the best Museums with ethnic collections. Visit the Ikonen Museum der Stadt Frankfurt am Main or the Icon Museum to witness the rich collections of Christian pedantic arts & paintings.
Do you have a special interest in sculptures? And you want to see sculptures from the Medieval, Renaissance and Baroque eras? Then you must visit the Städtische Galerie Liebieghau or the Museum of ancient sculpture. This museum exhibits a huge collection of Greek, Roman, Egyptian and Asian sculptures.
You can learn the history of cinema at Deutsches Filminstitut or the Film Museum. Here you can see exhibits related to Lumière Brothers along with the modern tools and technologies that were used in audio-visual productions.
Another great museum is the Städel Art Museum. If you are a painting lover then this is the place to witness the classic masterpieces from Rembrandt, Vermeer and Goya, and paintings from later centuries by Degas, Monet, Beckman and Picasso. The work of contemporary painters like Bacon and Baselitz are also exhibited. This collection has ranked this museum among the top in the Museum Embankment.
Apart from these, you can also visit Deutsches Architekturmuseum or German Architectural Museum and Museum Angewandte Kunst or Museum of Applied Art to see various drawing models and decorative arts. All the museums are generally open from 11am to 6pm, however, on Wednesdays, they remain open for extended hours. Museums remain closed on Mondays.
Senckenberg Gardens is located northwest of Römerberg at a distance of around 3 kilometres. You can take a tram or avail U-Bahn to get there. Naturmuseum Senckenberg or the Senckenberg Natural History Museum is the second-largest history museum in Germany. Here you can see the exhibits of gigantic dinosaurs and the world's largest collection of stuffed birds. On entry, a huge replica of a Dinosaur will welcome you. This is a kids' favourite.
You can see exhibits on earth's biodiversity, the evolution of organisms and mankind's development etc. By the way exhibits of Dinosaurs here are the biggest in Europe. You can take a guided tour in English or else opt for the rented audio guide.  It opens at 9am daily, closes at 8pm on Wednesdays, 6pm on Saturdays and Sundays, and 5pm on the remaining days.
Goethe House and Museum is a must-visit in Frankfurt. It's located west of Römerberg at a walking distance of 550 metres (7-8minute walk). The famous writer Johann Wolfgang von Goethe was born in this house on 28th August 1749. He lived here until he was 16. You can take a guided tour to find the Goethe family's lifestyle and also see the dining room.
Visit the room on the top floor- this is where Goethe as a child used to play with his puppet theatre and later it became his writing room for his earlier works. Attached to the house is the Goethe Museum. Here on exhibit are masterpieces of the late Baroque and Romantic era along with different artworks of the Author. Goethe House and Museum remain open from Monday to Saturday, 10am to 6pm, and from 10am to 5:30pm on Sundays and public holidays. The museum has 14 galleries.
You can also go for a visit to Goethe Tower – a 43-metre tall public observation tower made of wood and the shopping area at Goethestrasse.
Frankfurter Dom or Frankfurt Cathedral is an excellent piece of architecture made of red sandstone, the interior has a golden tinge. It has a 95metre tall tower. This Gothic-style cathedral is located northeast of Römerberg at a 4minute walking distance (210 metres). Frankfurter Dom happened to be among the very few Imperial Cathedrals of Germany. Coronations of Emperors used to take place in its Election Chapel during 1562 to 1792.
You will find the MariaSchlaf altar in Marienkapelle or the Lady Chapel built-in 1434. The magnificent sculpture of Crucifixion beneath the tower was made in 1509. The famous relic skullcap of St. Bartholomew has been restored in Romanesque Bartholomew's choir. You can get a wonderful view of the cityscape from the Cathedral Tower's observation deck at an elevation of 66-metres.
Frankfurt is a green city. One-third of the city is covered with greenery. Frankfurt's Botanical Garden Palmengarten (one of three botanical gardens in the city) is part of that greenery and it was opened in 1871. This garden covers an area of 22 hectares and has a number of greenhouses. The botanical specimens are arranged according to their geographical region. You will find glasshouses with tropical and sub-tropical specimens, sub-Arctic floras and specimens from the desert regions.
This park is the venue of the world's oldest open-air jazz festival since 1959. Palmengarten has facilities for boating and also has a children's playground. It is open 7 days a week from 9am to 6pm. You can take a short walk from here to visit Europaturm also known as the Tower of Europe.
Hauptwache is a 7minute walk from the city centre (i.e. Römerberg). This pedestrian-only area offers plenty of options from shopping to eating. The word Hauptwache literally means the 'Main Guard'. This place is an impeccable mixture of modern and historic architecture. The old Guard House itself was built in Baroque style in 1730.
In earlier times this place had an army base, one prison and later on a police station. Now it is a busy cafe. This place is a favourite meeting point and hangout place. You can take any direction from here for shopping at a large underground mall. The nearby Hauptbahnhof is the main train station of the city which is among the largest in Europe.
Eschenheimer Turm or the Eschenheimer Tower was built in the early 15th century and is one of the few remaining in Frankfurt from the medieval period. The 47-metre tall ten-storeyed monument is a visitors' delight. Now it is an upscale restaurant and you need to book a table in advance to see the interior of this oldest unchanged monument of Frankfurt. It's located at a 3minute walking distance from the city centre.
There are many other attractions in Frankfurt. To name a few… The Old Opera House or the Alte Oper is located at opernplatz and was built in 1880. The Frankfurt Zoo covering an area of 13 hectares houses around 4,500 animals of 450 different species.
The Frankfurt Museum of Modern Art would draw your interest with its more than 5,000 exhibits. Kleinmarkthalle is basically a marketplace but worth visiting and you can try out some traditional German delicacies. The public park Gruneburgpark located near Goethe University is another place that might interest you with its charming greenery.
Offbeat Things To Do
Rent a bicycle for 3 Euros a day and get around the city.
Take a round trip tour on a vintage tram to visit 29 landmarks with a glass of Apfelwein (Apple wine) in your hand.
Walk along the river Main at night and enjoy the lovely city-line.
You can fulfil your wishes by dropping a coin into one of the four wishing wells in Frankfurt.
If you want to fly in a fighter Jet then Frankfurt is the right place because MigFlug Company offers civilians to experience such an unusual thing.
Day Trips
There are many day trips available from Frankfurt.
Heidelberg is one of the most romantic cities of Germany with a 12th-century castle… it could be one of your best day trips from Frankfurt.
A half-day trip to the upper-middle Rhine valley is worth trying.
Take a day cruise on river Main and appreciate the cityscape.
How about a shopping day trip? Wertheim Village, 60 minutes from Frankfurt is an ideal shopping day trip.
A day trip to Wartburg Castle and exploring the legacy of Martin Luther is another excellent option.
Shopping
Frankfurt offers almost endless shopping options. Zeil Shopping Street is considered one of the best shopping areas in Germany. The street has a variety of shopping options including retails, boutiques and departmental stores. You can find almost anything here.
Hessen Centre is another great option for shopping with its large collections of branded and non-branded items. You will find numerous retail outlets as well as departmental stores and speciality boutiques. Moreover many eateries around here offer a variety of foods.
For high-end shopping visit the third busiest shopping street of Germany, Goethestrasse. This place has many designer boutiques and exclusive departmental stores offering exquisite and premium designer wear.
Berger Street (Berger Strasse) with a length of 3 kilometres is Frankfurt's longest road and offers a good variety of shopping and dining. The street is full of upmarket shops, boutiques, pubs and restaurants.
For authentic German souvenirs, Handwerkskunst am Romer is the best place… it's located in the old city of Römerberg. You can choose from numerous handicraft items including beer steins. You can also order a designer's wooden music box of your choice.
Wining & Dining
The first thing that comes to mind is Apple Wine or the Apfelwein, the legacy of Frankfurt. For more than 250 years it is the most favoured drink in local houses and is known locally as Kneipen. The serving process also has its own tradition. Bembel is a jug-shaped stone-made jar with painted patterns of filigree. The wine has to be poured from Bembel. This refreshing drink tastes a little sour.
Another must-try of Frankfurt is Green Sauce. Normally served with boiled potatoes and eggs, this sauce is delicious. Made with an egg base and seven herbs, Green Sauce was a favourite dish of Goethe. In order to experience the true hospitality of Frankfurt, you must visit Sachsenhausen apart from visiting museums there. The numerous apple wine pubs and street way cafés not only fulfil your hunger and thirst but also make you feel at home.
Klosterhof Restaurant located 1 kilometre south of the City Centre is ideal for a romantic dinner. Among their specialities try 'Trappist', 'Hunter's and egg Schnitzels made of apple, cranberry, cheese and a fried egg.
If you are a seafood lover then visit the authentic Italian restaurant Trattoria I Siciliani located 2 kilometres south of the city centre. They prepare all sorts of Italian seafood delicacies. 1.3 kilometres north of the city centre is Surf N' Turf and they serve the tastiest steaks in the whole of Frankfurt. Their special delicacy is known as 'Butterknife'.
Getting To & Around
Frankfurt has one of the busiest airports in the world and the second busiest airport in Europe after Heathrow with yearly 60 million travellers. Frankfurt Airport or the Flughafen Frankfurt am Main is well connected around the world with flights to 265 non-stop destinations.
The airport is located southwest of the City Centre at a distance of 12 kilometres. London to Frankfurt nonstop flight takes around one and a half hours. From Berlin, a nonstop flight takes around 1 hour 15 minutes.
The airport is well connected to the city too. There are trains, buses and taxis at the airport. The airport has two train stations, one for regional destinations and the other one for long-distance destinations. Trains from both stations connect the airport with Frankfurt Central Station (i.e. Hauptbahnhof).
Like other German cities, Frankfurt too has excellent local transport services like buses, trains, trams and taxis. The densely populated Rhine-Main region is well connected through nine lines of S-Bahn rapid transit commuter trains. Apart from connecting inner-city areas it also connects all the nearby towns. U-Bahn (Subway) too has nine lines and has a great network across most parts of the city.
But a great way to hop around Frankfurt city is by its Tram network which has a service every 10 minutes. During night hours (1:30am to 03:30am) when Trams and U-Bahn are no longer available, buses would still fill in the gaps. Taxi service is also good in the city.
Other than vintage trams, there are also hop on hop off Double Decker buses to visit the iconic places of Frankfurt
Call a Bike and Nextbike services make things easy to hire a Bicycle and it's one of the best modes of transportation in Frankfurt. More than 15% of the citizens here use bicycles. There are Velotaxis (Cycle Rickshaws) available in the city to travel short distances.
Read: Public Transportation in Frankfurt including tickets, passes and fares.
Best time to visit
As for its topography, Frankfurt is a city with comparatively cool weather because of its continental climate. The average high temperature is 25.5 degrees Celsius in July and the average low is -1.1 degrees in January and February. There is no particular monsoon season and there can be occasional showers any time of the year.
The best time to visit Frankfurt is from late spring (April) to early fall or autumn (September). June and July are much warmer. Try to avoid visiting during trade fairs because the rates of hotels and airfares are steep at that time. Frankfurt Motor Show and the Book Fair are held in mid-September and mid-October respectively.
Read: Important weather information for Frankfurt and other major cities of Germany
A Side Note
It might sound foolish if I say that Frankfurt is the home of Frankfurters. As a Matter of fact, Frankfurter is the famous sausage that actually originated from this city, although now you get it everywhere. And, the Frankfurt Book Fair is the largest book fair in the world.
Also Read