Be it during Oktoberfest or any other season, Munich offers a couple of things 365 days a year and those are 'Excellent View & Excellent Brew'. However Munich is not all about Oktoberfest or visiting Dachau or Neuschwanstein, it was the home of Dukes of Bavaria and is steeped in history.
Located in the southern part of Germany, Munich is the capital of Bavaria and encircled by mountains. It lies on a sandy plateau at an elevation of 1,706 ft. Nestled on the riverbank of Isar, Munich is the third populous city of Germany. The city has been named after the Benedictine monks Munichen which means 'by the monks' in German. In Germany, Munich is referred to as Munchen.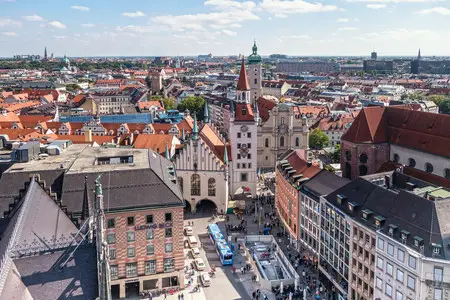 From 1806 to 1918, Bavaria was a sovereign country with its capital as Munich. Since then Munich has become the centre of arts, culture, architecture and science. Politically Munich is majorly marked for the NSDAP or the Nazi party. The rise of the Nazi party took place in this city.
During World War II Munich was severely bombed. Almost 90% of the historic centre and half of the city were destroyed. Then a miraculous turnaround process took place. Not only the most of the traditional buildings were restored, Munich went on to host the 1972 Summer Olympics.
With its historical architecture, numerous museums, Oktoberfest and excellent cityscape, Munich today is a dream destination for many around the globe. Transportation in and around Munich bears the signature of German precision.
Unlike Berlin, Munich is a pricey city for travellers. Also, keep cash because people here are not quite interested in accepting credit cards.
Places to visit
There are numerous things to do and see in Munich. Marienplatz is a large square located at the centre of the historic old town. It has been a city centre since 1158. The square got its present name after the erection of a Marian column (Mary's Column), Mariensaule in1638.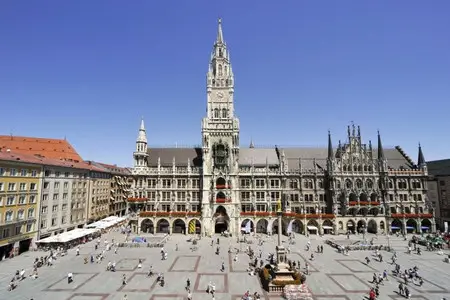 Altes Rathaus or the Old Town Hall is on the east side of the square and the Neues Rathaus or the New Town Hall is on the north side. This square is a favourite hangout place and has several shops and eateries around.
The performance of the famous Glockenspiel takes place at the Clock Tower in Neues Rathaus (New Town Hall) from March to October daily (at 11am, 12noon and 5pm). Mechanically operated figurines put up a marvellous show and they joust, dine and dance. This loved tradition of Munich should not be missed.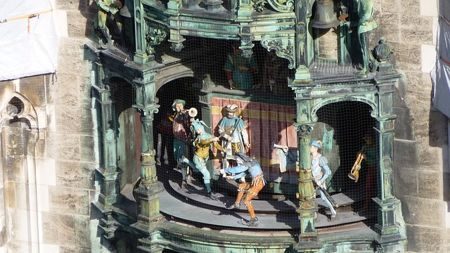 Walk for about 6 to 7 minutes towards north from Marienplatz and you will reach Munich Residenz, the seat of Bavarian Kings for centuries. With 7 large courts Residenz complex has 3 major sections… facing MaxJosephPlatz is Konigsbau, in front of Residenzstrasse is Alte Residenz or the old building, and overlooking the Hofgarten is the Festsaalbau or the Banquette Hall.
The Antiquarium of Konigsbau was built in 1579 and is now a part of the spectacular Residenz Museum. The late renaissance masterpiece Alte Residenz is evidence of powerful Bavaria. The inside architectural beauty would stun any visitor. Do not forget to see the court garden too.
This place remains open daily for the visitors but the time varies. From 24th March to 21st October it's open between 9am to 6pm and from 22nd October to 23rd March between 10am to 5pm.
Another 7-minute walk is Frauenplatz… Here visit the Frauenkirche or the Cathedral Church of Our Lady. In 1488 this stunning huge brick building was completed. The 100-meter tall twin towers of this church are visible from any part of Munich.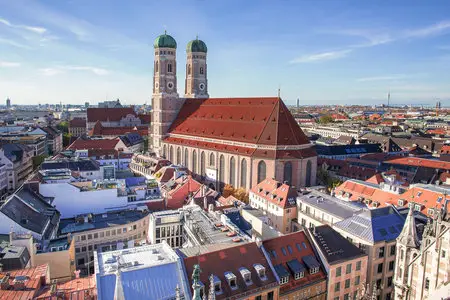 You can find a footprint on the floor of the entrance which is known as the devil's footprint according to legend. Do not forget to see the black marble made tomb 'the Tomb of the Emperor Ludwig the Bavarian'. Ascend to the top to take a breathtaking view of the city with a backdrop of the Bavarian Alps.
A 7-8 minute walk towards the south would take you to Sendlinger Strasse. The spectacular Rococo Asam Church or the Asamkirche was built in 1746 here and named after St. John Nepomuk. The grandeur of the exterior architecture is awesome. A huge doorway with big columns on either side welcomes you.
At the top of the doorway is a statue of St. John. Inside of the church is ornated with pargeted figures of the saints, oil paintings and frescoes. Surrounded by 4 ravelled columns is a high rostrum. On that, you can see a shrine made of glass containing a wax made statue of St. John.
it takes around 20 minutes to reach Englischer Garten or English Garden from Sendlinger Strasse. Munich's Englischer Garten is the most beautiful and the largest urban park in Germany with an area of 910 acres. In 1785 this garden was designed as a military garden centring the natural greens of the city. On the fringe of the garden is a 9 kilometres long gurgling artificial river famous for river surfing.
There is an artificial lake also that adds to the wonderful landscape. It is a favourite hangout place for both tourists and locals. Walking, Jogging, Surfing and cycling (with a 78 kilometres track) are very common here. There are 6 officially designated "Naked Zones" in Munich including English Garden. However, staring at a topless lady is considered rude.
You can have some bites and sips at a 25 metres tall pagoda known as Chinasischen Turm or Chinese Tower. Bavarian National Museum is also located inside the park. German sculptors and wall hangings dating back to the medieval period are exhibited.
The prehistoric artefacts are also on display which are part of the Bavarian State Archaeological Collection. This museum is open Tuesday through Sunday from 10am to 5pm and on Thursdays 09:30 am to 8 pm.
St. Peter's Church or Peterskirche is hardly 150 metres from Marienplatz towards the south. Located in Petersberg, this is the oldest parish church in Munich. This 1386 built church was later renovated. 3 apses were added in 1636 reflecting an impeccable mix of Gothic-Baroque architecture. Even the Dom had been altered to a lantern shape from its original Gothic spiral shape.
As you enter you will be spellbound to see the fonts of Hans Krumper, Erasmus Grasser's Red marble monuments and the Schrenk Altar of the 15th century along with the sculptures of the last judgement and Crucifixion. The 20 metres high rostrum with statues of St. Peter and four Fathers are stunning and so are Jan Polack's panel paintings.
Ascend 299 steps to the top of the tower at an elevation of 91 metres and soak in the marvellous vista of the city with Alps in its backdrop.
By S-Bahn it takes about half an hour to reach Nymphenburg Palace or the Schloss Nymphenburg from St. Peter's Church. The palace, Marstallmuseum and the Porcelain Museum are open daily between 9am to 6 pm (1st April to 15th October), and between 10am to 4pm (16th October to March-end). Palace Chapel and Park Palaces are open from April to 15th October 9am to 6pm and they remain closed the rest of the year.
The Nymphenburg Canal splits into two streams, then they surround the palace and reunite. The palace was the summer residence of the Wittelsbach Electors during the 17th century. It's about 600 metres wide. The Central Pavilion was built in 1674 in an Italian Villa. This cube-shaped palace houses a three-storied Stone Hall known as Steinerner Saal and has a lavish decoration. There are numerous furnished private chambers here.
The life of Mary Magdalene is depicted on the surreal ceiling painting inside the Palace Chapel. The Marstallmuseum located in the Stables beside the palace exhibits coaches used by the former residents.
Next, visit the palace-like former hunter's hut, Amalienburg, located in Nymphenburg Park, the extraordinary garden of the 17th century. The Hall of Mirrors would leave you awe-stricken. Also do not forget to visit the Heckentheatre or the Hedge Theatre, a large fountain and the statues of Greek gods. Pay a visit to the Palm house that has a water heating system, the first-ever in Germany. Normally there are no regular guided tours but you can opt for an audio-guided tour which is available in 8 languages including English.
Königsplatz or the King's Square is located around 2 kilometres from Marienplatz. Take S-Bahn to reach within 12 minutes. Europe's one of the finest group of art museums surrounding King's Square, it is nestled in the art district of Munich. The Palace was built in 1862 in Neo-classical style. There are 6 galleries among which 3 exhibit Pinakothek art.
The Alte Pinakothek or the Old Picture Gallery exhibits fine painting collections from the medieval period including German, Spanish, Italian, French, Flemish and Dutch paintings. Neue Pinakothek or the New Picture Gallery offers collections of Rococo arts to new age arts. If you wish to see the works of Pablo Picasso and Warhol you need to visit the third Pinakothek gallery which is Pinakothek der Moderne or the State Gallery of Modern Art.
Among other museums there are Lenbachhaus, Glyptothek and Staatliche Antikensammlung or the State Antiquities Collection. The first one is the latest addition. This villa was the studio and residence of Franz von Lenbach. If you are interested in paintings by Expressionist artists, this is the right place to visit. You will find huge collections of sculptors and antiques in the other two museums. The museums are open 24 hours.
Another Major attraction of Munich is BMW Museum. Due 9 kilometres northwest of Marienplatz at the Olympic Park, BMW Museum is located just beside the global headquarters and factories of BMW. By U-Bahn, it will take around 20 minutes to reach there.
The spectacular round building with a huge logo of BMW on it would surely catch your attention. If you are an automobile fanatic, then this is a must-visit. Here you will find almost every model that BMW has made so far ranging from sports cars to motorcycles.
Also, take a look at the propulsion technology of the future and go through the modern automobile construction techniques. It remains open from Tuesday to Sunday from 10:30am to 06:00pm.
A visit to that Olympic Park would reveal the historical effort made during the post World War era to host the 1972 Olympics. It is hardly an 8-minute walk from the BMW Museum towards the southwest. This magnificent Olympic Park is spread on 0.85 square kilometres area on Oberwiesenfield. Oberwiesenfield was the Bavarian army's parade ground. Here you will find a number of activities with a touch of adventure.
You can take part in Zip-lining, roof climbing (Stadium) and also enjoy the beautiful designs and architecture of this place. Locals come here to hang out, jog, stretch and do other freehand exercises. This is also a cultural hotspot. Major concerts and events like the summer Tollwood Festival are held here.
You can ascend up to the view deck of the Olympic Tower to watch the breathtaking cityscape. This 290 metres tall tower was built for television purposes in 1968.  The park remains open from 11am to 4pm between 1st January to 25th February. The rest of the year the opening time is 9am but closing time varies from 4pm to 8pm.
Oktoberfest- Munich is famous for its October Festival or Oktoberfest. Every year loads of tourists gather in Munich during this festival time. This festival starts from the 3rd week of September and lasts until the 1st Sunday of October. Oktoberfest was first celebrated on the occasion of the marriage of King Ludwig I on 12th October 1810.
During the festival, different brewery companies of Bavaria set up tents on the ground and present their brand of beer against charges. Apart from beer, varieties of traditional food are available at the festival. Remember if you don't have seat in a tent, the beer won't be served to you. You need to arrange your accommodation and flight tickets well in advance in order to attend this festival
You can also visit the following places in Munich… Cuvilliés Theater on Residenzstrasse, Deutsches Museum In Museum Island, Viktualienmarkt near Marienplatz, The Theatine Church of St. Cajetan at Salvatorplatz, TierPark Hellabrunn or the Hellabrunn Zoo at TierParkStrasse, Michaelskirche, the St. Michael's Church at Neuhauser Strasse and many more.
Here are some more popular attractions in Munich… Visit the famous Hofbrauhaus of Munich and taste some beer. If you are visiting between April to November then be part of a giant raft on the river Isar and enjoy traditional Bavarian music played by locals while sipping a beer.
Take a dip at Mullersches Volksbad pool on the bank of river Isar. In southern Munich visit one of the several beer gardens. 25 kilometres from Munich there is a beautiful lake named Lake Starnberg. Escape the city, take an S-Bahn and reach there within 36 minutes to find some quiet time in nature.
There are several day trips available from Munich. … Salzburg in Austria is at a 2-hour distance, or visit Royal Castles of Neuschwanstein and Linderhof, Dachau Concentration Camp Memorial site etc.        
Shopping
One of the main shopping areas is Kaufingerstrasse which extends between Marienplatz and Hauptbahnhof. Here you will find shops of all the major chains and brands. Most of the shops are open from 8am to 6:30pm on weekdays and from 7am to 2pm on Saturdays. Remember you will hardly find any shop open on Sundays.
Kaufhof and Galleria Kaufhof are two departmental stores just behind Marienplatz. Here you can get almost all varieties of brands and shopping items. You will also find a big sports shop there. There is also a large bookstore combined with a café at Marienplatz. On weekdays these stores are open from 9am to 8pm and on Saturdays from 9am to 6pm.
Food and Drinks
As with other things, food also has had an important role to play in Bavarian culture. Try out Bavarian speciality Weisswurst… this is a typical breakfast dish served with a pair of white sausages with sweet mustard and wheat beer.
Visit Rusticana near Munich East train station to enjoy some spare ribs with barbecue sauce (home-made). You can also try Argentinean streaks here. Hey Luigi is located at Holzstrasse and is famous for its Italian Cuisines. Try visiting the most traditional café in the city, Café Luitpold located at Brienner Str. This place is famous for its coffee and cakes.
Getting to & around
Franz Joseph Strauss International Airport is located northeast of Munich Marienplatz Station at a distance of 38 kilometres. You can reach there by taking S-Bahn trains S1 or S8 that depart alternatively every 10 minutes. It takes around 35 minutes to reach Marienplatz. It takes around 1 hour 15 minutes to reach Munich from Berlin by a nonstop flight and around 2 hours 15 minutes from London.
You can find plenty of Trams that connect every part of the city. S-bahn, U-bahn and Bus services are also plenty. The central train station receives both domestic and international trains. Like Berlin, here also you will find cycling as a good option to roam around.
Read: How to get around Munich easily with public transports.
Best time to visit
Due to its topography, Munich receives more rainfall and snowfall than other German cities. Due to the influence of Continental weather, the city is a little prone to humidity. June and July see the maximum rainfall. The best time is between March to May when the weather is nice and there is not much tourist rush.
The peak tourist season is from June to August when hotel rates shoot up. If you love snow and winter, then mid-October to February is the time to visit Munich.
Read: Important weather information for Munich and other major cities of Germany
Parting Notes…
Before I say Auf Wiedersehen (goodbye), just like to let you know that in Bavaria 'beer' is not considered an alcoholic beverage, rather a food!
Also Read