Getting to the City
Berlin has two international airports. Berlin Tegel Airport (TXL) also known as Otto Lilienthal Airport is located northwest of Berlin City Centre at a distance of around 9 kilometres (airport to Alexanderplatz). The other airport is Schonefeld (SFX) airport located at a distance of 23 kilometres southeast of City Centre.
Note
Do check beforehand the airport where your flight arrives or departs from. The departures from Berlin particularly require prior checks because many airlines operate from both airports and it is possible that their arrival and departure airports are different
Berlin Brandenburg International Willy Brandt Airport(BER / BBI) will soon replace Berlin Tegel (TXL) and Berlin Schonefeld (SXF) airports. It will be Berlin's only international airport near Schonefeld. It is expected to be operational by 2020.
You can choose from a wide range of private transport and transfer services (including airport transfers) and book online from this Viator site.
From Tegel Airport
It takes only 1 hour and 50 minutes to fly from London to Berlin's Tegel airport. Tegel airport is well connected with the city centre by BVG (Berlin Transport Services) buses and coaches. You will also find Taxis as well as car rentals.
There are four bus stops outside terminal A and B. Jet Express Bus TXL offers a quick connection to Alexanderplatz (eastern part of city centre) and takes around 45 minutes. You can also change to an S-bahn train (commuter rail) after reaching Hauptbahnhof (Central station) and then get to Alexanderplatz. The total journey time would be around 30 to 35 minutes.
TXL buses operate every 6 minutes from 3:30am until 12:30am. You have multiple ticketing and travel pass options (details given at Ticketing and Travel Pass section below). However for a single one-way ticket it costs 2.80 Euros for AB zone (note A zone is the city centre area).
Another route is Jet Express Bus X9 that goes to Zoologischer Garten (western part of city centre) and takes around 20 minutes. You can also change to a U-Bahn train (Underground Metro Railway) after 5 minutes of bus ride. This service is available from 3:30am until 12:30am at an interval of 6 to 7 minutes. An 'AB' zone single ticket costs 2.80 Euros.
The third Bus option is route number 109. It too goes to Zoologischer Garten, has same fare as other two, but since it is not an express service it takes around 30 to 35 minutes to reach. The service is available from 4:30am to 12:30am.
There are designated taxi ranks within the inner ring of airport Terminal A and outside of Terminal C and E. There are Taxi signs over the roof of the taxis. It takes around 25 minutes to reach 'A' zone area and costs approximately 30 to 35 Euros.
From Schonefeld Airport
Schonefeld airport is located at the 'C' zone. An ABC zone ticket is required to travel from airport to city centre area ('A' zone). There are multiple options to get into the city centre like buses, S-Bahn trains, Express trains, taxis etc.
The bus stand is outside terminal A. There are multiple bus routes to the city centre from airport…. 163, 171, X7 (Express service), N7 and N60 (night service). There are buses 24/7 to reach 'A' zone. However bus is not a great option to get to city centre because it takes time and you need to change at Rudow underground U-Bahn station.
S-Bahn Airport Express train is the fastest and most comfortable way to travel from the airport to city centre. The station is located at a 5-minute walking distance from the terminal. There is a train every 30 minutes. These trains (route RE 7 and RB 14) take little less than half an hour to reach the central station Hauptbahnhof.
There are stops at other important central destinations like Zoologischer Garten and Alexanderplatz. There are also S-Bahn local trains to reach the city but the Express train is better as it takes lesser time and has same fare. Route S9 of S-Bahn service has a frequency of 10 minutes.
Taxi stand is located outside terminal A. Fare from airport to Zoologischer Garten is 44 Euros and it takes around 45 to 50 minutes. The fare to reach Alexanderplatz is 41 Euros and the travel time is about the same.
Public Transport
Berlin Transportation system is managed by BVG and S-Bahn Urban Railways. BVG stands for Berliner Verkehrsbetriebe. Buses, trams, underground rail system U-Bahn and the ferry services of Berlin operate under this company. S-Bahn Berlin GmbH runs the urban rapid transit system which is an over ground railway service. Both these companies work jointly.
S-bahn
Berlin City and its outskirts are neatly covered by S-Bahn railway system. The central district (city centre area) is surrounded by two lines of S-Bahn rail which is popularly known as The Ring. Zone 'A' is inside the ring. You will find train moving clockwise in one line and anticlockwise on the other line of the ring. And these two lines cover most major points of city centre area.
Presently 16 lines are operative throughout Berlin. First train departs on weekdays at 4:30am while the service closes at 1:00am. The frequency varies between 5 to 20 minutes depending upon the time of the day. On weekends and public holidays there are 24 hour services (there is a 30 minute pause during night). Fare and ticketing details are provided in sections above.
U-Bahn
U-Bahn underground rail service is operated by BVG. U-Bahn also moves over ground in some places. They operate from 4:00am to 1:00am during weekdays and 24 hours on weekends and public holidays. The service frequency is 3 to 5 minutes during peak hours and 10 to 15 minutes during off-peak. It is one of the best metro networks in Europe. It has 9 lines and is very well connected with the central zone of Berlin. See ticketing section above for fares.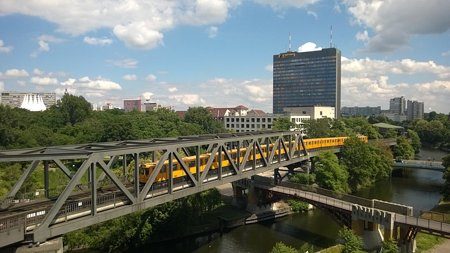 Bus Service
The integrated bus service in Berlin has 329 lines and 39 night lines. The total length of the service is around 1,700 kilometres within the city. Bus lines practically cover almost whole of the city. The most important line from a tourist's point of view is line number 100 that connects Zoologischer Garten (west) and Alexanderplatz (east). Lines 100 to 399 connect the suburbs with city centre area or S-Bahn and U-Bahn stations.
Look for the capital H sign to find a bus stop. Metro buses from M11 to M85 run 24 hours a day and you will find a bus every 10 minutes. Other lines operate from early morning until post midnight with a service frequency of 5 to 10 minutes. Lines U1to U9 are replaced by the night buses N1 to N9 (presently there is no U4/N4 line).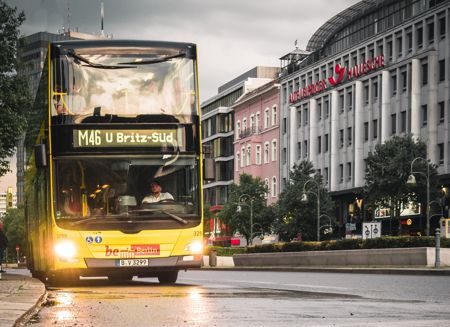 Tram
The streetcar or the tram service is popularly known as Strabenbahn or Trambahn, which has a popular nickname, 'the tube'. You will find trams mostly in the eastern part of the city. Tram lines mainly complement U-Bahn to extend the route network. There are over 22 operative lines with almost 400 tram stops.
Tram lines belong to Berlin Brandenburg or VBB but maintained by BVG. The frequencies of metro trams are more than the other trams. The line numbers of metro trams start with M and they run 24 hours a day including weekends. There are 9 lines of metro trams.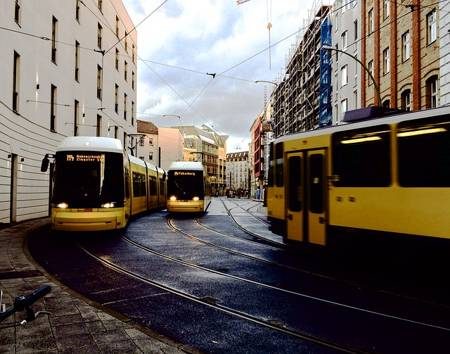 Other trams operate from early morning until 1:00am. Some of the lines are replaced by night bus services. The service frequency of trams is around 10 minutes. You will find ticket vending machine inside the trams.
Ferry Service
Berlin has a compact network of ferry services with its extensive river, lake and canal network. There are 6 lines of ferry services in Berlin. Summer timing is 6:00am to 7:00pm on weekdays, 7:00am to 7:00pm on Saturdays and 10:00am to 6:00pm on Sundays and public holidays. Winter timing is 6:00am to 6:00pm during weekdays, 7:00am to 6:00pm on Saturdays and 10:00am to 4:00pm on Sundays and public holidays.
You can use the public transport ticket for the ferry services also but check the zone. An All Inclusive travel pass will give you unlimited access by ferries throughout Berlin. Try to take a trip by the F10 ferry line to explore the city's most picturesque lakes.
Taxi
Berlin's taxi system is also a little complicated like other public transport systems but commuter friendly. Presently over 7,000 taxis operate on the roads of Berlin. You will find taxis at the designated ranks at airport, railway stations and many important points of the city. However, you can hail one on the streets if the taxi sign is lit up.
There are two types of hiring. One is normal hiring, another is short trip hiring. Fare calculation has some differences. For normal hiring the base fare is 3.90 Euros, the charge for first 7 kilometres is 2 Euros and thereafter 1.50 Euros per kilometre. There is no waiting charge for up to 2 minutes. But you need to pay extra charges for luggage (1 Euro per bag). There are few additional charges as follows…
When it exceeds 4 persons, Maxi cabs will charge 1.50 Euros per additional person
You can pay by credit card but that will attract an extra charge of 1.50 Euros
An extra charge of 0.50 Euro applies for a single journey from Tegel airport
Short trip is considered journey of up to 2 kilometres and it costs 5 Euros. You need to mention it to the cab driver before the taxi metre is switched on and can be availed with flagged taxis only. To get a short trip just say 'Kurzstrecke' to the cab driver. Keep changes to pay your fare.
Here are some numbers to call a cab…
Taxi Berlin: +49 30 202 020
Wurfelfunk: +49 30 210 101
TaxiFunk Berlin: +49 30 443 322
Quality Taxi: +49 30 263 000
City-Funk Berlin: +49 30 210 202
Funk Taxi Berlin: +49 30 261 026
Talixo: +49 30 346 497 360
EcoTaxi: +49 30 210 10 20
Hop on Hop off Bus
Opened roof hop on hop off buses are an excellent option to explore Berlin. You can visit Berlin Cathedral to Brandenburg Gate including Berlin War Memorial and several other attractions. There are several tour options to choose from. Tickets start from 14 Euros.
Tickets And Transport Passes
Ticketing system for Public transports in Berlin is little complex but quite commuter friendly. Berlin is divided into three travel zones. Zone 'A' is the central part of the city, Zone 'B' is the outer part of central zone and Zone 'C' is the outskirts that include Potsdam and Schonefeld airport. Accordingly there are three different Tariff Zones… AB, BC and ABC. There are different types of tickets and travel cards.
Single Ticket
A single ticket allows you to change buses, trains with break journeys. But the ticket is valid for 2 hours only from the time of purchase. Return trip or round trip journeys are not permitted. For AB or BC zone a single ticket costs 2.80 Euros for an adult and 1.70 Euros for a child (6 to 14 years). Ticket for the zone ABC costs 3.40 Euros for an adult and 2.50 Euros for a child.
Short Distance Ticket
A short distance ticket permits you to travel for 3 stations in S-Bahn and U-Bahn, and 6 stops for bus and trams. You can switch between S-Bahn and U-Bahn or bus and tram but switching between trains and bus/tram is not allowed. An adult ticket costs 1.70 Euros and a child ticket is 1.30 Euros.
Single and Multiple day Tickets
These tickets offer unlimited travel by public transports. A single day ticket for zone AB or BC costs 7 Euros for an adult and 4.70 Euros for a child. For zone ABC it costs 7.70 for adults and 5.30 for children. A 7 day ticket costs 30 Euros. Tickets are valid from the time of first validation. Single day ticket expires at 3:00am next day while a 7 day ticket is valid for 7 consecutive days.
Extension Ticket
If you have a day, weekly or monthly ticket for AB or BC zone and you want to travel once to C or A zone, an Extension Ticket will allow you to do so. It costs 1.60 Euros.
Points to Note
You can buy all kinds of tickets from the airport upon your arrival, from U-Bahn & S-Bahn station's vending machines, from manned ticketing offices, from ticketing machine inside a tram or from the Bus drivers
You can also purchase 4 trip tickets (4 single tickets) against 9 Euros which is economical than single trip ticket
You can take an additional adult and up to 3 children with you for free after 8pm on weekdays and anytime on weekends and public holidays with a weekly or monthly ticket
Validate your ticket or pass on machines during each journey
There are two types of transport passes designed particularly for tourists… Berlin WelcomeCard and Berlin CityTourCard.
Berlin WelcomeCard
There are two varieties of these cards. One is Classic WelcomeCard and the other is All Inclusive WelcomeCard.
The Classic WelcomeCard offers free transportation in zone AB or ABC. You can get this card for 48 hours, 72 hours, 4 days, 5 days or 6 days. It includes 200 discount offers and a city guide book with a city map. Prices start from 19.90 Euros.
All Inclusive WelcomeCard has more to offer. You can opt for public transport in ABC zone. Cards can be valid for 48 hours, 72 hours or 4 days. It offers free entry to 30 attractions, City guide book with a map, 30% discounts in designated restaurants, shops and other attractions and one day hop on hop off bus trip. Price starts from 79 Euros.
You can access bus, tram, S-Bahn, U-Bahn, ferry services with your WelcomeCard. Berlin WelcomeCard can be obtain from ticketing machines of BVG and S-Bahn, Tourist Info Centres and from the drivers of BVG buses. A good option is to purchase it online from www.berlin-welcomecard.de/en.
Berlin CityTourCard
This is another great travel pass for Berlin. You can opt for AB zone or else ABC zone card. Card can be valid for 48 hours, 72 hours, 4 days and 5 days. You can access unlimited public transports within the validity period. ABC zone card also allows you to travel from Tegel and Schonefeld airport while an AB zone card will allow you to travel from Tegel airport only. Bus, Tram, S-Bahn, U-Bahn, ferry services all are included. You will also get 30% discount during your visit to various attractions.
AB zone card starts from 16.90 Euros and the ABC zone card starts from 17.90 Euros. This card also allows you to travel with 3 kids (6 to 14 years) for free. You can purchase it at Berlin Tourist Info Centres, S-Bahn Customer Centres and from the ticketing machines at the train stations.  Visit www.citytourcard.com/en for online purchase.
Note: You can visit BVG's website www.bvg.de/en/ for all kinds of ticketing and transport passes.
Day trips by train
Below are a few popular day trips by train that can be availed from Berlin.
(All journeys originate from Berlin Central Station, i.e. Hauptbahnhof).
Potsdam by Train: It is a journey to historically rich Potsdam. Trains are available every 30 minutes. Take a S7 line S-Bahn train from Berlin Hauptbahnhof towards Potsdam Hauptbahnhof and get down at Potsdam. Alternatively you can avail a regional train RE1 from Central Station towards Magdeburg and get down at Potsdam. Journey time is 25 minutes by regional trains. Single passenger ticket is 3.40 Euros.
Pfaueninsel Island: This is probably the most serene & quiet destination within a short reach of Berlin. Take an S-Bahn S7 train towards Potsdam and get off at Berlin Wannsee station (15 minutes), then take a line number 118 bus towards Drewitz (journey time 7 minutes) and disembark at Charlottenstr. Walk for 2 minutes to reach Wannsee. From here take a ferry to reach the island. One way Train fare is 2.80 Euros, bus fare is 1.70 Euros and the ferry fare is 4 Euros, that means a total of 8.50 Euros per person.
Tropical Island Resort, Krausnick: You need to board a regional train from Berlin Hauptbahnhof towards Cottbus and get off at Brand Tropical Island (Niederlausitz) which will take around 50 minutes. Trains are available every half an hour and the ticket costs around 8.50 Euros for one way journey for an adult and 6.40 Euros for a child.
Spreewald, Lübbenau: Another fantastic place for a day trip within an hour and fifteen minutes… this is a UNESCO protected biosphere. This place is rich with its lush green forest and water body. Trains are available every hour and the ticket costs around 8.5 Euros one-way. Take an S-Bahn S7 train towards S Ahrensfelde and get down at Ostkreuz station, change to regional train RB24 towards Senftenberg and disembark at Schonwalde (Spreewald) station. Total journey time is 1 hour 10 minutes. Once you get off Schonwalde, you need to walk for 600 metres.
Getting To Major Attractions
Although Berlin has three city centres, we will consider Potsdamer Platz (Square) to be the one for all directions below:
Brandenburg Gate or Brandenburger Tor is the most photographed icon of Berlin. It was built in 1788 and the architecture was influenced by Acropolis entrance of Athens, Greece. It is located at a distance of 1.6 kilometres (by public transport) to the north of City Centre. You can also walk on a shorter route (of 850 metres) to get there. Take an S-Bahn train (S1, S2, S25, or S26) from Potsdamer Platz station and get down at Brandenburger Tor station. Journey time is 2 minutes, then walk for around 380 metres towards west. Alternatively you can take a line 200 bus from city centre and get down at Behrenstr/Wilhelmstr, then walk for 450 metres towards North West.
Reichstag (Parliament Building) is located 1 kilometer north of Potsdamer Platz. It's easy to combine the visit of parliament building with Brandenburg Gate. You can also include Madame Tussauds of Berlin in this trip.
Museum Island (Museumsinsel) houses five Museums and is located north east of the city centre. From the city centre walk for 250 metres towards Varian-Fry-Str, then take M48 metro bus towards Alexander Platz and get down at Ficherinsel after 10 minutes. Then walk for 450 metres to the Museum Island. An easier way to reach Museum Island is to take a U-Bahn line U2 train from city centre underground station towards Pankow and disembark at Markisches Museum station. From there take line 147 bus towards Berlin Central station and get down at Neumannsgasse. Then walk for 3 minutes to reach the Museum Island.
Memorial to the Murdered Jews of Europe is located 500 metres north of Potsdamer Platz. This Memorial is also known as the Holocaust Memorial or the Jews Memorial. Best is to walk. You can combine the visit with Parliament Building and Brandenburg gate and it will be a nice walk.
Checkpoint Charlie Museum is located south east of Berlin. You should visit the museum after visiting the border crossing between East and West Berlin. Walk for about 1km from Potsdamer Platz and take a M48 bus from Leipziger Strasse towards Alexander Platz and get down at U-Stadtmitte (5 minutes ride); then walk for 350 metres to Checkpoint Charlie. Alternatively take a U2 line underground train from Potsdamer Platz station towards Pankow and get down at Stadtmitte (3 minutes ride). From there it's a 500 metres walk.
Around 5 kilometres southeast of Potsdamer Platz is East Side Gallery, the longest remaining part of the Berlin Wall which stretches for almost one and half kilometres. Board M 85 bus from city centre to central station; then take a RE7 train towards Wunsdorf-Waldstadt and disembark at Berlin Ostbahnhof; then walk for 700 metres.
Hiring Bicycles
There are few do's and don'ts while you ride a bicycle in Berlin.
Always wear a helmet
Cycle on the right hand side of the road but never on the pavement
Raise your hand before stopping
While biking after dark ensure your bike has functioning lights
Park at proper parking places
You can get 25% to 33% discount while hiring a bike with your Berlin WelcomeCard. You can take guided cycling tours or rent a bike individually. Hiring rate of a bike is around 10 Euros per day. Here are a few good bike hire companies…
Stadt und Rad (www.stadtundrad.de/)
Rent a Bike 44 (www.facebook.com/RentABike44)
Berlin on Bike Tours and Rentals (www.berlinonbike.de)
Rent a Bike (www.rentabikeberlin.de/)
Bike Rent & Bike Tours (www.berlinbicycle.de/)
Car Rentals
There are numerous international car rental companies operating in Berlin. You can book online with most using the company websites or else over phone. The rental rate starts from 30 Euros per day for a small car. Here are few rental companies with their numbers:
Enterprise Rent-A-Car: (Website: www.enterprise.de)
Europcar Berlin: (Website: www.europcar.de)
Hertz Autovermietung: (Website: www.hertz.de)
Sixt Car Rental: (Website: www.sixt.de)
Alamo Rent A Car: (Website: www.alamo.de)
Scooter/Motorbike Rentals
Hiring rate for 4 hours starts from 15 Euros. Full day rate is around 30 Euros. Following are few companies to rent a scooter or motorbike:
Scooter2go: (Website: www.scooter2go.de)
Vespa–Verleih: (Website: www.vespa-verleih.de)
Roller Berlin: (Website: www.roller-mieten-berlin.de)
Ducati Berlin: (Website: www.ducati-berlin.de)
Harley Davidson Potsdam: (www.harley-davidson-potsdam.de/)
Transport tips
Einzelfahrschein means a single ticket, Ermassigt is a single ticket for child, Tageskarte is a day ticket and Wochenkarte is a 7 day ticket
Ticket vending machines have language options that include English
The night bus in Germany is called Nachtbus
Always keep cash and changes with you while travelling around in Berlin.
Also Read