The graceful Parliament Buildings are called Stormont because of their position in the Stormont estate of Belfast. The beautiful and historically significant 407 acre Stormont estate contains the Parliament building, Stormont Castle, Mo Mowlam's children's park, Outdoor Gym, Dog Park and impressive statuary besides elegantly manicured lawns and adventure trails.
The plan was to have The North Ireland Assembly sit in the 6 floored Arnold Thornley designed specially built 'mansion' while the government will sit at Stormont castle. Any North Ireland politics search on Google will tell you about the sad deadlock that has been plaguing the beautiful country.
Despite its inactive status (not much apart from weddings and events take place here nowadays), you have to appreciate the symbolism of this place; the width is 365 feet (days of the year) and there are 6 floors (6 counties of NI) with 6 columns on the front. The Parliament buildings and the rest of the estate is grand, evocative and the perfect destination for an all family history and nature trip far from the bustle of Belfast City centre.
Why are Parliament Buildings not functioning?
The parliament assembly is in a period of suspension till January 2020 after its collapse in January 2017 due to policy disagreements. The Renewable heat incentive scandal which made Martin Mc Guinness resign and the issues centring on power-sharing relationships led to these strong policy disagreements. Sinn Fein refused to nominate a deputy First Minister and DUP and Sinn Fein (the power-sharing parties split).
It's sad to see that the parliament does not sit (as of February 2020) here as the building and the assembly rooms are magnificent. The tour guide will tell you all about the history, architecture and political context of the buildings. If you aren't taking the tour then some knowledge about N.I's political situation will help.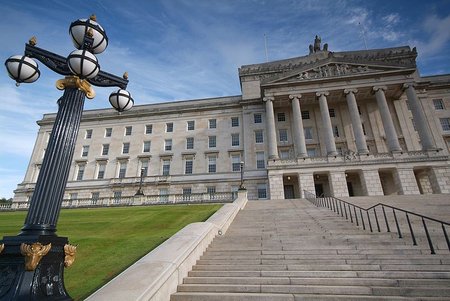 Why is the Parliament Building on Stormont Estate and why is it referred to as 'buildings'?
After the 1920 Government of Ireland Act and the parliament's inauguration in Belfast City Hall, it needed an address of its own. Belfast Castle, Belvoir Park and Orangefield were considered but not found acceptable. When Stormont estate came on the market, the Commissioners of Public Works and Buildings of the Imperial Government purchased it.
Sir Arnold Thornley then designed the Parliament buildings … 3 of them (law court, administrative block and parliamentary building) and work began in 1923. Only one building was built due to finance issues and when you notice the lower terraces in front on either side of Parliament buildings … you will know where the other two buildings were supposed to stand.
It took 1.7 million pounds to build the Parliament buildings. Law required the parliament to be in Belfast and technically Stormont was outside the city boundaries!! The city boundary was actually expanded to include Stormont later.
Attractions in and around the Building
The Parliament buildings that you see today is light ash coloured but the original building was white. Cow manure and bitumen were applied to the building during WW II to camouflage it. Alas, it took 7 years to wipe off the ghastly layer but the original white colour never returned.  The avenue that leads up to parliament buildings is lined with 305 lime trees with vivid red twigs… these have been here since 1920.
Also, notice the lines of iron lanterns along the driveway… these feature moose heads and are a gift from the Canadian government.
Assembly Chamber
The Senate Chamber of assembly of North Ireland has its original design intact and showcases red leather seats in 2 parallel bench blocks. The walls are covered with Irish damask linen and sports two large paintings including one titled 'House shall divide'. The balustrades are covered in marble and have inscribed messages commemorating the use of this chamber as an RAF operations room in the Second World War. This was earlier intended to be the House of Commons as is indicated by the blue theme
This room was used by the Royal Air Force as an operations room during the Second World War and also for the Sunningdale power-sharing executive in 1974.
Committee Room
The red-themed room was intended for the old NI Senate and since the latter's abolishment, this room serves as the committee room.
Long Gallery
This is the most booked event room in the Parliament buildings and has a rather formal set-up with a perimeter seating style. Gold and wood tints with dark wood furniture and accent lights make this perfect for a formal dinner or a business gathering.
Great Hall/ Main Hall
The Great Hall with its richly embellished ceiling and pale gold accents is often booked for balls and receptions. 300 people can be accentuated in the hall which sports a spectacular chandelier and copious quantities of Italian marble and English walnut.
The size of the hall (26.85m x 14.31m) is impressive and so is its ceiling that has red, gold and blue paint dated back to 1932 and sealed over with a special wax. The chandelier used to hang in Windsor Castle and was a gift from King George v
George Best's funeral service was held here and approximately 25000 people attended this event in 2005.
Private Dining Room
There is a wood-panelled private dining room that has elegant circular tables and intimate gracious air about it. This is often booked for private dinners and pre-event drinks.
Members' Dining Room (restaurant)
You need to ascend the beautiful stars from the great hall and the members dining room with its huge windows and 7 tables, stands right above. The Members Dining Room is open for lunch (12 pm to 2 p.m.) and serves tasty reasonably priced food. A 3-course meal is available for 20 pounds or less and the steak/ shallot casserole/ supreme chicken are all equally tasty.
There is the option of having afternoon tea too with an assortment of sandwiches (salmon/ applewood cheese/ ham), panna cotta crumble, dark chocolate torte and raspberry éclair. Tea is always Thompson's and Fairtrade and there is a separate children's menu. The afternoon tea is available at 15.5 pounds per person.
The Members dining room is in the front of the building and it offers beautiful views down the driveway and the lawns. The formal ambience, gorgeous silverware and impeccable service make dining here a pleasure. Even if you don't have a full meal, do sit down for a cup of coffee!!
Stormont Estate Grounds
The Stormont estate has won 6 green flag awards in a row since 2014 and is one of the most well maintained public areas of North Ireland. There are many walks and activity trails running through the estate. There is a 1.6 km long fitness trail and 4 adventure trails (history, environment, woodland and a bug trail). The latter two are amazing for kids and young visitors. While the woodland trail focuses on treehouses, birdhouses and carved animals along the estate, the bug safari trail encourages bug spotting along the swamp boardwalk!!
To download quizzes and interactive maps of the trails, visit this Stormont Aventure Trails page.
There are many WW 2 memorials here including the Some memorial (in the midst of cedar trees) that are dedicated to a group who lost their lives at Somme Battle.
The large and beautiful grounds have hosted many concerts and many artists including Elton John had performed there. The Orange Order Parade was held on these grounds after Ulster Covenant was signed… more than 60,000 people had thronged the grounds then.
Look out for the Carson Statue and the Reconciliation Sculpture. A 12 feet statue of Lord Carson is seen in with his hand raised on the driveway leading to the Parliament building. The granite plinth of the statue shows glimpses of Lord Carson's political life. Josefina de Vasconcellos's beautiful statue 'Reconciliation shows a man and woman embracing each other across barbed wires'. Besides this there is the 'Gleaner' by John Knox… this is a statue of a woman on bended knee eulogising thrift.
Mo Mowlam's Children Play Park
Close to the main entry on upper Newtownards road, There is a children's play park here that's dedicated to Mo Mowlam (she initiated the peace process in North Ireland) True to Mo Mowlam's philosophy, the park has 40 separate pieces of equipment that's meant to be enjoyed by kids of all ages and abilities.
There is a castle-themed area, inclusive play area with wheelchair access, multi-sensory play zone and swing zones. Look out for the twin 30 m long cableways and the 9 m long embankment slide with the Duo Pyramid Tower; these will keep your kids engaged for hours.
There is a special dog park too that lets dog owners allow their canines free play. And then, of course, there is the beautiful old Stormont Castle which is an attraction worth seeing by itself. There are picnic areas with barbeque facilities too.
Stormont Castle
The castle dates back to 1830 and reflects the Baronial style. It was home to the Cleland family who were descendants of Rev John Cleland. The castle has earlier been used as cabinet rooms for the North Ireland government and the Secretary of State resided here from1972 to 1999.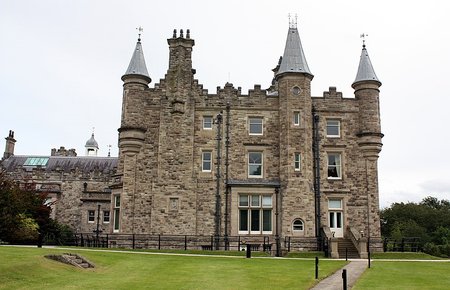 There are turrets, weather vanes and battlements in the rather stylish but weather-beaten mansion which remains closed to the public except on European Heritage Open Day. The castle has a glasshouse and stovehouse and a set of stables too. There is a ballroom. Drawing room, reception and dressing rooms inside the castle.
Stormont House
Earlier known as Speakers House, this Georgian double-storeyed 1926 dated building stands to the south-east of Parliament buildings. There is an attached garden connected to the house by a paved stone path. in contrast to the statuesque 'Parliament buildings' designed by Thornley, the Speakers House (designed by Ralph Knott) is like a country retreat with its multi-pane glazing, quaint side chimneys and sloping roof.
The speaker's house was the address of the NI House of Commons Speaker till 1945. The Prime minister of North Ireland Sir Basil Brooke also stayed there
Outdoor Gym
There is a huge outdoor gym with an assortment of equipment including chest press, leg raise, lateral pull-down, sit up bench, spinning bikes, hand bikes, cross trainers etc. It's free and if you want you can go for an impromptu exercise session. To find the outdoor gym, enter through the main gate on Newtownards Road before taking the first left path that branches off from the main estate road.
Don't miss a look at the Dundonald House (headquarters of the Department of Agriculture) and at Lord Craigavon's grave (east end of park) before you leave.
Facilities
There is a tiny gift shop that stocks nice souvenirs and a café (called parliament café) serving coffee and snacks at reasonable prices. The café is actually a good place to have some cream tea and scones (only 2.25 pounds) while you wait for the tour to begin.
There are free lockers on the premises in which you may deposit small bags and coats. The toilets are accessible though there are only 2 cubicles each in the male and female sections. The staff is quite friendly and accommodating.
Tours
Any good Belfast history tour like the one offered by Viator will have a stop at Parliament buildings apart from other stops like Ulster Museum, Falls Road and Shankhill Road, City Hall etc.
Book this tour online through this Viator webpage.
The Parliament buildings are an important attraction and they are covered on most city tours including the Private Luxury Full-Day Belfast Sightseeing Tour from Belfast Cruise Terminal that's offered by Viator. This full-day tour offers a 20 minute stop at the Stormont estate apart from stops at Crumlin Gaol, Peace Walls, Botanical Gardens, and Titanic Belfast etc.
Book this tour online through this Viator webpage.
There are free and extremely informative guided tours of the premises that last for 45 minutes each. Tours are usually offered at 11 a.m. and 2 p.m. the tour consists of a walk around the committee room, main hall, assembly chamber. If the parliament sits then you won't be able to see the assembly chamber from inside. Otherwise, tour guides let visitors sit in the assembly chairs.  You can learn more details about the tour here.
Timings
The Parliament buildings are closed on the weekends and open from 9 a.m. to 4 p.m. on the weekdays.
The Mo Mowlam Play Park is open every day from 9.30 a.m. to 4.30 p.m.
Timings are subject to change so check from the official website before you plan a visit.
How To Reach
Stormont Estate is located in East Belfast (5 miles away from City centre) on Upper Newtownards Road and the large main entrance is immediately visible to the left as you travel by this road. You can also enter (by foot) from Massy Avenue through a separate entrance.
If you are arriving by car then the best option is to drive up the Prince of Wales Avenue through security and park in the (rather busy) car park to the right of the parliament buildings. The entrance to the Parliament building is through security on the same side as the car park and not through the front entrance. Otherwise, you can drive to the nearby Massey Avenue and park there before walking back.
Stormont is an easy bus ride (20 A) and 23 from Belfast City Centre and if you have the city sightseeing hop on hop off ticket then this will be one of your stops. If you want, you can get down at the Massey gates and enjoy the park and lawns before approaching the building. Or you may ride up to the top of the hill. However you may arrive, you need to pass through airport-style security screening to get inside the building.

Ballymiscaw Rd, Stormont, Belfast
Phone: 028 9052 1802
Email: [email protected]; Website
Nearby Eateries & Attractions
If you are looking for nearby restaurants then you would have to travel at least 1.5 km to find a decent one. Curry lovers will like Tale of Spice that lies in Omni Park Old Dundonald Road while Cinnamon on Comber Road is another great venue to enjoy Asian and Bangladeshi cuisine.
If you would like to stick to Irish food then Oliver's restaurant with its steaks and fish and chips and white chairs sitting on neat lawns will seem tempting. There are typical British cafes like Jack Straws on Upper Newtownards Road. East point entertainment village has Sugar Rays Smokehouse that serves delectable barbeque platters.
Once you are done with exploring the parliament buildings (and the other parts of Stormont estate) you can think of heading off towards (amateur zoo too) nature walk hub Redburn Country Park. Luxurious woods, paved paths and serene views over Belfast Lough and the look and feel of an untouched 'hillside' make this destination special. Come in spring and you can't resist taking millions of pictures of the bluebells.
Also Read