Paris ; the darling of lovers, shoppers, historians, artists and almost everyone else on earth is best explored by delving deep into her charms. The best way to probe deep into Parisian life and culture is to take a walking tour that will allow you to view Paris up close with all her eccentricities and charms. The walking tours of Paris span across many categories like cultural walks, history walks, fashion walks, art walks, shopping walks etc.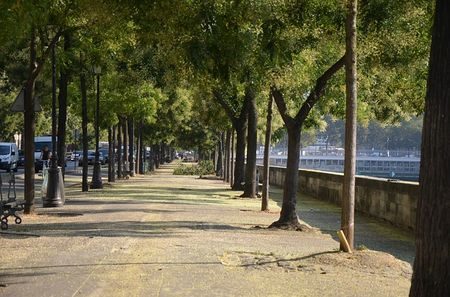 Because the conveyance medium is walking, these tours are not very expansive usually and remain limited to a particular zone or an area. Some of the tours are free with a tips only policy while others are done with a very knowledgeable guide and entry to a particular monument or lunch / refreshments at a particular place. There are even audio tours that you can download and then do the walking tour at your own time and pace. Browse through this extensive selection of walks in Paris and choose which facet of Paris you want to discover; walk Paris your way!!!
Find a great choice of walking tours in Paris and book online through this Viator site.
Below are some of the top walking tour operators in Paris and their offerings.
Discover Walks
Discover walks Paris started in 2010 and they offer incredible local knowledge and English speaking guides in a variety of tour formats. Some of their short tours are free meaning that there is no fixed fee and guests just pay what they want in terms of tips and community support. The guides bring their own trivia, local stories, personal perspectives and historical narratives to the tour besides pointing out important features of the monuments. They wear candy pink vests and you can immediately spot a Discover Walks guide from afar.
All walking tours have frequent stops for water and bathroom breaks. In summers the guides carry water sprays and fans. The tours are conducted in English and in small groups of around 16.
Contacts and booking details are given at the end of the tour list.
Free Tours
Below are some of the popular free walking tours on offer. The free tours have a tipping policy. You can tip whatever you want, 12 euros is a standard offering.
Montmartre Tour
This takes in the major attractions of Montmartre like the Cabaret of Assassins, Moulin Rouge and Chat Noir and the Church of Sacre Coeur and the artists square. The secret haunts of Picasso, Amelie and Renoir are pointed out along with a stop outside the lavish home of pop singer Dalida. There are extra stops at vineyards and the windmills besides the famous 180 degree view of Paris. The stops are brief in order to save time.
Timing
90 minute tour is conducted every day in 3 slots; 11am, 2.30pm and 5pm. The tour start point is outside metro Blanche (line2) and ends outside metro Anvers.
Marais Tour
The Marais neighbourhood was the haunt of French aristocracy and the tour takes guests across vintage French town houses and some decadent mansions while the guide narrates tales of the escapades of the nobility. Place des Vosges with its hidden parks and gardens are toured and a tour of the Jewish quarter and a bar that admits 'only good looking people' is next. The guide takes guests around Hotel Sully and the dazzling fashion stores that have made Le Marais one of the best shopping destinations of Paris. This is one of those few free tours that is wheelchair accessible.
Timing
90 minute tour is conducted every day from 2.30 p.m. The Tour starts off from outside 111 Boulevard Beaumarchais near Saint-Sébastien-Froissart (line 8) and the tour ends near metro Hotel de Ville.
Notre Dame and Heart of Paris tour
This tour is more a cultural experience than an attraction spotting tour. The hidden aspects of the flaying buttresses and the gargoyles of Notre Dame are identified and the history of its bells is scrutinised. The cultural attributes of the neighbourhood on the precincts of Paris's revered Goth monument and the love story of Abelard and Heloise that very few know about are also discussed.
Timing
75 minute tour is conducted every day from 1.00 p.m. The Tour starts off from outside the gigantic horse statue of Charlemagne and the tour ends near metro Cite.
Latin Quarter Left Bank Tour
The Latin Quarter left bank tour takes in the Pantheon, Luxembourg gardens and the Sorbonne University in passing and the guide takes guests around café terraces and drinking holes frequented by students. Hemingway, Unicorn Cyrano de Bergerac used to roam around in this area and their stories are shared. The history of Place de la Sorbonne and the historical significance of the Guillotine blade is shared.
Timings
90 minute tour is conducted every day from 2.30 p.m. The Tour starts off from outside 111 boulevard Beaumarchais near Saint-Sébastien-Froissart (line 8) and the tour ends near metro Hotel de Ville.
Saint Germaine Tour
Lovers of fashion and Parisian culture will revel in the saint Germaine tour as it delves deep into traditional and modern fashion trends that were reflected strongly in the sophisticated St Germaine society. The best clubs, the classiest boutiques and the most delish cafes are pointed out and the guide shares insider tips that only the elite Saint Germaine set knows about.
Culture aficionados will love the side stories of Guernica, Cyrano de Bergerac, Simon de Beauvoir; all Sat Germaine regulars. This area has a lot of connections to jazz, art and has many surprising facets like the first king of France was buried around here.
Timings
90 minute tour is conducted every day from 2.30 p.m. The Tour starts off from outside huge horst statue of Charlemagne in Notre Dame and the tour ends near Saint Germain des Pres (line4) after the last stop at the iconic Café Flore.
Hidden Gems and Secret Paris Tour
The secret Paris and hidden gems tour is for lovers of surprises and intrigues as it focuses on uncovering secrets and treasures that few tourists know about. The tour takes in a round of the Louvre, its period style café, the secret collections of the sun king and other interesting aspects. The next stop is Palais Royal and its controversial history and its adjacent art shops stocking shocking art pieces by Buren.
The tour spots the grand home of the chairman of central bank and accesses place Valois by a secret door. An ornate gallery with luxury boutiques, an ancient convent courtyard selling religious artefacts and the grand Place des Victoires comes next while the piece de resistance of the tour is the celebrated Galeries Vivienne.
Timings
90 minute tour is conducted every day from 11.00 a.m. The Tour starts off from outside the Louvre glass pyramid at the horse statue foot and the tour ends in Central Paris.
Paid Speciality Walking Tours
Street Art Tour
This is a complete guided tour that will tell you all about the evolution of the fantastic street art in Paris. The tour mostly covers the 13th arrondissement…the street art hub of Paris and the place where the first wall art of Paris popped up many years ago. You will cross the huge frescoes of Obey (Shepard Fairey), C215, D Face and the walls created by fantastic street artists Jeff Aerosol and Miss Tic.
The guide on this tour is Victor; a street artist and an activist and he lets guests know about all the latest trends in the street art scene, latest street art techniques and the biography of artists like Banksy. Graffiti, mural paintings, stencils, collages and their expressions, inspirations and effects are all discussed in this art tour.
Timing
The 2 hour street art tour starts off on place d'italie at 211 boulevard Vincent Auriol (reachable by metro Place d'Italie every Tuesday and Friday from 10 a.m.). The tour ends at metro station Chevaleret on line 6.
Prices
25 euros per adult and 15 euros per kid.
Skip the Line Orsay and Montmartre Tour
The Montmartre area is where the impressionists artists used to stay…the tour gives insights into the sights and visions that inspired thee artists. The guide has a lot of information on the great impressionists, their haunts and their lives and this is more of a cultural historical walk than a mere walking tour.
This tour has Sacre Coeur cathedral as its last stop and it affords wonderful views of Paris. The skip the line ticket to Orsay Museum is handed over to the guests to use at their convenience.
Timing
The 90 minute street art tour starts off at the door of Moulin Rouge (reachable by Metro Blanche) every Tuesday and Friday Saturday Sunday from 10.30 a.m. The tour ends at metro station Anvers close to the Sacre Coeur.
Prices
The Impressionist Montmartre Tour is priced at 45 euros per adult.
Paris Flea Market Tour
The Paris Flea Market Walking Tour takes guests across the world's biggest flea market….Les Puces de Saint Ouen; arguably the mother of all street markets.
There are more than 15 markets with 2,500 shops inside this shopping zone, it's easy to be confused in the gigantic market but the guide expertly navigates you around French art, vintage clothes, antique furniture and religious art markets. Shop for anything and everything right from ostrich feathers, collector's books, vintage lace, knick knack, trinkets and jewellery.
This tour is suitable for both shopaholics and culture lovers (people who will be more interested in the history and evolution of the markets). The major market streets covered are Vernaison, Serpette, Dauphine, Malik, Jules Valles, lEntrepot and other less noteworthy ones.
The guide shares useful information on bargaining skills and the art of making the most of a flea market shopping haul. There are interviews with dealers and insights are shared about their lives and activities. At the end the guests are given a choice of walking back to the metro and staying on for shopping!!! This is a 7 people only group so book your slot fast.
Read: How to shop in Paris and the best stores by area.
Timings
The 1 hour 40 minutes shopping tour starts off outside Porte de Clignancourt (line 4) at street level outside Mcdonald's every Saturday and Sunday from 10.45 a.m. The tour ends at metro station Clignancourt too.
Prices
The Flea market tour is 30 euros per person
Contact & Booking Details
Discover Walks offer many more such guided walks and tours like Skip the line Picasso Museum plus Marais Art Tour, Jewish Quarter guided tour, Montmartre Night Tour etc. They also do private tours and customised walks
Discover Walks Paris
1, rue Thérèse, 75001 Paris, Ile de France
Phone: +33 6 95 38 88 49; Booking Website
Sight Seekers Delight
Not only are their walking tours incredibly popular; their website offers a wealth of insider information about cultural, historical and culinary aspects of Paris. The tours are generally conducted by one of these 4 guides; Karen, Steph, Sharminck, Emily who form the core team of the company…each of them have consistent and great local knowledge about Paris besides an engaging manner.
Walk by the Seine
One of the best ways to experience Paris is to see her riverbanks… most of the attractions strategically lie around the banks of her Seine.
Most of the famous sights of Paris as seen from the banks of the Seine are covered in this tour and some of these famous sights include Notre Dame, Louvre, Eiffel Tower (from afar), Arc de Triomphe (from afar), Pont Neuf, Ile de la Cite, Opera Garnier (from afar),Place de la Concorde, Tuileries Gardens, Shakespeare & Co., Grand Palais etc.
Timing
The tour is longish… lasts for a little over 4 hours and are pure walking tours so you need to be dressed comfortably. There are lunch breaks/ afternoon tea breaks in tours. The morning tour starts roughly from 9 a.m. while the afternoon tour is from 2.00 p.m.
Prices
40 euros per adult and 15 euros for kids under the age of 10.
Jewish History of Le Marais
This tour focuses on a different aspect of the Marais neighbourhood that's usually celebrated as a fashionable hotspot. Marais also has the main Jewish neighbourhood in Paris and hides the entire history of the Jewish community who escaped from the Holocaust and settled outside the walls of Paris many centuries ago. The Rabbi, places of worship, Jewish works of art are all discussed and some of the main places shown are Place des Vosges, Hotel de Sully, synagogue of Hector Guimard, the oldest standing synagogue in Paris, Musée Carnavalet and SHOAH Holocaust Memorial & Museum.
Timing
The 3 hour tour starts off in a central Paris location and this includes a history break inside the local synagogue and the VIP Lunch Break at L As du Falafel. The tour is available at 11 a.m. from Sunday to Friday.
Prices
Price per adult is 55 euros. Due to the somewhat serious nature of this tour ringing along kids is not recommended.
Contact & Booking Details
There are many other tours provided by sight-seekers delight like Pere Lachaise Cemetery Tour, Secrets of the Night Tour, and Keys to Louvre, and tasting tours of different areas like the Latin Quarter etc.
3 avenue du General Eisenhower
Phone: +33 7 63 07 09 68; Email: [email protected]; Booking Website
Paris by Foot
They are one of those walking tour organisers who do very small group tours (less than 8 people) and this affords a more intimate look at the various facets of Paris to the guests. Paris by Foot does only VIP tours and walking tours and have a good team of English speaking guides.
Latin Quarter Tour
The exciting Latin Quarter has much to offer; colourful neighbourhoods, distinct cafes, lively bars, great shopping hubs and open markets that are loved and explored by most tourists. However its beautiful gardens, historic Roman ruins, Heritage University and the stories of the roman settlement over 2000 years are much lesser known.
The Paris by foot walking tour covers it all…the touristy and the not so touristy stops on the tour like Saint Michel Fountain, Sorbonne University, Pantheon, Luxembourg Gardens, Musee Cluny, Cluny Abbey, Arenes de Lutece, Ancient city wall, Cafe de Flore, Les Deux Magots, Saint Sulpice, Saint Germain des Pres etc. A roughly 3.5 km walk
Timings
The 2 hour Latin Quarter tour starts off outside Place Saint Michel (line 4) at street level. The tour happens on Monday and Tuesday from 9.00 a.m. and Thursday and Friday from 12.30 p.m.
Prices
The Latin Quarter tour is 20 euros per person
Haunted Paris Night Walking Tour
If you want to experience a walking tour with a different flavour then the Haunted Paris night Tour is a great idea. Paris has her own dark side as the guide will explain you the essence of the tour right after you meet the group in front of Notre Dame Cathedral….the satanic doors of the cathedral are the first tour exhibit.
The next stop is the cemetery of the Innocents and then the place where Henry IV was killed and the Paris Morgue, Prison Conciergerie. Stories about the shadow children, gruesome barber of Ile de la Cite and haunted theatre de la Ville are shared in this wickedly entertaining show.
Timing
This is a 1.5 hour tour that roughly covers 1.8 km and is offered every Monday Wednesday Friday from 7.00 p.m. or 9.00 p.m.
Prices
20 euros per person.
Contact & Booking Details
There are some super interesting tour versions like the Pere Lachaise Cemetery tour, haunted Paris Tour besides standard tours like Louvre Masterpieces tour and the Versailles Palace Tour.
16 Rue Dupetit-Thouars, 75003 Paris
Phone:  +33 01.42.71.78.11; Booking Website
Fat Tire Tours
Fat Tire tours is famous for its bike tours but they offer tours like Paris Open air market walking tour, Monet Garden and Giverny Walking Tour, Montmartre walking tour, Pere Lachaise Walking Tour, Marais walking Tour and Latin Quarter Night Walking Tour. Their office has free Wi Fi and super clean toilets so that's a definite advantage.
Classic Paris Walking Tour
An incredibly popular classic Paris walking tour is one of the best ways to see Paris in a nutshell.  This is a tour that takes in most of the best sights of Paris like Eiffel tower, Alexander Iii Bridge, Tuileries gardens, Napoleon Tomb, Orsay museum, Ecole Militaire, Les Invalides and the Louvre museum….all of these fall within a closed circuit
The tour starts off outside the Hotel Tourisme Avenue that's located at the 66 Avenue de la Motte Picquet beside the La Motte Picquet metro station. The tour ends at musee Louvre.
Timing
This is a 2 hour walking tour that starts from 10 a.m. on weekdays subject to availability (you need to check available dates from the website).
Prices
25 euros per person
French Revolution Walking Tour
This tour is specifically geared towards lovers of history and politics. The French revolution caused one of the most important events in the course of history and made France into what it is today and most of its important events took place around Paris. The guide tells guests all about the cruel conditions that led to the Bastille prison storming and the ousting of Louis XVI. The famous remarks of Marie Antoinette and her subsequent beheading is discussed and guests are made aware of the facets of the Reign of Terror.
The tour covers many points of Paris like Place de la Concorde, Assemblée Nationale, Les Invalides, La Conciergerie, Reign of Terror point etc. The tour starts off from the park across from 105 Rue de l'Université, outside the Invalides metro station (line 8 and line 13) at the exit near Rue de l Universite.
Timing
The 2 hour tour starts off from 2 time slots; 10 a.m. and 3.00 p.m.
Prices
The price of the French revolution tour is 25 euros per person.
Contact & Booking Details
24 Rue Edgar Faure (Open daily from 9 am to 5:30 pm.)
Paris phone: +33.1.82.88.80.96; Booking Website
Paris A Dream
Paris a Dream is created and run by Isabelle…a guide, chef and writer whose speciality is incredible local knowledge about the number of excellent Parisian aspects that remain hidden from the eyes of normal tourists. She deals with food and culture walking tours and one of her best offerings is the Coco Chanel Tour.
Read: More about great Paris food tours.
Coco Chanel's Tour
The tour starts off at the famous Angelina Café in Central Paris; this is Coco Chanel's favourite café and is renowned for its hot chocolate. The guide will help you reconstruct some of Coco Chanel's memories as you sip on that legendary hot chocolate (price included in the tour) and then it will be time for a half an hours stroll through the neighbouring streets that go down Rue Saint Honore.
Place Vendome with its glittering boutiques is one of Coco Chanel's favourite haunts. Even the Chanel N5 bottle of perfume is inspired by the Octagon shape of the square. The Ritz suite where Chanel stayed for a large part of her life is located at 15 Place Vendome. Her signature furniture and eclectic art still deck the suite.
31 Rue Cambon's ground floor houses the boutique that was arguably the first fashion boutique of Paris. This one has the complete range of her signature clothes, accessories, perfumes, beauty products. The stop here is the tricky part…guests are mostly left on their own inside the shop and then they are surrounded by salespeople expecting them to buy some stuff.
The upstairs suite has a double purpose; it's a show space for her collections and a salon for displaying her personal couture fittings. Her famous curved mirror lined staircase shows a gorgeous prism effect and is actually a clever ploy to let her map audience reactions without being seen. The stairway leads to her private home that's not allowed to be viewed by the public. Only very famous celebrities like Rihanna have been allowed to view the apartment but you can always listen to the lush retelling of its décor by your guide. By the end of the tour you will know a lot about Chanel, her hobbies, friends and collaborators.
Timing
The Coco Chanel tour departs from Central Paris at 2.00 p.m. and ends at Palais Royal metro stop at around 4.00 p.m.
Prices
65.25 euros approximately per person
Contact Details
36 Allee Bernard de Jussieu (Nearest Metro Sablons)
Phone: ++33 6 20 16 31 87; Email: [email protected]; Booking Website
Voice Map Tours
If you want to do self-guided walking tours then the Voice Map App comes in super handy. This is a mobile App for android and I Phone that contains a rapidly expanding series of audio tours recorded by best authors, voce artists, reporters, cultural aficionados and Parisians passionate about Paris. What's more guests can even craft their own stories about Paris and then make them heard to different audiences.
Voice Map has two physical offices; Singapore and Cape Town and they offer audio tours across a variety of locations across the globe like Bulgaria, Chile, Armenia, Greece, Hong Kong etc. apart from Paris (the only French city covered by the Voice Map).
The location is traced by GPS to play audio tracks automatically when you reach particular destinations and an array of offline maps are made available which the user can download and save for future use. If you use voice map…it's like taking a regular audio guided tour at a fraction of the cost and at a much unhurried pace.
There are other handy facilities like downloading the tour with your hotel Wifi and then replay it when you are out. New tours are published every week so there is lots to choose from. Once you create an account on Voice Map website you can revisit the walk anytime…tour transcripts, satellite images and an interactive map are available at voicemap.me. Downloading the app and creating an account is free. But you need to pay minor fees for downloading the audio tours.
Some popular Parisian audio story walks are
Through Fashionable Paris in Audrey Hepburn's Footsteps
This explores the 5 movies of the legendary movie star that were filmed in Paris. The 4 km walk covers the (tour starting point) Place de la Concorde, Hotel Crillon, Maxim's, Rue St-Honore Givenchy headquarters, Christian Dior store, Stamp market, American Embassy, and the Ritz Hotel
Timing
Can be taken any day …the tour lasts for 80 minutes
Prices
Approximately 6.21 euros for the audio tour download
Le Marais Secret Stories and Invisible Details
This short audio tour will take guests through one of Paris's best neighbourhoods and retell juicy gossip, celebrity trivia, fascinating historical angles besides exposing the best cafes, gardens and shopping haunts to guests.
This 4 km walk covers the iconic points of Le Marais like Place des Vosges, Eglise Saint-Paul-Saint-Louis, Musée Carnavalet, Hotel de Sully, Rue des Rosiers. Guests can also stop at Notre Dame Cathedral, Musee Picasso, Pompidou centre, Hotel de Ville as these fall around the route.
Timings
Can be done at any time and at any day but best between 10 a.m. to 5 p.m. from Tuesday to Sunday (this is when all shops and gardens are open). This is a 40 minute walk that roughly covers 2 km so it's suitable for just about anybody.
Prices
Roughly 5.6 euros for the audio tour download.
The Pere Lachaise Walks
The most famous cemetery of Paris had her fair share of gossip, speculation and stories. This 44 hectare park and cemetery is the final resting place for many luminaries including Oscar Wilde, Gertrude Stein, Alice B Toklas, Ettore Bugatti, Amadeo Modigliani, Edith Piaf, Henri Salvador, Beaumarchais, Anna de Noailles, the Carton family, Quintin Craufurd, Victor Noir, Sarah Bernhardt, Yves Montand, Simone Signoret, Isadora Duncan, Stéphane Grappelli, a Dragon to name a few.
The lives of many of these brilliant people were linked to each other by intrigues, scandals, juicy liaisons and affairs and that's what the audio guide explores. The structural details of the Columbarium Dome, Gambetta gate, Dragon tomb and the Victor Noir bronze statue are explored in detail.
The walk begins at the main entrance of Pere Lachaise…at 56 Rue des Rondeaux. There are no food and drink stalls inside the cemetery and only 1 toilet near the entrance. Post the tour it's quite nice to explore the famous Belleville Bistros like the audio tour recommended Shingane (Korean food) and Leslie Road (British food).
Incidentally there are part II and part III of this walk too….all roughly the same timings and same price range but each of them explores a different area of the cemetery. Guests are usually expected to bring along flowers when they do this tour. Buying the photo book titled 'The Chair Father' might appeal to some guests.
Timing
Pere Lachaise has no entry fee and is open all throughout the year. You can do the tour anytime but if you choose the evening slot post 4.00 p.m. you will get a more authentic cemetery ambience. The tour has to be done before 5.30 p.m. as the cemetery closes after that. It's roughly an hour long medium difficulty 2 km walk.
Prices
Download the audio tour for 4.7 euros only.
Booking Details
Create an account at https://voicemap.me/walking-tour-app
Choose and book your audio tours from This Website
Phone: +27 (0)81 868 0197; Email: [email protected]
Also Read