The city of lights looks her best when the sun sets and Parisian lights decorate the entire city magnifying the loveliness of Paris. Monuments like Eiffel tower, Arc de Triomphe, look undeniably prettier swathed in moonlight and twinkling lights and this is also when the legendary nightlife of Paris exudes its hedonistic charms.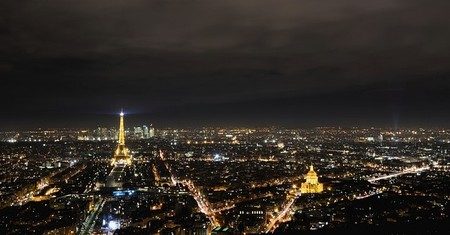 You can look for mysteries and histories in your night tour or you could simply want to look at how the Parisian monuments look at night. Or maybe you want to sip champagne while zipping through Paris in a luxury vehicle or maybe you want to cruise on the Seine or catch a cabaret performance after your night tour.
Cruise tours, bike tours, vintage car tours, bus tours or simply a walking tour… Paris by night is always charming. You can find a wide range of great Paris night tours and book online through this Viator site.
Paris City Vision Night Bus Tours
The most popular city bus tour operator of Paris offers nicely structured night tours in their panoramic, a.c. glass topped buses to show off all major Parisian attractions at their glittering best…
The standard Panoramic Paris by Night tour follows the below mentioned route:
Vendome Square, Opera Square, Comedie française, Louvre Museum, Institute de France, Pont neuf, Hotel des Monnaies, Saint Germain des Prés, Notre Dame Cathedral, Chatelet, Conciergerie, Hotel de Ville, Rivoli Street, Concorde Square, Petit and Grand Palais, Champs Elysees Avenue, Arc of Triumph, Trocadero Square, Eiffel Tower, Invalides, Madeleine Church.
The night tour begins and ends at Paris Open tour agency (13 rue Auber).
All Paris City Vision night bus tours are available with audio guides in 11 languages; French, English, Spanish, German, Italian, Portuguese, Japanese, Chinese (Mandarin), Russian, and Korean.
Go a step further and combine the night bus tour with a Seine cruise (with audio guide) or a Moulin Rouge dinner and a show program and you have a schedule that explores all facets of Paris at Night. There is Night Bus tour plus Moulin rouge dinner and show offering that has a Mistinguett gourmet menu (offering by Chef David Quellec) and half a bottle of champagne. Guests get to watch the 2 hour long "Ferrie show" that's orchestrated by 80 musicians, 60 dancers and lavish costumes that are a signature of this iconic cabaret.
To learn more about Paris City Vision Tours go through Sightseeing Bus Tours in Paris.
Indicative Price
23 euros for the standard Paris night tour and 36 euros for the Paris night tour plus cruise. The Moulin rouge show plus dinner plus bus is 189 euros per person.
Timings
The standard night tour is offered from 8 p.m. to 9 .45 p.m. every day. The cruise plus night tour happens from 7 p.m. every day with the cruise happening first and then the tour. The Moulin rouge show and dinner happens from 9 p.m. to 11 p.m. and the guest has an option of redeeming the bus tour on any day within a set limit.
Contact and Booking
Paris City Vision
2 rue des Pyramides
Toll free phone: 000-0800-100-6999; Booking Website
Big Bus Paris Night Tours
The hop on hop off tours of Big Bus are pretty famous but they have a non-hop on hop off night tour that's a good and cost effective way of seeing Paris at night. The route covers most Parisian sights at their glittering best in 2 hours and the major sights are Eiffel Tower, Champ de Mars, Opera Garnier, Louvre – Pyramide, Pont des Arts, Notre-Dame, Musée d'Orsay, Champs-Elysées, Grand Palais and Trocadéro.
Most tours have a live guide and all of them have an audio guide in 11 languages, free maps and a reward voucher having discounts on restaurants and shops. The buses are A.C, open topped, double decker and offer panoramic views of the city.
To learn more about Big Bus tours go through Hop On Hop Off Bus Tours in Paris.
Timing
The tour departs at 9.15 p.m. from stop 8 on avenue Champs Elysees every day and lasts for 2 hours.
Price
25 euros per adult and 13 euros per child (4 to 12 years) for the night tour.
Contact and Booking
11 Avenue de l Opera, 75001 Paris
Phone: +33 (0)1 53 953 953; Booking Website
Paris Night Bike Tours by Fat Tire Tours
Fat Tires (owned by David Mebane and Kelly) has established itself as the top bike tour company in Paris since the last 19 years and they have this very popular offering Paris Night Bike Tours. The tour kicks off from the Dupleix metro station (line 6) and you just have to look out for the "fat tire tours" sign.
The tour includes a visit to Notre Dame and a stop at the famous Berthillon for Ice Cream (cost not included) and then a trip to The Islands and Latin Quarter. The next stops are Louvre Museum and Eiffel Tower followed by a one hour Boat Cruise with wine (provided by guide).
Travelling by bike at night means that you can get up close to the monuments, park wherever you want and minimise traffic down time. There are plenty of trip highlights like watching the sunset over Pont des Arts, biking through the backyard of Louvre, taking regular photo breaks and the tour guide delivers an informative and fun narrative all throughout the tour.
Guests need to have good proficiency in riding bikes and the tour cost includes a helmet and insurance. The other inclusions are bike, services of guide, boat tour ticket, photos and wine.
Timing
Total tour time is 4.5 hours usually starting from 6.30 p.m. The first 3.5 hours is dedicated to the bike tour and the last one hour is a Seine river cruise.
Prices
44 euros per person for adults and 42 euros for kids (age 8 to 12) who can ride special kids mountain bike.
Contact and Booking
4 Rue Edgar Faure.
Open from 9 am to 5:30 pm.
Phone: +33.1.82.88.80.96; Booking Website
Midnight in Paris on wheels Night Tours in 2 CV
Midnight in Paris on wheels is owned and managed by Nicolas (a handsome French marine vet who served in the middle east )… he has incredible local knowledge and is on first name terms with most restaurant, bar and café owners in Paris. Armed with superior driving skills, a ready wit and marvellous style of serving champagne; Nicolas and his team offer the chance of touring Paris in an open topped vintage car while sipping champagne.
The vintage Citroen /2 CV (vehicle in question) lived in glory in the 1950's and made numerous cinematic appearances…its deluxe model with a sunroof was exported to many countries including Portugal, Spain, England and Belgium. La Deudeuche as it's now called isn't manufactured since the 1990's but Midnight Paris on wheels owns and maintains an impressive fleet of these beautiful cars; their size, functionality and history make them a grand medium to explore Paris.
The Midnight is Paris tour lasts for 2 or 3 hours and is targeted towards lovers of romance and adventure.
The tour has many advantages…it includes pick up and drop from any hotel in Paris and shows of nearly all city landmarks like Arc de Triomphe, Madeleine, Grand and petit Palais, Notre Dame, Invalides, Orsay museum, Louvre, Vosges square, Pantheon, Alexander III bridge, Opera Garnier, Trocadero, Eiffel tower, Moulin Rouge, Palace Elysee. It also shows famous roads and districts like Champs de Mars, Champs Elysees, Le Marais, Concorde square, Montmartre, Saint Germain district, Saint Louis island, Latin Borough, Saint Louis island, La Cite island etc.
Besides information, anecdotes and stories about monuments and famous areas of Paris, Nicolas will share an abundance of shopping tips, restaurant recommendations and lots of insider information.
Tour inclusions are a large bottle of premium French champagne (usually Brut) 75 cl served in a silver bucket of ice and 2 glasses. There is also a special bonus….ice cream from a famous shop overlooking the Notre Dame. You can convert this tour into a photos tour where the driver guide drops you at select locations, takes about amazing 30 pictures and then prints them out for you later.
The tour is expensive but it is completely a personalised experience plus a lesson on art, history, architecture, food and everything Parisian plus some of Epernay's best champagne….think of it as a once in a lifetime splurge experience.
Prices
The 2 hour and 3 hour tour for 1 or 2 people is 250 euros and 350 euros respectively. The 2 hour and 3 hour tour for 3 people is 350 euros and 450 euros respectively. Any tour can be converted into a photo tour by paying an extra 100 euros.
Timing
Usually starts from 7 p.m. to 9 p.m. …customisable according to guest preferences.
Contact and Booking
12 rue Voiler, Ile de France, Paris
Phone: 06 51 19 24 88; Email: [email protected]
Booking Website; Booking is via using the email contact form on the website only.
Night E-Bike Tour by Paris Charms and Secrets
A bike tour operated by a group of passionate Parisian history buffs who live to tell anecdotes and stories about their hometown…the charms and secrets is definitely an unconventional tour.
The Charms and Secrets Tour focuses more on the hidden, unexplored aspects of Paris and shows off prominent attractions like the Eiffel, Place Vendome and Louvre with a trail of interesting anecdotes. Lots of offbeat aspects are shown like the ruins of an amphitheatre where gladiator shows were held,  a remnant of the original Paris city wall, oldest cafe in Paris (the hub of Voltaire, Franklin and Rousseau etc.), oldest church in Paris, courtyard of Louis and Philippe, etc.
This is an e-bike/ electric bike tour and it's basically an effortless version of a regular bicycle. So guests get to skip traffic and gain direct entry into protected areas and gardens where normal tour vehicles are not allowed. Anyone without a mobility issue and reasonable competence in riding a bike can get on an electric bike. The tour cannot stop midway as the bikes can only be deposited at a parking.
The tours are done in English, French, Spanish, Portuguese Chinese, German and Italian in small groups of 10 to 12 people. The tour takes off at Place Vendome, from the front of the granite block labelled "ACCESS LOUVRE" (near jewellery shop "Chaumet"). The guide will ride an electric bike too and he keeps delivering a running commentary as the group goes across Paris while anecdote and story sharing happens at different stops.
This is a good night tour option for those who like the intimacy of a walking tour but would rather not spend so much energy. Also, this tour would appeal to those who like to explore the true character of a place rather than just the attractions.
Price
49 euros per adult for the 3 hour night tour. Kids under height 4 feet 11 inches can use the child seat and command the special discounted rate of 12 euros.
Timings
The e bike tour runs from 8:00 PM – 11:00 PM every day. You need to arrive at Place Vendome at 7.45 p.m.
Contact and Booking
Place Vendome, Louvre/ Palais Royal
Email: [email protected]; Phone: +33 1 40 29 00 00
The Paris Ghosts, Legends and Mysteries Night Walking Tour
City of Wonders is a global travels and tours company that operates in Rome, Vatican, Milan, Naples, London, Paris and Barcelona and they offer curated, knowledge intensive slightly extra ordinary tours. The Paris Ghosts, Legends and Mysteries Night Walking Tour is one of their most popular offerings. If you love ghost stories, underworld and the macabre then learning about Paris and her dark face when the city shines on its brilliant lights is a great idea.
Done in groups of 20 people max, the Paris Ghosts, Legends and Mysteries Tour focuses on executions, bloodbaths, suicides, medieval torture methods, intrigues and French historical conflicts. If you like history and medieval intrigue then you will love this tour. The guides use intonation, special effects and a storytelling method to make the content engaging for the audience. Teens will specially love this tour…it's more like a fantasy walk.
The route is generally Place de la Vert Gallant, The Louvre, St Germain de L'auxerrois, La Fontaine de la Croix du Trahoir, Rue de la Ferronnerie, Square of the Innocents, St. Jacques, La Fontaine du Palmier, The Seine riverbanks, The Conciergerie, Ile de la Cité, Palais du Justice, Hotel Dieu, Hotel de ville (tour ends here).
The tour starts off in front of Statue équestre d'Henri IV and ends at rue Rivoli. It's a walking tour with an English speaking guide and it also includes headsets for better audio capture.
Timings
The tour is offered on Fridays and Saturdays from 9 p.m. to 11 p.m.
Price
The price of the tour per adult is 22.85 euros
Contact and Booking
22 rue Lalande, 75014 Paris
Phone Numbers Local: +33 1 70 37 14 26; UK: (+44) 800 098 8019;  USA & Canada: (+1) 800 358 1942
Email: [email protected]; Booking Website
Montmartre Evening Food Tour
Montmartre and its neighbour South Pigalle are areas of Paris which should definitely be visited post evening. There are scores of tempting wine bars and charming cafes and secret restaurants which are all decked up in twinkling lights and candles and the warm glow of the street lamps fall endearingly on the cobbled streets. Secret Food Tours…an offbeat quirky food and culture tour provider does a Paris Evening tour in this area which gets the taste buds tingling and exposes the heart to the warm stylish Parisian nightlife.
The tour takes guests across chocolate shops, charcuteries, wine shops, bakeries and has 5 tastings of chocolates, macaroons, baguettes, cheese, cured meat and then a splendid secret dish at a mysterious location. This is a walking tour that takes in the best sights of Montmartre like Sacre Coeur, Place du Tertre, Eglise Saint Pierre, Moulin Radet and Blute windmills and the famous nightlife hot spots like the Moulin Rouge. The tour inclusions are services of the guide, tastings and secret dish and a glass of red and white wine each with complimentary water and coffee.
The secret food Montmartre evening tour is meant for those who want to experience the actual 'night atmosphere' of Parisian life and soak up the culture without doing a boisterous pub crawl or a cabaret show.
For more information about food tours visit Great food tours in Paris.
Timing
The tour begins at 6 p.m. from Abbesses metro station on line 12. It lasts for 3.5 hours roughly and is offered every day. By the way the metro station has fantastic art Nouveau décor and is called the prettiest metro in Paris.
Price
89 euros per person
Contact and Booking
42 rue Sainte Anne
Phone:  0033 (0) 970735298; Email:  [email protected] ; [email protected]
Booking Website
Bustronome Night Tours
See Paris at her glittering best from a bus is a common offering but Bustronome goes a bit extra as you sit on a proper dining table with glass holders and fancy cutlery while the in-bus chef whips up a fancy 6 course dinner. The bus is super comfortable and has an open glass roof plus panoramic windows and each guest is given an audio pen that plays discrete commentary about sights that the bus passes in a choice of 8 languages.
The dinner Bustronome tour route covers Etoile-Champs Elysees-Concorde-Madeleine-Opera Garnier-Musée Louvre-hotel de Ville-Notre Dame-Conciergerie-Pont des Arts-Musée D'orsay-Grand Palais-Pont Alexandre iii-National assembly-Les Invalides-Champs de Mars-Eiffel tower-Trocadero.
There is a photo stop near the Eiffel tower and the bus slows down to allow guests to click pictures of the glittering attractions
To know more about Bustronome and other food tours visit Great Food Tours in Paris.
Timings
For dinner a bus departs at 7:45PM and Returns: 10:30PM
and another bus departs at 8:45PM and Returns at: 11:30PM
Prices
100 euros (for adults) and 50 euros (for kids) for 6 course dinner without wine pairing
Contact and Booking
Information centre
Avenue kleber. Nearest Metro: Charles de Gaulle Etoile
Phone: 33-954-444-555; Email: [email protected]; Booking Website
Also Read