Chania Airport To City
Chania Airport (CHQ) is on the Akrotiri peninsula that's 14 km away from Chania city.
International connectivity to Chania is through Athens Airport and Thessaloniki Airport (mostly through Olympic Air and Aegean Airlines) though between the months of April to November, lots of direct charter flights come directly to Chania from UK, Germany and Scandinavia apart from other European nations. The CHQ airport is the 2nd biggest gateway to Crete.
The airport has free unlimited Wi-Fi, Currency Exchange counters (neXchange), nursing rooms, ATM, duty-free shops and cafes.
London Heathrow (British Airways), London Gatwick (Easy Jet), Brussels (Brussels Airlines), Vienna and Graz (Austrian Airlines), Frankfurt, Stuttgart and Munich (Condor), Bucharest (Blue Air) are some of the cities with seasonal connectivity to CHQ.
In terms of international connectivity from the UK, USA and other international destinations, Heraklion airport (6 km away from Heraklion town and 140 km away from Chania town) is better. You may choose to fly into Heraklion and then drive to Chania. Most tourists prefer exploring Heraklion and then move to Chania.
Taxis
The Taxi stand is located just outside the Terminal-1 building of Chania airport. The journey from CHQ airport to Chania city is around half an hour and the fare is 25 euros. If you arrive in the peak season (July and August), it will be difficult to find a taxi without a reservation. Most hotels in Chania will offer a transfer from the airport but the charges will exceed the usual transport fee.
You can also prebook your airport transfer online from CHQ airport to Chania city from Viator.
If you are taking a taxi from outside Heraklion airport you can enjoy a 5-hour scenic ride that costs around 200 euros by taxi.
You can also pre-book a transfer online from Heraklion airport to Chania City from Viator.
Welcome Pickups is a popular taxi service operator who offers fast and cheap taxi transfer services. Book a taxi in advance from their website.
Bus
Buses (KTEL CHANIA-RETHYMNOU SA) serves the airport and this bus service connects the airport to the cities of Rethymnon and Chania. The buses start off from a stop that's in between the buildings of arrival and departure.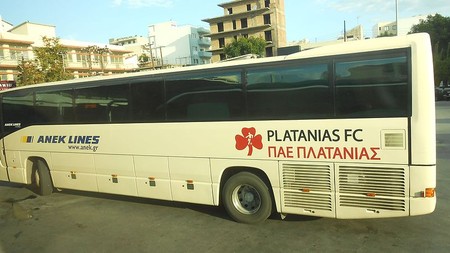 There are buses running regularly to Chania City, Souda and Rethymno every day. Buses run from 6.30 a.m. to 11.30 p.m. every day (indicative timings). To know their timetables and exact schedules you can call the Ticket Office (Phone: 2821093306).
The fare from Chania Airport to Chania City is around 2.10 euros but the journey will take an hour and there are many bus stops in between.
By Car
It makes sense to rent a car from the airport if you are arriving in peak season and wish to sightsee by using a car. You can rent a car yourself from the local branches of different car rental companies like Budget Car and Justrentals Car Hire. Both these operators have their kiosks inside the airport.
Or you could check out AutoRentals Crete; the biggest car rental operator in Crete. Their main office is at Sissi that's 35 km away from Heraklion Airport and there is a tiny office at the Heraklion airport too.
Pick up locations are available everywhere including Chania City, Chania Airport, Chania Port. Car rental for 3 days starts at 119 euros for a budget vehicle. Check whether 24% VAT and local taxes are included in the car rental quote as well as personal accident insurance, CDW insurance, fire insurance and theft insurance
Compare quotes and Book your car from AutoRentals through their website.
To rent a car you need a valid National driving license. If you don't live in the EU or in a country that has signed the International Convention of Vienna 1968, an International Driving Permit is required.
Public Transport
The public transport system of Chania and basically the whole of Crete is dominated by buses. The main bus station from where regional (long-distance) buses take off is on Odos Kydionas that's the southern end of Plateia 1866. All regional buses will be coloured green.
The Chania urban routes are served by Blue buses. These mostly depart from the northern side of Plateia 1866.
Fares are all regulated by the government and very affordable. Buses will go to all major tourist attractions around Chania like Moni Arkadiou, Plateau Omalas/ Samaria gorge, Knossos, Phaestos, and Gortys etc.
Regional Buses
In Crete, Kino Tamio Eispraxeon Leoforon or KTEL (basically regional collectives) run regional buses. Expect to hear Cretan music on loudspeakers for the entire duration of your trip.
The KTEL buses are air-conditioned coaches (usually comfortable) and there are luggage compartments underneath the buses. Drivers are nice enough to load and unload luggage and they mostly own the buses they drive, so expect a good level of hospitality.
KTEL buses run from Chania to Kasteli and Kissamos from 3 p.m. and 7 p.m. and to Rethymno –Heraklion at 5.45 p.m. Bus tickets KTEL can be pre-booked from the Ktel website.
Phone: +30 2810 93306
Urban Buses
The inter-city/ urban bus transport hub is at Chania Urban Bus depot near the north side of Plateia 1866.
Telephone: 28210 98 115/ 28210 93 345
Bu schedules and timetables are prone to an abrupt change in Crete (or any other Greek island) so it's important to call beforehand to ascertain the exact timing of the bus. The departure points for different destinations can differ widely.
For example, buses departing to Daratso-Galata-Kalamki start off from 1886 square and so do buses departing to Kounoupidiana, Agia, and Kalamaki Panorama etc. While buses going to Chalepa depart from National Bank and Buses going to Perivolia depart from Zimvrakkidon Street.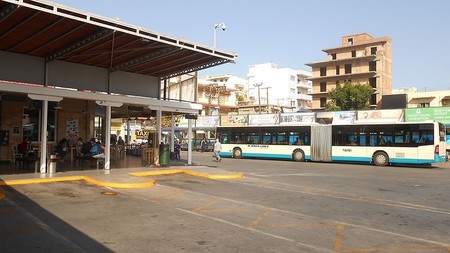 Buses start running from 6 a.m. and continue till 9 p.m. Check the schedule here. You can also download the app for Chania CityBus (android/IOS).
The bus fares to different destinations are divided simplistically into two zones; A and B.
Zone A includes Agii Apostoli – Agios Ioannis – Halepa – Hirsi Akti- Hospital – Kalliston Hotel – Kato Daratso – Lentariana – M.A.I.Ch- Mournies – Nea Hora – Pasakaki – Pelekapina – T.E.I. – Vamvakopoulo
Zone B includes Agios Onoufrios – Agia's Prisons – Galatas – Daratso – Kalamaki – Kampani – Korakies – Kounoupidiana – Navy – Nerokourou – Perivolia – Pithari – Plakoures – Sodi – Souda – Tsikalaria
For Zone A the fare is 1.20 euros if the ticket is brought outside the bus and 2 euros if brought inside the bus. For Zone B the fare is 1.70 euros if brought outside the bus and 2.50 euros if brought inside the bus. Tickets are free for all kids below age 6 if accompanied by an adult.
You can buy tickets in advance (90 days).
There are no weekly passes but monthly cards for unlimited transport across Zone A and Zone B are issued. A monthly card for Zone A costs 60 euros while a monthly card for Zone B costs 82 euros. Buy these cards only if you are planning to stay for a long time in Crete and plan to travel a lot across Chania-Rethimnon-Heraklion zone. You can only get these cards in Rethimnon (address: Efalogiannidon Street- Sochora)) and you have to submit a passport size photo besides ID proof for getting the card.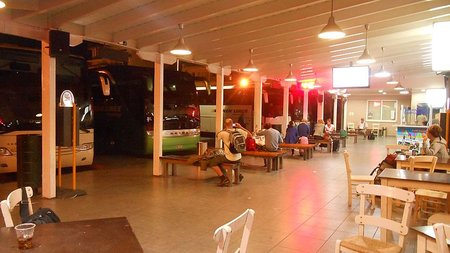 Study the bus routes and attraction points carefully to understand which bus to catch. Taking the local Chania blue buses is a good way to reach Agoi Apostoloi caves (5 km west of Chania). You can reach Maleme Beach, Stavros Beach and Agia Marina beach that are much further off by taking the KTEL buses.
There are some companies like Diana's Travel which offer hop on hop off tours across the city (10 designated points) and a 2.5-hour tour will roughly cost 15 euros. However, the hop on hop off tour in Chania is not well organised and there will be language issues as the driver/ guide speaks in Greek accented English. Take the hop on hop off tour only if you cannot walk much and are short of time.
Taxi
Taxis are readily available in Chania but you will find big clusters of them outside the airport and Souda port.
Taxis in Chania will usually charge 1.3 euros for the start and euro 0.74 for every next km (inside the city) and 1.30 euro (outside the city).
You can book taxis online from the Association of Chania Taxi websites that are run collectively by these operators. You can book taxis to different destinations lie the Elafonisi monastery, Kandanos Paleochora Beach, Kournas Lake etc. from the Chania Taxi shop.
Alternatively, you can call to book a taxi:
Taxi Call Desk: +30 2821098770
Taxis in Chania are cheap and widely used and the only way to access certain out-city destinations is a taxi/ car rental.
Walk
Take walking tours in Chania… it's a popular thing to do and the old town, in particular, is a great place to walk with its Venice meets Ottoman architecture vibe. The Venetian walls and moats surround the old town and it's cut across by snake-like streets that can confuse you.
Thankfully most hotels in Chania offer tourists free maps that you can use to explore the city. Walk around the Limani harbour and Fort Firca walls and look out for the Mosque Janissaries and National Maritime Museum. And of course, countless photos of the lighthouse is a must on your walking tour.
You can keep walking till the second harbour and check out the Great Arsenal and the Centre for Mediterranean architecture. You can extend your walk to the East Harbour which has the Chania Marina and then explore the Splantzia (Turkish quarter) of the town. Attractions are closely spaced here and some like Ancient Kydonia can only be explored by foot.
Walking from the Maritime Museum of the Old Harbour to the Nea Chora beach is a good idea… it's just 1 km west of Chania town.
Car Rental
Driving is technically the only way you can reach various out of town attractions that make Crete special. There are many car rental companies in Chania and some of the more popular options are
Vacanza Car Rentals offer free pick up and returns from the airport and Souda port if you are renting their car for 2 days and more. Their services extend over the Chania-Rethymno and Heraklion area. Their rental rates include CDW insurance, fire insurance and theft insurance.
You can drop into their office at 105 Chalidon Street near Venetian Harbour Chania or you can book cars online using their website. Car rental for a day is offered at around 70 euros.
You could also use an Umbrella site like Kayak that will compare car rental prices offered by different service providers like Sixt, Avis, Autocandia, CarWiz etc. and then give you the best deal possible for your booking specifications. You can use their website for booking cars. Rental rates will depend upon the car you choose and the duration. Pick up points are found all over the city and near the airport and port.
Ferries from Chania
Chania is on the western part of the island and holds Crete's second-biggest port. Chania Port is 8 km away from the city and in the Souda region. The strongest ferry connections are between Chania port and the port of Piraeus (this is the main port of the Aegean islands). You can take a ferry to Piraeus and then Athens is only a metro ride away. In fact, flying to Athens and then taking the ferry to Chania from Piraeus is a great way to arrive!!
Piraeus is also an important city in its own right with Mikrlimano Harbour and the Zea Marina and many important museums and cultural landmarks.
The Minoan Lines service runs 7 times each week from Chania to Piraeus and the average sailing time is 7 hours 16 minutes. The Anek Superfast service is slower and sailing time is 9 hours though this too runs 7 times per week.
A one-way ticket will cost 80 USD.
Heraklion is the biggest port on the Crete islands and it provides much better ferry connectivity to Santorini (2 hours), Mykonos (5 hours), Naxos (3.30 hours), Paros (4 hours) and Ios (3 hours). You can reach Heraklion from Chania by bus (these run the whole day) and you will get there in 3 hours.
The Heraklion ferry dock that takes in boats from Chania is the first pier that lies east of the Bus area.
Horse Carriage Rides
If you go to the harbour at Chania, you can see several horse-drawn carriages waiting for tourists. They will usually complete a circuit along the harbour and around the city. The cost is around euro 25 for a ride of one hour.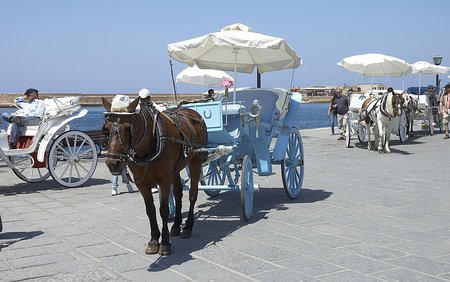 Donkeys
Chania city does not have a lot of donkeys but they are common once you go to important attractions nearby like the Samaria Gorge or the mountainous zones of Plakais or the beaches of Damnoni. A lot of controversies have happened in Greece about the ill-treatment and abuse of donkeys. So as a ground rule, don't take a donkey up a hilly path if you are 8 stones or heavier. Walking on flat beach like surfaces for a short time is fine… for novelty's sake!!
Anatoli near Ierapetra (3 hours from Chania) has a marvellous Donkey sanctuary that actually provides an interactive experience with rescued donkeys.
Call 0030 697 6088547 or e-mail [email protected] for a donkey experience.
Also Read