You have passion for western classical music? And you are visiting Berlin!! Then you must visit Berliner Philharmonie concert hall to watch live performance of Berlin Philharmonic. This century old 'Orchestra' has numerous awards and recognitions under their belt including BRIT Awards, Grammy Awards and Gramophone Awards.
I took a casual stroll from Potsdamer Platz of Berlin towards western side of the city centre. It was an easy 6-7 minute walk to Philharmonie. From a distance the glittering golden building of the concert hall caught my eyes… it's amazing.
However this awesome architecture was not above controversy. The design was done by Hans Scharoun, an advocate of organic modernism. The main cause of controversy was the building's pillared roof that funnily resembled a typical circus tent. After Philharmonie's inauguration in 1963 it was nicknamed "Circus Karajani". At that time Berlin Philharmonic was performing under the principal conductor Herbert von Karajan.
The building has an interesting story: On a bright day in 1963, by-passers were shocked hearing a gunfire sound! The sound came out of a hall that was under construction and would soon be a venue for musical rehearsals. Talks were spreading if some frustrated or outraged musician had fired a shot.
But what came out to the surface was another shock to all. It was a real pistol shot used by sound engineers to test the acoustics of the hall. This hall is today known for its perfect acoustics. The hall was opened for live performances in the same year.
Over the years the concert hall has become one of the important landmarks of Berlin. And the performance standards of this orchestra paralleled the repute of the concert hall itself. With an unmatched architecture in both exterior and interior, innovative design and excellent acoustics, Berliner Philharmonie became one of the finest concert halls in the world. Unlike any other, here the performance platform is placed at the centre and is surrounded by audience seats.
There are many music lovers who take up seats behind the orchestra group just to watch the conductor performing face to face. The hall has a sitting capacity of 2,440. From anywhere in the hall you get equally fine quality of sound due to its superb acoustic designs.
The entire architectural design including the tent shaped ceiling and the slanted walls were integral contributors to such fine acoustics. The same technique was also followed in the making of Philharmonie's companion concert hall as well as Chamber Music Hall.
The Orchestra itself has a strange history too. In 1882, a group of 54 musicians founded an orchestra to perform under Benjamin Bilse's conduct. Once they were scheduled to perform for a concert in Warsaw. But the group came to learn that their train bookings were made on a fourth-class coach… thoroughly disgusted, they broke away. The group eventually formed a new band but interestingly it was named after their previous conductor! In the same year however the name was changed to its present title.
Mary Wurm, the pianist and the composer became the first woman conductor of Berlin Philharmonic orchestra in 1887. It's not clear if she was the first lady orchestra conductor of the world! However it was through 1955 to 1989 and under the conduct of Herbert von Karajan, this orchestra gained its real fame worldwide.
In 2007 the orchestra did an interesting job of exploring its own role during the Third Reich. As a result The Third Reich's Orchestra was published by Misha Aster and a documentary film was made by Enrique Sanchez Lansch by the name 'Reichorchester'.
Under the principal conductor Sir Simon Rattle, a characteristically full but transparent sound quality was developed by the orchestra. However all other great conductors who led the Berline Philharmonic for decades have left their own marks. Some of them are Wilhelm Furtwangler, Herbert von Karajan, Sergiu Celibidache and Claudio Abbado.
Another interesting feature of Berlin Philharmonic is the process of electing the principal conductor. They elect their conductor by secret vote of 128 musicians.
The orchestra is also famous for their few light moments. On one occasion they allowed the legendary German comedian Loriot to conduct the orchestra. His animated style resembled the act of catching a fly and it caused roars of laughter among the audience.
With that same spirit they also love to fuse music with fun. At the end of every season, Berlin Philharmonic performs at Waldbühne outside their sacred auditorium hall. This open air performance has become extremely popular among the music lovers, so much so that every time it has to end with the old Berlin operetta tune Das ist die Berliner Luft or 'That's the Berlin air'.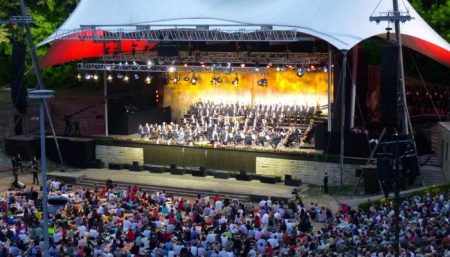 Berlin Philharmonic Orchestra is appointed as a Goodwill Ambassador by UNICEF since 2007. On Tuesdays the top musicians of Philharmonic play for free at 1pm. Since this free program is to raise UNICEF Children Fund, visitors are requested for donations. You can have your lunch here against a very reasonable price. Berlin Philharmonic also runs an extensive educational program for the young musicians and music lovers.
The few famous compositions of Philharmonic includes Bolero, Symphony number 1 in 'C' minor, Dance of the Swans and cygnets and Symphony number 41 in 'C' major to name a few.
Also Read