At last I landed at the Schiphol airport on a cool evening. The airport is 22 kilometres southwest of the capital city Amsterdam. Having landed, I took a train towards Amsterdam's central station, a grandiose building operating since 1889. My journey in Dutch land begins…
Welcome to the land of bicycles. Why? I shall come to that later. Nowadays Amsterdam is much talked about for its tourism attractions, trading prowess, port and prostitution. But this name first appeared on the map of Europe in 1345.
The legend says, a man who was gravely ill summoned a priest for the last rites. He was given the bread consecrated in the Eucharist. But he was so sick that he kept vomiting. The priest advised the lady of the house to throw the pukes on the fire. The lady followed the advice.
The next morning they found the host hale & hearty. This miracle spread throughout Europe. A chapel was built there and pilgrims started visiting the place. Now you won't find any chapel there, instead, the Amsterdam Dungeon. This incident supposedly took place on 12th March and this date is still celebrated here.
The capital city Amsterdam is also the most populous city of the Netherlands, located in the province of North Holland. The city originated around a dam in the Amstel River. In the native language, it was known as 'Amstelredamme', thus the name of the city Amsterdam emerged.
A small fishing village of the 12th century became world's one of the most important ports during the Dutch golden era of the 17th century. Now this place is on the UNESCO world heritage sites because of its 17th-century canals. It is worth mentioning that the oldest stock exchange in the world is in Amsterdam.
So why is Amsterdam the land of bicycles? Geographically almost the whole of the Netherlands is a flat country. The highest elevation is 1,058 ft and half of the country's elevation is below the sea surface. This makes the land ideal for cycling. The first thing that will catch your eyes is people around here are using bicycles as their primary mode of transportation.
There are numerous agencies that provide bicycles for rent. With almost 20,000 miles of dedicated bicycle track, the Netherlands can easily be named the land of bicycles.
Watch the short video on Amsterdam Tourism
The Top Attractions
It is easy to hop around the city on a bicycle. You can also take public buses and taxis or even trams to get around Amsterdam.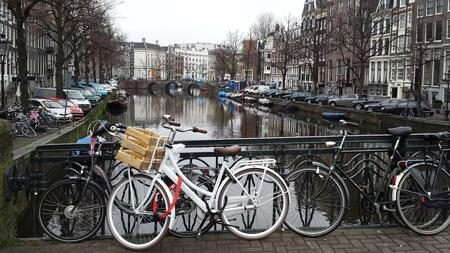 If you wish to step back in time then a must-visit destination is Jordaan – the most enthralling neighbourhood of Amsterdam. Strolling around the narrow meandering streets with quaint buildings around will surely live you enthralled. Actually, it is an area for the working class. You will find antique shops, art galleries, open bars & restaurants and lovely courtyard gardens to explore.
To make it even more memorable… forget the street map for a while and get lost in the maze of narrow streets in Amsterdam known as 9 streets… this place is located eastward of the Prinsengracht canal.
Your trip would be incomplete unless you visit some of the museums in Amsterdam. Visit Rijksmuseum to witness the chiaroscuro master pieces by 17th century painting maestro Rembrandt Van Rijn. Another maestro of the same time is Johannes Vermeer. See his paintings that are renowned for use of lights and masterly treatment.
This museum also displays the paintings of 19th-century maestro Vincent Van Gogh famous for his style of separate streaks of paint and usage of vivid colours. You can witness more of his work at the Van Gogh Museum. Also pay visits to Stedelijk Museum of Modern Art, Museumplein, FOAM Photography Museum and Tropen Museum.
Remember Anne Frank? The girl and her family hid for two years from the Nazi's atrocities and wrote a diary that became documentation of Nazis crimes against the Jews. Visit that house which is now converted into a thought-provoking museum. But the rear portion of the house has been preserved in its original form to give you an idea about how it was during their hiding period. I would rather suggest that you should visit this place in the early hours because later the waiting times are often lengthy.
From the central station, the Oostelijke Eilanden (i.e. the Eastern Island) neighbourhood is only 2.3 kilometres away. Visit the place to see the striking octagonal De Gooyer Windmill. The windmill also has an adjacent award-winning microbrewery Brouwerij 't IJ located in a former municipal bathhouse that has a large open-air drinking terrace. Take a 30-minute guided tour of the brewery and taste the freshly brewed beer.
And… you must feast your eyes with the symbol of Dutch culture… I am talking about tulips. Take a trip to Bloemenmarkt, the world's only floating floral market to see and buy tulips. In any case, if your trip to Amsterdam is during the springtime (mid-March to mid-May), take a short trip to Keukenhof Gardens (Bollenstreek), the famous tulip field to experience the lovely miles long colour stripes between Harlem and Leiden. It will take just around half an hour to reach there from Amsterdam Central. Over 7 million flowers bloom here with over 800 varieties of tulips… the experience is unforgettable.
There are over 30 parks in the city which indicates parks are an integral part of Amsterdam's culture. On a sunny day, you will find parks are full of local picnickers. The largest park is Vondel Park covering 47 acres of area. There is an open-air theatre here, three bars and several restaurants with other attractions. Among other important parks – Wester Park, Sarphati Park and Rembrandt Park too attract tourists.
Read: Where do kids & families enjoy the most in Amsterdam.
If you are a film buff then a must-go destination is Eye Film Institute located behind the Central Station. This landmark white building is operational since spring of 2012. On the premises of the institute, you will find a permanent exhibition place that always showcases contemporary films and retrospectives. Visit the film library here which has a vast collection.
Take a Canal Cruise in Amsterdam
Amsterdam is famous for its 165 canals of the 17th century. So a Canal Cruise or a canal Boat Ride is a must-do activity to enjoy this city from the waters along with great views of the 17th-century architectures that stand on the fringes of the canals. Take a one-hour cruise to witness the UNESCO protected canal rings. While on a cruise, you can further augment your experience by sipping some fine wine, if you so wish.
Watch this video on Amsterdam Canal Cruise…
Few more great things to do in Amsterdam…
Take a guide and walk on the streets of the city to know its rich history, tradition and culture. Do not miss out on visiting The Royal Theatre Carre. You can learn a lot about the Dutch resistance to Nazi occupation during World War II by visiting the Resistance Museum.
There are several other great places to visit such as Leidseplein which is a popular square in the city and the centre of nightlife, the oldest Zoo of the nation Artis Royal Zoo, Science Centre NEMO, Rembrandt House Museum, the unique museum of Bags and Purses, The Royal Palace of Amsterdam, The old Church in the red light district, the 13th century Dam Square, Madame Tussaud's, the oldest inner court Begijnhof, Chinatown, the floating animal sanctuary De Poezenboot (Catboat) which is a refuge for stray cats and other animals since 1966, the fluorescent art museum Electric Ladyland etc.
To get the best panoramic view of Amsterdam, climb to the top of the 85-meter tower of Westerkerk (The Western Church) – a reformed Protestant church in central Amsterdam, a soak in the wonderful view from the balcony.
Other attractions include Cheese Museum, Amsterdam Dungeon, Basilica of Saint Nicholas, Allard Pierson Museum to watch ancient archaeology, The Cat Cabinet, Gassan Diamonds, Maritime Museum, Amsterdam Museum and Singel The narrowest house.  And to explore Russian culture and history visit Hermitage Amsterdam.
Read: Great day trips from Amsterdam
Shopping
There are shopping areas in Amsterdam offering a range of attractive items including exquisite dolls to antiques and even vintage clothes. Following are a few of them.
Albert Cuypmarket in De Pijp. It's open from Monday to Saturday. It's around 4 and a half kilometre from Central Station and a variety of public transports are available to reach there.
Visit the weekly market in Jordaan known as the Lindengracht Market… it's one of the best food markets in Amsterdam. It remains open only on Saturdays. Go there in the morning hours after 9am. It's located at a distance of 3 kilometres from Central Station. Nearby, a Farmer's Market sets up which is known as the Noordermarkt. It too operates on Saturdays.
Waterlooplein is also worth visiting located 3 kilometres from Central Station. It's open from Monday to Saturday. For another wonderful authentic shopping experience, you should visit De Negen Straatjes or De 9 Straatjes (stands for The Nine Little Streets). There are 9 picturesque streets here along the canal belt that are full of lovely boutique shops and great eateries. It's located only 2 kilometres from Central Station. This market is open 24X7.
Wining & Dining
De Hallen located 5 kilometres from Central station is a newly built centre for arts, crafts, fashion and most importantly food. Famous for its street food, De Hallen also has a cinema, independent stores and boutique hotels.
The oldest brand of spirit in the world is Lucas Bol's spirit. You must visit Lucas Bols to enjoy the cocktails and the traditional liquor of the Netherlands… Jenever. Get to the different sections like the Hall of Taste, Bols Flair Booth, the Mirror Bar, the Bols Shop and the Bols Bartending Academy. This place is also an award winner for great exhibitions and experiences.
Heineken sounds familiar? Yes, one of the world's most popular beers is from the Netherlands. Visit the historic brewery here at the Dutch capital, now preserved as a museum and known as Heineken Experience. It was built in 1867 and operated as the company's primary brewing facility until 1988 when it was closed down (a modern brewery has been constructed at the outskirts of Amsterdam). Take a local transport and get there… it is 5 kilometres away from the Central station.
The city offers all sorts of cuisines, from continental to oriental or African or specific Indian and Latin American dishes all are served here. But if you wish to taste Dutch speciality and you do not have an idea what they are then my suggestion is to try Uitsmijter (pronounced as outs-may-ter). You can find this almost at every café. Served on slices of bread with 2 or 3 fried eggs with sunny sides up and ham and melted cheese inside is a dish not only tasty but also serves to keep your hunger away for long.
The word Uitsmijter means 'bouncer'. Like bouncers throwing someone out of a bar who would never return for the night, this dish also serves the same purpose for appetite. It is very popular among locals.
And you can not claim that you have experienced the real Dutch way of savouring street side snack food unless you have tried out  Herring (or Hairing) in Amsterdam… it's a fish which is eaten raw. The fish is gutted and then salted and then kept frozen for 2 days or more. It's served in pieces along with diced onions and sliced pickles. A toothpick is provided that works as your fork. One of the best places to have Herring is Stubbe's, a street-side stall located next to the Central Station alongside the canal.
Another must-go place is Brown Café of Amsterdam. Called Bruine Kroeg in Dutch, the brown café is renowned for its trademark wood and smoke-stained walls. Last but not least is a tongue-tickling day trip towards the Alkmaar Cheese Market. It is a 30-minute day trip from the Dutch capital by train to this sweet little settlement. Witness this century-old traditional cheese market especially during summer because it takes place from April to September only on Friday mornings.
Getting to & around
Amsterdam's international airport Schiphol is very well connected with the rest of the world. Being one of the busiest airports, it has direct flight connections with most of the countries of Africa, Asia, America, Latin America and Europe. From London's Heathrow airport the air distance to Schiphol airport is 371.4 kilometres. The nonstop flight takes around one hour to one & a half hours to reach Amsterdam from London.
Inside the city, the public transport network is very strong. You can avail Bus, Tram, Metro Rail and Trains to move from one place to another.
As I had already mentioned, often hiring bicycle can solve your commuting problems. Cruises and private taxis are also available. I would recommend that you purchase the 'I Amsterdam City Card' for hassle-free travelling in and around Amsterdam. The card also entitles you to free entry to many attractions which otherwise would require admission fees.
Read: How to use local transports & get around Amsterdam easily
Best time to visit
Amsterdam has a very temperate climate influenced by the Atlantic Ocean and the North Sea. So Climate never gets extreme. You can enjoy a cool summer and moderate winters here. There is no particular monsoon season in Amsterdam, however, there can be showers anytime, so carry a raincoat. April to September is relatively dry, that is why travellers prefer to visit Amsterdam during this period. Otherwise, you can visit any time in the year.
But since many attractions are open and activities take place from April to September, I would recommend visiting Amsterdam during this period. Months of July and August see the maximum rush, however, April to mid-May is the tulip season. Mid-April is the time when Tulips are in full bloom.
Read: Important weather information of  Amsterdam and Netherlands
Side Note…
I was talking about bicycles… let me share a fact. It is estimated that there are 880,000 bicycles in Amsterdam against a population of 800,000. More cycles per person in a city!!!
Also Read