Netherlands is commonly referred as Holland. This is the country of 17th century master painters Rembrandt van Rijn and Johannes Vermeer. Another maestro from last century is Vincent Van Gogh.
Netherlands is located in the North Western part of Europe. The word Netherlands means low lands or low lying country. This is quite true for this nation as most of the South Western part of this country is below sea level. Almost half of this country has an elevation of around 3 feet above the sea level.
To the east Netherlands shares its international border with Germany, to the south with Belgium and to the west with North Sea. During 16th century almost 2,500 square miles of land was reclaimed from sea and lakes. To drain the land they used man powers and horse powers and subsequently windmills. Now Netherlands is listed as a UNESCO world heritage site.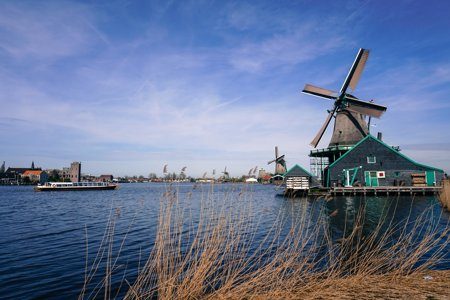 Holland that means 'forested land' was the name of a part of this country during medieval period, now two of its provinces are still named Noord Holland and Zuid Holland. Referring Netherlands as Holland is like referring UK as England. Under constitutional monarchy this Kingdom has parliamentary democracy.
Amsterdam is the capital city of Netherlands and is known as the city of canals and bicycles. With wonderful canal and land tours, historical buildings, rich pedigree of art & craft and numerous tourist attractions, Amsterdam is certainly in the itinerary of almost all who visit the country. Read: About Amsterdam Tourism
Europe's largest port Rotterdam is the second largest city of Netherlands and is full of attractions, great hotels, dining options, shopping… and located at an easy train ride from Amsterdam. Read: Rotterdam and its tourism
The seat of government is in The Hague which is the third largest city in Netherlands and quite close to Rotterdam. Exploring history, awesome architectures, exploring palaces & parks, great nightlife & shopping are the main attractions here. Read: About The Hague and its tourism
The Dutch are an enterprising hardy tribe… for centuries they have been saving/ reclaiming land by building huge dikes to keep out water and then taking away the marshland literally from water clutches before practising agriculture in it. Even today the Dutch use wind energy (windmills) very efficiently to keep their land safe from water invasions and they have very cooperative water boards that look after and optimise their dike army.
There are open air museums in Arnhem and Enkhuizen that have windmills and detail their fascinating story… the tales of the dike army are narrated nicely in the Neeltje museum in Oostercheldedam in Zeeland and the Afsluitdijk visitor centre in Friesland. Perhaps it is this enterprising spirit that has freed them from conventional shackles… they are a liberal lot with a permissive culture and a friendly stance towards LGBT communities.
Netherlands is the first country to legalise same sex marriages. It also allows euthanasia, usage of soft drugs and prostitution under government guided regulations. In 1870 Netherlands abolished death penalty and in 1917 women of this country were accorded voting rights. Presently this is the most densely populated country of Europe with a ranking amongst the toppers in UN World Happiness Report as one of the happiest countries in the world. Netherlands is also a founder member of NATO, G10, WTO and EU.
Because of its amazing geographical diversity, you will love Netherlands for its spectacular scenic beauties with lots of sea beaches, canals, rivers and its alluring nature reserves apart from museums, 16th century architectures and rich artistic cultures. Floral species of Netherlands is determined by the lakes, swamps, sward lands, forests, moorlands and farming areas.
As for fauna… you can find varieties of birds and fishes, and large numbers of migratory birds during summer and winter. In the soggy and muddy areas of Wadden Sea located at the southwest of the country, many seabirds can be seen. You can even spot sea life like mollusks. Various species of pasture birds, wet land birds and water birds are also quite common.
Wildlife is mostly confined to the forests and nature reserves. Mammals like fox, red deer, roe deer, badger etc are among them. Introduction and rehabilitations of muskrat, beaver, mouflon, boar and fallow deer further increased the variety of Netherlands' wildlife. Some of the famous forest reserves of Netherlands are the Hoge Veluwe National Park, Naardemeer Nature Reserve of Amsterdam and Oostvaardersplassen Nature Reserve. Government and nongovernmental organizations have been administering these reserves.
If you are worried about not knowing the main language here which is Dutch, don't worry… almost 90 % of the population of Netherlands speak English as well. Most of them can speak German and almost one third of the population speak French. During 16th to 18th century a typical sense of Dutch humanism started among them which you can experience in their hospitality. Social equality, co-existence and tolerance to other religious beliefs are signature characteristics of Dutch people.
As early as 1798 they pronounced that all the religions are equal to the law. Nowadays they observe more secularism than religionist views. Sometimes you might find Dutch people are a bit harsher than expected but as a matter of fact most are actually very frank and bold while opining on something and can appear to be harsh.
The word Dutch actually derives from the German word 'Deutsch', which means German. This indicates until 17th century until Netherlands became an independent country, this word actually referred to both Germans and people of the then Netherlands. There are two distinguished cultures in Netherlands, Friesian cultures and Limburg cultures.
You will find masterpiece paintings by Vermeer and Rembrandt in Rijks Museum, work of Van Gogh in the Van Gogh Museum and the contemporary arts in the Stedelijk Museum. Apart from the rich history of Dutch paintings their literature dates back to 500 B.C.
The noted pre world war personalities of Dutch literatures are Jacob van Maerlant, Heynrick van Veldeken, Joost van den Vondel, Eduard douwes Dekker, and Louis Couperus among others. Among post World War 2 personalities are Lucebert, Kouwenaar, Vroman, Haasse Wolkers and Van der Heijden. Internationally Netherlands' classical music and ballets are very popular. So culture and heritage in fine arts are certainly an area that you may like to explore during your visit to the country.
Food
Netherlands is not particularly known in the world for its cuisine. However you can get great insights into a community when you get to know what and how they make their food. Here are some of my findings. Hollandse Niewe is one of the famous Dutch dishes. If you are a fish lover you must try out once. But remember the herring is served raw. Stroopwafel is another item you should try. It is the most popular and famous pastry from the Netherlands.
Dutch snacks are very popular. Try Kroket, a deep fried roll with meat inside breadcrumbs. Another item you may like is Dutch version of French fries. It is locally known as Friet, Frites, Patat or Vlaamse frieten. Inventented in the northern part of Belgium this item is a thicker version of normal French fries.
Top Attractions
Now getting to the places of tourist interest… exploring Amsterdam Canals is an awe-inspiring experience. It might even give you a flavor of visiting Venice. There are canal cruises. Otherwise try to explore the canal-side areas on foot as much as possible instead of using a vehicle. Alternatively you can rent bicycles to get around and experience the awesome architectures on the fringes of the canals.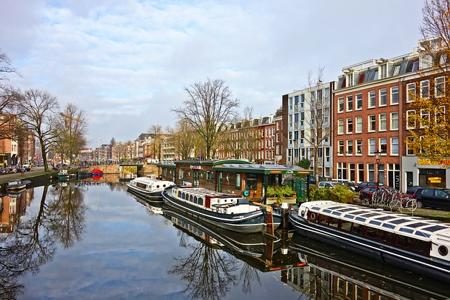 Keukenhof often referred as the Garden of the Europe is a must visit destination of Netherlands. If you are a painting lover or admirer of Vermeer and Rembrandt then you must visit Rijks Museum.
One of the world's most diverse forests is Hoge Veluwe National park. Here you can spot red deer and roe deer. Do you remember Anne Frank's diary? Then you must not miss out on Anne Frank Museum while you are in Amsterdam. As I already mentioned about the role of windmills in Netherlands, a visit to Kinderdijk is a must.
Van Gogh Museum and Valkenburg are two more places you should visit during your Netherlands trip. Also visit Zeeland to witness how Dutch people reclaimed lands from sea & lakes and see those spectacular Dikes. Utrecht is another city and a cultural hub of Netherlands that you should include in your itinerary as well.
Getting to Netherlands
There are several airports in Netherlands but Schiphol International airport is one of the busiest airports of Europe. Please note that following destinations of Europe are directly connected with Schiphol airport Netherlands.
You can board a direct flight from European Countries such as Slovenia (Ljubljana), Greece (Athens), Ireland (Cork and Dublin), Russia (Moscow), Kazakhstan (Atyrau), Spain (Madrid), France (Paris, Clermont, Marseille, Lille, Rennes and Strasbourg), Malta (Malta), Serbia (Belgrade), Latvia (Riga, Tallinn and Vilnius), Italy (Milan and Rome), Turkey (Istanbul), Austria (Vienna), Belarus (Minsk), England (London, Manchester and New Castle), Bulgaria (Sofia), Croatia (Zagreb), Czech Republic (Prague), Switzerland (Geneva), Germany (Hamburg, Munich and Stuttgart), Finland (Helsinki), Ukraine (Odessa and Erbil), Georgia (Tbilisi), Iceland (Reykjavik), Poland (Warsaw), Denmark (Copenhagen),  Romania (Bucharest), Portugal (Lisbon) etc.
Direct flights operate to Netherlands from Asian countries like Iran (Tehran), India (Delhi, Mumbai and Bengaluru), Israel (Tel Aviv), South Korea (Seoul), Hong Kong (Hong Kong), Taiwan (Taipei), China (Sanghai and Beijing), Jordan (Amman), Singapore (Singapore), UAE (Dubai and Abu Dhabi),Thailand (Bangkok), Indonesia (Jakarta) etc.
There are also flight connections with African, American and Latin American countries like Mexico (Mexico City), Morocco (Fez, Nador and Tangier), Canada (Toronto), ), US (Atlanta, Detroit, Los Angeles, Minneapolis, New York, Orlando, Portland, Salt lake City, Seattle, Philadelphia and Dallas), Egypt (Cairo), Kenya (Nairobi), Suriname (Paramaribo), Tunisia (Tunis) etc.
Netherlands is also well connected by roads with Europe through Germany and Belgium borders. Netherlands has expansive road network. Apart from Germany and Belgium, every other part of Europe can be reached by road from Netherlands. Euro lines and Go Euro are two major bus services of Europe among others that connect to Netherlands.
Railway network of Netherlands is also excellent. Almost all towns and cities are connected through railways. Netherlands is connected through railways with major important international European cities via Germany and Belgium.
From England the best way to enter Netherlands is by taking the ferry / cruise. From Harwich of Great Britain you can come to Hoek van Holland of Netherlands. If you are driving down from a UK destination, you can load your vehicle into the cruise ship and cross the North Sea. Presently the only cruise company Stena Line is operating in this Route. There are 14 services per week and the approximate time of voyage is 7 hours. From all the continents, Netherland is also well connected by sea.
Getting around Netherlands
Netherlands has an excellent public transport system. You can travel in Netherlands by trains, Buses, rental cars, trams and ferries. Purchasing OV-chipkaart can be of great help for traveling by public transports within Netherlands. This is a payment method to avail public transports here. You do not have to stand in queue to purchase tickets. Just transfer money online.
You can travel either in first class or in second class in trains. There are almost 400 stations within the railway network of Netherlands. Although facilities do vary across stations, basic amenities are available in all. Yellow departure signs showing train schedules are very helpful. Train timings, names of the stoppages and other related information are given on the signs.
There are help desks at several larger stations. Night train service is also available. However do check before you plan for night travel… in many areas the service is available only on weekends. At Amsterdam Airport and Eindhoven Airport, there are night train services.
In Netherlands you will find bus, tram and metro rail services and they are highly affordable. City and regional bus services are extensive in Netherlands. Most of the places come under this service. You can use single use chip cards or OV-chipkaart.
Trams are easy to hop on and off, as well as good for sightseeing on the way to your destination. It is well known that Amsterdam's tram line-2 offers one of the best tram rides in the world.
In Amsterdam and Rotterdam another additional transport service is metro rail. Metro is also affordable and also faster than trams.
Netherlands with its so many canals, rivers, lakes and long stretches of sea shore had to be have a solid water transportation system. You will find quite a handful number of ferry lines operating here. There are waterbus service between Rotterdam and several suburbs like Dordrecht. This could be one awe inspiring experience. You can take your bicycle on them free of cost. Water taxis are another water transport service in this country. In water taxis the fare varies depending on the distance and size of the group.
Cycling is one of the best options to get around Netherlands. The country has a flat surface and distances are also shorter… so it's easy to get around on a bicycle. Moreover this country has almost 20,000 miles of bike tracks & trails. You can rent a bicycle easily. Because of dedicated bike tracks, cycling here is very safe.
Read: Local transports in Amsterdam and how to get around.
Best time to visit
Due to its geographical position the climate of Netherlands is never extreme. Due to this temperate climate influenced by North sea and Atlantic Ocean, you can experience cool summers and moderate winters in Netherlands. During summer temperature varies from 17 degree to 20 degree Celsius and during winter it varies from 2 to 6 degree Celsius. There is no particular monsoon season as rainfall is distributed throughout the year.
But April to September is comparatively dry with lesser rainfall. However whenever you choose to go to Netherlands, it is ideally necessary to carry an umbrella or a raincoat. The best time to visit Netherlands is during April to September, but remember that during July and August tourists rush is heavy.
Read Important weather information of Netherlands which you must know 
To conclude…
Here are some amazing facts about Netherlands. As I have already mentioned that one fourth of this country is below sea level, apart from that do you know that Dutch people are the tallest in the world? Yes, that's a fact and applicable for both men and women. As I have mentioned that this country is on a rather flat low land… so what is the highest altitude in Netherlands? The highest elevated place has an altitude of only 322 meters! Last but not the least, this country is the highest exporter of Beer in the world.
You need to be there to actually get the real feel of Netherlands. But till you actually make it, I suggest you go through the posts below and keep discovering the various finer aspects of Netherlands.
Also Read