There are several wonderful places around Amsterdam which are excellent for half or full day trips. I recommend you to take these trips by public transport especially by train since it's convenient, less time taking and budget friendly. For some destinations, cycling is also a great option.
Zaanse Schans
How was Holland during 17th and 18th century? To get a glimpse of the architectures and life of the bygone era you need to take a day trip to Zaanse Schans, located 16.5 kilometres north of Amsterdam. This place is around 30-minute train ride from Amsterdam Sloterdijk station.
As you wander through this village, you will go back to the scenes of 18th century with an awe inspiring experience of witnessing its industrial past, wooden clogs and ubiquitous windmills. During 17th century, 600 windmills were built here. You can even get inside an operational windmill. However entry to windmills and museums are not free. Visit various museums here and do not miss the bakery Museum at Zaanse Schans.
Another interesting option here is to take a boat ride. As Zaanse Schans lies by the waterway of de Zaan, exploring the place by boat is also a great idea. Among various boating options, boarding Koeienboot (i.e. Cow ship) would be the best in my view.
Haarlem
Within a short distance from Amsterdam you can enjoy spectacular and rich landscapes of countryside, beaches, castles, windmills and historic towns. Visit the picturesque city of Haarlem located towards west of Amsterdam and only 17 kilometres from Central station. You can reach there in 15 to 20 minutes by train. The capital of North Holland province Haarlem has a rich history dating back to pre-medieval period. This place is also known as Strandwal (i.e. beach ridge) because of its location on a thin strip of land.
First visit the windmill De Adrian located on the fringe of Spaarne River 1 km southwards from Haarlem station. Here you can take a guided tour inside the windmill.
However the first thing you will notice on reaching Haarlem is 78 metres tall wooden tower of Grote of St. Bavokerk. Once you enter the church you feel like you have time travelled to the past. Located at Grote Markt the entry gate is at the north side. Once done, refresh yourself with a cup of coffee in an open air café and then take a walk towards Teylers Museum, the oldest museum of Netherlands. Established in 1778 this museum showcases contemporary art and science. The Museum is located on the bank of the river Spaarne.
Haarlem has 21 Hofjes, these are small gardens surrounded by charitable houses. These remain open for visitor from 10:00 am to 05:00 pm except on Sundays.
Jopenkerk is a former church now turned into a pub! Actually it's a brewery now, visit and taste some Beer. Located at Gedempte Voldersgracht, you can also have your lunch here at Jopenkerk.
Haarlem has rich history and culture that are evident all around as well as plenty of glittering shops, cafes and restaurants. Also visit the old castles and ruins in the surrounding countryside.
My personal suggestion is you take a tour of Harlem riding a bicycle. By the way you can take your bicycle with you on the train.
Keukenhof Gardens
Are you planning to visit Netherlands between mid-March to mid-May? Then you must take a day trip to Keukenhof Gardens. Try to schedule your trip during mid-April to witness flowers in full bloom. Keukenhof is situated at the south west of Amsterdam at a distance of around 36kilometres and it's a 45-minute drive. Keukenhof garden is very expansive with around 7 million flowers blooming during the season and is often called 'The Garden of Europe'. It's history dates back to 15th century.
32 hectres of this garden is reserved for flowers among which there are 800 varieties of Tulips. The varied colour display of the flowers is truly a visual feast. Garden administration offers varieties of activities where adults and children can take part. Remember this garden remains open for only two months…Mid March to mid May. I would suggest you visit at early hours to avoid rush.
Gouda
Located at the south of Amsterdam at a distance of 52 kilometres is the Cheese town of Netherlands – Gouda. It takes an hour of train ride from Central Station. This town is famous for cheese. Gouda's history dates backs to 11th century. People of that period were mainly dependent on peat harvesting. Later Gouda got connected with the canal network of Netherlands via Oude Rijn. After emerging as an important trade hub Gouda went through lots of ups and downs like war outbreak, outbreaks of disease and decline in economy. Nowadays Gouda's economy is based on cheese industry.
Visit Gouda on a Thursday morning during April to August-end to witness the famous weekly cheese market. See how huge quantity of cheese is sold and bought by the farmers and traders. You will surely adore the different shades of yellow and orange in the wheel shaped cheese which are on display at the centre of the market. Visit the central market square to witness the impressive town hall, the tallest church of the country Saint Jan Church, 15th century courtyards and 17th century architecture. Stroll along the fringes of the canals and witness the 16th century architectures of Gouda.
Leiden
How about visiting an Amsterdam near Amsterdam? Then Leiden is your destination. This little town Leiden is located directly south of Amsterdam at a distance of 43kilometres. You can reach Leiden in about 40-minute train ride from Central station. The best way to explore Leiden is to take a guided walking tour. Sign up with Tourism Information Centre located just opposite to the Leiden station and then start your trip. This walking trail is known as Leiden Loop.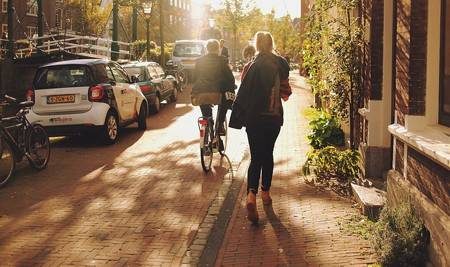 Another amazing thing to witness in Leiden is 'wall poems'. These poems are written on the walls and the bridges. You will find poems of Langston Hughes, Sappho, William Shakespeare, W.B. Yeats and others works. It was a part of a project taken by Tegen-Beeld foundation and started from 1992 for 14 years. Visit Hooglandse Kerk for its spectacular architecture. Also visit Leiden's harbor, canals and grand restaurants. Also known as University Town, here you will get to visit some world class museums. Molen de Valk is the windmill museum and offers a breathtaking view of Leiden from its upper levels.
Muiden
Are you looking for castles? Then you have to visit Muiderslot Castle at Muiden. Muiden is a quaint little town situated on the bank of river Vecht just 15 kilometres from south of Amsterdam. Muiderslot Castle is one of the most famous attractions here. Now included in the list of UNESCO World Heritage Sites this castle was built by the Duke of Bavaria in 1370. This castle is now a national museum and open to the visitors. The small castle is surrounded by moat and looks spectacular. The castle has been restored and gives you an essence of 17th century architecture. You will find collections of arms and armoury from the medieval period.
In the castle there are interactive exhibits many of them will be liked by kids. Try to visit during spring to witness blooming flowers in the garden. Visiting time varies in different seasons. During 1st April to 21st October it is open from 10:00 am to 05:00 pm on week days and from 12 noon to 05:00 pm on weekends. From 21st December to 5th January and from 15th February to 2nd March the museum is open for 12 noon to 05:00 pm all 7 days a week. On December 25th, 30th and 1st January the Museum remains closed.
Amsterdam Bos (Forested Parkland)
Another popular day trip from Dutch capital is a visit to Amsterdam Bos (Forest). Easiest is to reach on a bicycle in about 20 minutes. There are also buses from Amsterdam Central (bus lines 170, 172 or 174) and trams from Haarlemmermeer.
This large park is a place to soothe and to recharge yourself. The parkland or the forest has 50 bridges, 137 kilometres of footpaths and 51 kilometres dedicated track for biking! You will find around 150 species of trees and more than 200 species of birds here. This forest with its water bodies is also a favoured destination of rowers and canoeists. Apart from all this you will find football, tennis, hockey and a cricket clubs here. There is also a pool, a riding school and a spa named Zuiver. Various activities for children are also offered by park management. Among all of these activities the most popular among children is feeding lambs at the Riddammerhoeve petting zoo. You can visit Amsterdam Bos any time of the year.
Sea Beaches
If you are a beach lover then you must visit Bloemendaal aan Zee and Zandvoort aan Zee. The stretches of spectacular golden sands and dunes will surely make you wish if you could spend more time here.
Bloemendaal aan zee is a quiet beach with nearby dunes that are part of national park. This beach is just 15 minutes bus ride from Haarlem (train from Amsterdam Central takes 20 minutes to reach Haarlem). This is the ideal beach by the North Sea located at the fringe of the Zuid-Kennemerland National park that offers hundred miles of trails for various activities. You can just chill out or have a beer sitting on the sand or may be enjoy an ice cream cone. If you rather like to spend an active day, go for a trek or take a horseback ride along the beach.
Unlike Bloemendaal, Zandvoort aan zee is a busy beach. It is also known as the 'Pearl by the Sea'. This favoured destination by the North Sea was developed during 1828 and offers lots of cultural activities to the visitors. Here too you can either enjoy sun bath or can take part in motor sports. Zandvoort  is surrounded by two nature parks – Zuid Kennemerland on the north and Amsterdamse Waterleidingduinen on south. The latter is quite famous and the biggest dune region. You can reach Zandvoort easily by a train from Central Station within 30 minutes ride or else drive down from Amsterdam in 30 minutes. Other public transports are also available.
On a Parting note…
Do you know that Netherlands has the highest concentration of Museums in the world! And do you know that you will find at least one tourist information office (VVV sign) in most of the cities and villages where you can acquire maps and brochures for free!!
Also Read: