Located on the Iberian Peninsula in Europe and occupying almost 85% of it (the other country here is Portugal), the fourth largest country in Europe is Spain (505,990 km square). Like France, Spain has a lot of foreign territory too.
It politically owns two huge fascinating archipelagos…the Balearic Islands in the Mediterranean Sea and the Canary Islands on the Afro Atlantic Coast.
Two cities in the mainland of Africa i.e. Melilla and Ceuta belong to Spain and so do some sparsely populated islands in the Alboran Sea. Unlike other countries of Europe there is a decidedly African influence on Spain….it shares its borders with Morocco and the Islamic Moors ruled these lands for ages.
At the heart of Spain is Meseta that's a broad central Plateau traditionally employed in cattle ranching. The Central Sierra mountain range divides the plateau. To the north eastern side are the high altitude coastal plains of Valencia, Ebro River Valley and Mountain region of Catalonia. To the North West side are the Cantabrian Mountains with fierce heavy forest covered terrain.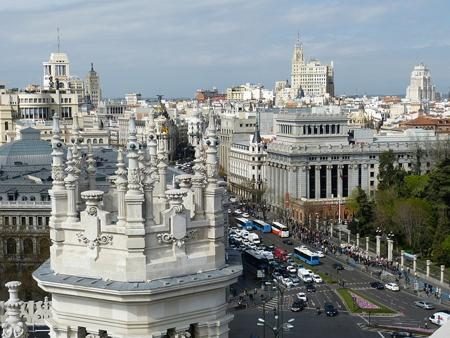 South Spain has delicious orange orchards and rich farmlands serviced by the Guadalquivir River….the scenic Sierra Nevada rises against this land. The extreme south portion of Spain is a dessert and this is a terrain you will often see in the cowboy films of 1960's.
The south east Mediterranean coast of Spain and the islands Balearic has fragrant rosemary bushes and rich tropical fauna….millions of people (especially from nearby North Europe) visit these areas. The Canary Islands (major tourist destination) in the Atlantic Ocean are very volcanic and it is here that Tiede Peak (Spain's highest peak at 12,198 feet) is located.
Think of Spain and the mind conjures up images of Don Quixote heroically titling windmills, fierce matadors, flamencos and bull fights and a defiant attitude. Once known as Iberia the country was lived in by the Celts, Iberians and Basques along with Phoenicians. Spain was virtually always under war in the past before and after its forcible unification in 200 BCE as Hispania / Kingdom of Toledo by the Visigoths.
Around the 8th century the afro tribe Moors invaded Iberia and had eliminated most of the Christians in the area. For more than 700 years small Christian kingdoms (Castille, Aragon, Navarre) fortified themselves and geared up to fight against the invaders. Reconquesta or the retaking back of the European lands from the invaders was a long glorious and (now romanticised) war.
By the 15th century Spain proclaimed itself as a unified nation ruled by the Catholic Monarchs. This was followed by the Spanish Golden Era when Spain became famous as one of the first global kingdoms…it colonised a part of Americas as well. This is probably where Spanish is still so widely spoken in the western world…it's the second most popular language after Chinese.
As of now Spain is a developed high income country that has secular democracy and constitutional monarchy. Spain is a member of WTO, OECD, NATO and the Europea Union as well as the Union for Mediterranean…the number of its international memberships indicate the country's commitment to its security and stronghold on the global arena.
Spanish Cities & Towns
There is a sharp contrast between Spanish cities and towns. While the cities are completely modern now the towns still have actual castles, well preserved ruins and aqueducts. Amongst the cities Madrid with its ever active lifestyle, maze of streets, lovely museums and books is known as the cultural as well as official capital.
Read: The secrets of Madrid tourism to know about its great attractions & tours, shopping, dining, nightlife, accommodations, transports  & more.
Barcelona (the headquarters of Catalonia) is known for its splendid architecture and maritime industry.
Read: All about Barcelona Tourism & its secrets
Granada is another beautiful city and ideal for tourists looking to explore wonderful architectures that have come down from its Arab legacy, magnificent churches, palaces with sprawling gardens, mountains that attract hoards of skiers in winters, quaint outskirts & townships, and excellent cuisine that reflect a fusion of traditional Arabic and contemporary Spanish food.
Read: All about Granada Tourism & its secrets
Seville is the capital of Andalusia region and is steeped in music and folk art. Salamanca, Burgos, Toledo, Cadiz and Santiago de Compostela are other famous urban hubs in Spain.
The Maurici National park region of Catalania offers mountainous drama landscape while Galicia with its Celtic atmosphere and rain laden skies is a top destination. The Basque countryside with its half-timbered houses and the white towns of Andalusia are just some odes to Spanish beauty.
Attractions & Activities
The speciality of Spain is its capacity to ensure an adrenaline rush. Some of the activities it offers are unparalleled…nowhere else can you cross the border of two countries on an international Zip Line (Limite Zero lets thrill seekers cross the Guardiana River to Portugal). Hard core rock climbers still claim that El Cherro in North West Malaga has the most dangerous mountain passage in the world.
The La Fiesta de Santa Marta / festival of near death experience that relies heavily on Paganism and witchcraft happens in Las Nieves Galicia….this is recorded to be the world's most horrific festival. After all these scary episodes you can have a drink in El Somorrostra that's the only beach ice bar in the whole world.
And if all these experiences have put the fear of God inside you then reawaken your spiritual side by looking at the Holy Grail in the Valencia Cathedral or the last cup used by Jesus in San Isidiro Basilica in Leon.
Other unique sights exclusive to Spain are the Desierto de Tabernas…Europe's only desert (think Indiana Jones). The world's oldest restaurant (300 year old Sobrino de Botin) is in Madrid and the world's only exclusive dessert restaurant (EspaiSucre) is in Ciutat Vella…incidentally this is also the world's best patisserie training school. Ibiza's Privilege nightclub is the largest nightclub in the world and the Museu de Carrosses Funebres (in Barcelona) is the biggest Funeral based museum in the world.
The Starmus festival in Spain combines music, science and the Milky way into one fantastic event (this happens over 5 days annually in the Canary Islands) and is the world's only astro-music festival. This is a country where you can have food cooked over volcanic heat…Canary islands has the El Diablo restaurant whose BBQ  is powered by the heat from an active volcano…the view from the window here resembles the Martian landscape…it's an actual volcanic area.
Some of the landmarks in Spain that are on every travellers 'to see' list are the Museo Nacional Del Prado (Madrid's largest museum showcasing Goya, El Greco and Velsquez etc.) and Cathedral De Seville (3rd largest cathedral and biggest Goth building on earth located). Granada's Alhambra fortress with its Islamic Moorish past and Antoni Gardi's famous art nouveau construct; La Sagrada Familia in Barcelona are must see sights.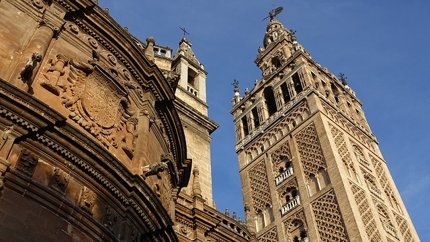 Amazing Beaches
Spain is known for its amazing beaches and all of them have exotic delicious sounding names. On Tenerife's North coast (canary Island) is El Bollullo with its trademark black sands and blue waters and Las Teresitas with its yellow sand and proximity to the capital city Santa Cruz de Tenerife.
If you like to explore rough terrain then head off to Mallorca….here …you will find the Balearic island beaches like Sa Calobra (here exists one of the largest canyons of the Mediterranean world (a scenic hike through a deep canyon goes all the way down to touch the sea). Another lovey Balearic island beach is Playa de Ses Illetes that's known as a fashionable, accessible and relatively unspoilt holiday destination….you will find taciturn celebrities and a bevy of posh yachts here.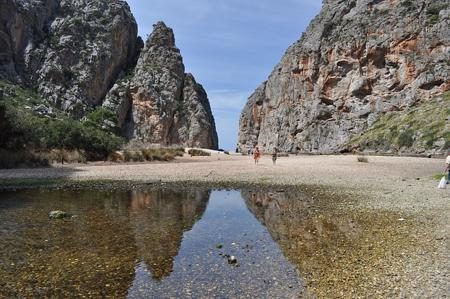 Other amazing beaches are Playa de Silencio near Cudillero Asturias and the famous Ibiza beaches. The Ibiza region has a number of pretty white sand beaches (Las Salinas) and luxe resorts which are perfect for upsacale party oriented holidays.
In case you want to admire Spain's exotic flora and fauna and also soak in the beaches then target a beach that's a part of the Monumento Natural de los Ajaches (on the south tip of Lanzarote). The Parrot beach or El Papagayo is a great example…it offers amenities, all ranges of resorts and great views of the Fuerteventura and Lobos Islands.
If on the other hand you want to explore a beach that's also a national monument then the As Catedrals on Spain's north coast (in Galicia Lugo Province) should be on your list. Look out for the low tide period…the waters recede and a series of perfect natural arches and dark caves connected by sand passages…emerge!!
Cultural Celebrations
If you want to see the famous Spanish dance form Flamenco…you need to visit Barcelona, Madrid (the dance originated here) and Malaga, Seville and other cities in Andalusia. Note the 4 different compulsory elements of Flamenco…it's not just the dance; there has to be a guitar playing, vocals and hand clapping.
Suma Flamenca, Cordoroba, Festival de Jerez are some of the Flamenco festivals that take place between March to August in Spain. If you cannot be there for the festival visit any resto bar with Tablao at the beginning of its name in Madrid/ Barcelona and you can see the performance.
For the other more controversial cultural celebration you need to visit between April to September; this is traditional bull fighting season. The Pamplona Running of the Bulls festival at San Fermin unleashes 2/ 3 super active bulls on the crowd as people run for their lives….this is just an example of how adrenaline addicted the Spanish are. The Salamanca, Valencia, Madrid, Seville and Malaga regions are best targeted for Corrida de Torros (bull fights).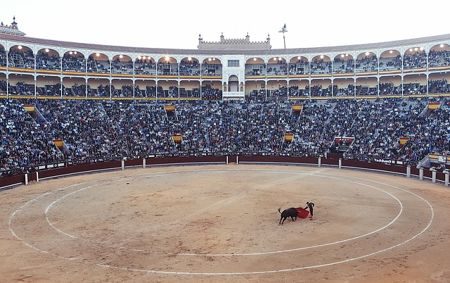 Food & Drinks
Spain is serious about its food…a fact that's accentuated by its special research and Development centre, facility of Gastronomic science and International Committee all dedicated towards Food (the food research hub is Basque Culinary Centre)!! Like the country, the cuisine is fiery and full of flavour. When in Spain do try the rich tomato Gazpacho ( a pureed blend of olive oil, bread, garlic, tomatoes, cucumber and pepper…even Mac Donald's serves this) that originated from the Andalucía region (south Spain).
In west Spain, there is a robust population of black pigs and their ham has a distinct nutty flavour….the Tostas de Tomate y jamon or toast with tomato-garlic and jamon slices (black pig meat) is a regional speciality. In Segovia it's a custom to cook suckling piglets or lambs in huge wood fires until the meat is tender enough to be cut by an earthenware plate (this dish is called Cochnillo Asado).
The province of Alicante has a tiny town called Jijona which produces great quantities of almond nougat…this is consumed in massive quantities in Christmas and other festive occasions. And of course you must have been to a Tapas bar in any part of the world but the origin of the Tapa was as a snack for field workers…this must come as a shocker. Authentic Spanish bars in Spain don't even expect you to pay for Tapas…they are complimentary pieces of food given to customers when they order drinks!!
The Spanish Tapa is easy to assemble and affordable comprising mostly of cold meat, cheese and pickle no matter what sophisticated food fancy Tapas bars abroad sell to tourist in the name of Tapas. The versions found in un-urbanised Spain are authentic…they are the banderillas (nut and crisp tapas), tortilla de papatatas (potato and fish snacks) and croquetas (cold meat and cheese on white bread).
And of course the Tortilla Espanola or the Spanish Omlette, Seafood Paella and the Gambas al Ajilo (Garlic prawns) are national favourites. There is simply no way you can go to Spain and escape without falling in love with its exotic drinks….people in Spain usually have Olympian size conversations over loads of alcohol.
The Sangria which is now a global icon (there are many variants like Hennessy, blue, red and white) was invented by the Romans and Greeks who liked to add spice and sugar in their wines. Right now every region serves its own version of Sangria but the basics are the same…red wine soaked in delicious fruit and spice (traditionally wines from Rioja region were used).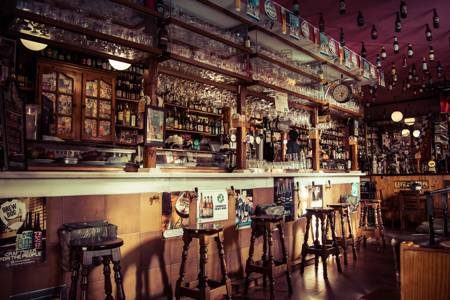 Few regional specialities in Spain are the Crema De Orujoo (a Bailey style dessert drink that's potent and is similar to Grape brandy), Sherry (incredible variety from white to dark) and Leche De Pantera (milk, liquer, cinnamon…the name actually translates to Panther's Milk). On the must try list is also Clara (light beer with lemon and soda), Carajillo (Coffee with rum/brandy) and Patxaran (exotic blend of sloe berries, vanilla pods and coffee beans).
Shopping in Spain
If you are a shopaholic on a budget then Spain is paradise…it has an overload of awesome flea markets. There is the Rastro or main flea market every Sunday in Madrid and Las Ramblas in Barcelona and the Mercat Del Encants in Catalanes (every important town has its own buzzing flea market). The Barri Gotic in Barcelona sells uniquely Spanish stuff like ancient fans, mantons, local art etc. fashion villages like Las Rozas in Madrid and La Roca in Barcelona are aimed at keen shoppers. If you want luxury shopping then Barrio Salamanca in Madrid and Diagonal in Barcelona are great options.
How to reach Spain
If you want to reach this amazing country by flight then choose the region you wish to travel to and then target an airport. If Madrid and its surrounding areas is your prime target then Madrid Barajas airport (metro station services this airport) is convenient.
If Barcelona and its surrounding areas are where you want to go then the El Prat airport (14 km away from the city) is suitable. Similarly for Mallorca region, the Palma Majorca airport and for the Costa Del Sol resort area…the Malaga airport is suitable.
The Canary Islands has the Gando Airport on the Gran Canaria and the Tenerife airport. The Ibiza party hub has its own airport that is used by tourists who want to go to the Balearic and Formentera islands. The Valencia airport, Lanzarote Airport (on the Lanzarote Island) and the Alicante Airport (serving Elche region) are other well connected air travel hubs. If you are travelling from UK then flying to Alicante, Malaga and Palma de Mallorca makes economic sense.
Flights from Ireland and Germany to Spain are cheaper than flights from other European and North American hubs. Iberia, Air Europa and Vueling are the most important air carrier companies here.
From Asia the best connected cities are New Delhi and Mumbai (India), Beijing, Shanghai and Hong Kong (China), Kuala Lumpur (Malaysia), Manila (Philippines), Seoul (South Korea) and Tokyo (Japan) along with Bangkok (Thailand). If you are flying from Asia…choose to fly into Barcelona or Madrid… they have the maximum connections.
Ryanair operates many cheap domestic flights inside Spain and sometimes domestic air travel is cheaper than train travel. Some routes where you can save time and money by travelling by cheap flights inside Spain are Barcelona to Bilbao, Oviedo to Alicante, Bilbao to Malaga, Seville to Barcelona and Madrid to Santiago de Compostela.
Getting around Spain
Like many European countries, Spain too has a well-developed train network and it actually makes sense to explore this diverse country by train if you want to enjoy scenic beauty. RENFE or the Red National de los Ferrocarrles Espanoles operates high speed trains i.e. AVE and the regular speed trains here apart from the Cercanias suburb travelling trains.
Madris – Seville and Madrid – Barcelona have the maximum train connections and it's possible to travel to almost all areas of Spain by train from Madrid. Seats on train are unusually large and recline… most have power plugs, free headphones and TV screens in the Carriage. The best thing is that every person can bring in about 25 kg of luggage on the train (even this is usually not enforced).
If you plan on travelling extensively inside Spain by train then buy a Spain Pass (available for 4 to 12 journeys)…this is specifically aimed at tourists who travel on the RENFE system.
If time is not a constraint and budget is a constraint then buses are another good way to explore the Spanish landscape. The Sierra de Madrid and Sierra Nevada mountain ranges make it sometimes difficult to lay down train lines but bus travel is uninhibited. Spain has a good collection of luxury buses with entertainment, waiting lounges and Wi Fi so you can bus your way around in style (look for Premium, SupraEconomy and Eurobus).
The ALSA (Member of Eurolines bus group) is the main bus operator and it connects all important towns and cities to Spain and also allows international travel to Germany, Portugal and France. Avanza and Daibus operate a bevy of routes around Madrid and Hife operates buses in the Catalonia region. OUIBUS in particular is good for connecting north Intra region.
Tram and Metro travel is easy in Spain but the terrain makes it difficult to establish inter regional metro and tram lines. So there are a lot of region specific Tram and Metro lines…the Barcelona, Valencia, Madrid, Alicante areas all have established Tram and Metro lines which you can use for traveling between different local points in the same area.
Movellia is one of the few bus companies that offers online ticket booking service for travelling to Spain cities and towns of French cities.
The ports of Bilbao and Santander in Spain are well connected to Plymouth, Portsmouth and Poole in UK. Ireland and Morocco are also well connected to Spain by ferry. Ferry service to Spain is not as popular as it is in France or Italy but UK, Ireland to Spain is a well-established freight route (you will also get luxury cruises here).
Read: Know about local transports in Madrid and how to get around.
Best time to visit
Spanish summers are inordinately hot especially in mainland areas so the best time to visit Spain is in spring or fall (best months are April to June and September-October). This is when you get the best weather in the main lands though the coasts almost always have fabulous weather.
Read: Important Spain weather conditions including Madrid, Barcelona, Bilbao etc
Spain is a country of exclusive experiences and out of the box themes and if you love the unusual you will love Spain. In spite of all its attractions… the best thing about Spain are its warm, friendly and fiery people…in the words of George Orwell "I would rather be a foreigner in Spain than in most countries".
Also Read