Woody Allen fans would remember seeing the surrealist city architecture in his famous movie "Vicky Christina Barcelona" and at some point of time must have exclaimed "Wow!! What a city!!" Football fans must have sighed at the jugular loyalty that Barcelona FC commands and exclaimed "Wow… What a city!!"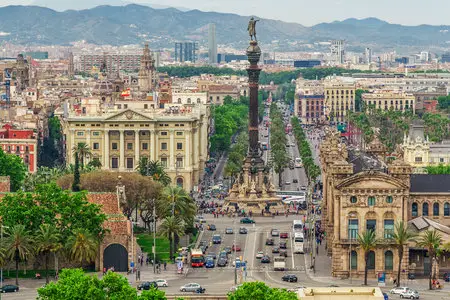 One of the most soulful cities in Spain, Barcelona is its second-largest metropolitan area and the capital of the Catalonia region. The darling of artists, football lovers and photographers Barcelona is known for its profusion of modern sculpture, enthusiastic lifestyle and enormous appreciation of life.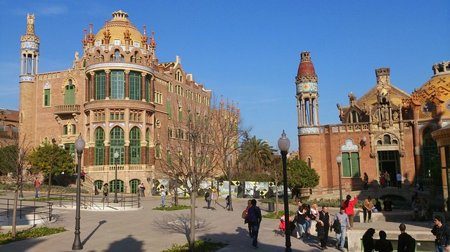 A Short Video
Attractions
Like Madrid, Barcelona too is atmospheric, in fact, more so because it hasn't been bitten that hard by cosmopolitanism and urbanisation. The main square of Barcelona is Placa de Catalunya (or Catalonia Square in English). There are a number of very reputed as well as modern stores around this place. Several bus routes and metro lines originate from the square area and reach out to various destinations in the city.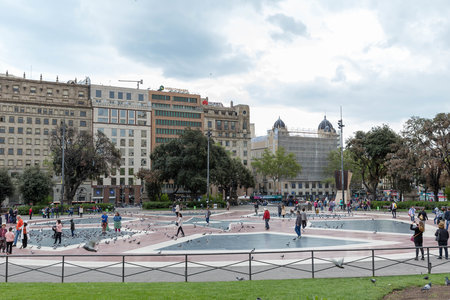 Wandering through the neighbourhoods of Barcelona is an interesting experience and you can start off with Catalonia Square and walk down to the Barri Gotic or the Old Town of the city located 900-meters southeast of the square (10-minute walk) …it's distinguished by an army of standalone shops and crooked streets.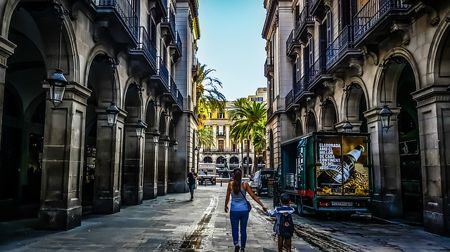 North of the city centre is Gracia that's a serene retreat from the deluge of tourists marked by the Moorish looking Casa Vicens (Antoni Gaudi's first residential creation) Eixample (smart name!!) is one of the best neighbourhoods to sip wine/ coffee in and admire the architecture. It holds the residential building converted museum Casa Batllo (a Gaudi construct) that has a modernistic yet fantasy inspired facade, a beautiful atrium and furniture that can inspire poems. This is considered one of the masterpieces created by Gaudi.
Numerous broken ceramic tiles have been used to create a colourful facade of Casa Battlo. The ground floor particularly has irregularly shaped windows and flowing stone sculpted designs. The rooftop is arched and is tied to the back of a dragon.
You cannot visit Barcelona without falling in love with Gaudi's work…the inspiration from nature and innovative design are clear indicators of his style. The Sagrada Familia Basilica (his best and unfinished work) looks more like a forest canopied castle than a church and to date remains Barcelona's most visited attraction.
Another marvellous Gaudi creation is Park Guell (Horta Guinardo neighbourhood) which has a terrace with snake-like shapes and dragons and unicorns and other magical sculptures besides beautiful shrubbery and a Gaudi museum (the artist's former home).
La Pedrera (also known as Casa Milà) in Dreta de l'Eixample is Gaudi's first civil project and its look is inspired by molten lava. With a startling undulating facade, gigantic windows and wrought-iron balconies…La Pedrera is instantly distinguishable.
Another great place to experience Gaudi's work is Colonia Guell (owned by Esubi Guell) in Santa Cloma de Cervello…this is an exceptionally beautiful collection of religious and social buildings…this is Gaudi's early work.
Esubi Guell hired Gaudi yet again for his lovely estate Finca Guell in Pedralbes …this has a sensational design with Mudejar influences and a huge dragon.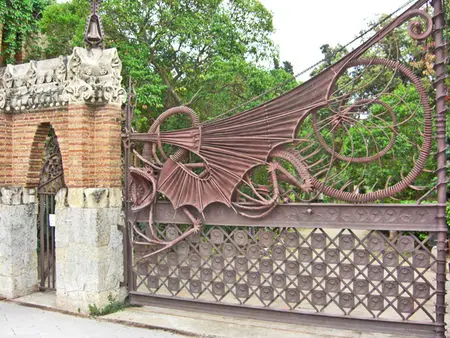 La Rambla is recognised as one of Europe's most famous pedestrian streets and it's distinctly sectioned into 5 parts. The walkway stretches for 1.2 km and goes through Catalonia Square (at the centre) all the way up to the Christopher Columbus monument at Port Vell. There are numerous stalls, stores, restaurants and bars along the street and you can see thousands of people, street performers and even artists thronging the walkway until the wee hours.
Check out the remarkable attractions that dot La Rambla…there is the 1847 dated theatre Del Liceu and the rather quirky looking Mercat de Josep de La Boqueria. The 1992 Olympics saw the addition of the "Barcelona's Head" sculpture… a 90-tonne concoction covered with extraordinary mosaic style. The design is a clear inspiration from Antoni Gaudi and Picasso and the creator Roy Lichtenstein clearly admits it.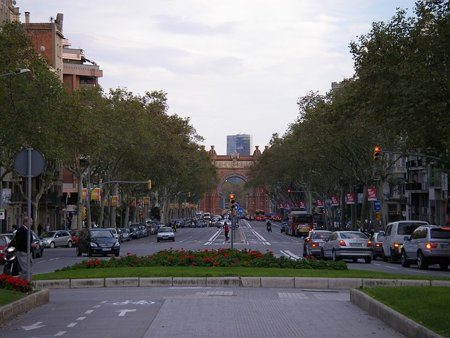 If you happen to visit the Placa dels Voluntaris area then your eye will be drawn towards Marc… a giant neo-modern human statue that holds a large frame-like structure that captures the Barcelona cityscape beautifully (this stands near Port Olimpic). Incidentally, its replica exists in Atlanta USA and is built by the same artist….Robert Llimos.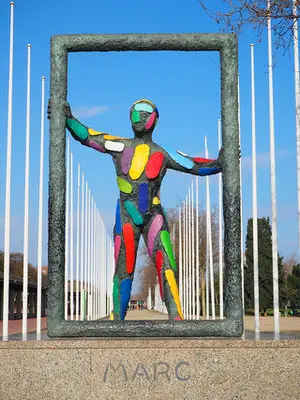 Dozens of street performers can be found at any point along La Rambla showing off their skills besides the life-sized human statues dotting the street. El Raval has a famous open-air food mart… La Boqueria and a sensational theatre called El Liceu as well as two good museums; the Maritime Museum and the MACBA (Museum of Contemporary Art, Barcelona).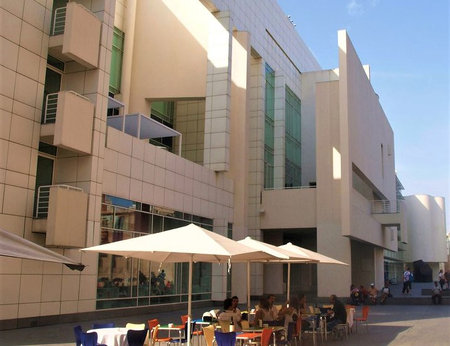 But its darkest facet still defines it…this erstwhile red light area was home to Spain's serial killer Enriquerta Marti (Vampire of Ponent street). This rather macabre lady used to make medicines and potions out of people's blood before being caught and beaten to death… her life and work have inspired many a TV series. Her home still exists on Ponent Street and bears the nameplate (Carrer de Joaquin Costa). The Palau Guell in El Raval…another Gaudi creation with its stunning mixture of opulence and modernism will take your mind off this gruesome story.
For many travellers, a visit to the Montserrat monastery is an important part of their visit. An hour's train journey will take you to Montserrat and from here you can have a fantastic view of the Catalunya Mountains. A Funicular is available to the top of the mountain and from there you can go on amazing walks. The Benedictine mountain retreat here is supposed to have been visited by Virgin Mary. Listening to the choir performances here or simply hearing the church bells chime can be a profoundly spiritual experience.
For other travellers, a visit to Camp Nou or rather a tour of Barcelona FC Club Stadium is the highlight of their visit. Tours are available which will let you check out the players changing room, tunnel to pitch walkway, pitch benches, chapel and so many other facets that can give you an adrenaline rush.

Barcelona has 4 main beaches and they are quite close to the city-heart making it simple to ride to the golden sands when the sun is at its best. The nearest beach is Barceloneta (it has its own yellow line metro stop) and is distinguished by an eerie looking crooked building on the beach. The Nova Icaria Beach is also reachable on foot via a ten-minute walk after you get down at Ciutadella Vila Olimpica.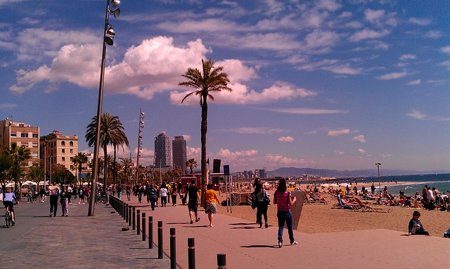 In fact, the Barceloneta and Icaria beaches are a conjoined stretch broken by Frank Gehry's Peix….one of Barcelona's fantastic landmarks. Take a moment to appreciate the glimmering 52-meter golden fish that dazzles under the sun and looks as if it has leapt out from the Mediterranean Sea… incidentally this landmark was made for the 992 Barcelona Olympics.
While you are going back by the Ciutadella Vila metro station you should also check out the 18 m long Antoni Liena's construct David and Goliath though it will be difficult for you to understand the meaning of the sculpture …the locals say that the structure symbolises the rebirth of the neighbourhood of Somorrostro.
While on the subject of David Goliath it's interesting to check out another surrealist version made by Roy Schifrin…this is in the Carrer de Les Ciencies 57 in the Guinardo district of Barcelona (near El Carmel metro). This not so difficult to interpret structure is 29 meters high and is a tribute to the International Brigades.
Two of Barcelona's s most Instagrammed structures are both Fernando Botero's creations. The first i.e. the el Gato del Raval or the fat alley cat is found in the Rambla del Raval. The second is unmissable… the fat horse (all of Fernando's sculptures are fat) is found in terminal 2B El Prat Airport. If you walk by the picturesque Port Vell, near Passeig de Colom you will be able to see the Gambrinus or the gigantic lobster statue created by Javier Mariscal.
The two other beaches nearby are Mar Bella which is a nudist beach and Sitges Beach which's about 30 minutes away from Barcelona city via train. The great thing about all these beaches is that they are reachable by train, well maintained with adequate facilities and the water is gentle enough for a swim.
Food and Drinks
The cuisine of Barcelona can be broadly classified as "Catalan cuisine" and there are certain Spanish dishes that are extremely popular in this region. One of these is the Barcelona version of Paella called Fideuà that's made with thin noodles, vegetables and lots of meat. Catalan food uses a lot of Allioli or a tasty sauce made with olive oil, salt and lots of garlic; you will see a lot of dishes (vegetarian as well as non-vegetarian) doused heavily with this topping.
Escalivada is a simplistic salad made of loads of aubergines, onions, ripe tomatoes, olive, onion and salt with a dash of vinegar…the fact that these are roasted in olive oil makes the whole dish delish!! Crema Catalana is the favourite local dessert …it's a lot similar to crème Brulee and the cream is smoothed to perfection with cinnamon and lemon zest.
When restaurant hopping in Barcelona remember a few simple rules; different areas serve different kinds of food. Bari Cotic has hearty Catalan food and you can visit the Can Culleretes (2nd oldest restaurant in Spain with a mention in the Guinness book)… Café de l' Academia has its terrace on the Placa Sant Just (right below church Sants Just Pastor) and serves typical Catalan fare….magret de pato and stuffed Cannelloni.
Milk is a pub cum restaurant that you can go to at all hours… have the eggs benedict and blueberry pancakes (excellent brunches are organised here). For a nice romantic dinner go to Pla… it's intimate and has an innovative Mediterranean menu. La Vinateria del Call and Shunka (Japanese and affordable) are also good places to go.
The Born neighbourhood has some great restaurants and one of them is El Atril that serves kangaroo steal and moules et frites (the owner was Australian). Right in front of the Born centre is Bormuth with its honey-drizzled aubergine and affordable tapas platter. Cal Pep with its seafood platters and Casa Delfin with its Mediterranean menu and airy terrace are great places too. If you are craving burgers go to Kiosko which has another branch in Santa Caterina.
In Raval, you can go to Casa Leopoldo (a literati haunt) and Elisabet's with its grandmother style menu. Luzia serves steaks, pasta and chicken wings while Los Toreros is still high on bullfighting with its bulls head exhibits and tales of matadors….Raval is all about atmospheric old-world places.
Gracia has lots of chic world food restaurants and amongst them is Botafumeiro with its gourmet seafood. Café Godot, Envaliria, Chez Choco and Pepa Tomate are other great places.
Each neighbourhood of Barcelona has its own best list of restaurants…Spaniards often remark that the best food of Spain is found in Barcelona.
Nightlife
Barcelona takes long siestas in the afternoons and then parties all night. There are some very interesting clubs and bars here. La Terrazza in Casa Son Berga is the city's shiniest dancing spot…there isn't a roof and surreal projections have earned it the name "open-air circus". Sala Apolo with its local rockers and Monday night anti karaoke events is a great place for wild parties. Mojito club with its salsa dancing and Latin vibes is fun and so is the Razzmatazz with its giant speakers that hang from a 60-foot ceiling jet.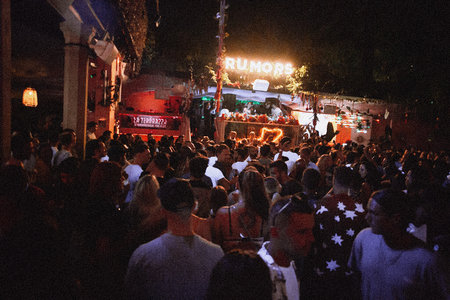 If bars and stylish pubs are more your styles then you have a lot of options again. El Portalon tapas bar in Barra Gotic was once a stable and it still is vintage to the point of serving wine in terracotta jugs along with lavish chunks of Pa amb tomàquet (spice bread with tomato).
Bar Celta serves Gallic style Tapas with lovely Galician wine served in pure white ceramic bowls. Bar Pinoxto is famous for its modernistic setting and baby squid and beans along with omelette artichoke. If homage to Spanish wine without the frills interests you then head off to Cap de Suro in Poble Sac…it has an awesome collection of affordable regional wines, craft beer and local alcoholic concoctions. You can experience tastings and tapas sitting on big wooden barrels.
For experiencing dazzling Flamenco nights book your evening seat at Tablao Codorbes in Las Ramblas Boulevard …an hours Live Flamenco performance followed by a night of drinking is a great way of tasting Barcelona. The Tablao de Carmen in Poble Espanyol offers a package deal…get into the village, admire the architecture, see Flamenco and have dinner. Just for the record, smoking cannabis is legal in Barcelona (and the whole of Spain) as of 2018 and there are more than 300 clubs that specialise in it….incidentally membership to Asociaciones Cannabicos is pretty difficult to get.
The Barcelona coastline has lots of great cocktail bars and discs…you will simply be spoilt for choice. Try and come on Thursday nights which are usually labelled student nights…many places have zero entry fees and free drinks. People in discs and bars are extremely well dressed.
Shopping
If you want to experience some of Catalonia's freshest and best produce then pay a visit to Barri Gotic's La Boqueria…its design is as beautiful as its contents. Shop for fresh fruit, incredibly exotic seafood, vegetables and spices apart from choice cuts of meat…very helpful if you are staying in an apartment rental around Barcelona.
In this neighbourhood, you will also find Formatgeria La Seu… a specialist artisanal farm cheese seller (cheese tastings can be organised on request). Another stop here is La Manual Alpargatera that stocks a nice collection of Spanish shoes… espadrille in stripes, prints as well as traditional versions.
Born has some of the most beautiful boutique shops in Barcelona. There is the Beatriz Furest shop with vintage bags and envelope satchels and purses that don't cost a bomb. The Casa Gispert store dates back to 1851 and with its shelves filled with olive oil, organic preserves, spices, saffron and Europe's oldest Roasting machine will surely draw your attention.
Coquette with its Spanish, Gallic and French designer apparel and bath wear is a good destination. Check the range of La Comercial stores…there are 6 of them dedicated to men's and women's fashion apart from home accessories. The Helena Rohner store with its organic and artistic jewellery and crockery is a beautiful place to shop.
Raval may not be the most glamorous location but it has some great shopping hubs. La Variete has nice linen bags, lampshades, and wooden stuff and candle holders. Eixample has Altair…one of Barcelona's biggest book stores and a nice café. The Bimba and Lola sells affordable fashion …accessories, shoes and bags. If you want luxury Italian shoes then Cherry heel with its Casadei's, Pollini and Alberto Guardini shoes is a good haunt…the icing on the cake is its permanent sale section.
Colmado Murria with its gourmet treats and Mar De Cava with its scarfs and cushions and bags are great. Pepa paper with its exquisite stationery and Petit Gegant with its wonderful children's clothes and accessories are yet other treasures. And if it's flea markets that interest you then El Encants with its auctions and lovely junk jewellery and books and home accessories in Placa de les Glories Catalanes are your destinations.
Lastly, El Corte Ingles in Placa Catalunya and the lines of Zara, Pull and Bear and H & M stores are always there as a safe fashionable shopping option. If budget isn't an issue then Passeig de Gracia with its Prada and Chanel is your best destination.
Getting There
The El Prat de Llobregat Aeropuerto/ Barcelona International Airport (BCN) is 13 km south west to the city. The airport enjoys good flight connectivity from major UK, USA and Asian airports and is Spain's largest air hub along with Madrid
It is equipped with a secure luggage drop and transfer service in case you want to start sightseeing right away. From the airport, you can use the Aerobus (access A1 Aerobus from T1 and A2 Aerobus from T). The bus journey to the city centre will take maximum 35 minutes. There are a series of airport taxis outside both terminals. RENFE Trains are the cheapest option to go into the city centre and you can even change into the metro lines from Barcelona Sants and Passeig de Gracia. The train station is near T2 so if you are arriving in T1 you should take a shuttle to T2 first (this will roughly take 30 minutes).
Getting Around
Like Madrid, Barcelona has unified its public transport system and one ticket unit is valid for 75 minutes during which you can change means of transport up to 4 times. Metro is actually the easiest way to get around…it's extensive and runs from 5 a.m. to 2 a.m. on all days and nonstop on Saturdays. There are 8 lines and they are all colour-coded.
Metro tickets inside the city centre are cheaper than in the outskirts and there are 2 underground train lines that connect with the metro. One line runs north from Placa Catalunya and the other west from Placa d Espanya to Cornella.
Buses run around mostly from the Placa Catalunya, Placa Urquinaona and Placa Universitat from 6 a.m. to 10.30 p.m every day. There are 16 urban routes for night buses and surprisingly fares are the same as day bus
While buses and the metro is run by TMB the connecting trains are run by FGC. The corresponding two official websites will give you all the detailed route information. Regional FGC trains run to Terrassa, Tribidabo, Monteserrat and Sabadell from Catalunya. Apart from these the RENFE trains also run through the city and its suburbs… Sants, Placa Catalunya, Arc de Triomf, Passeig de Gracia etc.
The major train stations in Barcelona city are Estacio de Sants and Estacio Franca while major bus stations are Estacio Sants and Estacio de Nord. The thing about Barcelona is that most streets have a one-way traffic system and some of the bus stops aren't marked and street signs aren't always visible.
As a tourist you can buy a T 10 that's a ticket valid for ten trips or a T Dia or a one-day travel card that can be used by one person. There is also a T 50/30 that can be used for a 30 day period. These tickets can be brought from newsagents and metros and trains but buses keep only single tickets.
The Hola BCN! Has 2/3/4/5 day travel card versions and can be used on trains, metro and buses. These will get you discounts on attraction tickets too.
Apart from these conveyance options, the Barcelona City tour hop on hop off bus is a good way to see the city and its major attractions. The tour has audio commentary and the printed maps which are useful accessories.
Read: How to get around Barcelona easily using public transport
When to Go
Barcelona can basically be visited at any time of the year but your holiday goals should determine the answer to this question. Lines are at their longest around Christmas, Easter and major holidays and the peak summers. Early March, late May and September to October see pleasant weather and relatively thin lines so if attraction hopping is your priority then these are the best slots.
If you intend to shop a lot then mid-January to mid-February is winter sale time and July to August is summer sale time. May and September are best for having a fun time at the beaches without getting put off by the crowds. Late May/ June first week is when Primavera Sound (biggest Indie festival of the globe) happens and August and September sees the 9-day Festa Mayor de Gracia and 4-day festes de la Merce.
If you want to watch an FC Barcelona game then avoid the winters… match schedules are from August to May barring winters. Choose your experiences first and then decide on when to come.
Read: Important weather information of Barcelona & Spain
Also Read